This WeetBix Smoothie is a deliciously thick and creamy strawberry breakfast smoothie packed with tasty wheat biscuit flavor.
It contains all you need to start the day with 8 grams of protein and 8 grams of fiber that keep you full for hours.
WeetBix is a staple in my house. The kids love them to make Overnight Weetbix or Weetbix Slices.
Today we tested a new breakfast recipe, adding Weetbix biscuit into our favorite breakfast smoothie.
The texture is ultra-thick and creamy and you will love the taste of wheat biscuits with strawberries.
How To Make Weetbix Smoothie
Like all smoothies, this recipe is super easy to put together.
Ingredients
Weet-Bix Biscuits – They are popular breakfast biscuits in New Zealand and Australia. Sometimes, they are called Weetabix in the UK. If you are in the USA you can replace these with wheat biscuits or cornflakes.
Plant-Based Milk of choice like almond milk or soy milk for more proteins.
Frozen Strawberry Slices – Feel free to use different frozen fruits for different smoothie flavors. We tested mango, banana, and blueberries. All come out a bit different in texture. Bananas and mango make the drink thicker and you will need more almond milk or it gets difficult to drink with a straw.
Vanilla Extract
Almond Butter or peanut butter – This adds healthy fats, creaminess, and a delicious flavor to the smoothie. You can skip it or replace it with coconut yoghurt.
Chia Seeds – This adds fiber, healthy fats, and proteins.
Maple Syrup or any liquid sweetened you love to boost the sweetness.
Preparation
Place all the ingredients in a high-speed blender, and blend on high speed until the mixture is creamy and smooth. You shouldn't be able to see pieces of chia seeds or biscuits.
Then, taste before serving and adjust the smoothie recipe to your taste with the options below.
Adjusting The Smoothie
We all have different tastes when it comes to smoothies.
Sweetness – Add more maple syrup to increase the sweetness or add one Medjool date to the blender.
Protein – You can increase the protein content of this Weetabix smoothie by adding 2-3 tablespoons of vanilla protein powder. However, you will need more almond milk from 1/3 cup to 1/2 cup or the texture will be extra thick and difficult to blend.
Thickness – Weetabix biscuits are high in dietary fiber and thicken smoothies quickly. If too thick to go through the straw, blend in an extra 1/4 cup of almond milk.
Frothier – Add ice cubes about 1/3 cup to make a frothier Weetbix drink.
Flavors
I tested three different flavors that go very well with this dairy-free smoothie.
Mango Strawberry Coconut – Use half frozen mango cubes and half frozen strawberry slices. Use coconut milk and pick a coconut yogurt or cashew butter as nut butter.
Strawberry Banana – Use almond milk, half frozen strawberry, and half frozen banana. Use peanut butter as nut butter.
Mixed Berry Almond – Half frozen strawberry, half frozen blueberries, with any milk and almond butter.
Allergy Swaps
Below are some options to make this smoothie allergy-friendly.
Gluten-Free – Use gluten-free certified Weetbix.
Vegan – Make sure you pick the original Weetbix biscuits. Some Weetabix, like the wholegrain version, contain honey, and therefore are not vegan.
Nut-Free – Use nut-free milk like coconut milk, soy milk, or oat milk.
Frequently Asked Questions
Below are my answers to your common questions about this smoothie recipe.
Can You Put Weetbix In The Blender?
Absolutely, but watch out! They are high in fiber and too much Weetbix turns the smoothie into a thick smoothie bowl.
Add one or half a biscuit at a time and see how the texture turns out before adding more.
Are Breakfast Smoothies Actually Healthy?
It depends on what the ingredients in your breakfast smoothie are.
For a healthy breakfast smoothie, you need healthy fats, slow-release carbohydrates – meaning whole grain cereal high in fiber – unrefined sugar from fruits or refined sugar-free sweeteners, and proteins from milk or yogurt.
If your smoothie contains all of these macronutrients, you are good to start the day.
More Smoothie Recipes
If you like plant-based smoothies, you'll love these other healthy smoothie recipes: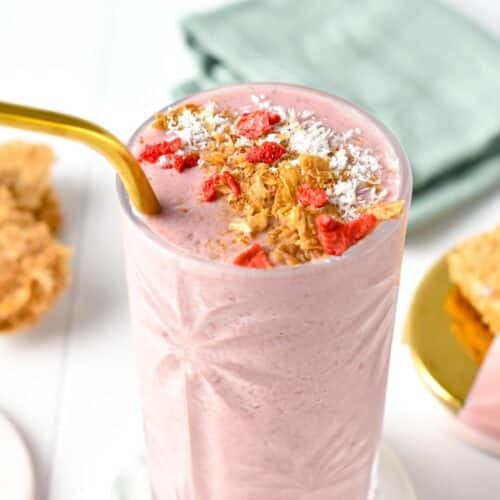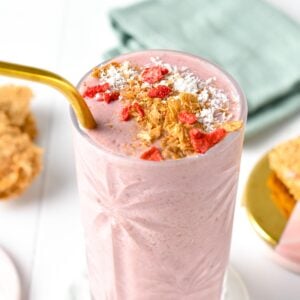 WeetBix Smoothie
This WeetBix Smoothie is a delicious, thick, and creamy strawberry breakfast smoothie packed with tasty wheat biscuit flavor. It contains all you need to start the day with 8 grams of proteins and 8 grams of fiber to keep you full for hours.
Pin
Print
Review
Servings: 1 Smoothie
Calories: 295.3 kcal
Instructions
Add all the ingredients to the high-speed blender and blend until smooth.

Taste and adjust the sweetness by adding a few more teaspoons of maple syrup. If too thick – Weetbix smoothie does thicken after a few minutes – add a splash extra of almond milk, up to 1/4 cup extra, and blend again.

Serve immediately with desiccated coconut, crushed Weetbix biscuits, and freeze-dried strawberries.
Share on Facebook
Pin Recipe
Nutrition
Serving: 1serving | Calories: 295.3kcal | Carbohydrates: 36.5g | Protein: 8g | Fat: 13.7g | Saturated Fat: 0.9g | Polyunsaturated Fat: 4.8g | Monounsaturated Fat: 6.8g | Trans Fat: 0.01g | Sodium: 329.6mg | Potassium: 443.2mg | Fiber: 8.2g | Sugar: 17g | Vitamin A: 19.6IU | Vitamin C: 84.7mg | Calcium: 419.3mg | Iron: 3mg | Magnesium: 79.9mg | Phosphorus: 150.4mg | Zinc: 1mg