This Sour Apple Smoothie recipe is the perfect green smoothie for green apple lovers with a sweet and tart flavor.
Plus, this green apple smoothie is also dairy-free and gluten-free.
You never have enough smoothie recipes! In my house, the kids and I love smoothies for breakfast or as a refreshing snack.
We love any kind of smoothie, thick and creamy like our mango smoothie, or sour and thin like this new green apple smoothie recipe.
We also add apple to the kid's lunchbox every day, I really believe the One apple a day keeps the doctor away!
Apples are packed with antioxidants, fiber, and filling.
Since my kids love green apples – it's their favorite fruit in a lunchbox – I thought we should try blending green apples in smoothies and see how it comes out.
The result is great, green apples do taste amazing in smoothies. It turns this green smoothie into a sort of sour gummy flavor that kids adore.
Below I am sharing with you our favorite way to make it, plus a few other ideas to adapt this smoothie recipe and add proteins, creamy texture, or sweetness.
What's A Sour Apple Smoothie?
A sour apple smoothie is a green smoothie recipe made from Granny Smith apples.
It's a thin, icy smoothie packed with sour and tart flavors from apples, and lemon juice, and the perfect healthy snack to refresh in summer.
How To Make A Sour Apple Smoothie
What makes smoothie recipes sour are two ingredients.
You need a sour apple like granny smith apple and a touch of citrus. We love lime juice, but lemon or mandarin works too.
Ingredients
Granny Smith Apples
Baby Spinach or trimmed kale leaves provides the same color, texture, and nutrients.
Lime Juice or lemon juice
Frozen Mango
Plain Plant-Based Greek Yogurt of choice. We love almond or soy yogurt. Use coconut yogurt for a thicker consistency.
Cashews – Nuts thicken the smoothie.
Water or coconut water. Coconut water naturally sweetens the drink and makes the smoothie less tart.
Ice Cubes
Maple Syrup – You can also use coconut nectar or agave syrup. Any refined sugar-free sweetener works well.
Preparation
Cut and core the apple. Keep the skin on for extra fiber or peel the apple if you don't have a high-speed blender.
In the jug of a blender, add the apple pieces, baby spinach leaves, frozen mango, plain plant-based yogurt, cashew, water, maple syrup, and ice cubes.
Blend until smooth, on high-speed or until no pieces of apples or nuts can be found.
Tips And Tricks
Let me share a few tips to change the texture and taste of this smoothie.
Making It Creamier
If you find this smoothie too liquid and you like your smoothie creamier, and less tart, add more frozen fruits, from 1/4 cup to 1/3 cup of:
Frozen mango
Frozen bananas slices
Frozen pineapple
Frozen green grapes
Another option is to:
Add seeds like 1 teaspoon of flax meal or 1 tablespoon of chia seeds.
Add a scoop of protein powder
Swap the water for plant-based milk like oat milk, soy milk, or almond milk.
Add 1/4 cup rolled oats – it adds fiber, and protein and makes the perfect smoothie for breakfast.
Increasing The Sweetness
Green apples are not very sweet. They add a sour flavor to this smoothie recipe that is amazing. But, if you love a sweeter smoothie, try adding some:
Extra maple syrup 1-2 extra teaspoons
Frozen bananas
Stevia drops
Serving
Serve immediately with some toppings if you like, including:
Desiccated Coconut
Drizzle of nut butter
Freeze-dried raspberries
Allergy Swaps
Below are some substitution suggestions to adapt this easy smoothie recipe if you have food allergies.
Nut-Free – Replace the cashews with one tablespoon of chia seeds or sunflower seed.
Cashew-Free – Alternative nuts are cashew butter, peanut butter, or slivered almonds.
Mango-Free – Replace the mango with frozen banana or frozen pineapple.
Yogurt Swap – Replace plant-based yogurt with half of a ripe avocado. This adds healthy fats and increases the smooth texture of the smoothie. Or use a thick and rich plant-based milk like canned coconut milk or soy milk for a boost of proteins.
Frequently Asked Questions
Below are my answers to your most common questions about this apple smoothie recipe.
Are Apple Smoothies A Thing?
Yes, you can put an apple in a smoothie and turn your smoothie into the most delicious drink.
Try adding a juicy red apple to my pumpkin pie smoothie. It tastes like apple pie. Or, try green apples to make a sweet and sour drink.
What Are Sour Apples Good For?
Green Apples are high in fiber, vitamins A, E, and C, high in juice, low in calories, low in fat, and filling.
As a result, they are great healthy snacks to fix your sweet cravings and rehydrate without compromising on taste.
More Smoothie Recipes
Below I listed some more healthy smoothie recipes for you to try.
Have you tried this sour green smoothie recipe? Share a comment or review below.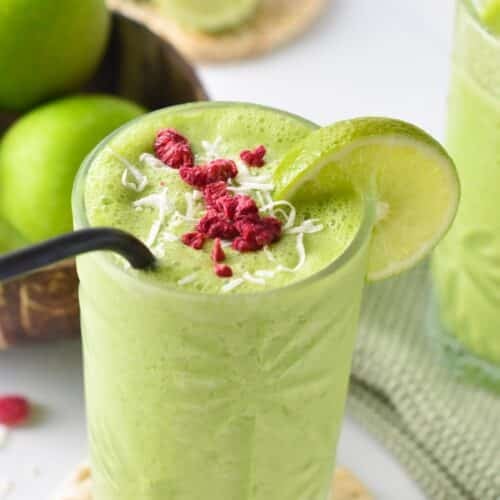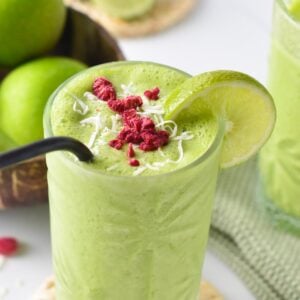 Sour Apple Smoothie
This Sour Apple Smoothie recipe is the perfect green smoothie for green apple lovers with a sweet and tart flavor. Plus, this green apple smoothie is also dairy-free and gluten-free.
Pin
Print
Review
Servings: 2 smoothies
Calories: 156.6 kcal
Instructions
Cored and cut the green apples into small cubes – keep the skin on and place in the blender with the remaining ingredients.

Blend on high speed until smooth – check taste and texture. Add more sweetener for a sweeter flavor, more lime juice to increase the sour taste, or more frozen mango to thicken the smoothie.

Serve immediately with a topping of your choice- we used desiccated coconut and freeze-dried raspberries.
Share on Facebook
Pin Recipe
Nutrition
Serving: 1smoothie | Calories: 156.6kcal | Carbohydrates: 24.8g | Protein: 4.1g | Fat: 6g | Saturated Fat: 1.7g | Polyunsaturated Fat: 0.9g | Monounsaturated Fat: 2.8g | Cholesterol: 5.3mg | Sodium: 43.4mg | Potassium: 370.4mg | Fiber: 3.2g | Sugar: 17.2g | Vitamin A: 1726.8IU | Vitamin B12: 0.1µg | Vitamin C: 20.7mg | Vitamin D: 0.04µg | Calcium: 87.5mg | Iron: 1.3mg | Magnesium: 56.5mg | Phosphorus: 120.4mg | Zinc: 1mg