This Pumpkin Pie Smoothie is a healthy fall smoothie recipe with all the pumpkin pie flavors and so nourishing to fix your sweet tooth.
Plus, this healthy pumpkin pie smoothie is also vegan, gluten-free, and dairy-free.
I love smoothie recipes, and there's not a week without smoothies in my house.
This Fall, if you are not a coffee lover and not into pumpkin spice latte, then try this pumpkin pie smoothie instead.
It's a coffee-free Fall drink that will remind you of a classic pumpkin pie but still fill you up with wholesome nourishing ingredients.
What's A Pumpkin Smoothie?
A pumpkin pie smoothie is a creamy pumpkin-based smoothie recipe that delivers all the pumpkin pie flavors using healthy ingredients.
It's a delicious Fall smoothie recipe to serve as a snack or a fulfilling breakfast.
How To Make Pumpkin Pie Smoothie
It's super simple to make this creamy pumpkin pie smoothie recipe.
Let's see the ingredients you need.
Ingredients
Pumpkin Puree – I recommend homemade pumpkin puree for pumpkin drink recipes. It's less expensive than canned pumpkin puree, and it delivers the same texture and flavor to your drink. Plus, if you are carving a pumpkin Jack-O'-Lantern this year, you will have leftover pumpkin flesh to cook, and making homemade puree to use in smoothies and drinks is a must.
Almond Butter or any nut butter you love including cashew butter, pecan butter, or seed butter if you have nut allergies like tahini or sunflower seed butter.
Vanilla Extract – For a perfect taste.
Almond Milk or coconut milk, oat milk, or soy milk to boost the proteins in your smoothie.
Frozen Banana – Chuck your fresh peeled bananas in the freezer for at least 30 minutes to bring natural sweetness and frost.
Cinnamon
Ginger
Clove or nutmeg.
Preparation Of Your Fall Smoothie
Simply place all the ingredients in a high-speed blender and blend until creamy and smooth.
You can add some ice cubes to make the smoothie frothier and thicken up its texture. Or, thin out your smoothie by adding more almond milk.
Another way to make a creamier pumpkin smoothie is to freeze your pumpkin puree in an ice cube tray and use frozen pumpkin puree.
It's a great way to store leftover pumpkin puree and use it throughout the year in smoothies.
Serving
This healthy pumpkin smoothie recipe is even better topped with some toppings like:
A drizzle of maple syrup.
Crushed pecans or walnuts.
A pinch of pumpkin pie spices, allspice, or cinnamon.
A drizzle of peanut butter.
Dollop of coconut vanilla yogurt.
Allergy Swaps
If you have some food allergies, I listed some options for you below.
Banana-Free – You can swap the banana for frozen cauliflower rice or frozen zucchini slices. It's a great way to also decrease the sugar and carbohydrates from the smoothie while keeping the drink thick and tasty.
Nut-Free – You can replace almond milk with any non-dairy milk like oat milk, soy milk, or rice milk. For almond butter, swap for tahini or sunflower seed butter.
Smoothie Add-Ons
You can tweak this pumpkin spice smoothie recipe to your liking by adding some nutritious extra ingredients like:
1 tablespoon of chia seeds.
1 tablespoon of ground flaxseeds.
2-3 tablespoons of old-fashioned rolled oats.
1 tablespoon of hemp seeds.
Frequently Asked Questions
Below I answered your most popular questions about this smoothie recipe.
How Can I Add Proteins To My Smoothie?
There are many ways you can increase the protein content of this pumpkin smoothie.
For example, you can swap half the almond milk with dairy-free plain Greek yogurt. Soy based yogurt are high in protein.
The next option is to use high-protein milk. Some varieties are fortified, and soy milk is a great choice.
Finally, add 2-3 tablespoons of vanilla protein powder.
This thickens the smoothie, so you may have to add some more liquid to reach the best texture.
Can I Add Oats?
Yes, adding 2-3 tablespoons of oats to this pumpkin smoothie is a great way to turn it into a fall breakfast smoothie.
Oats is a healthy cereal that adds a lovely biscuit flavor to smoothies while thickening the drink.
Can I Use Frozen Pumpkin Pieces In Smoothies?
No, you can't use frozen pumpkin pieces if they are uncooked – which is the case with store-bought frozen diced pumpkin.
If your frozen pumpkin pieces are steamed or boiled, then yes you can use them in smoothies.
How Can I Thicken My Smoothie?
You can increase the texture of the smoothie by adding a few ice cubes, more frozen bananas, 1-2 tablespoons of protein powder, or a few cashews.
More Pumpkin Recipes
It's the pumpkin season, and you may have lots of pumpkin cravings so below I listed my top pumpkin recipes for you: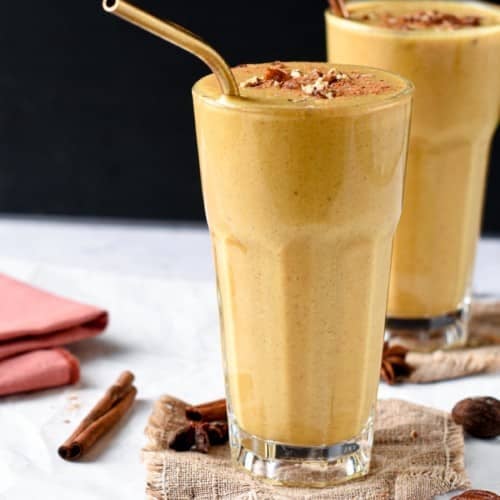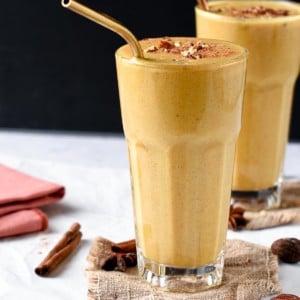 Pumpkin Pie Smoothie
This Pumpkin Pie Smoothie is a healthy Fall smoothie recipe that tastes like pumpkin pie but in a nourishing smoothie.
Pin
Print
Review
Instructions
Place all the ingredients in the blender and blend until smooth. Add more almond milk if too thick to your liking or some ice cubes for a frothier texture.

Serve with a pinch of cinnamon, crushed almonds, and a drizzle of peanut butter.
Share on Facebook
Pin Recipe
Nutrition
Serving:
1
smoothie
|
Calories:
155
kcal
|
Carbohydrates:
23
g
|
Protein:
4
g
|
Fat:
6.3
g
|
Saturated Fat:
0.5
g
|
Polyunsaturated Fat:
1.8
g
|
Monounsaturated Fat:
3.3
g
|
Sodium:
125.6
mg
|
Potassium:
380
mg
|
Fiber:
4.6
g
|
Sugar:
9.2
g
|
Vitamin A:
6393.5
IU
|
Vitamin C:
6.9
mg
|
Calcium:
159.6
mg
|
Iron:
1.3
mg
|
Magnesium:
56.2
mg
|
Phosphorus:
92.8
mg
|
Zinc:
0.7
mg