Pineapple Banana Smoothie
This Pineapple Banana Smoothie is the most refreshing smoothie this summer with delicious tropical flavors.
Plus, this is a dairy-free smoothie too easy to digest and share with your friends and family.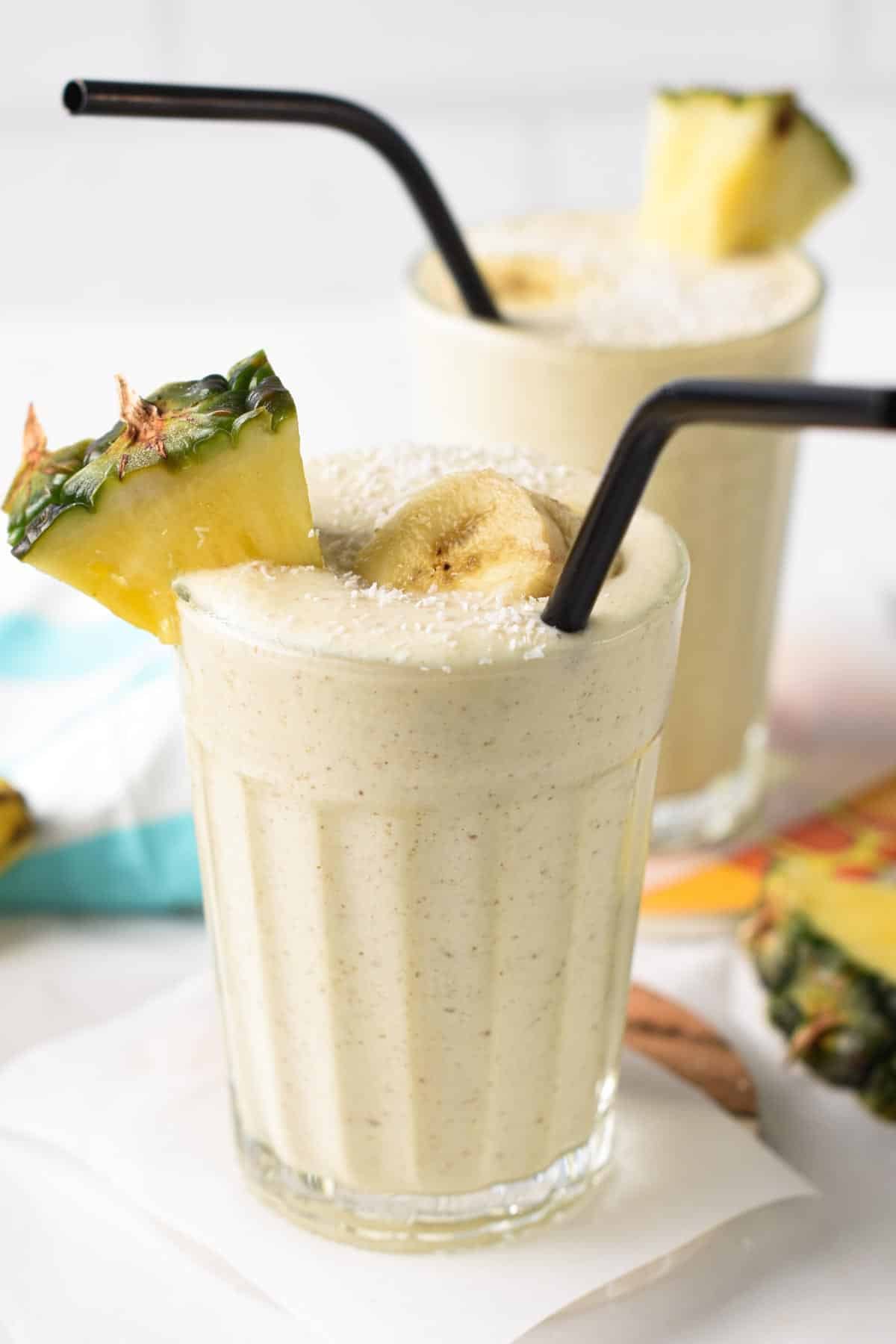 Do Perfect Smoothies Exist?
I have a love and passion for making the best vegan smoothies! While vegan smoothie recipes can be seen as simple, some can be too thin, too thick, or lack nutrients.
I love playing with the texture of ingredients to make smoothie recipes to their best, and it starts by balancing fresh and frozen fruits.
Then, it's essential to pick the right milk and the touch of add-ons like seeds, nuts, or sweeteners to bring out all its flavor.
So today I am sharing the best pineapple banana smoothie ever with the perfect pure white color.
How To Make Pineapple Banana Smoothie
It's super easy to make a thick, creamy Pineapple Banana Smoothie recipe with a few ingredients.
Ingredients
All you need are:
Frozen Banana – I always freeze my overripe banana in a zip-lock bag in small pieces to use in smoothie recipes later in the year. Don't buy frozen bananas, just make a bag at home to keep the old ripe bananas sitting in your kitchen and use them in smoothies.
Fresh Pineapple – You can use frozen pineapple, but the texture is a bit too thick, so I prefer fresh pineapple for this recipe.
Coconut Milk – You can use any plant-based milk such as coconut milk, soy milk, oat milk, cashew milk, or almond milk.
Yogurt of Choice – We like plain unsweetened yogurt or vanilla yogurt made of soy milk or coconut milk. Pick your favorite brand and flavor.
Chia Seeds – for a boost of plant-based protein and to add thickness to the smoothie. You can replace them with flaxseeds or hemp seeds, if preferred.
Optional
Add some of the ingredients below to boost sweetness or texture.
I didn't add any of these because my bananas are super ripe and the sweetness was spot-on.
Preparation
First, peel and cut the pineapple and remove the hard center part that doesn't taste great in smoothies.
Cut the yellow sweet pineapple flesh into cubes and add them to the blender along with frozen banana, coconut milk, yogurt, and chia seeds.
Blend on high speed for 20 to 30 seconds or until creamy and smooth.
Taste and adjust, adding maple syrup to boost sweetness or ice cubes if too thin to your liking. You can also both sweeten and thicken the smoothie by adding another frozen half banana.
Serving Banana Smoothies
Serve immediately with a fresh pineapple wedge on side of the glass and fresh banana slices on top of the smoothie.
Other delicious toppings are:
Unsweetened Desiccated Coconut
Crushed Peanuts
Toasted Coconut Flakes
Sliced Almonds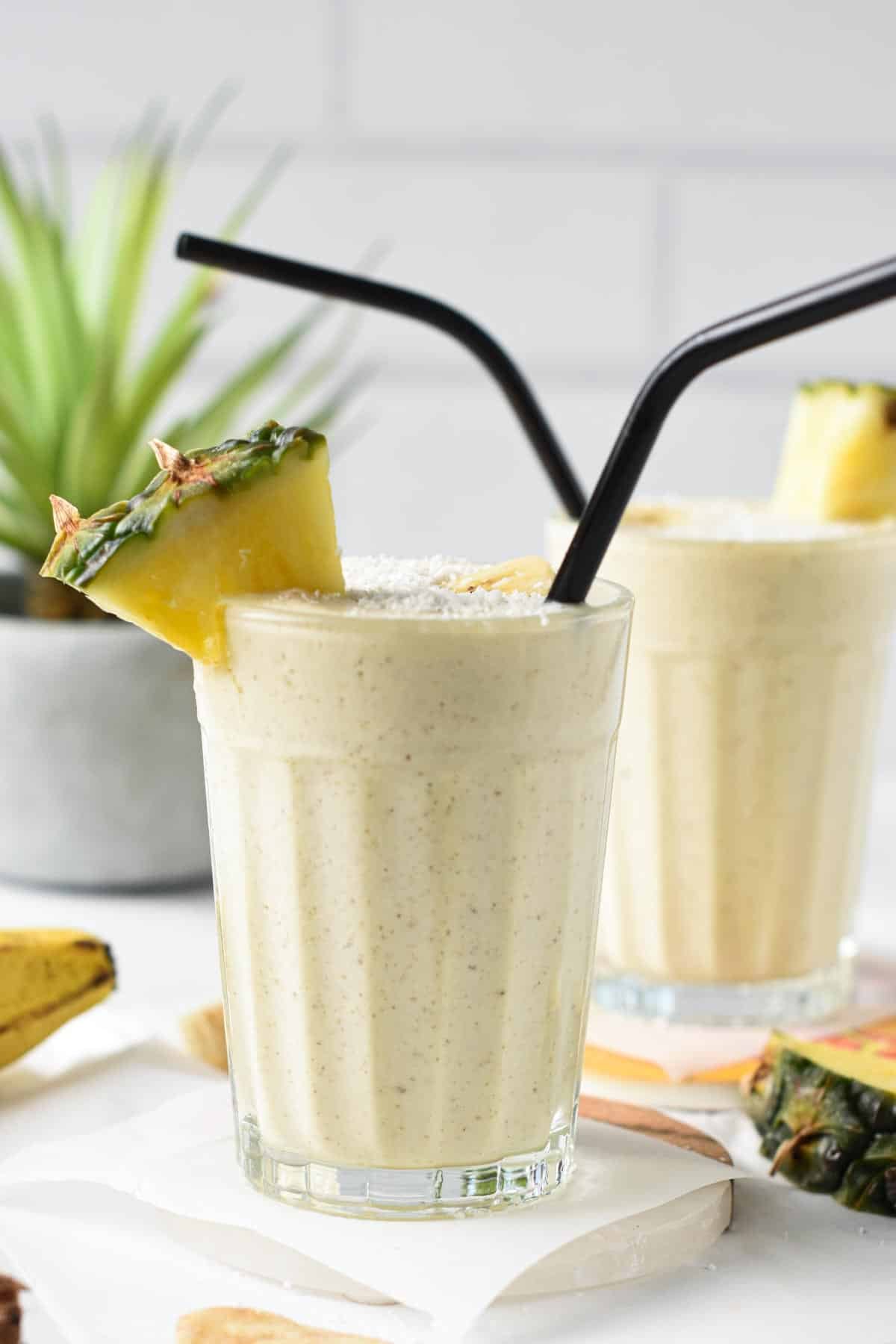 Allergy Swaps
I listed some ideas to alter the smoothie recipe based on your food allergies. Pick one or two of these to make the smoothie perfect for your diet:
Banana-Free – You can replace the small frozen banana with 1/3 cup of frozen zucchini or frozen cauliflower rice as they don't add flavor to smoothies but add the same texture as banana with less sugar added. Of course, any frozen berries work, but they will mask the pineapple flavor.
Coconut-Free – Use almond milk instead of coconut milk and almond-based yogurt or soy yogurt.
Chia-Free – You can skip the chia seeds or replace them with other high-fiber seeds that will add the same creamy texture and boost the protein. The best choices are flaxseed or flaxseed meal or hemp heart.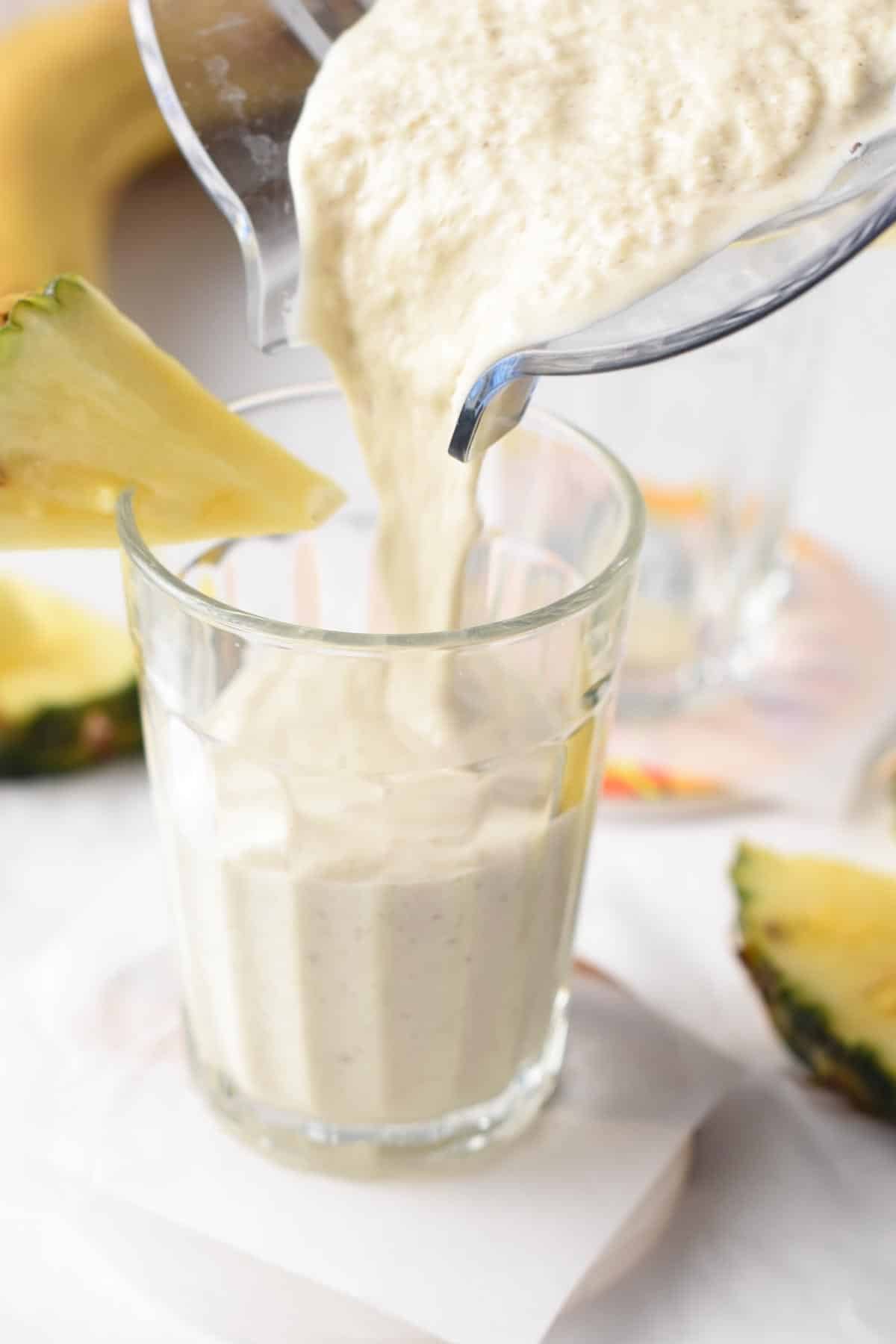 Frequently Asked Questions
Below are the answers to your most frequent questions about this banana smoothie with pineapple.
Can I Boost The Protein In My Pineapple Smoothie?
Absolutely yes, and it doesn't have to involve protein powder.
To boost the protein, use high-protein milk. Some types of almond milk are boosted with soy protein.
You can also use hemp milk and soy milk which have a strong protein profile.
You can also add 1 or 2 tablespoons hemp seeds to the recipe they are great vegan protein sources in smoothies.
Can I Skip Yogurt?
Yes, you can skip the dairy-free yogurt and add more plant-based milk instead with the smoothie texture won't be as creamy.
Can I Add Protein Powder?
Yes, if you like protein powder in smoothies, you can add 2-3 tablespoons to the recipe.
This thickens the drink so you will have to add more almond milk to thin out the drink, or it will be difficult to blend.
More Smoothie Recipes
Below I listed some more smoothie recipes for you to try.
Have you made this banana pineapple smoothie recipe? Share a comment or review below to connect with me.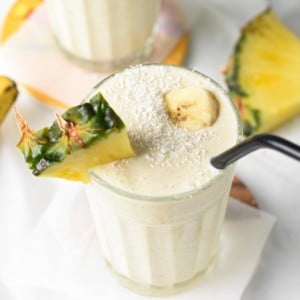 Pineapple Banana Smoothie
This Pineapple Banana Smoothie is the most refreshing smoothie this summer with delicious tropical flavors.
Pin
Print
Review
Instructions
Add all the smoothie ingredients to the jug of a blender.

Blend on the high-speed setting until smooth. You can thin out the smoothie by adding a splash more milk or water.
Serving idea
Serve immediately with a pineapple wedge on side of the glass, banana slices, and a pinch of unsweetened desiccated coconut.
Notes
Note 1: Any plant-based milk can be used.
Note 2: Any plain unsweetened yogurt works. We tried with soy and coconut yogurt.
Share on Facebook
Pin Recipe
Nutrition
Serving:
1
smoothie
|
Calories:
141.8
kcal
|
Carbohydrates:
29.2
g
|
Protein:
2.1
g
|
Fat:
3
g
|
Saturated Fat:
1.7
g
|
Polyunsaturated Fat:
0.5
g
|
Monounsaturated Fat:
0.1
g
|
Trans Fat:
0.01
g
|
Sodium:
8.3
mg
|
Potassium:
280.1
mg
|
Fiber:
3.6
g
|
Sugar:
18.7
g
|
Vitamin A:
81.3
IU
|
Vitamin B12:
1.1
µg
|
Vitamin C:
47.6
mg
|
Vitamin D:
44.6
µg
|
Calcium:
102.5
mg
|
Iron:
0.5
mg
|
Magnesium:
45.7
mg
|
Phosphorus:
34.9
mg
|
Zinc:
0.5
mg