This Grapefruit smoothie is a refreshing sweet and sour pink smoothie recipe packed with vitamin C and antioxidants.
It's the perfect smoothie to boost your immune system in winter or simply cool down after a workout.
When it's the grapefruit season, I love enjoying this smoothie recipe.
Better than green smoothies, this grapefruit smoothie recipe is packed with nutrients, potassium good for heart health, and vitamin C.
What Is A Grapefruit Smoothie?
A grapefruit smoothie is a refreshing sweet and sour milk drink made from fresh grapefruits, non-dairy milk, and usually another frozen fruit to cover the drink's bitterness.
It's a smoothie recipe high in antioxidants, perfect for boosting your immune system in winter using seasonal fruits.
What Goes Well With Grapefruit In A Smoothie?
I tested many combinations of fruits, and so far, what comes out the best with grapefruits is strawberries.
Bananas, apples, blueberries, or tropical fruits like frozen mango and frozen pineapple have a too-sweet or strong flavor that always masks the grapefruit taste.
So here is my way of enjoying a grapefruit smoothie in winter.
Why you should eat grapefruits
Grapefruits are not as popular as orange, kale, and avocado in smoothie recipes.
However, it should be used more often because it's a powerful source of nutrients and also low in calories and sugar.
The main benefits of grapefruits are:
High Potassium – half a grapefruit covers 5% of your daily needs, and potassium is good for heart health.
High Vitamin A – Grapefruits contain 4 times more vitamin A than oranges. Vitamin A is good for vision and our immune system.
High Vitamin C – It's less than oranges, but half of a medium grapefruit covers more than 60% of your daily needs.
May prevent your insulin resistance and strengthen your metabolism to control your blood sugar level.
Unfortunately, grapefruits are not miracle fruits for weight loss, detox, or burning fat.
It's a nutrient-dense citrus fruit with many health benefits, but, like any other food, you shouldn't overeat grapefruits.
How To Make Grapefruit Smoothie
It takes some time to peel the grapefruit and turn it into a drink, but it's worth all the effort.
Ingredients
All you need to make this delicious smoothie with grapefruit are:
Red Ruby Grapefruit – Fresh from the fridge to make your smoothie ultracold. Read my tips below on how to cut a grapefruit for smoothies.
Frozen Strawberries – Strawberries have a mild sweetness and flavor and pair perfectly with grapefruit. It enhances the smoothie flavor and tampers the bitterness of grapefruit.
Strawberry or Vanilla Plain Greek Yogurt – I usually don't use sweetened soy yogurt, except for a citrus smoothie. This makes the smoothie less acidic. But you can use plain plant-based yogurt if you enjoy the natural sweetness and sourness of citrus fruits.
Maple Syrup or any refined sugar-free sweetener you love.
Non-Dairy Milk of you choice, like almond milk or oat milk.
Vanilla Extract
Cutting Grapefruit
The key to making a good grapefruit smoothie is to peel the grapefruit with a knife and remove all the soft white parts around the grapefruit wedges.
I added below some pictures on how I cut the grapefruit.
First, place the grapefruit on a chopping board on its side.
Next, using a long sharp knife, cut off the top and bottom parts until the flesh can be seen.
Then, place the grapefruit up on its bottom side and run the knife from top to bottom, following the fruit's contour. Repeat until no more peel is left on the fruit.
You want to end up with a lovely pink fruit with no white spots.
For smoothies, you don't have to remove the lines between each segment of fruit.
This adds fiber to the smoothie and it will blend easily so you don't feel it. Simply cut the grapefruit flesh into rough pieces.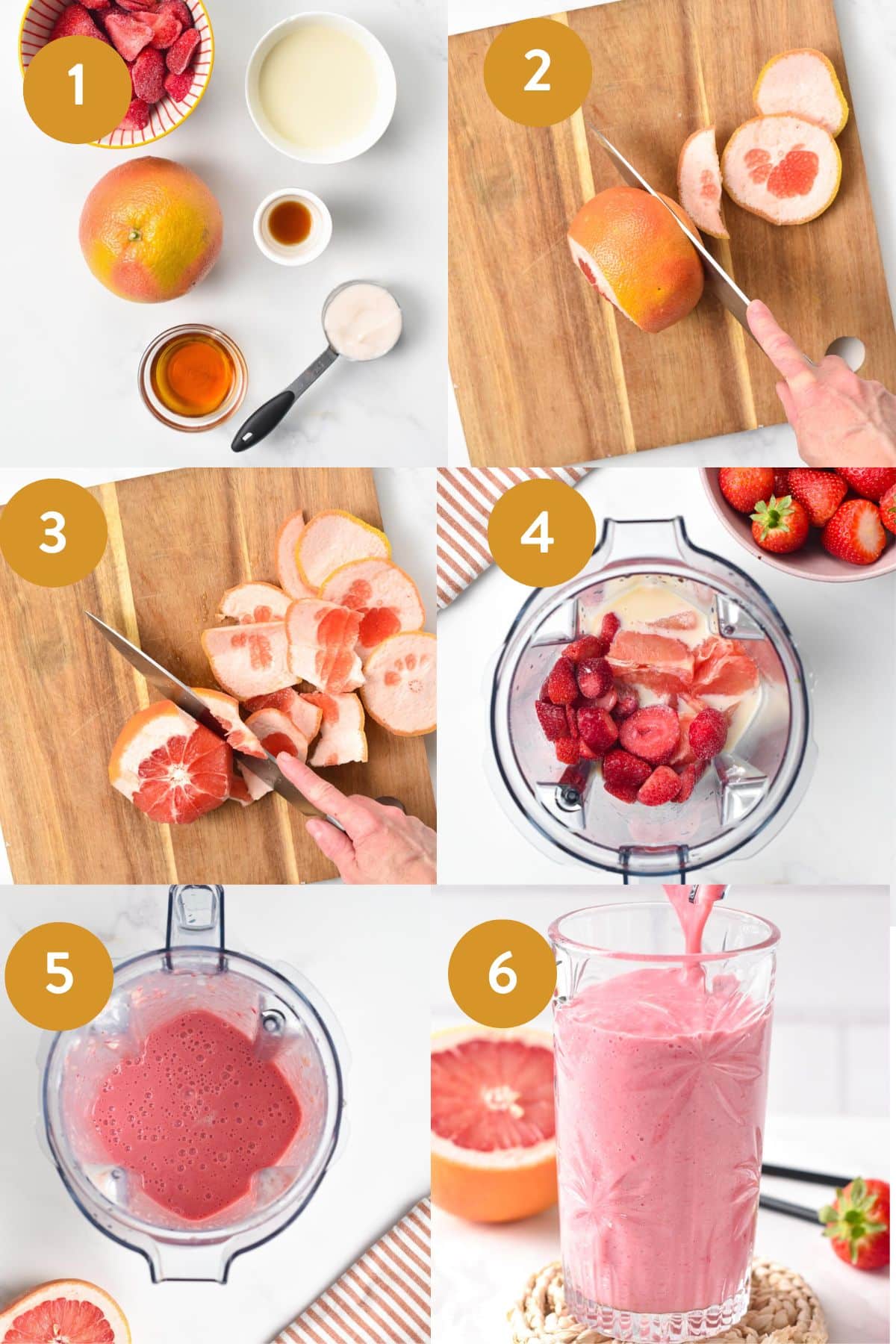 Selecting The Best Grapefruit
You should select a grapefruit that is:
Heavy and firm to the touch
Shiny peel
Ruby Red Grapefruit vs Pink Grapefruit
Both have different sweetnesses and colors.
First, pink grapefruits are pale with a light pink color and are lightly sweet flavor and more bitter.
On the other hand, red ruby grapefruits are sweet with a vibrant red color.
Grapefruit Season
The peak Grapefruit season is around late winter to early spring.
Late-season grapefruits tend to be sweeter and highly recommended for this grapefruit smoothie.
Preparation
Add all the ingredients to a high-speed blender jug. Blend on high speed until smooth and creamy.
Making The Smoothie Thicker
If you don't like the smoothie's consistency, you can thicken up the drink by blending in the following:
A few ice cubes
2-3 tablespoons of vanilla protein powder – decrease the sweetener when you add this ingredient, or the drink will be too sweet.
1-2 tablespoons of peanut butter or cashew butter.
1 teaspoon of chia seeds
Pour the smoothie into a tall glass and enjoy it immediately as a snack or breakfast.
Spice Ideas
You can also add flavors to this drink by adding:
A bit of freshly grated fresh ginger
A few fresh mint leaves
1/4 teaspoon of cinnamon
Smoothie Toppings
I love to add toppings to my smoothies, for flavor and texture. The best pairing with a grapefruit smoothie are:
Coconut – flakes or shredded
A Drizzle Maple Syrup
Freeze-Dried Strawberry pieces
Peanut Butter
Allergy Swaps
This smoothie recipe is naturally vegan and gluten-free.
However, if you have allergies to the ingredients used in the recipe, try some of the swap ideas below
Nut-Free – Replace the almond milk with coconut milk, oat milk, or soy milk for a boost of proteins.
Yogurt – I use dairy-free yogurt in my smoothie recipes, like soy yogurt, almond yogurt, or oat yogurt. For an ultra-creamy smoothie, try plain coconut yogurt.
Strawberry Swaps – You can also use frozen raspberries but the drink is less sweet and you will need more maple syrup.
Sugar-Free – You can skip the sweetener, but the drink is a bit bitter.
Frequently Asked Questions
Below are my answers to your most common questions about this smoothie recipe.
Can I Use Grapefruit Juice?
Yes, you replace one large grapefruit with 1/3 cup of grapefruit juice.
The drink will taste similar but will contain far less nutrients.
Can I Use Fresh Berries?
You can use fresh berries, but the smoothie won't be thick and creamy. You will need some ice cubes to thicken the drink.

Are Grapefruits Good In Smoothies?
Yes, grapefruits add a lovely sour flavor to smoothies. Make sure you combine it with sweeter fruits like berries and add a sweetener to avoid a too acidic drink.
More Smoothie Recipes
Below I listed some more healthy smoothie recipes for you to try.
Did you try the grapefruit smoothie? Let me know if you enjoy the taste of it!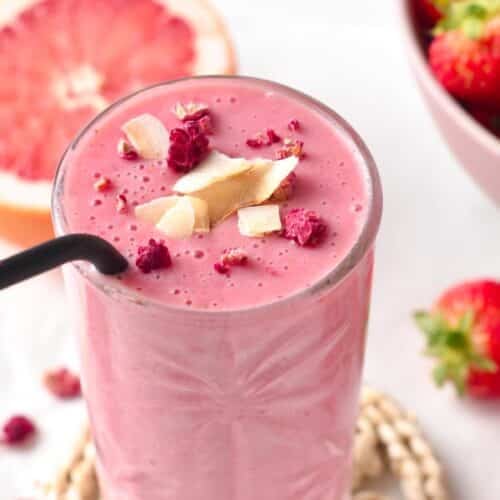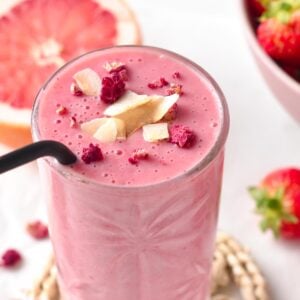 Grapefruit Smoothie
This Grapefruit smoothie is a refreshing sweet and sour pink smoothie recipe packed with vitamin C and antioxidants.
Pin
Print
Review
Servings: 1 smoothie
Calories: 292.4 kcal
Instructions
Peel the grapefruit using a sharp knife – as seen in my picture above to remove the white part and release the grapefruit segment.

Place the grapefruit segment, frozen strawberries, almond milk, and yogurt you love – I used strawberry soy yogurt (it adds sweetness, but plain also works), maple syrup, and vanilla extract into a blender or smoothie blender.

Blend on high speed until smooth and frothy.

Serve immediately.
Notes
Note 1: Replacing grapefruit with grapefruit juice – Juice in grapefruit is about 1/3 cup to 1/2 cup. Note 2: Or any non-dairy milk you love. Note 3: Any non-dairy yogurt works. I used soy yogurt.
Share on Facebook
Pin Recipe
Nutrition
Serving: 1smoothie | Calories: 292.4kcal | Carbohydrates: 64.8g | Protein: 5.1g | Fat: 3.3g | Saturated Fat: 0.2g | Polyunsaturated Fat: 1.1g | Monounsaturated Fat: 0.9g | Sodium: 174.1mg | Potassium: 634.9mg | Fiber: 7.6g | Sugar: 45.9g | Vitamin A: 2961.3IU | Vitamin C: 172mg | Vitamin D: 0.7µg | Calcium: 337.1mg | Iron: 0.8mg | Magnesium: 48.2mg | Phosphorus: 80.7mg | Zinc: 0.6mg