This Raspberry Smoothie recipe is a smooth and creamy refreshing smoothie with vibrant pink colors.
Plus, raspberries are low-sugar and packed with antioxidants to fight inflammation.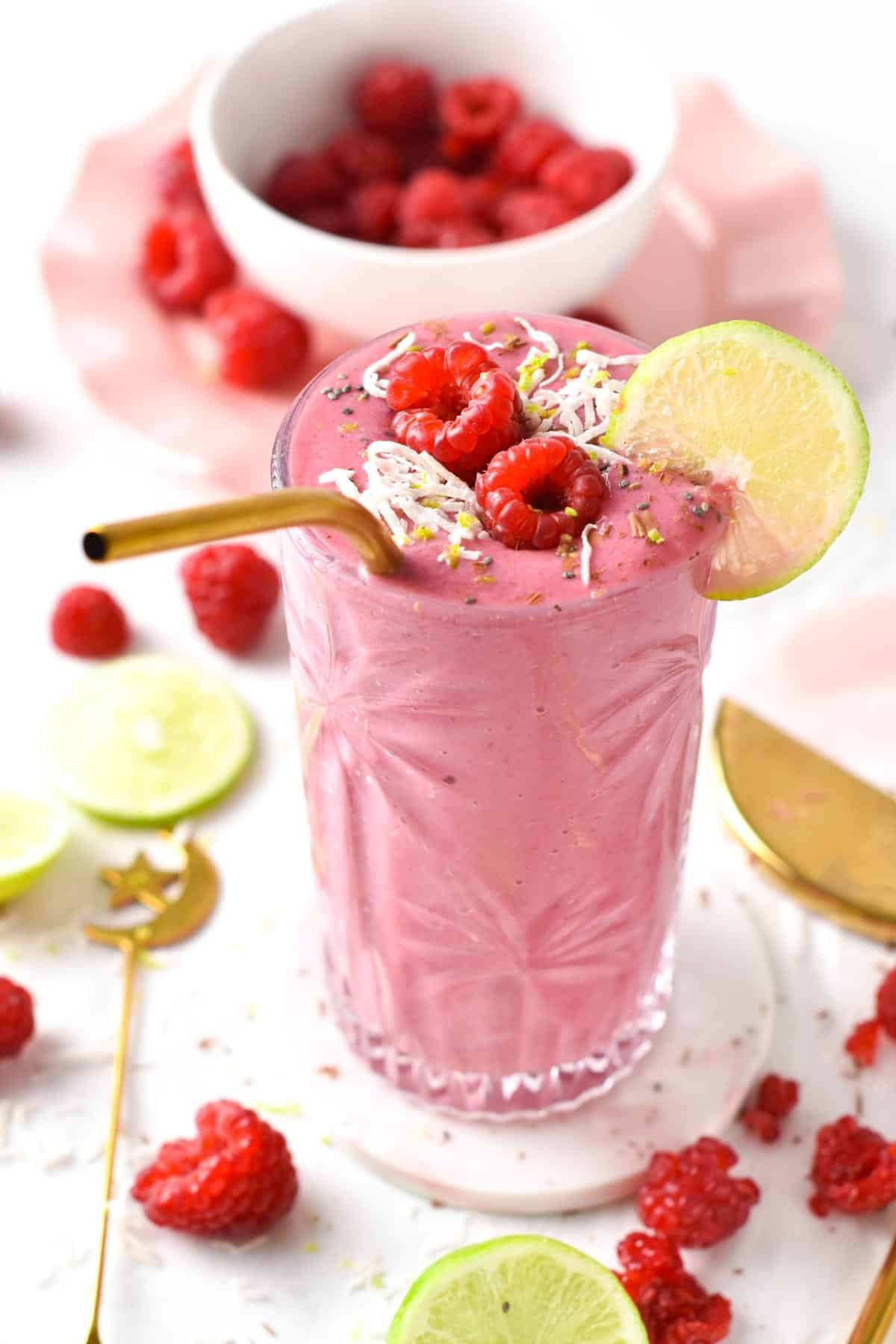 I have a passion for smoothie recipes, they might seem easy, but the wrong ratio of fruits and liquid can make a smoothie not that good.
So here's my best raspberry banana smoothie, creamy, thick, packed with tangy flavors, and sweet enough to refresh on hot days.
How To Make A Raspberry Smoothie
There are many ways to make a taste raspberry smoothie, but the trick is to mix raspberries with a sweeter, starcher fruit.
This adds creaminess and sweetness to the recipe. In fact, raspberries are full of water and low in sugar, and on their own they make smoothie thin and acid.
Ingredients
The best combination of simple ingredients to make a raspberry smoothie tasty are:
Frozen Raspberries – You could use fresh raspberries, but they are often much more expensive, even when it is in season. Frozen raspberries add a real creamy thick texture that fresh berries won't provide.
Banana – The riper, the sweeter the smoothie. If you used fresh raspberries, use frozen banana and add ice cubes or the smoothie won't be thick.
Unsweetened Almond Milk – You can also use cashew milk or soy milk to boost protein. Actually, any dairy-free milk work for this recipe.
Chia Seeds – They add healthy omega-3 fatty acids and fiber and they thicken the smoothie.
Lime Juice
Maple Syrup or any unrefined liquid sweetener you love, like coconut nectar or date syrup.
Vanilla Extract
Preparation
Add all the smoothie ingredients into a high-speed blender or Nutri Bullet. Blend on high speed until thick and creamy, and smooth.
If it doesn't blend very well, add a splash of more plant-based milk. If too thin, add more frozen raspberries or a few ice cubes to make the smoothie frothier.
Serving
Pour the smoothie into a large serving glass and add some toppings like:
Fresh Raspberries
Shredded Coconut
Sliced Almonds
Drizzle of Cashew Butter, almond butter, or peanut butter.
Flavor Alternatives
To change the flavor of your smoothie, you can add or replace some of the ingredients in this recipe:
For example, try adding 1/4 cup of:
1/4 cup of Plant-based Plain Greek Yogurt, like coconut yogurt or soy yogurt to add creaminess and proteins.
One Scoop of Protein Powder and increase the milk by 1/3 cup.
Two Medjool Dates instead of the sweetener. The natural sweetness of dates sweetens the raspberry smoothie perfectly, and they also add a creamy texture.
1 1/2 tablespoon of Cocoa Powder to make a chocolate raspberry smoothie.
One tablespoon of Nut Butter like cashew or almond butter.
2-3 tablespoons of Quick Oats to turn this into a breakfast smoothie. Add an extra 1/4 cup of milk to keep the smoothie texture right.
Use a Frozen Banana and add 1/2 cup ice cube to turn the texture of this smoothie into ice cream. Use the tamper attachment of your blender as it became hard to blend with more ice. Serve as a raspberry smoothie bowl topped with granola, oats or nuts and seeds for a boost of healthy fats.
Add Greens like spinach and kale for extra nutrients. This turns the color of the smoothie brown.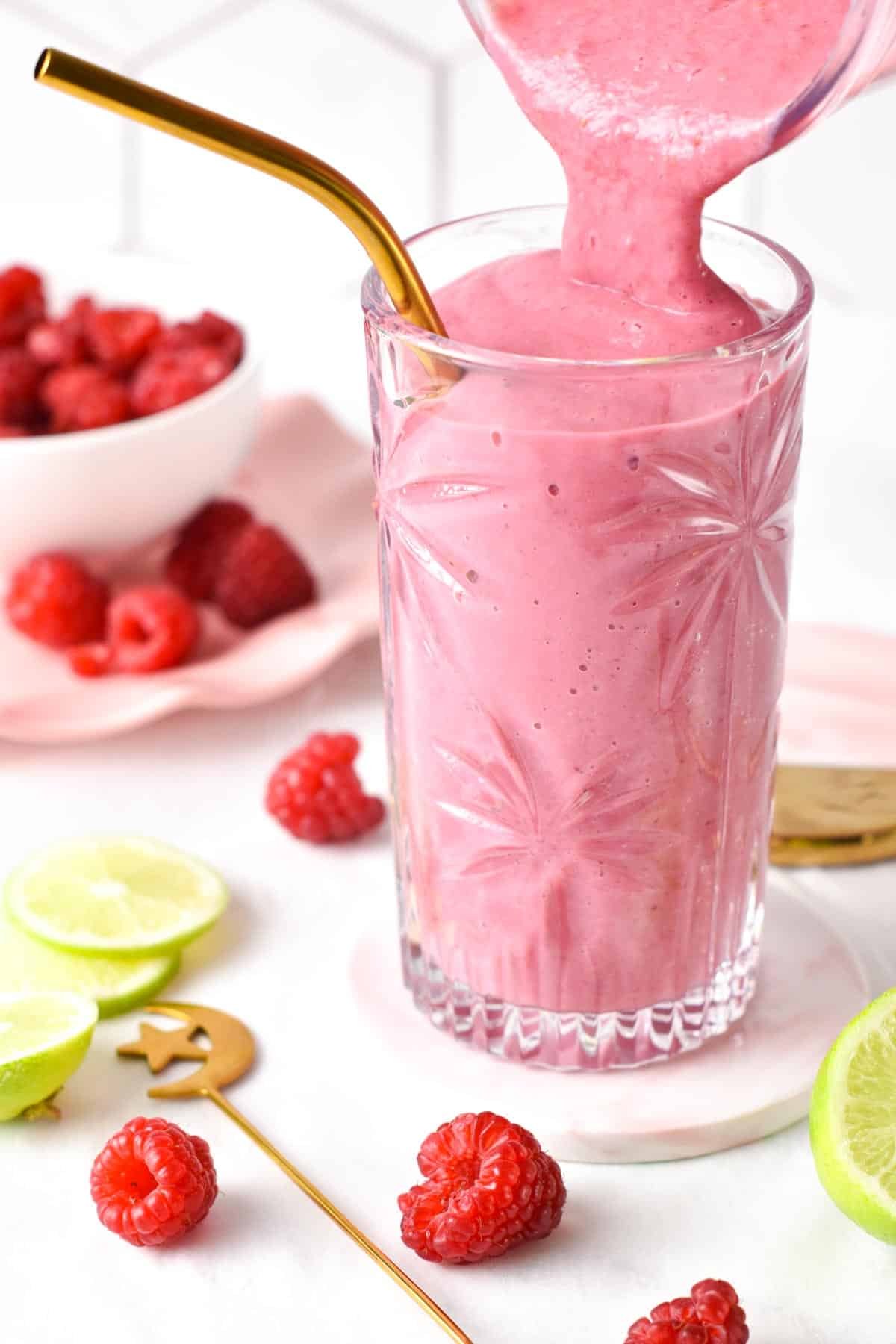 Allergy Swaps
Below are some ingredient substitutions to make this easy raspberry smoothie suitable for your dietary needs.
Low-Carb – Raspberries are great low-carb fruits. To make the smoothie low in carbohydrates, replace the banana with frozen zucchini or frozen cauliflower. Use any sugar-free sweetener you love, like a few stevia drops or sugar-free allulose.
Nut-Free – Replace the almond milk with any non-dairy milk you love, like coconut milk, oat milk, soy milk, or seed milk.
Chia Seed-Free – You can replace the chia seeds with flax seeds or skip them entirely.
Sugar – You can use any natural sweeteners, like maple syrup, coconut nectar, or agave, or skip it if preferred.
Raspberries – You can use mixed berries, blueberries, or strawberries to make different berry smoothie recipe flavors.
Citrus-Free – Skip the lime juice. This enhances the raspberry flavors, and the recipe still tastes amazing without it.
Banana-Free – You can replace the banana with fresh or frozen pineapple, or mango.
Gluten-Free – The recipe is naturally gluten-free.
Frequently Asked Questions
Here are my answers to your most common questions about this raspberry smoothie recipe.
What To Do With Leftover Smoothie?
You can't freeze leftover smoothies if they are made from frozen fruits. It's unsafe to freeze thawed ingredients as they can grow bacteria.
But you can store leftovers in the fridge for up to 48 hours in an airtight container. Then, blend again with ice or frozen fruits to bring the smoothie texture back.
What Are The Benefits Of Raspberry Smoothie?
Raspberries are high in antioxidants that reduce inflammation and high in potassium, which is good for heart health.
Do You Put Ice In A Smoothie?
You can add ice to smoothies to thicken their texture, especially if you didn't use frozen fruits in the recipe.
What's Good With Raspberries?
Raspberries are lightly acidic and go well with other citrus like lime, lemon, or sweet tropical fruits, like pineapple, mango, and bananas,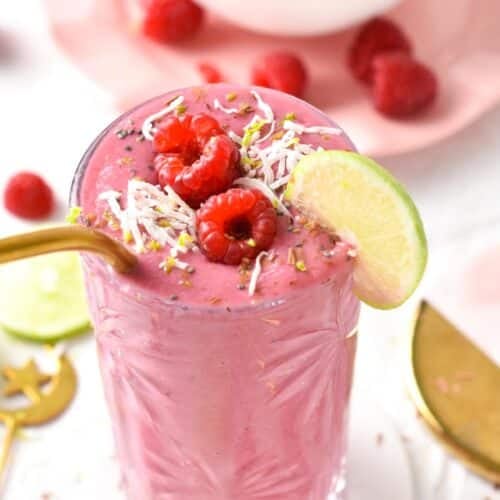 Raspberry Smoothie
This Raspberry Smoothie recipe is the most refreshing smoothie with vibrant pink colors. Plus, raspberries are low-sugar and packed with antioxidants to fight inflammation.
Pin
Print
Review
Instructions
Add all the ingredients to the high-speed blender: frozen raspberries, banana, chia seed, almond milk, lime juice, maple syrup, and vanilla. Blend until smooth.

Taste and adjust the sweetness by adding maple syrup or stevia drops. If too thick, add a splash of almond milk. If too thin, add some ice cubes and blend in.

Serve immediately with shredded coconut, lime zest, and fresh raspberries.
Share on Facebook
Pin Recipe
Nutrition
Serving:
1
serving
|
Calories:
298.9
kcal
|
Carbohydrates:
61.3
g
|
Protein:
5.2
g
|
Fat:
5.7
g
|
Saturated Fat:
0.3
g
|
Polyunsaturated Fat:
3.2
g
|
Monounsaturated Fat:
1.7
g
|
Trans Fat:
0.01
g
|
Sodium:
330.5
mg
|
Potassium:
703.5
mg
|
Fiber:
16.5
g
|
Sugar:
32.8
g
|
Vitamin A:
128.7
IU
|
Vitamin C:
57.5
mg
|
Calcium:
398
mg
|
Iron:
1.8
mg
|
Magnesium:
85.1
mg
|
Phosphorus:
109.6
mg
|
Zinc:
1.2
mg