Blueberry Pineapple Smoothie
This Blueberry Pineapple Smoothie is the most delicious and refreshing summer smoothie with antioxidants.
You will love the combination of sweet blueberries and the tropical flavors of pineapple.
Pineapple is my go-to fruit for breakfast smoothies because it's sweet, sour, and packed with nutrients and vitamin C.
Like blueberries, pineapple has similar healthy benefits, such as being a high antioxidant fruit. This turns this delicious purple smoothie on top of my list in winter to build immunity.
How To Make Blueberry Pineapple Smoothie
It's very simple to make this purple anti-oxidant smoothie as a quick breakfast, or refreshing after a drink.
Ingredients
All you need to make this thick and creamy smoothie are:
Frozen Blueberries – You can also use fresh blueberries, but then you will need ice or frozen pineapple to thicken the smoothie. If you decrease the amount of frozen fruit in a smoothie, you lack creaminess and thickness.
Pineapple – Fresh or frozen. I used fresh pineapple because my banana and blueberries are frozen, and too much-frozen fruit in a smoothie turns the texture too thin to drink.
Frozen Banana
Chia Seeds
Coconut Milk, almond milk, or soy milk for a boost of proteins.
Vanilla Extract
Pinch of Cinnamon
Preparation
Add the frozen blueberries, banana chunks, fresh pineapple pieces, and chia seeds to the jug of a high-speed blender.
Pour your plant-based milk of choice and vanilla extract. If you like, add a pinch of cinnamon.
Blend on high speed until creamy and smooth.
Serve your smoothie!
Adjusting The Smoothie
If your smoothie comes out too thin to your liking, you can blend in some ice cubes or more frozen fruit.
If too thick, add a splash of extra non-dairy milk to thin it out.
This pineapple smoothie has no added sugar. But, if your fresh fruits are not ripe, the sweetness level of your smoothie might be low.
To boost sweetness, feel free to add a drizzle of maple syrup or 1-2 pitted Medjool dates in the blender.
Variations
You can use this dairy-free smoothie recipe to make a high-protein breakfast or snack, by adding some of the below:
1/4 cup of rolled oats – This adds carbohydrates and fiber, perfect to refuel after a workout.
1 scoop of protein powder – We love pea vanilla protein powder. When you add protein powder, this adds a creamy texture to the drink. But, sometimes, you need some more milk to thin out the drink.
1/4 cup of soy vanilla Greek yogurt or any plant-based plain Greek yogurt. This adds protein if you use soy yogurt or high-protein plant yogurt. It also adds a creamy texture.
Serving
Serve your smoothie with any toppings you love like:
Shredded coconut
Extra blueberries,
Hemp seeds for a boost of proteins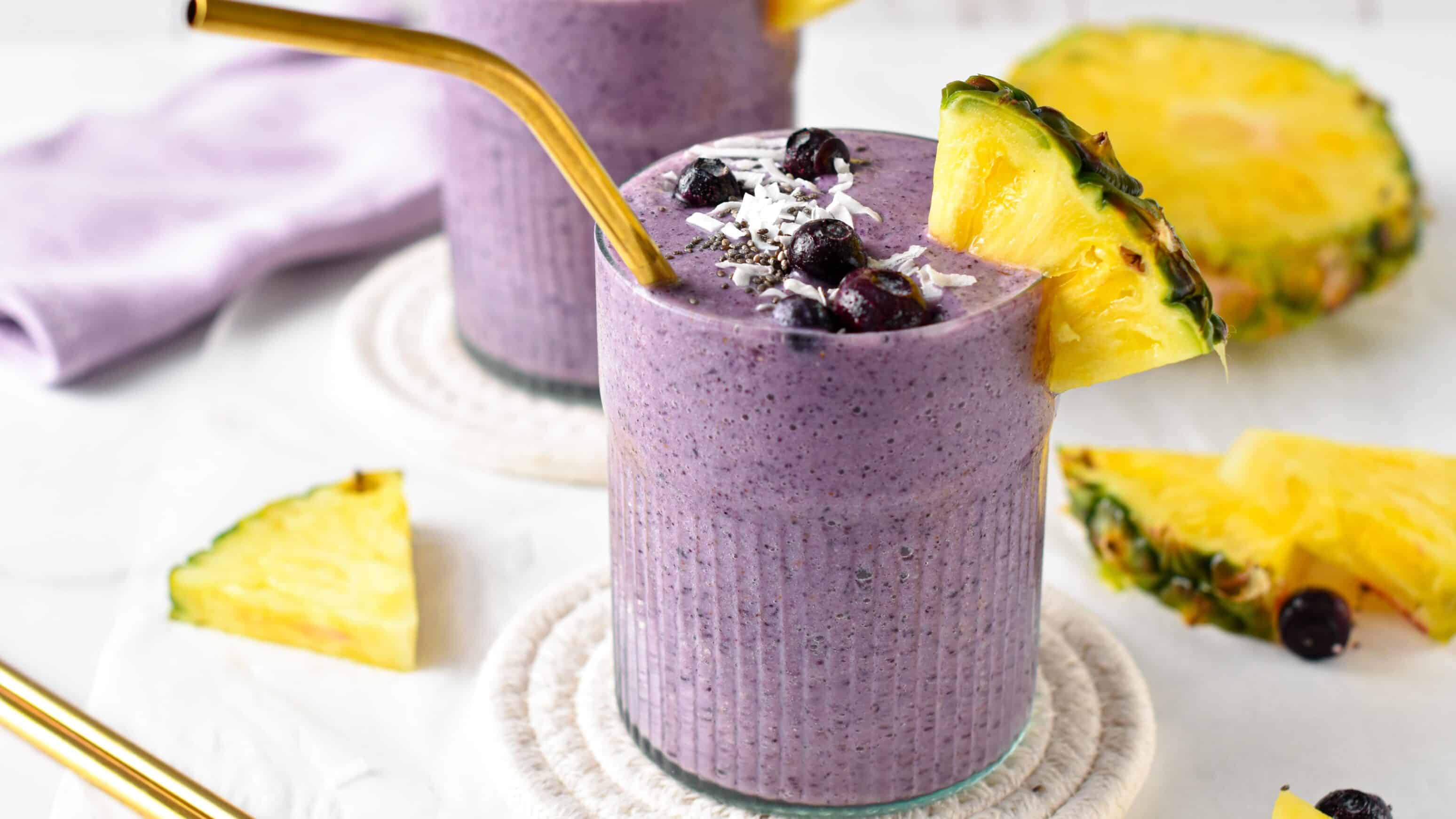 Allergy Swaps
If you need to adapt this blueberry pineapple smoothie recipe due to food allergies or diet restrictions, try some of my options below.
Banana-Free – If you don't like banana smoothie, you can replace the banana with frozen zucchini slices, frozen cauliflower. These two are low-carb options that add greens to your smoothies and no after taste. Or try more frozen blueberries or frozen mango chunks.
Chia Seed Free – Skip the chia seeds entirely or add ground flaxseeds instead for a boost of fiber and healthy fats.
Nut-Free – Pick a nut-free plant-based milk like oat milk, soy milk, or coconut milk.
Frequently Asked Questions
here are my answers to your common questions about this easy pineapple blueberry smoothie recipe.
How to make a smoothie bowl from a smoothie recipe?
Replace any fresh fruits with frozen fruits and decrease the liquid by half.
Then, blend on low speed at first, use a tamper tool to help the fruit turn into a thick and ice cream like consistency. Add more plant-based milk if it doesn't blend.
Can you eat blueberries and pineapple together?
Absolutely! It's actually the perfect combination of fruit to boost your antioxidant intake. Plus, both fruit flavors go well together.
What fruit blends well with pineapple?
Pineapple marry well with most fruit like banana, blueberries, strawberries, kiwi or mango.
Since its a lightly sour fruit, it probably won't match very well with citrus fruit that will make the combo of flavor very acid.
More Healthy Smoothie Recipes
Below are some more smoothie recipes for you to try.
Blueberry Pineapple Smoothie
This Blueberry Pineapple Smoothie is the most delicious and refreshing summer smoothie with antioxidants. You will love the combination of sweet blueberries and the tropical flavors of pineapple
Pin
Print
Review
Instructions
Add all the smoothie ingredients to the jug of a blender: fresh pineapple, frozen blueberry banana, chia seeds, and almond milk.

Blend on the high-speed setting until smooth. Taste and blend in the optional ingredients if you like. You can thin out the smoothie by adding a splash more milk or water. Or add ice cubes for a thicker smoothie.

Serve immediately with coconut and blueberries.
Share on Facebook
Pin Recipe
Nutrition
Serving:
1
smoothie
|
Calories:
291.4
kcal
|
Carbohydrates:
62.2
g
|
Protein:
2.6
g
|
Fat:
6.4
g
|
Saturated Fat:
5.1
g
|
Polyunsaturated Fat:
0.2
g
|
Monounsaturated Fat:
0.2
g
|
Sodium:
9
mg
|
Potassium:
659.9
mg
|
Fiber:
7
g
|
Sugar:
46
g
|
Vitamin A:
1451.5
IU
|
Vitamin B12:
3.7
µg
|
Vitamin C:
93.3
mg
|
Vitamin D:
147.5
µg
|
Calcium:
155.7
mg
|
Iron:
0.7
mg
|
Magnesium:
99.8
mg
|
Phosphorus:
46.1
mg
|
Zinc:
1.1
mg