This Banana Peach Smoothie is a deliciously thick and creamy smoothie for summer packed with peach flavors.
If you love peach cobbler or peach dessert, this peach smoothie recipe has all their flavors but is packed with nutrients and minimal calories.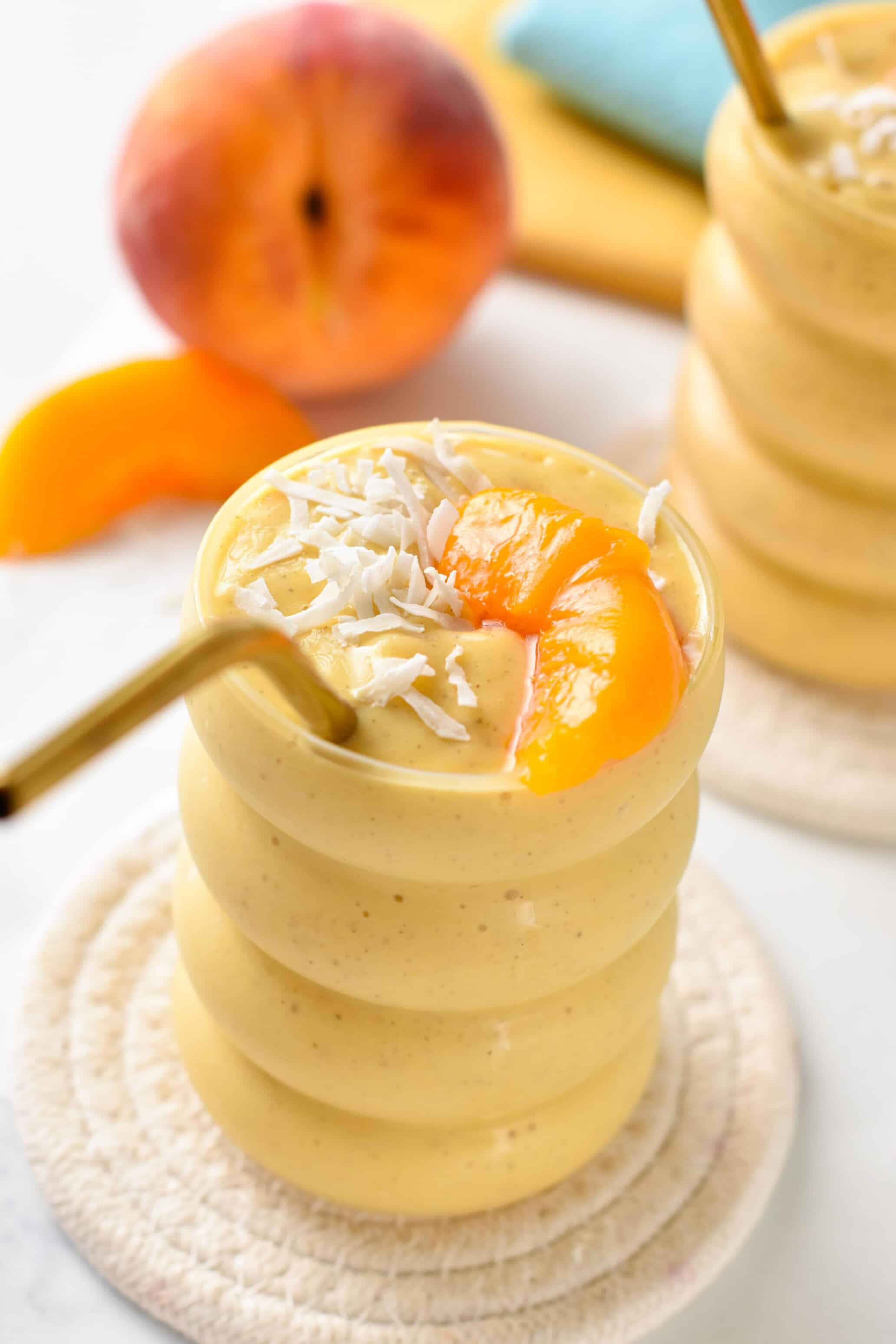 I love banana smoothie recipes, and since it's the peach season, nothing is better than a peach banana smoothie to cool down on hot summer days.
Peaches are packed with fibers, low in calories and rich in vitamin A and vitamin C.
Surprisingly, peaches are also low in sugar with only 8 grams of natural sugar per 100 grams, less than blueberries, often considered one of the lowest carb fruits.
So if you are after a fruit that thickens smoothies and adds nutrients and flavors to your drink, try peaches this summer.
How To Make Banana Peach Smoothie
It takes 5 minutes to make a smoothie, and this peach smoothie is very easy to adapt as well to boost your proteins or fiber for the day following some adds on listed below.
Ingredients
The basic ingredients you need to make a flavorsome banana peach smoothie are:
Frozen Bananas – Ripe bananas add lots of sweetness to smoothies. If yours are nor ripe, you may need a bit of maple syrup for added sweetness. I didn't add any sweetener to my recipe as I always freeze ultra-ripe banana for smoothie.
Fresh Peaches – Peeled or unpeeled, it's up to you. The peel adds fibers. Make sure you wash the fruit very well before using. I peel peaches to avoid pieces of peach skin that kids don't like. Also, removing the skin increases the drink's vibrant colors. You can also use frozen peaches, but in this case, use bananas that are not frozen or if both fruits are frozen, you will need more milk.
Plant-Based Milk of choice. Feel free to use your favorite dairy-free milk like soy milk, almond milk, or coconut milk.
Coconut Yogurt – Peaches and coconut flavors go so well together. Plus, coconut yogurt is vegan and it adds a texture similar to regular yogurt. However, feel free to use any non-dairy yogurt you love like oat, soy, or almond yogurt.
Vanilla Extract
Chia Seeds – optional. This adds fiber and healthy fats to the smoothie.
Cinnamon – This turns the flavor into peach pie, so delicious.
Ice Cubes – Optional. Add only for a frothier texture or if the amount of frozen banana you have in the freezer is less than the cups of frozen banana required by the recipe.
Preparation
Place all the ingredients into a high-speed blender and blend on high speed until smooth and creamy.
Add more milk to thin out the smoothie or add any of the below add-ons for flavor or texture.
Before serving, taste and adjust. Add a drizzle of maple syrup for a sweeter smoothie or more frozen fruit for a thicker smoothie.
You can also add more coconut Greek yogurt to add creaminess.
Storage Instructions
I don't recommend storing smoothie, they split in two layers in the fridge after a little while.
It's an easy breakfast to make in less than 5 minutes in the morning, and you can simply premeasure the ingredients the day before and store them in the fridge and freezer to save time in the morning.
Add-Ons
Now, let's talk about adding some more nutritious wholesome ingredients to boost the smoothie nutrition profile.
High-Protein – Add a scoop of vanilla protein powder like pea protein powder. However, protein powder makes thicker smoothies and you may need to increase the plant-based milk a little to thin out the smoothie texture.
Breakfast Smoothie – To turn this peach smoothie into a morning takeaway breakfast. Add 1/4 cup of old-fashioned rolled oats and 1 tablespoon of almond butter. Then, increase the milk by 1/4 cup or more to thin out the smoothie.
Green Peach Smoothie – Feel free to boost your smoothie with leafy greens for extra nutrients. Try adding 1/3 cup of trimmed kale, baby spinach leaves, or 1/4 of a fresh avocado for a boost of healthy fat. Obviously, this gives the recipe a brownish color.
Serving
Serve this banana peach smoothie recipe with some of your favorite toppings. The best flavors to marry with peaches are:
A drizzle of peanut butter or almond butter.
Unsweetened shredded coconut or toasted coconut flakes
Fresh peach slices or canned peaches
Chia seeds
Allergy Swaps
If you need some ingredients substitutions try some of the option below.
Nut-Free – Swap the almond milk for coconut milk, oat milk, or soy milk.
Banana-Free – If you don't have bananas or don't like their taste, you can use frozen mango or frozen pineapple instead.
Frequently Asked questions
Here are my answers to your common questions about this easy recipe.
What Fruit Goes Best With Bananas?
The most classic flavorsome combinations are banana with pineapple, mango, strawberries, peach, kiwi, blueberries, or raspberries.
Banana goes well with most fruits, apart from citrus fruits like lime or orange.
Why Do Bananas Make Smoothies Better?
Bananas, especially frozen bananas, give an ultra-creamy thick texture to smoothies.
Plus, they add natural sweetness which avoids adding sugar to smoothie recipes.
More Smoothie Recipes
Below are some other delicious smoothie recipes for you to try.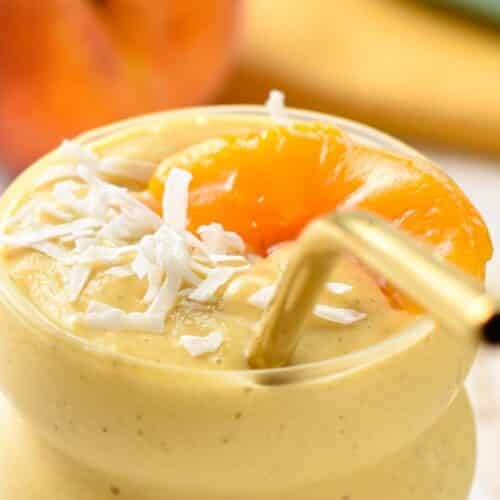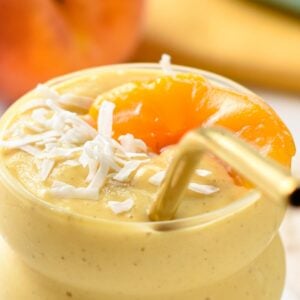 Banana Peach Smoothie
This Banana Peach Smoothie is a deliciously thick and creamy smoothie for summer packed with peach flavors.
Pin
Print
Review
Instructions
In a high-speed blender, add all the ingredients.

Blend on the high-speed setting until smooth.

Taste and adjust regarding taste. Add ice for a frothier texture, more frozen fruit for a thicker smoothie or a touch of maple syrup to sweetened. Blend after each addition
Serving idea
Serve immediately with a peach slices, shredded coconut or plain.
Notes
Note 1: Any plant-based milk can be used.
Note 2: Any plain unsweetened yogurt works. We tried with soy and coconut yogurt.
Share on Facebook
Pin Recipe
Nutrition
Serving:
1
smoothie
|
Calories:
146.5
kcal
|
Carbohydrates:
30.2
g
|
Protein:
2.8
g
|
Fat:
2.6
g
|
Saturated Fat:
0.2
g
|
Polyunsaturated Fat:
1.1
g
|
Monounsaturated Fat:
0.7
g
|
Trans Fat:
0.01
g
|
Sodium:
140.3
mg
|
Potassium:
306.4
mg
|
Fiber:
3.7
g
|
Sugar:
20.2
g
|
Vitamin A:
285.2
IU
|
Vitamin C:
11.3
mg
|
Vitamin D:
0.4
µg
|
Calcium:
183.4
mg
|
Iron:
0.6
mg
|
Magnesium:
29.3
mg
|
Phosphorus:
45.4
mg
|
Zinc:
0.4
mg