This Peach Overnights Oats recipe is a delicious, creamy, refreshing, healthy breakfast with fresh peaches.
Plus, it's a naturally plant-based breakfast with an easy gluten-free option.
Overnight oats are amazing for breakfast. They are so easy to meal prep days of healthy breakfast.
Plus, even kids love having ready-made breakfasts in the fridge, so they don't have to wait to be served.
When it's peach season, you can make my vegan peach muffins, vegan peach cobbler and of course now, Peach Overnights Oats!
How To Make Peach Overnights Oats
Here's how to make tasty overnight oats using fresh or canned peaches.
Ingredients
All you need to make this simple healthy breakfast for two are:
Old-Fashioned Rolled Oats or quick oats if you don't like the coarse texture of old-fashioned oats.
Chia Seeds – We used white chia seeds, but they are exactly the same as black chia seeds. Use what you have at home.
Milk of Choice – I use coconut milk because I like the flavor it adds to peaches. However, any option works, like soy milk for a natural boost of proteins or almond milk.
Yogurt – You can use soy yogurt or coconut yogurt, feel free to pick your favorite.
Fresh Peaches – I don't peel peaches but wash their skin with cold tap water very well. You can peel the peaches if you like.
Maple Syrup or any sweetener you like. You can also use a granulated sweetener like brown sugar, coconut sugar, or sugar-free erythritol.
Vanilla Extract
Cinnamon
Preparation
Like any overnight oats recipe, start by picking a shallow bowl.
Most recipes call for mason jars, and they work. But after years of making overnight oats, I learned that shallow bowls are much easier.
The chia seeds won't form lumps, and the ingredients are easier to stir together.
First, add the dry ingredients: oats, chia seeds, and cinnamon. Stir to combine evenly.
Add the liquid ingredients: milk, yogurt, vanilla extract, and maple syrup, and stir again.
Finally, fold in the chopped peaches and stir to combine.
Close the bowl with a lid and pop it in the refrigerator overnight. You must refrigerate overnight oats for at least 3 hours and up to 24 hours.
Serving
This peach overnight oat recipe serves two breakfasts and it's delicious topped with some of the below ingredients:
A drizzle of almond butter or peanut butter
More fresh peaches
More maple syrup
A pinch of cinnamon
Shredded coconut
Sliced almonds
Seeds like hemp seeds or sunflower seeds
Storage Instructions
This recipe can be stored in the fridge for up to 3 or 4 days.
You can store it in the bowl you used to prepare the overnight oats or divide the recipe into smaller mason jars for ready-to-eat portions.
Allergy Swaps
There are plenty of options to adapt this recipe to your allergies. Pick one or more from the below suggestions:
Gluten-Free – Pick a gluten-free certified oat brands.
Nut-Free – Choose nut-free milk like hemp milk, coconut milk, or soy milk.
Sugar-Free – Any natural sugar-free sweetener, like allulose, erythritol, or sugar-free maple-flavored syrup, works. For stevia, use only a few drops, as this sweetener is extremely powerful.
Chia Seed-Free – You can replace the chia seed with the same amount of ground flax seeds or leave them out and increase the oats by two tablespoons.
Yogurt-Free – Replace the yogurt by more dairy-free milk.
Frequently Asked Questions
Find below my answers to your most common questions about this easy breakfast recipe.
Can I Use Steel-Cut Oats?
I didn't try this option, so I can't answer for sure, but it might work.
Can I Use Canned Peaches?
Yes, you can absolutely use canned peaches for this recipe.
Drain the canned peach halves from their juice, cut them into large dice and stir them in the recipe.
You can replace the maple syrup in the recipe with some of the peach juice from the can for a boost of peach flavor.
Can I Use Nectarine Or White Peaches?
Absolutely! Any of these fruits, even apricot, will go very well in this overnight oat recipe.
Can I Double The Recipe?
Yes, you can double the recipe. Divide it evenly into four jars and store them in the fridge up to 3 or 4 days for a quick and easy breakfast.
How Can I Boost The Protein In Overnight Oats?
You can try my overnight oats with protein powder and stir peaches in the recipe for a high-protein breakfast.
Otherwise, use this recipe and stir in 1 or 2 tablespoons of proteins powder and serve it with high-protein seeds like hemp seeds.
If the batter is too thick, thin it out with more plant-based milk.
Can I Use Other Fruits?
Yes, you can replace the peach with strawberries, blueberries, or raspberries.
More Overnight Oats Recipes
If you like overnight oats, below are some more flavors for you to try.
Have you tried this peach overnight oat recipe? Share a comment or review below to connect with me.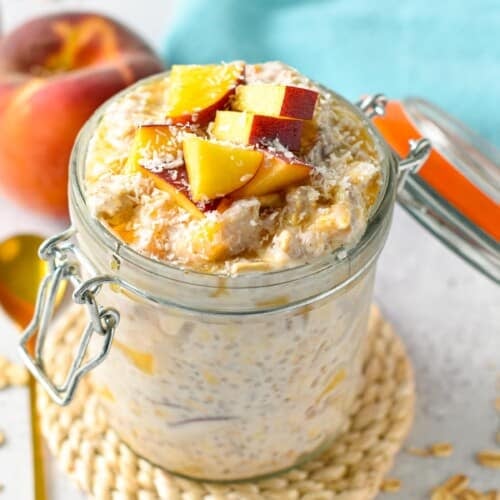 Peach Overnight Oats
This Peach Overnights Oats recipe is a delicious, creamy, refreshing, healthy breakfast with fresh peaches. Plus, it's a naturally plant-based breakfast with an easy gluten-free option.
Pin
Print
Review
Shop My Tools
Instructions
In a large mixing bowl, combine the dry ingredients: rolled oats, cinnamon, and chia seeds.

Stir in your non-dairy milk of choice, yogurt of choice, maple syrup, vanilla extract, and diced peach. Stir until evenly distributed.

Cover the bowl with a lid and refrigerate overnight or for at least 3 hours.
Serving
The next day, serve your peach overnight oats with the recommended toppings.
Storage
Store in airtight glass mason jars for up to 4 days or freeze for later. Thaw in the fridge the day before serving.
Notes
Note 1: Any plant-based milk works, including oat milk, soy milk, etc. Note 2: Any plain yogurt can be used, but plain vegan Greek Style yogurt is the best for a boost of proteins. Note 3: For canned peaches, drain them from their juice and use two halves cut in large dice. Note 4: Any sweetener works, including sugar, coconut sugar, or sugar-free sweeteners like allulose.
Share on Facebook
Pin Recipe
Nutrition
Serving:
1
serving
|
Calories:
323.2
kcal
|
Carbohydrates:
36.9
g
|
Protein:
6.5
g
|
Fat:
18.2
g
|
Saturated Fat:
13.2
g
|
Polyunsaturated Fat:
2.1
g
|
Monounsaturated Fat:
1.2
g
|
Trans Fat:
0.01
g
|
Sodium:
25.6
mg
|
Potassium:
371.3
mg
|
Fiber:
6.8
g
|
Sugar:
16.1
g
|
Vitamin A:
248.5
IU
|
Vitamin C:
8.6
mg
|
Vitamin D:
0.4
µg
|
Calcium:
111.9
mg
|
Iron:
2.6
mg
|
Magnesium:
78.6
mg
|
Phosphorus:
211.3
mg
|
Zinc:
1.7
mg