These easy vegan peach muffins are moist, juicy muffins perfect for breakfast or vegan kids' snacks.
Bonus, these are healthy banana peach muffins made with no refined sugar.
How To Make Vegan Peach Muffins
Banana and peach muffins are moist banana muffins filled with juicy pieces of ripe peaches.
They are a great kid snack full of plant-based proteins from oats, and wheat flour and mostly sweetened with natural sugar from fruits.
Ingredients
The ingredients you need to make these kids vegan peach muffins are:
All-purpose flour – you can also use all-purpose gluten-free flour like Bob Red Mills mix. This gluten-free mix contains gum and works perfectly as a 1:1 replacement for wheat flour for kids with gluten allergies.
Old-fashioned rolled oats – don't use quick oats or steel-cut oats.
Cinnamon – optional but flavorsome.
Sugar – this recipe uses only a small amount of unrefined cane sugar simply because ripe bananas and peaches are already very sweet. It means that if you want to make the recipe with no added sugar, you can! Just leave out the sugar, and the recipe will work very well too.
Baking powder
Baking soda
Salt – optional for small kids, can be removed.
Mashed bananas – about 3 large ripe bananas are used in this recipe. I recommend you peel, mash the bananas with a fork and then measure the amount called by the recipe. Precision is the key to egg-free baking, or the batter can be very dry.
Olive oil – make sure you use a light-flavored olive oil to avoid a bitter aftertaste in your banana and peach oatmeal muffins. Another option is to use vegetable oils like canola oil or nut and seed oil like almond oil or coconut oil.
Vanilla extract
Diced peaches – you can use fresh or canned peaches for this recipe. If you use canned peaches, pat dry the pieces in absorbent paper to remove the extra juice from the can.
Combining Ingredients
First, in a large bowl, whisk the dry ingredients: flour, sugar, cinnamon, baking powder, and salt. Set aside.
In another bowl, combine the wet ingredients, mashed bananas, olive oil, and vanilla extract.
Next, stir the dry ingredients into the wet ingredients, half at a time, stirring between each addition to incorporate the flour gently and avoid lumps.
Finally, fold the diced peaches into the batter.
Baking The Muffins
Bake the muffins for 20 to 30 minutes in preheated oven at 350°F (180°C) until the top is golden brown and a pick inserted in the center of the muffins comes out clean.
Cool down the muffins for 2 hours on a rack before eating.
Peach Muffin Variations
You can create different muffin flavors by adding 1/2 cup of:
Blueberries – the muffins will be very moist if you add more fruits, but kids love it.
Chocolate Chips – some are sugar-free and dairy-free too, like Choc Zero dark chocolate chips.
Unsweetened Shredded Coconut
Maple Syrup – swap the crystal sugar with unrefined liquid sweeteners like agave or maple syrup.
Storage Instructions
These are very moist fruit-filled muffins, and they must be stored in an airtight container in the fridge.
They last up to 4 days in the fridge, or they can be frozen for up to 3 months.
Thaw the muffins in your kid's lunchbox the day before.
Frequently Asked Questions
Can I Make Mini Muffins?
You can bake this healthy banana peach muffin recipe in two or three trays of a 12-hole mini muffin tin.
The mini muffins bake way faster, about 15-20 minutes maximum.
How Can I Serve These Banana Peach Muffins?
These healthy banana peach muffins are delicious snacks or breakfasts for kids.
They contain all the proteins, fiber, and nutrients to start the day right.
For a complete breakfast, serve one muffin with a glass of almond milk or a serving of Greek yogurt (or dairy-free calcium-fortified yogurt).
Do I Have To Peel The Peaches?
No, you don't have to peel the peaches to make this peach muffin recipe.
However, if the recipe is for kids from 2-5 years old, the skin can be a choking hazard, so I recommend peeling the peaches.
Can I Bake This Recipe In A Loaf Pan?
Yes, you can make peach banana bread with this recipe. First, line a 9-inch loaf pan with parchment paper and oil the paper with coconut oil.
Then, transfer the batter to the pan and bake in the center rack of your preheated oven at 350°F (180°C) for 40 to 50 minutes or until cooked in the center.
More Vegan Muffin Recipes
I love vegan kid muffin recipes for lunchboxes and snacks. Below I listed more kid recipes for you to try.
Don't forget to check all my Ripe Banana Recipes ideas for more ways to use those ripe bananas!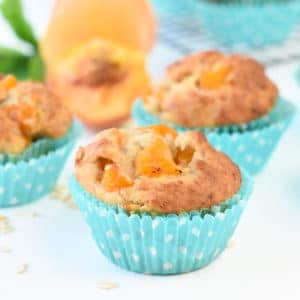 Vegan Peach Muffins
A healthy vegan banana peach muffin recipe perfect for kids' lunchboxes and allergy-friendly made with no eggs or dairy.
Pin
Print
Review
Servings: 12 muffins
Calories: 167 kcal
Instructions
Preheat the oven to 350°F (180°C). Line a 12-hole muffin tray with paper cups or grease each hole with oil. Set aside.

In a large bowl, combine all the dry ingredients: flour, rolled oats, sugar, baking powder, baking soda, cinnamon, and salt. Set aside.

In another bowl, combine mashed bananas, vanilla extract and oil. Stir in the flour 1/2 cup at a time, stirring between to gently incorporate the flour to avoid lumps.

Stir in the diced peaches. If you use canned peaches, make sure you pat dry the pieces to prevent adding juice to the muffin batter – this can make the muffin too moist. The batter will be very thick, but that's what you want.

Fill the 12 muffin holes up to the top.

Bake for 20-30 minutes or until the top is golden brown and a skewer inserted in the center of the muffins comes out clean or with few to no crumbs on it.

Cool down on a rack for 2 hours before eating.
Storage
Store muffins in an airtight container in the fridge for up to 4 days or freeze and thaw at room temperature the day before eating.
Share on Facebook
Pin Recipe
Nutrition
Serving: 1muffin | Calories: 167kcal | Carbohydrates: 29g | Protein: 3g | Fat: 5g | Saturated Fat: 1g | Sodium: 120mg | Potassium: 171mg | Fiber: 2g | Sugar: 9g | Vitamin A: 63IU | Vitamin C: 4mg | Calcium: 47mg | Iron: 1mg