These Vegan Banana Muffins are easy, healthy banana muffins with a fluffy, moist banana bread crumb and delicious cinnamon flavor. They are the best vegan banana muffins for breakfast any time of the year.
This vegan banana muffin recipe is a great recipe for breakfast or snacks. They are lightly sweet, moist, spiced, and fulfilling, perfect for adding to your morning vegan hot chocolate or Matcha latte.
The recipe is also easy to adapt as you can add any add-ons like nuts, chocolate chips, or blueberries. Plus, if you have healthy goals, like reducing sugar or oil from your baked goods, some options are available to make this vegan banana muffin recipe accessible to all!
Are banana muffins vegan?
No, an authentic banana muffin recipe contains many animal-based ingredients like egg, milk, and sometimes butter. That's why most store-bought banana muffins are not vegan-friendly.
How to make vegan banana muffins?
It's super easy to make homemade vegan banana muffins at home. All you need to make these moist, fluffy banana muffins are a few simple ingredients and no fancy tools.
Ingredients for an easy vegan banana muffin
The ingredients you need to make vegan banana muffins are the most basic pantry ingredients:
Flour – this recipe works with all-purpose flour, whole wheat flour, or any gluten-free all-purpose flour that contains gum, like Bob Red Mills' all-purpose gluten-free blend.
Baking powder
Baking soda
Salt
Cinnamon
Large ripe bananas – make sure you are using 3 large ripe bananas. The amount of mashed bananas matters to make egg-free banana muffins without flax eggs.
Ginger or nutmeg – optional. This adds a spicy flavor.
Melted coconut oil – or vegetable oil like canola oil or melted vegan butter.
Crystal sweetener – you can use coconut sugar, brown erythritol, or soft brown sugar.
Almond milk or any non-dairy milk you love.
Vanilla extract
Measure the banana precisely
Not all bananas have the same size, and even large bananas can vary in weight. Since this is an egg-free banana muffin recipe, the bananas also act as a binder and egg replacer.
That's why it's better to measure the amount of mashed bananas in cups or weight before starting the recipe to make sure you have enough.
In fact, if you add too few mashed bananas, the muffins can be dry or crumbly. On the other hand, too many bananas won't hurt. The muffins will be a bit moister.
Combine the dry ingredients to the wet ingredients
First, in a large mixing bowl, combine the flour, baking powder, baking soda, cinnamon, ginger, and salt. Set aside.
In another mixing bowl, mash the bananas with a fork and measure the amount to make sure you have the exact quantity called by the recipe. Stir in melted coconut oil, coconut sugar, vanilla extract, and almond milk.
Finally, fold the dry ingredients into the wet ingredients and whisk until just combined. Don't over-whisk the dough to avoid a dense gummy crumb in your muffins.
If you want to add chopped nuts or chocolate chips, fold in the batter now and stir with a spatula to incorporate.
Bake at 425F for 5 minutes
The trick to making vegan banana muffins that raise very well is to bake the muffins at high temperatures for 5 minutes. Then, reduce the oven temperature to 350F and keep baking for 15-20 minutes or until the muffins are golden brown and a pick inserted in the center of the muffins comes out clean.
Cool down
Cool the muffins for 5 minutes in the muffin pan. Then, transfer the muffin to a cooling rack at room temperature and cool completely.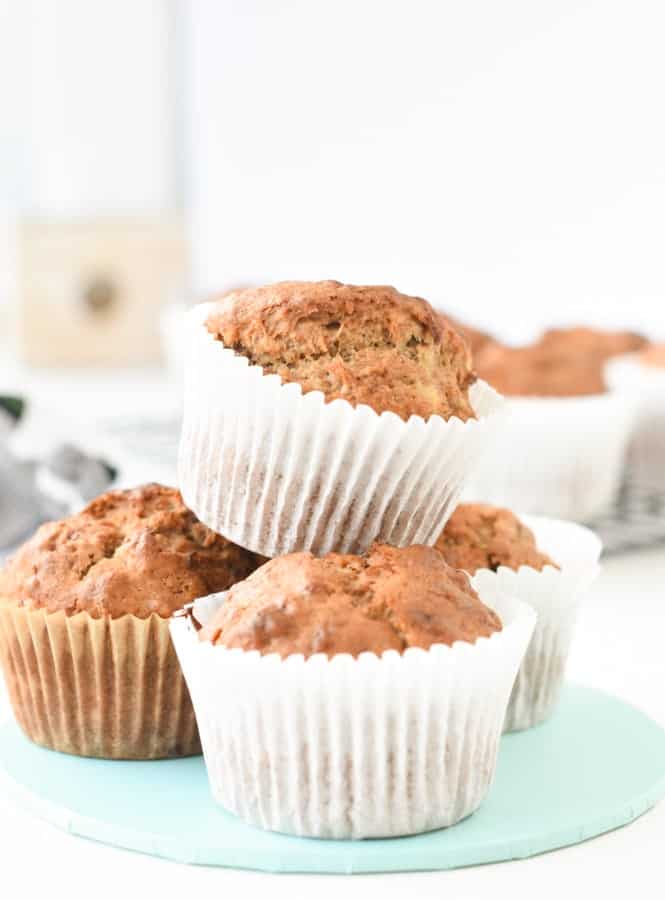 How to store banana muffins?
These banana muffins store very well for few days at room temperature. Simply protect the muffins from humidity by placing them in a cake box or on a plate covered with a clean kitchen towel.
The muffins store up to 1 week in a sealed box in the fridge
Also, you can freeze your vegan banana muffins in an airtight container for up to 3 months and thaw the day before eating.
How to make healthy vegan banana muffins
There are many ways you can twist this vegan banana muffin recipe to make them healthier.
Below I listed lots of options for you to try, depending on your goals. Some people love to make sugar-free vegan banana muffins or oil-free banana muffins, so let's see how you can adjust this simple vegan muffin recipe to reach your health goals.
Oil-free vegan banana muffins – replace the coconut oil in the recipe with the same amount of applesauce. Note that this option changes the texture of the muffins. They will be less fluffy and ultra-moist.
Sugar-free vegan banana muffins – of course, it means no added sugar since bananas naturally contain sugar, you can't make 100% sugar-free vegan banana muffins. A great sugar-free, low-carb option is to replace the sweetener with brown erythritol, like brown Swerve or brown Lakanto. These two brands make zero carbs, zero calories, vegan-friendly sweeteners.
High-fiber muffins – to boost the fibers of your muffins, swap the all-purpose flour with whole-wheat flour. The muffins taste more like a vegan banana bread muffin, with a denser crumb since the fiber absorbs more liquid.
Can I add nuts or chocolate chips?
You can use this recipe to make vegan banana nut muffins or vegan chocolate chips banana muffins.
Fold in the batter:
1/2 cup of chopped pecans or walnuts or;
1/2 cup of vegan dark chocolate chips or;
1 cup fresh or frozen blueberries to make vegan banana blueberry muffins.
Can I make gluten-free banana muffins?
You can use this recipe to make vegan, gluten-free banana muffins.
To do so:
Replace the wheat flour with the same amount of all-purpose gluten-free flour blend, the one that contains a gum additive. This is very important, or the batter won't hold together.
Add 1 teaspoon of apple cider vinegar or lemon juice to the liquid ingredients to help the muffin raise more.
Also, note that gluten-free flours make the muffins dense and a bit chewy. They won't rise, as seen in the picture.
Can I use almond flour or coconut flour?
No, you can't use almond flour or coconut flour to replace all-purpose flour in vegan baking recipes. These two flours are low-carb, high fiber flours that won't bind ingredients together in an egg-free recipe.
Why wouldn't my vegan muffins rise?
This happens if:
You didn't bake the muffins at high temperatures for the first 5 minutes.
You used gluten-free flour – as mentioned above, gluten-free flour won't rise much. You can add 1 teaspoon of apple cider vinegar to the recipe to boost the vegan gluten-free muffins' rise.
Your baking powder or baking soda are old – make sure you are using a fresh raising agent.
More vegan banana recipes
I love to use ripe bananas in baked goods. It's a great way to reuse ripe fruits and create delicious, nutritious muffins or bread. Below I listed more vegan banana recipes for you to try.
Don't forget to check all my Ripe Banana Recipes ideas for more ways to use those ripe bananas!
Have you made these easy vegan banana bread muffins? Share a comment or review below. I love to hear your feedback on my recipes.
XOXO Carine