Banana Quinoa Muffins (Egg-Free, 4g Protein)
These Banana Quinoa Muffins are fluffy banana muffins made from raw quinoa, blended with oats for a healthy vegan, gluten-free muffin in the morning.
These quinoa muffins are also easy to make in less than 30 minutes for a quick weekly breakfast.
You know my passion for quinoa recipes, especially adding quinoa into breakfast and desserts like in my quinoa brownies or quinoa breakfast bake.
Why You Need To Bake With Quinoa
The reason I love quinoa so much is not really because it's of its taste. However, I think quinoa has a slightly earthy flavor that takes some time to appreciate. It's very much an acquired taste.
But, I love quinoa for its nutritional profile.
Getting all your essential amino acids on a vegan diet can be challenging without supplements.
And that's why you should add quinoa to your plate. Quinoa is what we call a complete vegan protein source.
It contains all the amino acids you need on a vegan diet.
So if you are like me and are not a big fan of quinoa, try adding it to sweet recipes!
You will get all its benefits without even noticing you are eating quinoa.
How To Make Banana Quinoa Muffins
This quinoa banana muffin recipe is a blender muffin recipe like my peanut butter banana oatmeal muffins.
All you need is to bring everything in a blender to make them—no need for ten bowls or utensils.
Ingredients
Raw Quinoa – You can use any color of quinoa. I use white quinoa because it makes lovely golden brown muffins that kids will eat without asking me what's in there.
Quick Oats – You can use old-fashioned oats or quick oats, but the former makes the batter a little drier.
Almond Milk – Or any plant-based milk you love like oat milk, hemp milk, or soy milk.
Vanilla Extract – To add a delicious flavor.
Baking Powder
Baking Soda
Salt
Melted Coconut Oil – Coconut oil is my preferred option, but you can also use canola oil or melted vegan butter.
Unrefined Cane Sugar – or coconut sugar.
Cinnamon
Ripe Bananas or yellow bananas – peel the banana and weigh before making the muffins, so you are sure the batter will be the right consistency.
Preparing Ingredients
First, place the raw quinoa in a sieve and rinse under cold tap water to remove any impurities.
You don't need to soak the quinoa for this recipe. You can improve its digestibility, but it's optional.
To soak quinoa, place the quinoa in a bowl, cover with cold water, place a lid on top and set aside at room temperature for up to 3 hours.
Then, peel bananas and weigh them.
All bananas are different. There are small, medium, and large bananas.
When it comes to egg-free muffin recipes using special flour like quinoa as a flour replacement, it's better to measure the banana precisely.
This ensures that the batter is not overloaded with bananas, too thin, or missing bananas, resulting in dry muffins.
Blending Ingredients
Drain quinoa well, then add in the jug of your high-speed blender along with bananas, quick oats, baking powder, baking soda, vanilla extract, almond milk, cinnamon, melted coconut oil, and unrefined cane sugar.
Blend on high-speed- speed 10 of a Vitamix pro- for 40 seconds.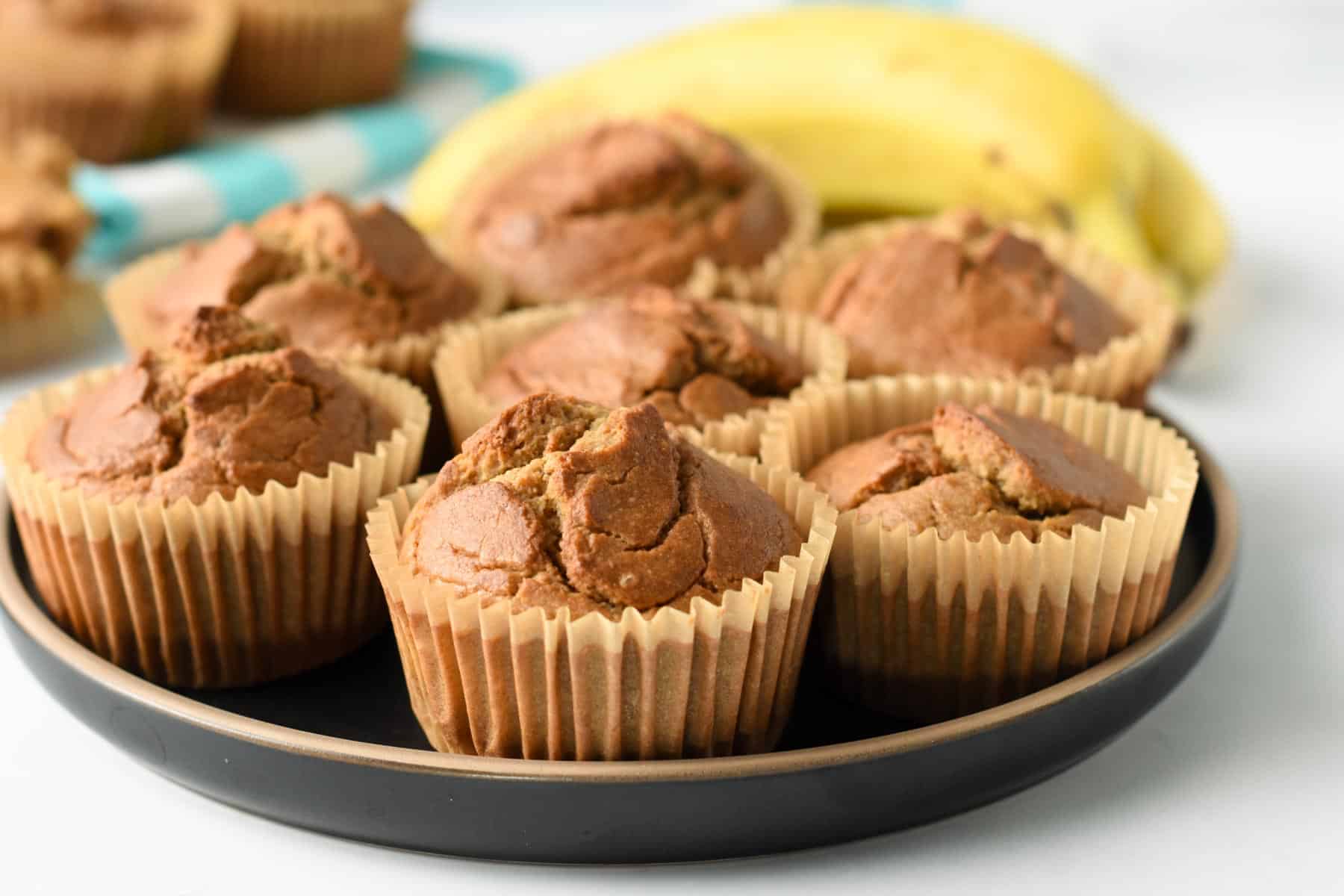 Resting The Batter
Like any blended muffin recipe, it's great to rest the batter for 5 minutes in the jug before filling the muffin pan.
However, if you pour the batter too quickly into the pan, the muffins will form a hole in their center in the oven because the batter has been over-mixed at high speed.
Baking
Preheat the oven to 350°F (180°C). Line a 12-muffin pan with a paper liner, and spray all paper liners using oil spray.
This quinoa muffin recipe makes 16 muffins, so you have two options:
Use two 12-hole pans and bake both pans at the same time. It's okay to bake a pan with only four muffins on it!
Use one pan, set aside the remaining batter at room temperature, and bake later in the same cooled muffin pan.
Pour the batter up to 3/4 level of each muffin hole.
Bake in the center rack of the oven until a toothpick inserted in the center comes out clean – about 30 minutes.
The muffins are ready when raised and have a nice golden brown color.
Cooling Down
Cool down immediately on a wire rack, don't leave it in the pan to avoid the muffins getting packed or dense.
Quinoa Muffins Add-Ons
You can stir some delicious ingredients into the batter before pouring it into the pan.
Add in half a cup of the below for a nice crunch:
Dark Chocolate Chips
Chopped Walnuts or Chopped Pecans
Dried Raisins
Allergy Swaps
Below are some swaps you can apply to this recipe based on your food allergies
Gluten-Free – Quinoa is naturally gluten-free; pick a gluten-free certified quick oat brand and gluten-free baking powder.
Sugar-Free – You can swap unrefined cane sugar for sugar-free allulose or erythritol.
Nut-Free – Use hemp milk, soy milk or coconut milk, or oat milk as a swap for almond milk.
Storage Instructions
You can store the Quinoa Muffins in the fridge for up to 4 days in a sealed box.
It's also possible to freeze them in zip-lock bags and thaw them the day before at room temperature.
Frequently Asked Questions
How Does Quinoa Muffin Taste?
These taste like banana bread, a nice fluffy crumb with delicious banana flavor and a little earthy flavor from quinoa that you will guess it's there but won't bother even if you are not a quinoa fan.
Why Are My Muffins Packed And Dense?
Blended muffins can be packed or dense if you don't rest the batter, over blend the batter – more than 40 seconds.
This happens if you use a blender that is not powerful enough to grind quinoa, and therefore you over-process the batter.
Finally, this can also occur if you add too many bananas, so weigh the banana at the beginning, as recommended.
Can I Use A Food Processor?
No, a food processor blade is not strong enough to pulse quinoa into flour.
Can I Use Quinoa Flour Instead Of Quinoa?
Yes, you can use the same amount of quinoa flour to swap raw quinoa.
Can I Make A Quinoa Banana Bread With This Recipe?
This recipe won't bake very well in a loaf pan.
It's a recipe for 16 muffins, and therefore it will take more than 75 minutes to bake in a loaf pan with some risk that the center stays uncooked.
Can I Make Them Oil-Free?
You can probably try vegan yogurt, but the muffins will be very dense without coconut oil, so I don't recommend this option.
More Quinoa Recipes
Below are more quinoa recipes for you to try:
More Banana Muffin Recipes
Did you try these quinoa banana muffins? Share a comment or review below to let me know how much you love them.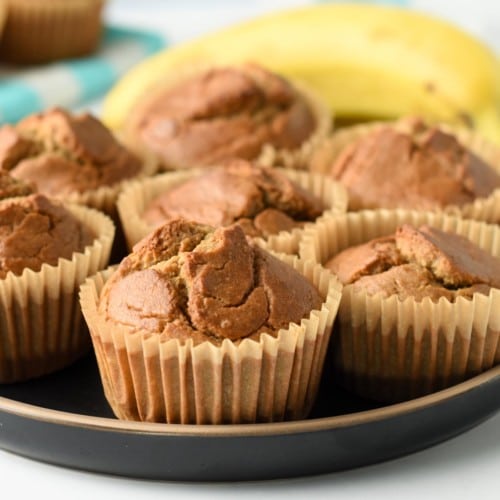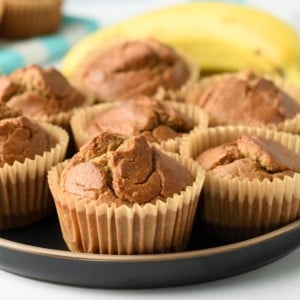 Banana Quinoa Muffins
These fluffy banana Quinoa Muffins are made in one bowl in a blender for a delicious and healthy snack or breakfast.
Pin
Print
Review
Instructions
You need a high-speed blender for this recipe, or the quinoa won't blend into flour.

Preheat the oven to 350°F (180°C). Line a 12-hole muffin pan with paper liner cases and lightly spray oil in the cases. Set it aside.

Peel and weigh the amount of peeled banana required by the recipe for precision and to avoid dry or overly moist muffins.

In a sieve, rinse the raw quinoa under cold water.

In a blender, add raw, rinsed, drained quinoa, quick oats, sugar, cinnamon, baking powder, baking soda, bananas, salt, vanilla extract, almond milk, and melted coconut oil.

Blend on the high-speed setting – speed 10 of a Vitamix Pro – for 40 seconds or until the batter is smooth with no pieces of quinoa.

Rest the batter for 5 minutes in the blender before filling the muffin paper liners.

Fill each muffin up to 3/4 their level. The recipe makes 16 muffins, so I used two 12-muffin pans. You can set aside the remaining batter and cook it after the first batch is cooked.

Bake the muffins on the center rack for 30-35 minutes or until golden brown and a toothpick inserted in the center come out clean.

Cool down on the wire rack for 30-40 minutes before serving.
Storage
Store in the fridge for up to 4 days in a sealed box. Or freeze them in zip-lock bags and thaw the day before at room temperature.
Share on Facebook
Pin Recipe
Nutrition
Serving:
1
muffin
|
Calories:
163.4
kcal
|
Carbohydrates:
26.8
g
|
Protein:
4.1
g
|
Fat:
5.4
g
|
Saturated Fat:
3.1
g
|
Polyunsaturated Fat:
1.1
g
|
Monounsaturated Fat:
0.7
g
|
Sodium:
173.7
mg
|
Potassium:
230.5
mg
|
Fiber:
2.5
g
|
Sugar:
9.8
g
|
Vitamin A:
132.4
IU
|
Vitamin B12:
0.3
µg
|
Vitamin C:
4.1
mg
|
Vitamin D:
0.4
µg
|
Calcium:
83.3
mg
|
Iron:
1.3
mg
|
Magnesium:
54.4
mg
|
Phosphorus:
115
mg
|
Zinc:
0.8
mg