Pumpkin Banana Muffins (No Eggs, No Refined Sugar)
These super-moist Pumpkin Banana Muffins are easy to make in less than 30 minutes for a delicious fall breakfast.
Bonus, these are vegan pumpkin muffins made without eggs or dairy.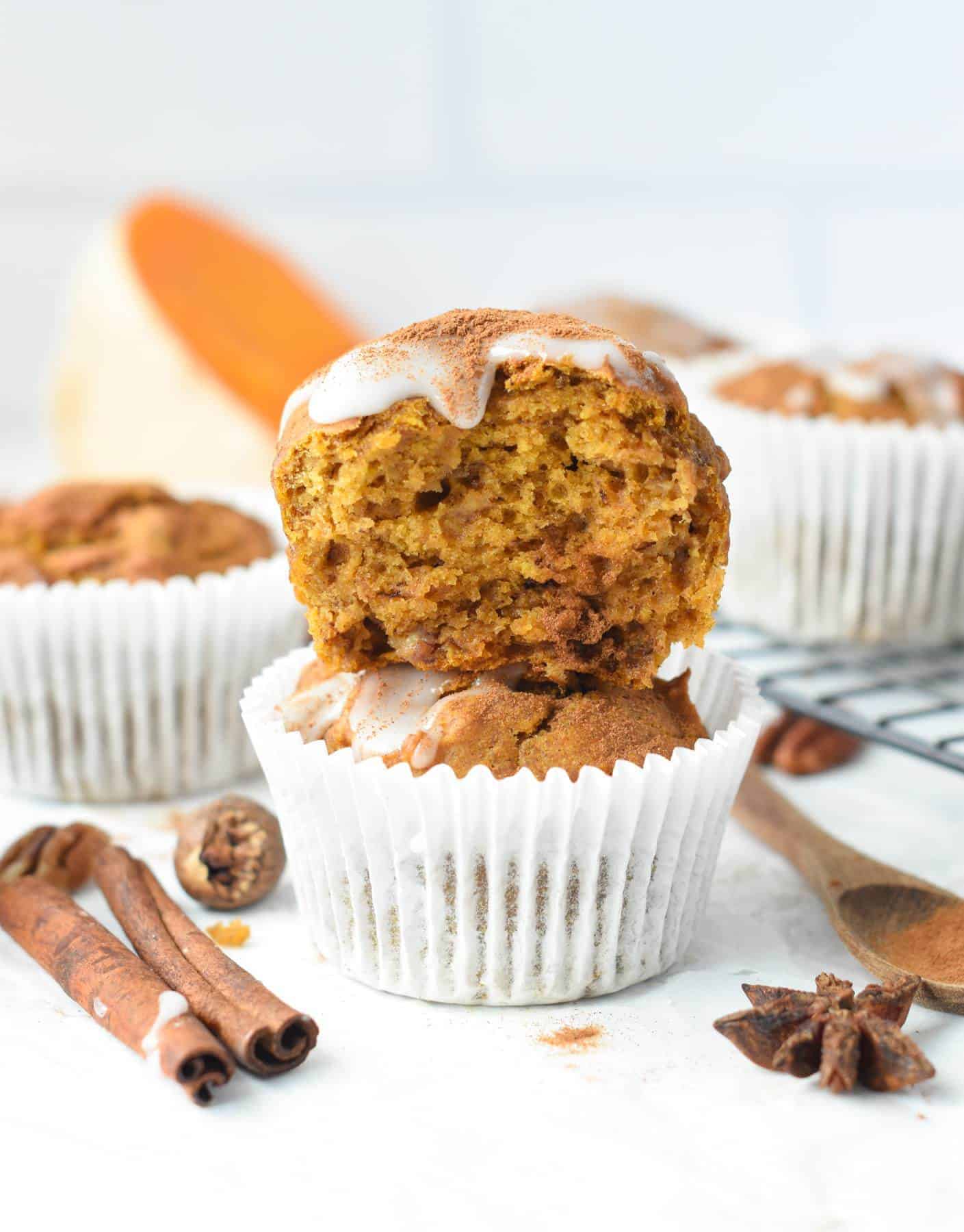 How To Make Pumpkin Banana Muffins
It's super easy to make Pumpkin Banana muffins in less than 30 minutes and a great recipe to use overripe bananas.
Ingredients
Mashed Ripe Bananas – you don't have to use overripe bananas. Yellow bananas work very well in the recipe. But keep in mind that the muffins won't be as sweet with yellow bananas. The riper, the sweeter!
Canned Pumpkin Puree – this is not the same as pumpkin pie filling, make sure you use pure pumpkin puree, the ingredients listed on the can should be pumpkin only, no additives. Or use my homemade pumpkin puree recipe to make yours at home.
Oil – any oil works. I prefer canola oil or light olive oil, but melted coconut oil works as well.
Coconut Sugar or Brown Sugar. You can also use white sugar, but the pumpkin spice flavors come out way stronger with brown sugar.
Vanilla Extract
Pumpkin Spices it's simply a combination of 1 teaspoon of cinnamon, 1/4 teaspoon of ginger, 1/4 teaspoon of all spices or nutmeg.
Salt
Baking Soda
Baking Powder
All-purpose Flour or white wholewheat flour for a healthier alternative. You can also use a gluten-free flour blend. As long as it contains added gums, it will work well in this Pumpkin Banana Muffin Recipe.
Before starting, preheat the oven to 350°F (180°C) and line a 12-hole muffin tin with muffin cups. I recommend spraying some cooking oil on the paper liner. This makes the muffins easier to release.
Mashing The Bananas
First, peel and mash the bananas on a chopping board using a fork or potato masher.
Now, measure 1 cup of mashed banana in a measuring cup and transfer to a large mixing bowl.
Combine liquid ingredients with sugar
Next, stir in pumpkin puree, brown sugar, oil, and vanilla extract. Stir well to form a consistent batter.
Combine dry ingredients
In another bowl, whisk all the dry ingredients together: flour, salt, baking powder, baking soda, and pumpkin spices.
Form the batter
Finally, stir in the dry ingredients into the wet ingredients and stir until just combined. Don't overdo the batter or your pumpkin banana muffins can turn out gummy.
Baking the Pumpkin Muffins
Bake the vegan pumpkin muffins in the center rack of the oven until a toothpick inserted in the center comes out clean.
Cool down on a wire rack until the baked muffins reach room temperature.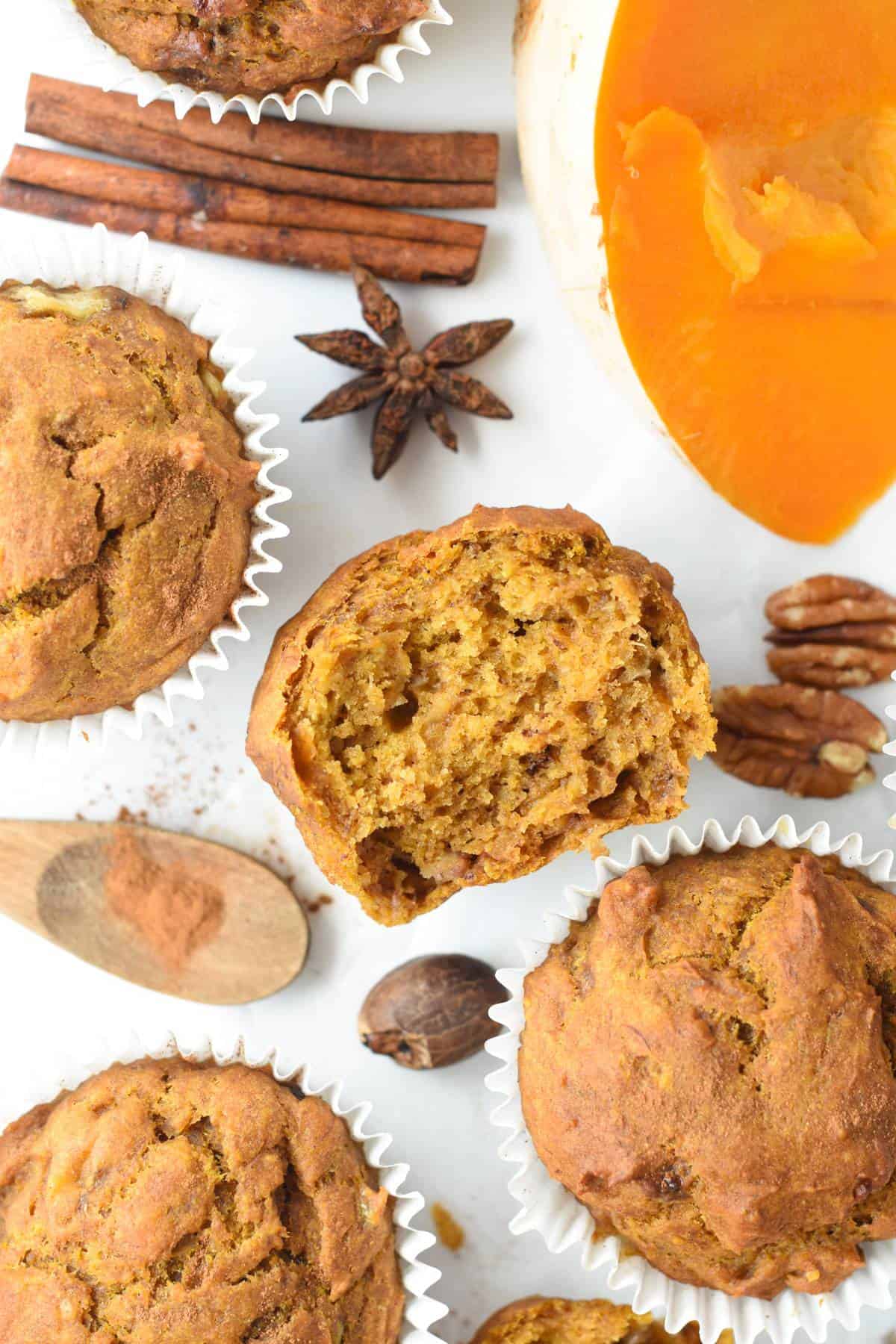 Flavors Ideas
You can play a lot with this recipe by adding some delicious nuts, and chocolate chips in the batter or serving the muffins with frosting.
The best add-ons to the batter are 1/4 cup to 1/2 cup of:
Chopped Pecan
Chopped Walnuts
Dark Mini Chocolate Chips
You can also serve the muffins with a drizzle of icing sugar combined with almond milk.
Simply stir 1 cup of icing sugar with 2-3 tablespoons of plant-based milk you love until it forms a creamy, white frosting.
Drizzle on top of the muffins and add a pinch of pumpkin pie spices on top for extract boost flavor!
Storage
These pumpkin muffins store very well in an airtight container in the fridge for up to 4 days.
If the batch is too large for you to eat in that timeframe, you can freeze the banana pumpkin muffins in an airtight box.
Thaw the muffins on a wire rack at room temperature overnight.
More Pumpkin Recipes
Vegan Pumpkin Chocolate Chip Cookies
Have you made these tasty muffins? Share a comment or review below to let me know how they turned out!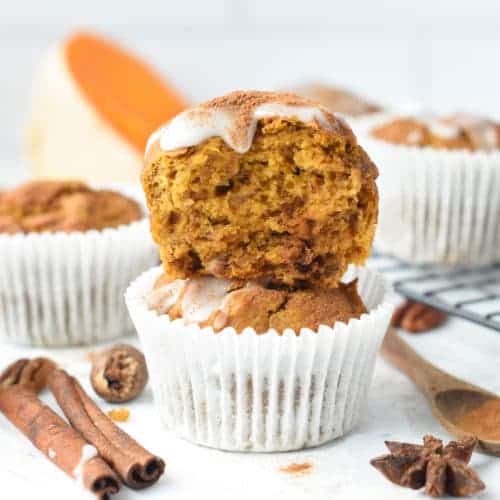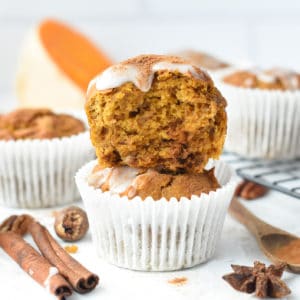 Pumpkin Banana Muffins
An easy Pumpkin Banana Muffin recipe with an ultra-moist crumb and full of pumpkin spice flavors to celebrate the Fall season.
Pin
Print
Review
Servings: 12 muffins
Calories: 160.1 kcal
Instructions
Preheat oven to 350°F (180°C). Line a 12-hole muffins tray with a paper liner. Slightly oil the paper with cooking spray to prevent the muffins from sticking to the paper. Set aside.

Peel the bananas, mash with a fork or potato mashed, and measure the amount called by the recipe.

In a large mixing bowl, stir the mashed banana, pumpkin puree, vanilla extract, oil, and sugar. Stir well to combine evenly.

In another bowl, whisk flour, salt, baking soda, baking powder, and pumpkin spices.

Stir the dry ingredients into the wet ingredients until just combined – don't over mix, or the muffins could come out gummy.

Transfer the batter evenly into the 12 muffin cases and bake at 180°C (350°F) for 25-35 minutes on the center rack of your oven until a toothpick inserted in the center of the muffin comes out clean
Storage
Cool on a wire rack, then store in an airtight box for up to 4 days in the fridge, or freeze for later and thaw at room temperature.
Share on Facebook
Pin Recipe
Nutrition
Serving: 1muffin | Calories: 160.1kcal | Carbohydrates: 24.2g | Protein: 2.1g | Fat: 6.5g | Saturated Fat: 0.5g | Polyunsaturated Fat: 1.8g | Monounsaturated Fat: 4g | Trans Fat: 0.1g | Sodium: 189.9mg | Potassium: 137mg | Fiber: 1.7g | Sugar: 7.6g | Vitamin A: 3983.8IU | Vitamin C: 2.7mg | Calcium: 29.6mg | Iron: 1.2mg | Magnesium: 14.5mg | Phosphorus: 37.3mg | Zinc: 0.2mg