This better-for-you Vegan Pumpkin Brownie recipe is made with oat flour, refined sugar-free, and egg-free.
It's a 100% plant-based brownie recipe for a delicious guilt-free Fall dessert.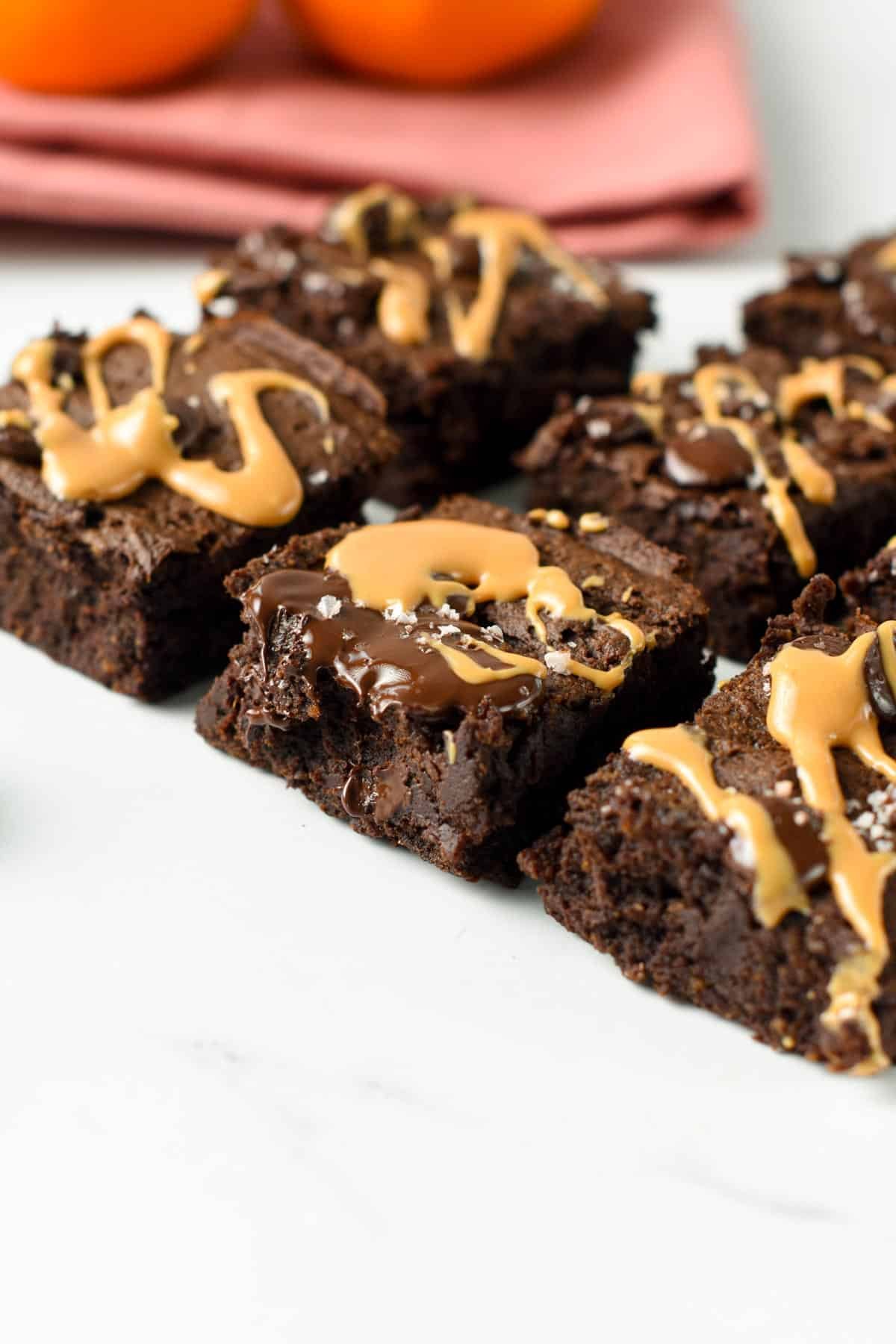 Baking with pumpkin puree is fantastic. Who doesn't love the Fall season for the pumpkin flavors and pumpkin spices?
You might have tried my delicious pumpkin energy balls and a vegan pumpkin muffin recipe.
Time to combine pumpkin with chocolate and create the fudgiest, flourless pumpkin brownie recipe.
What Are Vegan Pumpkin Brownies?
Vegan Pumpkin Brownies are similar to my vegan brownies, but they are made with pumpkin puree to give them this rich taste of Autumn.
They are very easy to make with a handful of wholesome ingredients.
How To Make Vegan Pumpkin Brownies
There are many ways you can make brownies with pumpkin puree.
Here's a vegan pumpkin brownie version made with no eggs, no butter, and no dairy.
Plus, it's entirely refined sugar-free and flourless in a way that no wheat flour is involved.
Let's see what you need to make these healthy pumpkin brownies.
Ingredients
All you need are a few ingredients, plus below I will share some allergy swaps if you need them.
Canned Pumpkin Puree – You can use homemade pumpkin puree as you like. If you are using homemade pumpkin puree, depending on the pumpkin varieties you used to make the puree, the texture could be more or less watery. As a result, you may have to add more oat flour or less to compensate.
Peanut Butter – Use a fresh jar of unsalted peanut butter with a drippy texture for the best results.
Maple Syrup or any refined sugar-free sweetener you love including coconut nectar, date syrup, or agave syrup.
Baking Powder
Vanilla Extract – For even more taste.
Cinnamon
Ginger – Ginger contributes to the delicious Fall flavors, so don't skip it!
Nutmeg
Unsweetened Cocoa Powder
Oat Flour or almond flour – I didn't try the recipe using all-purpose flour, but I am pretty sure it will work well if you sift the flour in the batter. If you don't have oat flour, you can make your own oat flour from roller oats.
Preparation
First, make sure you get the right pumpkin puree. I like to use canned pumpkin puree for my recipes because it's made of a special combination of pumpkins creating the perfect puree texture.
In fact, pumpkin puree in a can is healthy. It contains only pumpkin, no added sugar, and no additives.
So make sure you pick a can that shows one ingredient: pumpkin.
Don't confuse it for pumpkin pie filling that is sweetened and won't work for this recipe.
Combine all the liquid ingredients first: peanut butter, pumpkin puree, maple syrup, and vanilla extract.
Then, stir in pumpkin pie spices – I made mine by adding cinnamon, nutmeg, and ginger – unsweetened cocoa powder, baking powder, and oat flour.
Stir until a thick batter forms.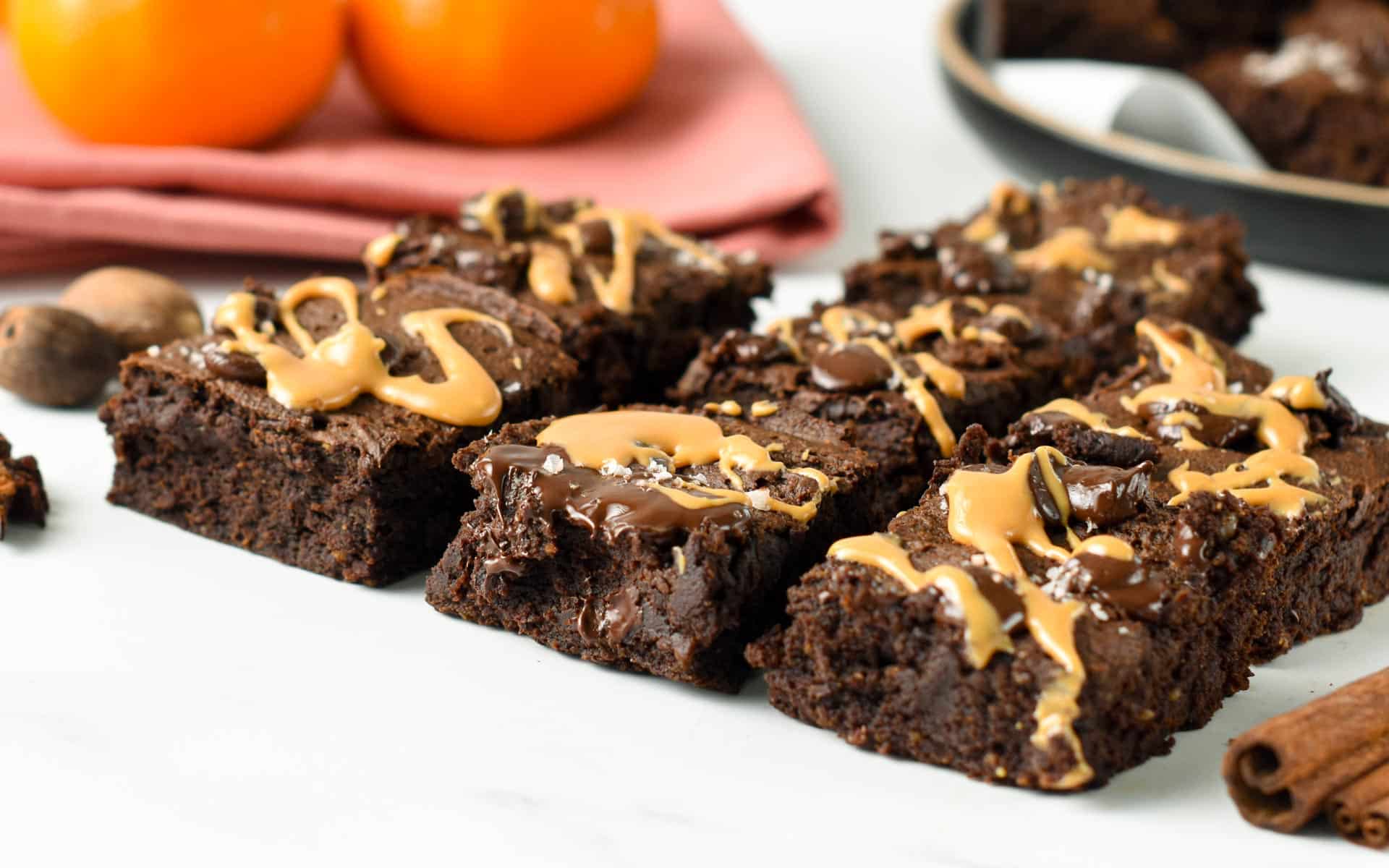 Baking The Brownies
Now, preheat the oven to 350°F (180°C). Line an 8-inch x 8-inch square brownie pan with parchment paper. Slightly oil paper with olive oil.
Pour the brownie batter into the pan and sprinkle chocolate chips on top if desired.
Bake the brownies at 350°F (180°C) on the center rack of the oven until the top is set and crackles.
You can't really insert a toothpick in the middle to check the baking time because even if you bake the brownie longer, the texture will always stay sticky.
Actually, that's what you want to make ultra fudgy flourless brownies with pumpkin puree.
Remove the pan from the oven and cool down on a wire rack for a few hours before slicing.
Slice into 16 squares and serve plain or with a pinch of cinnamon on top and a drizzle of peanut butter.
Add-On
You can add some texture to the brownie batter by adding 1/3 cup of the following ingredients:
Chopped Nuts like almonds, walnuts, pecans
Dark Chocolate Chips
Unsweetened Shredded Coconut
Pumpkin Seeds
Storage Instructions
These pumpkin brownies store very well in the fridge in a sealed container for up to 4 days, or you can freeze each brownie piece in a container for up to 3 months.
Thaw the brownies at room temperature before serving.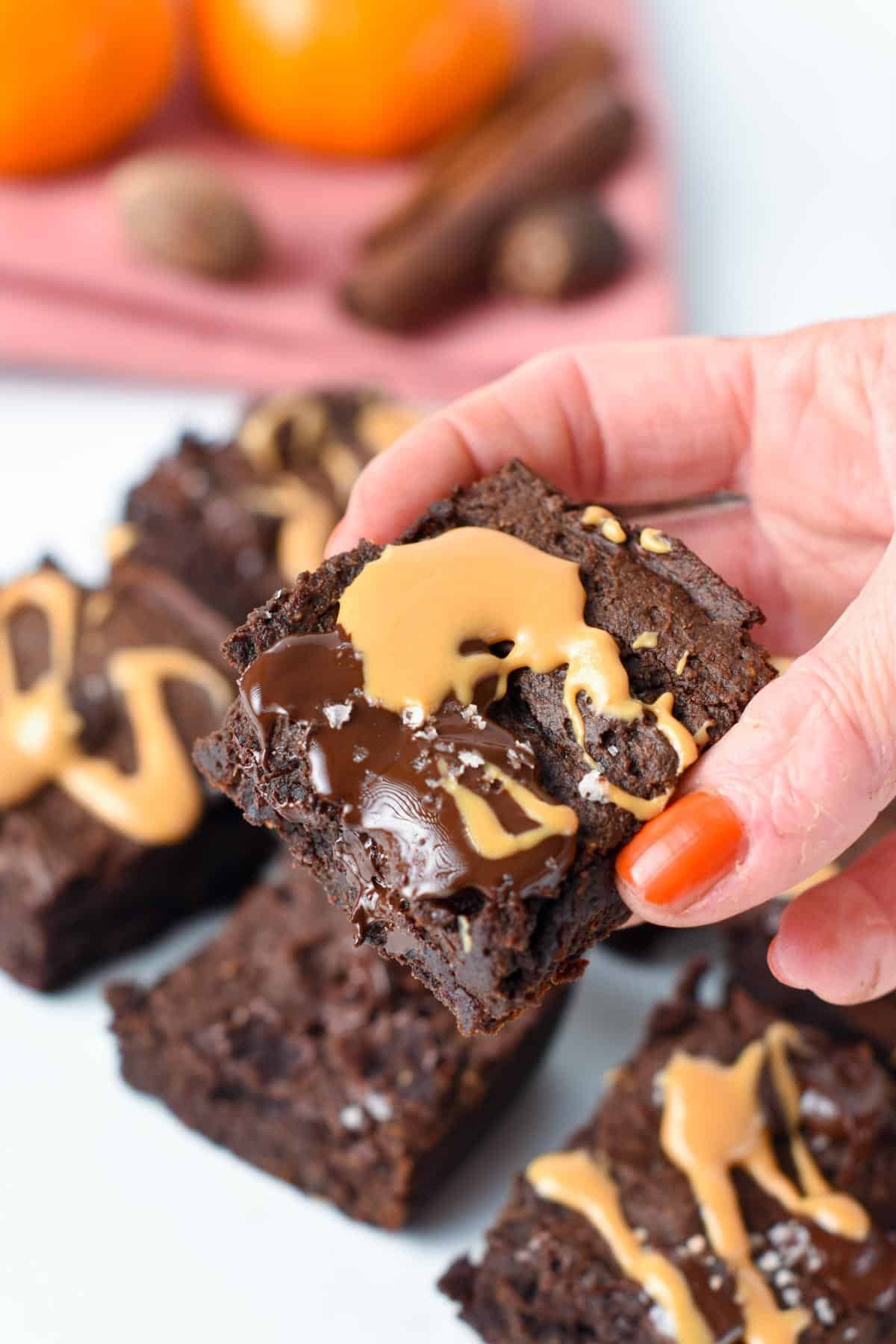 Allergy Swaps
You can adapt these vegan brownies to make them allergy friendly. Here are your options.
Gluten-Free – Make sure your oat flour is made from certified gluten-free oats, or use almond flour instead. Also, pick a wheat-free baking powder to avoid gluten.
Sugar-Free – Swap the syrup for sugar-free syrup like monk fruit syrup and use sugar-free chocolate chips sweetened with stevia.
Nut-Free – You can replace peanut butter with sunflower seed butter or tahini. However, both options add a tiny bitter taste to the recipe.
Frosting Ideas
Of course, you can add some delicious frosting to these brownies.
Pick some of the below:
Frequently Asked Questions
Read the paragraph below to find the answers to your most popular interrogations about making these delicious brownies.
Can I Make The Batter In A Food Processor?
Yes, absolutely, but avoid the blender because the batter is extremely thick and sticky, and it would be difficult to scrape out from the jug.
A large wide bowl like your food processor is the best option if you don't want to make the batter by hand.
What Can I Do If My Batter Is Dry And Sticky?
This happens if you don't use fresh drippy peanut butter or add too much fiber from the cocoa powder or oat flour.
To compensate, add 2 to 3 tablespoons of almond milk. The batter should be quite dense and thick, not pourable but not overly dry ever.
Can I Use Homemade Pumpkin Puree?
As mentioned above, you can make your homemade pumpkin puree for any pumpkin recipe on my website.
But, all pumpkin varieties have different levels of starch and water, resulting in different pumpkin puree compositions.
As a result, you may have to adjust your liquid or dry ingredients in the recipe to achieve a similar texture.
Most of the time, homemade pumpkin puree is more watery than can pumpkin puree, and you need more oats flour to balance.
Is It Possible To Make Flourless Brownies?
Yes, you can skip the oat flour entirely, but the batter will be extremely fudgy.
To set the brownies without flour, cool completely on a wire rack, then pop for 1 hour in the fridge to firm up.
More Pumpkin Recipes
I have so many more easy, healthy pumpkin recipes for you to try this fall. Pick some of the below and let me know what you think.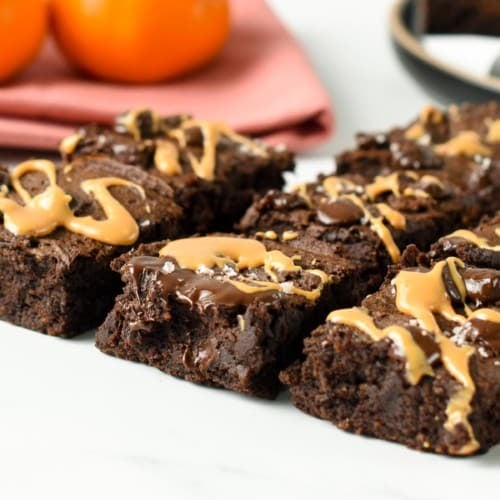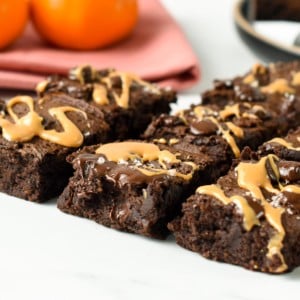 Vegan Pumpkin Brownies
A better-for-you Pumpkin Brownie recipe made with oat flour, no refined sugar, and 100% plant-based for a delicious guilt-free fall dessert.
Pin
Print
Review
Servings: 16 servings
Calories: 143.6 kcal
Instructions
Preheat the oven to 350°F (180°C). Line a square 8-inch brownie pan with parchment paper. Slightly oil paper with coconut oil. Set aside.

In a large bowl, add pumpkin puree, peanut butter, maple syrup, and vanilla extract. Stir to combine.

Add in spices, unsweetened cocoa powder, baking powder, and oat flour. Stir until a thick brownie batter forms. It shouldn't be runny, and that's normal but not overly dry ever. If so, add 2-3 tablespoons of almond milk.

Transfer the batter to the pan and spread evenly.

Sprinkle dark chocolate chips all over the top of the pumpkin brownies, if desired.

Bake for 20-30 minutes or until the top crackle and dry out. The center stays moist and sticky if you insert a pick in the middle.

Cool down completely on a wire rack before cutting into squares – about 2 hours.
Storage
Store in the fridge to firm up and enjoy its best texture.
Notes
Note 1: If using homemade pumpkin puree, the batter might be runnier, and you may need more oat flour. Note 2: Use sunflower seed butter as a nut-free option. Note 3: Any liquid sweetener can be used. Note 4: Oat flour can be substituted for almond flour for a paleo, low-carb, and gluten-free option.
Share on Facebook
Pin Recipe
Nutrition
Serving: 1square | Calories: 143.6kcal | Carbohydrates: 14.6g | Protein: 4.6g | Fat: 8.8g | Saturated Fat: 1.9g | Polyunsaturated Fat: 2.1g | Monounsaturated Fat: 4.3g | Sodium: 98.3mg | Potassium: 194.1mg | Fiber: 2.4g | Sugar: 8.3g | Vitamin A: 2383.5IU | Vitamin C: 0.7mg | Calcium: 43.3mg | Iron: 1mg | Magnesium: 49.2mg | Phosphorus: 93.8mg | Zinc: 0.8mg