How To Make Pumpkin Puree (3 Ways!)
Learn how easy it is to make pumpkin puree at home using a fresh pumpkin squash.
Bonus, this tutorial gives you 3 options to make the best smooth pumpkin puree with steaming, boiling, and roasting methods.
How To Make Pumpkin Puree
It's super easy to make your own pumpkin puree at home. All you need is the right kind of pumpkin. That's it, just one ingredient.
Choosing The Pumpkin
Some pumpkins are sweet, others are watery, and some are starchy. Let me share the best pumpkin varieties to make a creamy, smooth pumpkin puree every time.
The ideal type of pumpkin for pumpkin puree are:
The following pumpkin varieties tick these boxes:
Jack-o Lantern – the ones often used as ornamental gourds for Halloween.
Buttercup
Kabocha
Porcelain Doll Pink Pumpkin
Acorn Squash
Jarrah dale – that's what we are using in this recipe. It's an Australian squash variety with blue-green skin.

Method 1: Roasting
This is the best method to make pumpkin puree as a side dish. In fact, roasting the pumpkin gives it a delicious flavor, and it keeps the puree smooth, thick, and not watery.
To use this method, first cut the whole pumpkin and scrape down the side if dirty and scoop out the seeds with a spoon.
You can keep the pumpkin seeds for a later recipe, discard them, or use them in your garden – we accidentally grew a beautiful pumpkin from fresh pumpkin seeds left on the side of our compost bin last year.
Then, cut them into half-moons and keep their skin on.
Place the pieces of pumpkin, flesh side up, onto a sheet pan covered with parchment paper, and bake at 400°F (200°C) for 45 minutes to 1 hour or until fork-tender.
Remove from the oven and cool down on the sheet pan for 20 minutes.
Then, use a spoon to scoop out the flesh and transfer it to a food processor. Using the S blade attachment, blend until smooth.
You may have to stop the food processor a few times, scrape down the sides of the bowl and repeat until the pumpkin puree is smooth.
Cons
Darker in color due to the roasted part.
Less economic, longer baking time, and you may have to remove some dried, black, roasted parts.

Method 2: Steaming
If you don't have an oven, steaming the pumpkin is a great way of making homemade pumpkin puree.
To do so, cut the pumpkin into smaller pieces than the oven method and remove the skin.
Next, place the pieces of peeled pumpkin into the steamer basket and steam for 30-40 minutes or until fork-tender.
The smaller you cut the pumpkin, the faster it steams. So, I recommend cutting your pumpkin pieces into 1.2-inch cubes (3 cm).
Then, remove the steaming basket from the steamer and let the pumpkin cool down, and steam out for 20 minutes.
Finally, use the method above to turn the steamed pumpkin into a puree.
Pros
It keeps all the nutrients from the vegetables through slow cooking.
Perfect for making a simple blended pumpkin puree for babies.
Cons
Longer to prepare as you need to peel the skin off and cut the pumpkin into small pieces.
Longer to cook.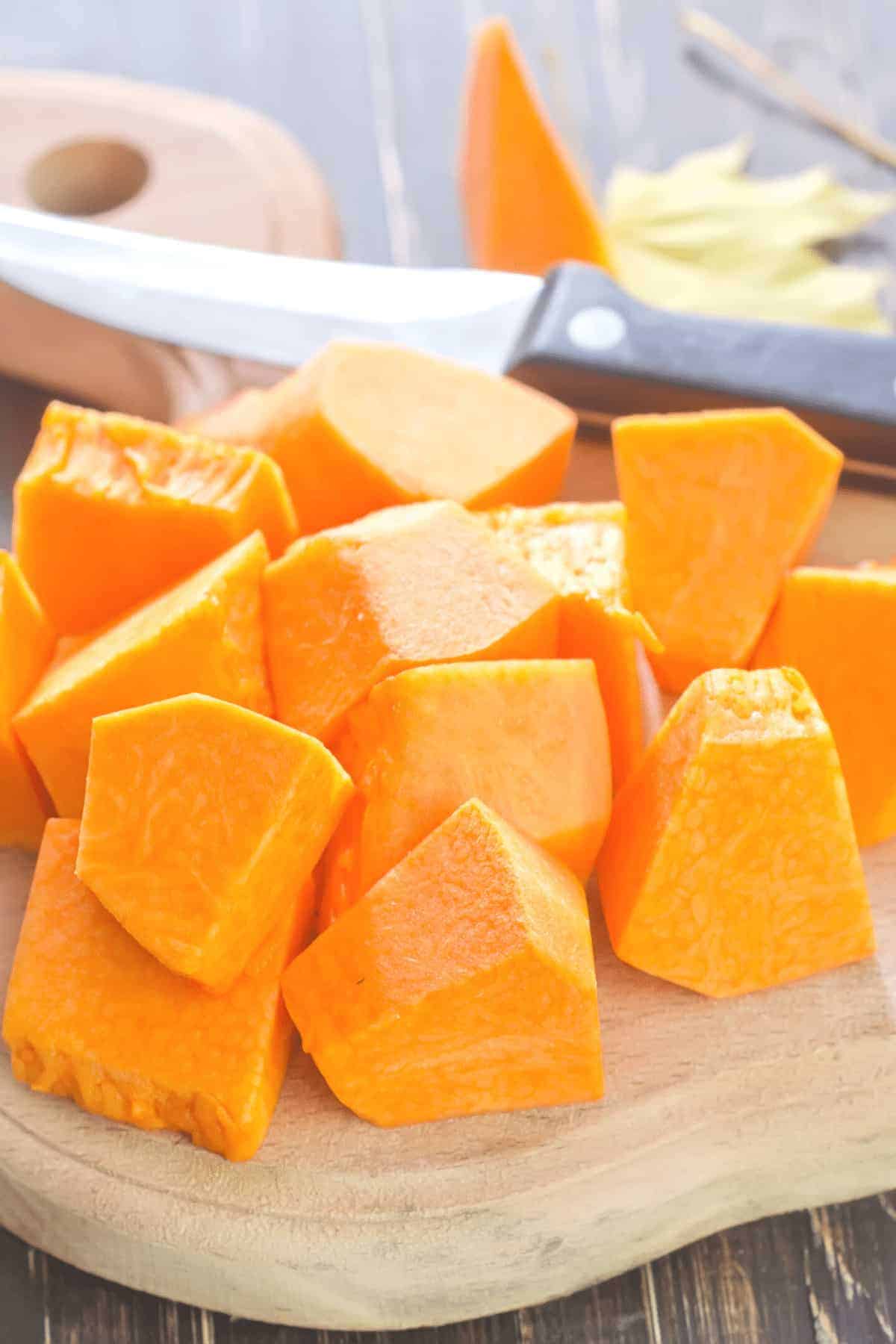 Method 3: Boiling
The last method consists of boiling the pumpkin.
As for the steaming method, cut the pumpkin into 1.2-inch cubes, peel off the skin, and place it in a large saucepan filled with 3 liters of water.
Bring to a boil and cook until fork-tender – about 15- 20 minutes.
Pros
Fast cooking – less than 20 minutes.
Perfect for making a simple blend of pumpkin puree for babies
Cons
Watery
Not recommended for baking pumpkin muffins or pumpkin cookies.
Turning Pumpkin Into Puree
The best way to puree the cooked pumpkin is to use a:
Food processor
High-speed blender like a Vitamix
But, if you don't have any of these, you can also use a potato masher or a fork. This won't create a smooth velvety pumpkin puree, but it's also an option to puree pumpkin.
The last option is to use an immersion blender and add some liquid like almond milk, water, or vegetable stock to help you blend the pumpkin.
This method is not recommended if you want to use the pumpkin puree in baking because it adds moisture.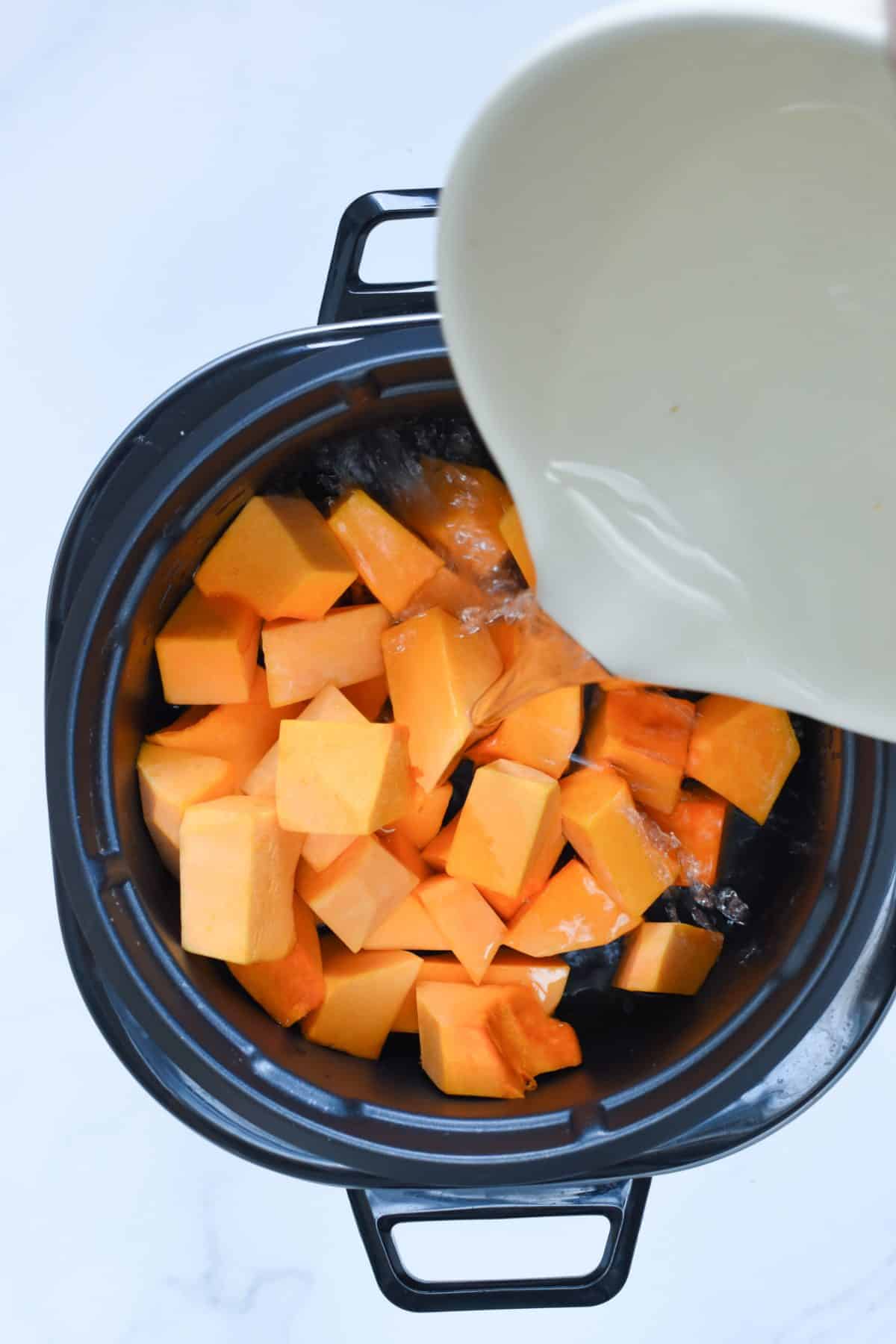 How To Use Pumpkin Puree
As mentioned above, choose the cooking method that matches the recipe you want to make with your homemade pumpkin puree.
I recommend the oven-roasting method because it works the best with all recipes. You can use this pumpkin puree as a:
Side dish
Ingredient for recipes calling for canned pumpkin puree.
Meal – it makes a delicious bowl of food for babies!
Frequently Asked Questions
Can your freeze pumpkin puree?
This homemade pumpkin puree, whatever the method you choose, is freezer-safe and perfect for meal prep some delicious pumpkin purees for later in the year.
Freeze in an airtight container or in ice cube trays for baby pumpkin puree.
Thaw the frozen pumpkin puree in the fridge the day before using.
How Much Pumpkin Puree Can I Get From One Pumpkin?
As a general rule, a 4-pound fresh pumpkin makes about 5 cups of pumpkin puree.
Recipes With Homemade Pumpkin Puree
Below I listed some delicious pumpkin recipes for you to make with your fresh homemade pumpkin puree recipe.
Have you made this pumpkin puree? Share a comment or review below to let me know in which recipe you used yours!
How To Make Pumpkin Puree
Ingredients
4

pounds

Pumpkin

-

check post above for pumpkin varieties tips

Water

-

(optional – to thin out the puree)
Instructions
Preheat oven to 400°F (200°C). Line a sheet pan with parchment paper. Set aside.

Choose a winter squash pumpkin, read my post above for the best pumpkin varieties for pumpkin puree.

Cut the pumpkin into half-moons, then scoop out the pumpkin seeds. Look at my pictures above in this post for visual help on cutting the pumpkin pieces into the perfect size. Discard the seeds.

Place the pieces of pumpkin on the sheet pan, flesh up.

Bake on the center rack of the oven for 50 -60 minutes or until you can easily insert a fork into the pumpkin flesh.

Remove from the oven and cool down before handling.

Scoop out the pumpkin flesh with a spoon and place the flesh in a food processor with the S blade attachment. Discard the pumpkin skin.

Blend the pumpkin flesh at high speed, stopping the food processor often to scrape down the sides of the bowl. Repeat blending/scraping the sides until all the pumpkin flesh turns into a smooth, creamy puree.
Storage
Store the pumpkin puree in an airtight container in the fridge for up to 4 days or freeze and thaw the day before using.

Note: if you don't want to roast the pumpkin, follow my instructions above in this post about steaming or boiling pumpkin. However, these two options are not recommended if making pumpkin puree for baking.
Share on Facebook
Pin Recipe
Nutrition
Serving:
1
serving (5 cups)
|
Calories:
94.3
kcal
|
Carbohydrates:
23.6
g
|
Protein:
3.6
g
|
Fat:
0.4
g
|
Saturated Fat:
0.2
g
|
Polyunsaturated Fat:
0.1
g
|
Monounsaturated Fat:
0.1
g
|
Sodium:
3.6
mg
|
Potassium:
1233.8
mg
|
Fiber:
1.8
g
|
Sugar:
10
g
|
Vitamin A:
30891.4
IU
|
Vitamin C:
32.7
mg
|
Calcium:
76.2
mg
|
Iron:
2.9
mg
|
Magnesium:
43.5
mg
|
Phosphorus:
159.7
mg
|
Zinc:
1.2
mg