Easy, Healthy Pumpkin Peanut Butter Cookies (Vegan)
These Pumpkin Peanut Butter Cookies are easy, healthy soft peanut butter cookies filled with real pumpkin puree.
Plus, they are vegan pumpkin cookies made with no eggs, no dairy, or butter.
I love peanut butter cookies, I have shared so many variations, like my 5-Ingredient Almond Flour Peanut Butter Cookies, my 3-Ingredient Peanut Butter Cookies, or my No-bake Peanut Butter Cookies.
These pumpkin flavor peanut butter cookies are the best way to celebrate the Fall season with cookies that are also naturally good for you.
Why You'll Love These Cookies
These peanut butter cookies are:
Dairy-Free
Egg-Free
Refined Sugar-Free
Grain-Free option provided
Oil-Free
So if you are after a Fall cookie recipe that really changes from the classic pumpkin cookies, try these peanut butter pumpkin cookies.
How To Make Pumpkin Peanut Butter Cookies
These healthy vegan pumpkin cookies are made with a few simple wholesome ingredients.
Ingredients
All you need to make peanut butter cookies with real pumpkin flavors are:
Canned Pumpkin Puree – You can use homemade pumpkin puree, but it often changes the texture of the cookies a lot. In fact, canned pumpkin puree is made of a special blend of various pumpkin varieties growing in the US. If you use a pumpkin variety with less or more water, the result of your puree will change the consistency of your baked goods.
Peanut Butter – Choose a fresh jar with a drippy peanut butter texture. I pick natural peanut butter no added sugar, no added oil.
Maple Syrup or any liquid sweetener you love.
Pumpkin Spices – I combine cinnamon ginger and nutmeg. You can also add or swap nutmeg for the same amount of ground clove.
Oat Flour or almond flour if grain-free – see recipe note for amount to swap oat flour for almond flour in this cookie recipe.
Baking Soda
Making The Cookie Dough
It's super easy to make these peanut butter pumpkin cookies.
All you need is to combine the wet ingredients first in a large mixing bowl: peanut butter, pumpkin puree, vanilla extract, and maple syrup.
Then, stir in the dry ingredients: oat flour, pumpkin pie spices, and baking soda.
Set the batter aside for 10 minutes. This gives the fiber in the oat flour time to soak up the liquid and firm up the batter.
Now the batter should be moist but a bit firmer and easy to roll into balls by hands
Forming The Cookies
Preheat the oven to 350°F (180°C). Line a baking sheet with parchment paper or a silicone baking mat.
Slightly oil the paper with coconut oil. This is not needed if you use a silicone mat. Set aside.
Wet your hands or lightly oil them before scooping out two tablespoons of batter.
Roll the batter between your hands and form a ball.
Place each ball onto the prepared baking sheet and using the back of a fork press down the cookie dough balls twice, in opposite directions.
You should form a cross on top of the cookies as seen below.
Baking The Cookies
Bake the cookies in the center rack of the oven for 12 to 16 minutes or until golden brown, dry on top and edges.
They are still soft to the touch, and that's normal.
Don't move the cookies from the baking sheet. Instead, leave them for a full 45 minutes on the baking tray, then slide a spatula under each cookie to transfer them to a cooling rack.
Let them cool down for one more hour to enjoy their best texture.
Storage Instructions
These Pumpkin Peanut Butter Cookies store very well in a sealed jar in the fridge for about 4 days.
You can freeze leftover cookies in zip-lock silicone bags and thaw them the day before at room temperature.
Add-Ons
You can of course make the cookies even more delicious by adding some of the below in the cookie batter:
2-3 tablespoons of dark chocolate chips.
2-3 tablespoons chopped walnuts or pecans.
A pinch of allspice.
Allergy Swaps
Below are some ideas to adapt the recipe to your food allergies:
Nut-Free – Try sunflower seed butter as a swap to peanut butter. Keep in mind that sunflower seed butter turns food slightly greenish and tastes a bit bitter.
Sugar-Free – Swap maple syrup for sugar-free Monk fruit syrup and use almond flour instead of oat flour to decrease carbs if desired.
Gluten-Free – Pick a certified oat brand to make homemade oat flour or use almond flour.
Frequently Asked Questions
Below are the answers to your most frequent questions about peanut butter cookies made with pumpkin puree.
Can I Use All-Purpose Flour?
I didn't try this option, but it should work and make the cookies crunchier, less soft and moist.
Can I Use homemade Pumpkin Puree?
Yes, but it can add water to the batter, and you may need more oat flour to make the batter hold together.
More Pumpkin Recipes
If you love baking with pumpkin puree, try some of my other vegan pumpkin recipes below:
Have you made these Pumpkin Peanut Butter Cookies? Share a comment or review below!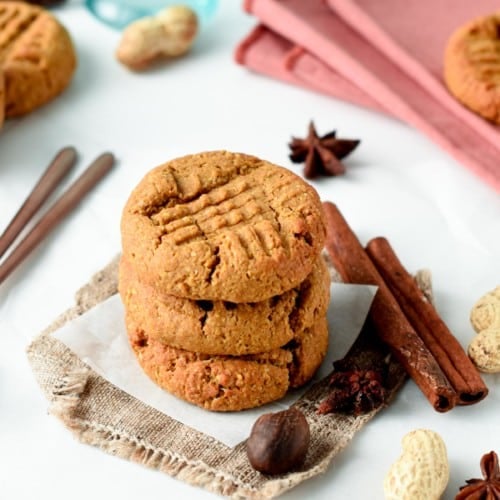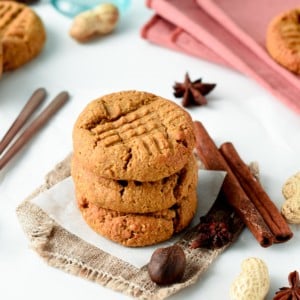 Pumpkin Peanut Butter Cookies
Instructions
Preheat the oven to 350°F(180°C). Line a cookie sheet with parchment paper and oil with coconut oil. Set aside.

In a large bowl, stir peanut butter, pumpkin puree, maple syrup, and vanilla extract until smooth.

Stir in cinnamon, ginger, nutmeg, baking soda, and oat flour until a sticky dough forms.

Set aside for 10 minutes to give the oat fiber time to absorb the liquid in the batter.

Now the batter should be moist but easy to grab and roll into balls. If it's too runny, add a bit more oat flour, 1 tablespoon at a time up to 3 tablespoons extra to keep the cookies moist and soft.

Slightly oil or wet hands, scoop out 2 tablespoons of batter and roll into a ball.

Place each cookie dough ball onto the prepared tray, leaving 1 thumb of space between each cookie. They don't spread in the oven, but it makes it easier to remove from the baking sheet later on.

Using the back of a fork, press down the cookies twice, in opposite directions to form a crisscross shape on top of the cookies.

Bake for 12-15 minutes or until golden brown and dry on top and edges – they are still very soft to the touch, and that's normal.

Cool completely on the baking sheet for about 45 minutes. Then slide a spatula under the cookie and let them cool down on a rack for 1 hour. The cookies should be soft and moist in the center and crisp slightly on the edges.
Storage
Store in an airtight container in the fridge for up to 4 days or freeze for up to 3 months. Thaw at room temperature.
Notes
Note 1: or same amount of almond flour. Coconut flour won't work
Share on Facebook
Pin Recipe
Nutrition
Serving:
1
cookie
|
Calories:
139
kcal
|
Carbohydrates:
15.1
g
|
Protein:
4.3
g
|
Fat:
7.4
g
|
Saturated Fat:
1.5
g
|
Polyunsaturated Fat:
1.9
g
|
Monounsaturated Fat:
3.5
g
|
Sodium:
85.6
mg
|
Potassium:
142.8
mg
|
Fiber:
1.6
g
|
Sugar:
6.5
g
|
Vitamin A:
1271.6
IU
|
Vitamin C:
0.4
mg
|
Calcium:
24.3
mg
|
Iron:
0.7
mg
|
Magnesium:
38.6
mg
|
Phosphorus:
87.5
mg
|
Zinc:
0.7
mg