3-Ingredient No-Bake Peanut Butter Cookies
These 3-ingredient no-bake peanut butter cookies are easy healthy no-bake cookies without milk or butter.
This easy vegan peanut butter cookie recipe is for health-conscious peanut butter lovers!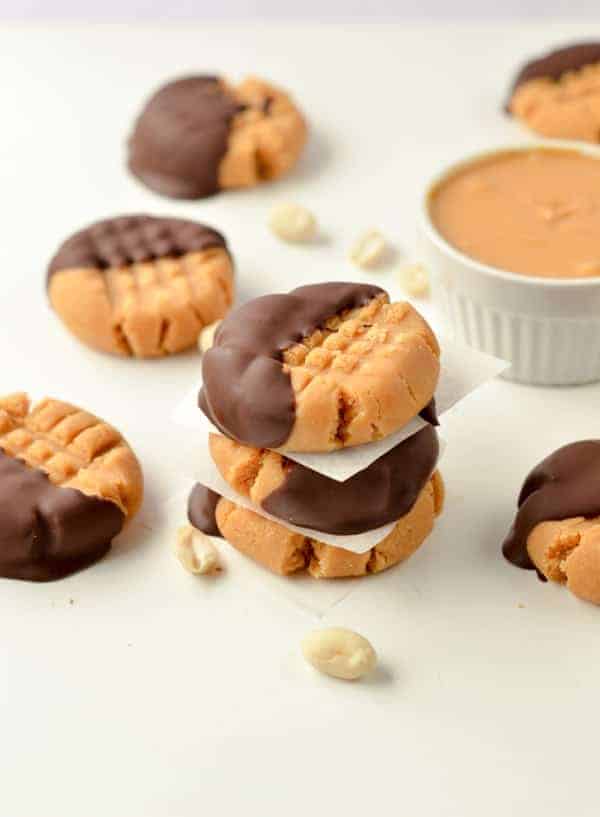 You will not believe those are made with only 3 ingredients!
Yes, the chocolate shell is optional, so technically, you don't need this fourth ingredient to make these no-bake cookies! It is the cherry on the cake, up to you to add this or not.
Plus, they taste like a real peanut butter cookie without the hassle of using your oven!
They are melt-in-your-mouth, slightly sweet cookies 100% vegan with a keto-friendly option!
How To Make No-Bake Peanut Butter Cookies
The secret to this amazing texture is a simple combo of peanut butter and coconut flour!
Ingredients
The 3 ingredients you need to make these easy peanut butter no-bake cookies are:
Natural Peanut Butter – this refers to pure peanut butter with no added sugar, and no added oil in the jar. You need peanut butter just made of peanuts! It's ok if salt is added, it won't compromise the taste of these vegan no-bake peanut butter cookies.
Coconut Flour – this is an amazing healthy gluten-free flour. Plus, it is safe to eat raw coconut flour. So it makes it perfect to use in no-bake cookies. It's also a healthy flour as it contains a high amount of fiber, protein, and iron! Indeed, 1/4 cup of coconut flour covers 20% of the iron daily value. Also, it has very few net carbs (8 grams per 1/4 cup of flour. It means it is a very fulfilling flour that releases energy slowly to your body and stabilizes your blood sugar level. As a result, coconut flour is great flour for diabetic or keto baking.
Maple Syrup – or any unrefined liquid sweetener you love like agave syrup or sugar-free maple-flavored syrup made of Monk fruit for a keto option.
Prepare Storage
Before you start making the cookie dough, I recommend preparing baking sheets with parchment paper.
These cookies will not be baked, but you will pop them in the freezer to set.
Prepare any flat surface like a baking sheet or plate covered with waxed paper and grease with coconut oil.
Combining Ingredients
First, combine peanut butter and maple syrup in a large mixing bowl. It should be quick and easy to do so using a fresh jar of peanut butter.
If it's too hard to stir at room temperature, pop the mixing bowl in the microwave for 30 seconds to soften the peanut butter and make it easier to stir.
If you don't have a microwave, place the ingredients in a saucepan over medium heat and stir to melt and combine.
When the liquid ingredients are well combined, stir in coconut flour.
First, stir with a spoon, then when it starts to be difficult to stir, knead the mixture with your hand until a dough ball forms.
Shaping Cookie Balls
Now, shape cookie dough balls and place them on the prepared surfaces leaving 1 thumb space between each ball.
Flatten each cookie dough ball with the back of a fork to form a cross on top of the cookie, as seen in the picture below.
Freezing The Cookies
Place the lined baking sheet with the cookies on it into the freezer for 10 minutes to set.
Making Chocolate Shell
To male chocolate peanut butter, no-bake cookies, as seen in my picture above, you need to create a chocolate shell.
To do so, melt 2 ingredients below in a small bowl in the microwave:
Vegan Dark Chocolate Chips – 1/2 cup is enough for the whole recipe.
Coconut Oil – This is optional, but this helps the chocolate melt. Use 1 teaspoon. You can use refined coconut oil to avoid coconut flavor.
Remove the cookies from the freezer and dip half of the cookies into the melted chocolate.
Return each cookie onto the lined baking sheets.
When all the cookies are dipped into chocolate, bring the sheets back to the freezer until the chocolate shell is hard.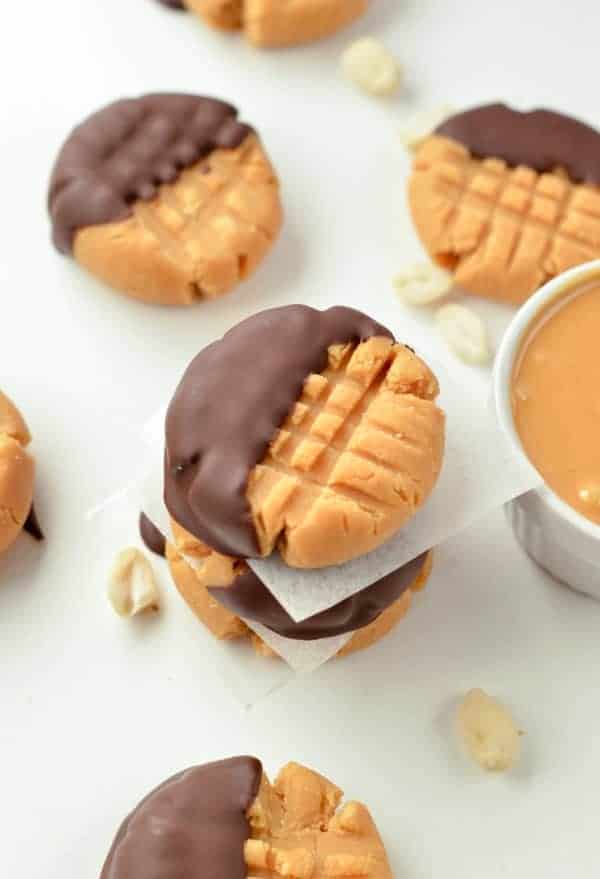 Frequently Asked Questions
How Do No-Bake Peanut Butter Cookies Taste?
These are soft no-bake cookies with a delicious peanut butter flavor and light coconut taste from the coconut flour.
If you don't like coconut flavor, add 1 teaspoon of vanilla extract into the dough to cover it.
Can I Use Other Flours?
You can't make the recipe with almond flour or wheat flour.
Wheat flour is not safe to be eaten raw. Almond flour won't absorb liquid well and let the dough runny and oily.
However, you can use oat flour in this recipe. Check the recipe card for measurements.
To make oat flour, add quick oats or rolled oats in a blender and blend for 30 seconds on high speed until a thin flour forms.
You can also follow my tutorial on how to make oat flour.
Are No-Bake Peanut Butter Cookies Healthy?
These cookies are made with natural ingredients. Consequently, they are the most healthy no-bake cookies for snacking.
In fact, raw baking preserves all the nutrients from food as it doesn't involve high temperate.
Plus, this recipe, compared to the classic no-bake peanut butter recipe, doesn't use refined sugar and healthy high fiber, fulfilling flour, so it is better for you!
Can I Make Keto Vegan Cookies?
I don't eat sugar at all, and my husband is vegan. That is the reason why this recipe has been tested with a keto sugar-free liquid sweetener as well.
However, if you eat sugar, I recommend using maple syrup for the best flavor. Both work very well with the same amount.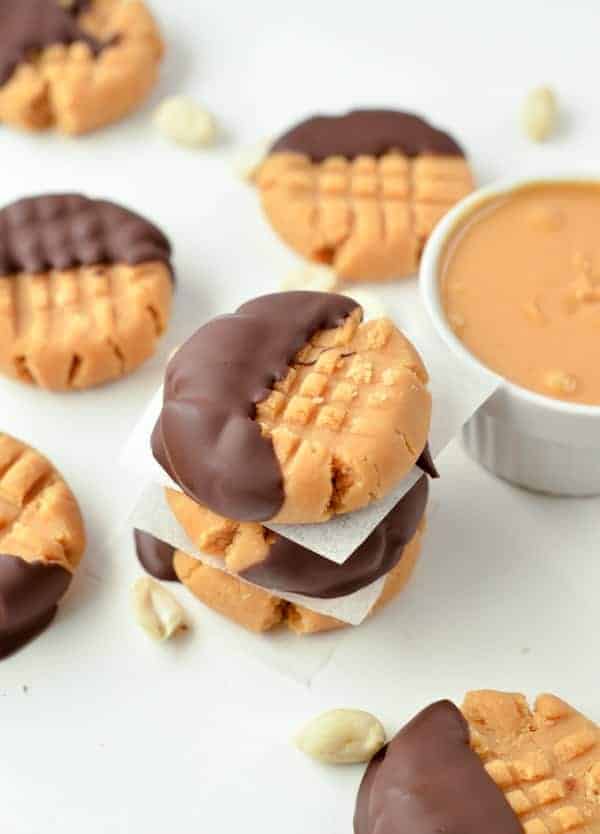 More No-Bake Peanut Butter Treats
If you love easy no-bake peanut butter cookies, I recommend you also check my Healthy peanut butter oatmeal cookies.
It is a delicious vegan breakfast cookie with peanut butter chocolate flavors and nutrient-dense oatmeal!
Enjoy the raw cookie recipe, and don't forget to share this on your Pinterest board to save it for later.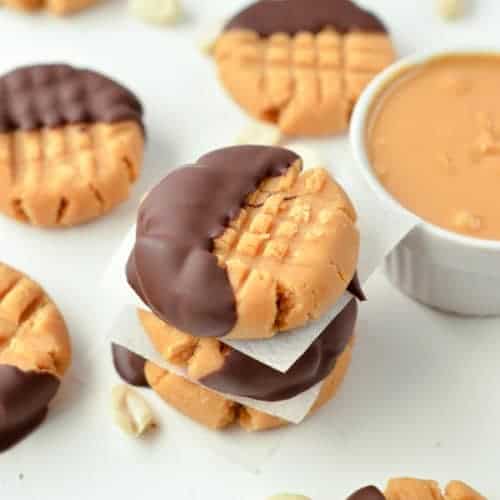 No-bake Peanut Butter Cookies
These 3-ingredient no-bake peanut butter cookies are easy healthy no-bake keto cookies without milk or butter. These vegan peanut butter cookies are made with only plant-based low-carb ingredients.
Pin
Print
Review
Servings: 8 cookies
Calories: 155.2 kcal
Ingredients
Chocolate shell – Optional!
Instructions
In a medium mixing bowl, add peanut butter along and syrup. Microwave 30 seconds if too firm, stir to combine.

Stir in coconut flour and keep mixing with the spatula at first, until the dough is consistent.

If it is too dry, this can happen if you did not measure the coconut flour carefully and add too much. Then, add 1-2 teaspoons of extra liquid sweetener until the ingredients come together and a shiny cookie dough ball forms.

Roll 8 balls of the same size between your hands and place each ball onto a plate covered with parchment paper. Leave 1 thumb space between each cookie ball.

Flatten each cookie ball with the back of a fork to form a cross on top.

Place the plate in the fridge for 5 minutes to set the cookies while you are melting the chocolate.
Chocolate shell – optional
Meanwhile, place chocolate chips into a microwave-safe bowl with coconut oil and microwave in 30-second bursts, stirring between. Stop when fully melted and shiny.

Remove the peanut butter cookies from the fridge. Dip one cookie at a time into the melted chocolate. Hold one side of the cookie and dip the other half only.

Place the dipped cookie onto the plate covered with parchment paper. Repeat the chocolate dipping steps until all the cookies have been covered with chocolate.

Place the plate into the freezer for 10-15 minutes or until the chocolate shell is set.

Store your cookies in the fridge for 3 weeks. in a sealed container. You can also store them at room temperature. They will be slightly softer.

You can freeze your no-bake cookies in a sealed box or bag. Defrost 1 hour before eating.
Notes
Coconut Flour Swap
You can replace the coconut flour with 1 cup of oat flour if desired.
Paleo/nut allergy
Replace peanut butter with sunflower seed butter.
Sweetener
Don't use powdered sweetener in this recipe. It will end up very dry.
I recommend using Monk fruit syrup, Maple syrup, agave syrup, or brown rice syrup.
Share on Facebook
Pin Recipe
Nutrition
Serving: 1cookie (no chocolate shell) | Calories: 155.2kcal | Carbohydrates: 14.6g | Protein: 4.7g | Fat: 9.3g | Saturated Fat: 2.7g | Polyunsaturated Fat: 2g | Monounsaturated Fat: 4.1g | Sodium: 85.9mg | Potassium: 113.6mg | Fiber: 3.4g | Sugar: 8.2g | Calcium: 18.9mg | Iron: 0.5mg | Magnesium: 29.4mg | Phosphorus: 54.7mg | Zinc: 0.5mg