No-Bake Peanut Butter Bars
These no-bake peanut butter bars are easy, healthy peanut butter bars topped with a silky, luscious chocolate peanut butter ganache.
A comforting health dessert recipe ready in less than 20 minutes with a bonus!
Yes, the recipe is not only vegan but also grain-free, paleo, and keto-friendly!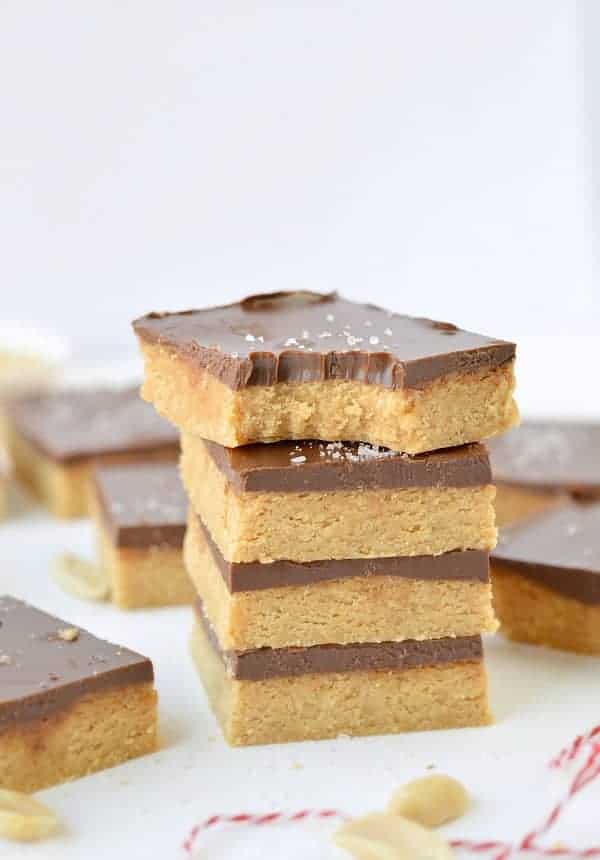 I am so glad you are here today to try these easy, luscious peanut butter bars! You know my passion for peanut butter and easy vegan desserts, right?
What's This Easy Vegan Dessert?
So this is my new creation, or should I say an improvement of my 3 ingredients peanut butter cookies, turned into no-bake peanut butter bars.
That's pretty much what it is, but you will love the chocolate peanut butter ganache on top of those bars. It brings the previous cookie recipe to the next level of decadence.
How To Make Healthy Peanut Butter Bars
You are reading well. All you need to make this delicious no-bake vegan dessert are 5 ingredients.
Ingredients
Let's see what you need and also how you can adapt the recipe to your taste.
Peanut Butter – No surprise, peanut butter bars are made of peanut butter but make sure you are using the healthy kind. You need pure peanut butter here, no added oil, no added sugar or salt.
Maple Syrup – You can replace this with any unrefined liquid sweetener like agave syrup (the bar will taste sweeter!), coconut nectar, sugar-free monk fruit syrup (the texture will be dryer), or brown rice syrup to decrease GI.
Coconut Flour – It is a delicious grain-free, gluten-free, keto-friendly, perfect for raw baking. It is also high in fiber and perfect to stabilize blood sugar levels and create a healthy dessert. While all-purpose white wheat flour shouldn't be eaten raw, it is safe to eat raw coconut flour. If you don't like coconut flour, I recommend using fine oat flour in the recipe. See the variation of ratio in the recipe notes. If you are concerned about eating raw flour, read my article about the raw flours that are safe to eat.
Dark Chocolate – most 70% cocoa chocolate is vegan-friendly. The darker, the less sugar it will have, so choose what you prefer.
Coconut Oil – you need coconut oil for the ganache, but you can use refined coconut oil to avoid the coconut flavor or unrefined coconut oil.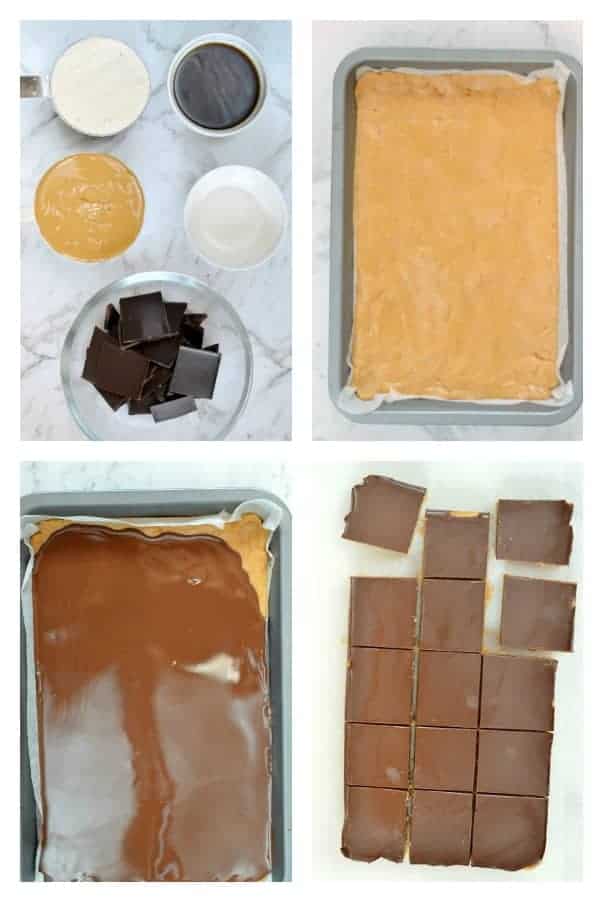 Do The Bars Taste Like Coconut?
This is probably one of your main questions since the recipe uses a good amount of coconut flour.
Coconut flour is not as flavorsome as desiccated coconut because it is made from the leftovers of soaked coconut meat while making coconut milk.
As the coconut meat is soaked, then dried, the coconut flavor is washed off. So, except if you absolutely dislike coconut flavor, you won't taste much coconut in these bars.
Storing No-Bake Peanut Butter Bars
No-bake recipes, in general, must be stored in a cool place, fridge, or freezer, in an airtight box.
You can keep these bars for up to 1 week in the fridge or freeze them for a few months.
Defrost the bars 2 hours before eating, at room temperature.
More No-Bake Vegan Dessert Recipes
No-bake vegan desserts are the easiest to indulge in a treat that is nourishing and delicious. I recommend trying:
Do you want to share your recipe pictures with me? Join me on Instagram and tag your picture in your story. I will look at it for sure!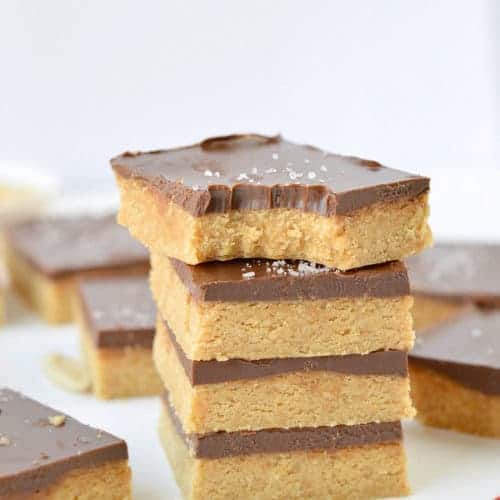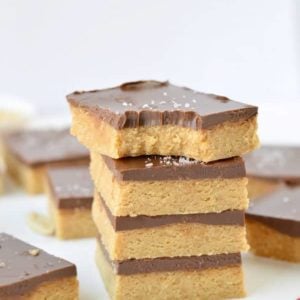 No-bake Peanut Butter Bars
Easy 5-ingredient no-bake vegan dessert or snack
Pin
Print
Review
Servings: 16 bars
Calories: 228 kcal
Ingredients
Chocolate peanut butter ganache
Instructions
Cover a 9-inch x 9-inch rectangle baking dish with parchment paper. Set aside.

In a medium-sized mixing bowl, stir peanut butter and maple syrup until evenly combined and smooth.

Stir in coconut flour. The dough will get thick, dry, and difficult to stir with a spatula, so use your hands to knead the dough and form a ball.

Evenly press the peanut butter dough ball all over the prepared pan. You want to fully cover the pan in an even layer of peanut butter dough. Smoothen the top of the layer using the back of a spoon.

Freeze while you prepare the chocolate ganache.

In a small mixing bowl, add the pieces of 70% vegan dark chocolate with melted coconut oil and peanut butter.

Melt under bain-marie or in the microwave by 30-second bursts, stirring between to prevent the chocolate from burning. It is ready when all the chocolate is melted, and the mixture is shiny and smooth.

Remove the baking dish from the freezer and pour the chocolate ganache over the peanut butter layer.

Spread evenly with a spatula.

Return the pan to the freezer for 10 minutes or until the chocolate ganache is set.

Slice the whole batch into 16 peanut butter bars.
Storage
Store bars in the fridge in an airtight container for 1 week or freeze. Defrost 2 hours before eating at room temperature or enjoy half frozen. Note that the peanut layer dries out slightly after freezing. The texture will be closer to a shortbread be still delicious.
Notes
Coconut flour swap: if you don't like coconut flour, you can replace the cup of coconut flour in the recipe with 2 cups of fine oat flour (not coarse!) The texture of the bars will be softer and slightly gritty. If you are on a low-carb diet, use sugar-free monk fruit syrup, net carbs per bar will be 8g.
Share on Facebook
Pin Recipe
Nutrition
Serving: 1bar | Calories: 228kcal | Carbohydrates: 18.4g | Protein: 6.5g | Fat: 15.4g | Fiber: 4.2g | Sugar: 11.1g