Perfect bar recipe – 3 ingredients, vegan
These homemade vegan protein bars with 3 ingredients are the healthiest vegan protein bars you can make at home in less than 20 minutes! A copycat of the popular Perfect Bar recipe, but 100% egg-free using plant-based pea protein powder.
Perfect Bars are popular healthy protein bars, but unfortunately, they are not vegan. While the brand uses a combination of healthy ingredients it includes egg protein powder and honey, both animal products that are not plant-based approved. So here I am sharing with you a copycat perfect bar recipe 100% vegan!
How to make healthy homemade protein bars?
To view this recipe a different way, check out my story: making the no-bake perfect bars!
Choose wholesome ingredients
To make high protein vegan bars at home that are healthy and gluten-free you need to focus on wholesome ingredients. Let me explain how to choose your 3 main ingredients to make this copycat perfect bar recipe, vegan, and gluten-free!
Peanut butter or almond butter
Choose a nut butter with no added sugar, no added vegetable oil. Simply check the ingredient list of your peanut butter jar, you should only see peanuts and eventually salt.
There is plenty of plant-based protein powder on the market. First, choose a clean protein powder, low in sugar, and carbs. The most popular plant-based protein powders are made of these vegan protein sources:
pea protein,
hemp protein,
brown rice protein,
soy protein
or a combination of the above
There are also raw vegan protein powders that are sprouted for better absorption. These are amazing but a bit more expensive.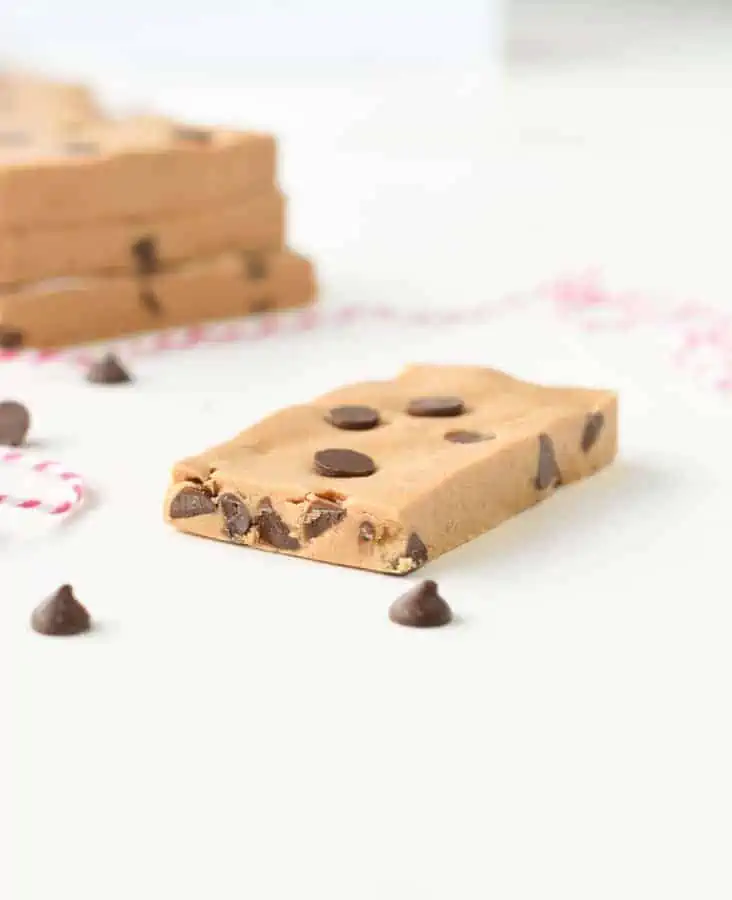 For these plant-based protein bars, I like to use NuZest Vanilla Protein powder in this recipe. It is a high-quality pea protein mix made of real food and rich in nutrients and vitamins. It will not only brings you vegan proteins but also iron and, vitamin B12, essential for a vegan lifestyle.
A low GI liquid sweetener is the best to keep your energy level steady and to make low sugar vegan protein bars. However, any unrefined liquid sweetener below is a healthier liquid sweetener option to make protein bar recipes. They contain plenty of nutrients like magnesium or potassium that refined sweetener doesn't have. I recommend one of the below options to make this homemade perfect bars recipe.
Date syrup
Brown rice syrup
Maple syrup

Combine the ingredients
First, combine the liquid ingredients together: peanut butter and sweetener, until creamy and smooth. It's very important that you use a fresh jar of natural peanut butter with oil on top of the bar will be dry. Then, weigh your protein powder and add to the liquid ingredients. Feel free to use your food processor to make this recipe but it will work as well with a bowl and a bit of kneading!
When should I eat protein bars?
Protein bars are a great post-workout fuel. They reload your muscles with quality protein and they are very fulfilling too. It's a delicious post work out snack to pair with an almond milk chocolate banana smoothie for a complete reboost after a long session.
Protein bars flavors
While you only need 3 ingredients to make these peanut butter protein bars, I highly recommend adding one or a few more ingredients to create a range of protein bar flavors that mimic the Perfect Bar original recipes! Below are some ingredients I recommend adding to your dough to create the same flavors as the popular perfect bar product range.
Dark chocolate chip peanut butter – add 1/4 cup of vegan chocolate chips
Coconut peanut butter – add 1/4 cup unsweetened desiccated coconut
Chocolate mint – add 1/4 cup dark chocolate chips and 3-4 drops of mint stevia drops
Salted caramel – add 3-4 drops of salted caramel stevia drops
Dark chocolate almond – add 1/4 cup of vegan dark chocolate chips and replace peanut butter with almond butter
Blueberry cashews – replace peanut butter with cashew butter in the recipe and add 1/4 cup freeze-dried blueberry
Protein bar nutrition
These homemade vegan protein bars are made with 3 natural, wholesome ingredients. They are very fulfilling, low in sugar, and contains only:
6g sugar per bars coming from the protein powder and sweetener
11g plant-based protein
170 calories
Troubleshooting how to bake with protein powder?
If it is your first time using protein powder in a recipe, let me share some tips with you.
Weight your powder for precision – protein powder is very liquid absorbent. A tiny extra amount can dry up these vegan gluten-free protein bars. So weigh the powder rather than using measuring cups.
Adjust the dough – if your dough is too dry and it becomes difficult to bring the ingredients together, simply add a splash of melted coconut oil. Usually, 1 tablespoon is enough to help the dough come together.
I really think they are the best vegan protein bars! But, be aware that depending on the plant-based protein powder blend and sweetener you choose, the texture can vary a lot. They are mainly dense, crumbly, not sticky or chewy.
More vegan protein recipes
If you love high protein vegan food as a post work out, check out my other recipes below:
Made these best homemade protein bars? Share a picture with me on Instagram or review the recipe below. I love to hear your feedback on my recipes.
Your friend, Carine
Perfect bar recipe
Homemade vegan protein bars aka copycat of the Perfect Bars but without eggs or dairy!
Ingredients
1

cup

Natural peanut butter

¾

cup

Vegan Vanilla Pea Protein Powder

-

- I used Nu zest

¼

cup

Brown rice syrup

-

or maple syrup
Instructions
Before you start the recipe, I recommend weighing the ingredients rather than using cups. In fact, protein powder is very volatile, and it is easy to add too much, making the bar too dry.

In a large mixing bowl, combine natural peanut butter with brown rice syrup until smooth.

Stir in vanilla pea protein powder and chocolate chips. It will become difficult to stir with a spoon. Use your hands to squeeze the batter and form a consistent dough. If too dry, stir in an extra 1 tablespoon of melted coconut oil. Not too hot, or it will melt your chocolate chips

Press the dough into a square 8-inch x 8-inch pan, smoothen the top with the back of a spoon or spatula. Freeze 10 minutes to set.

Remove from the freezer and cut into 12 protein bars.

Store bars in an airtight container in the fridge for up to 1 week.
Share on Facebook
Pin Recipe
Nutrition
Serving:
1
bar
|
Calories:
171
kcal
|
Carbohydrates:
10
g
|
Protein:
11
g
|
Fat:
11
g
|
Saturated Fat:
2
g
|
Sodium:
197
mg
|
Potassium:
140
mg
|
Fiber:
2
g
|
Sugar:
6
g
|
Calcium:
14
mg
|
Iron:
1
mg
\
Leave a comment
6 comments