Protein Powder Banana Bread
This Protein Powder Banana Bread recipe is a nourishing high-protein banana bread recipe perfect as a post-workout breakfast.
Bonus, this protein banana bread is vegan, made without eggs or dairy, and uses pea protein powder.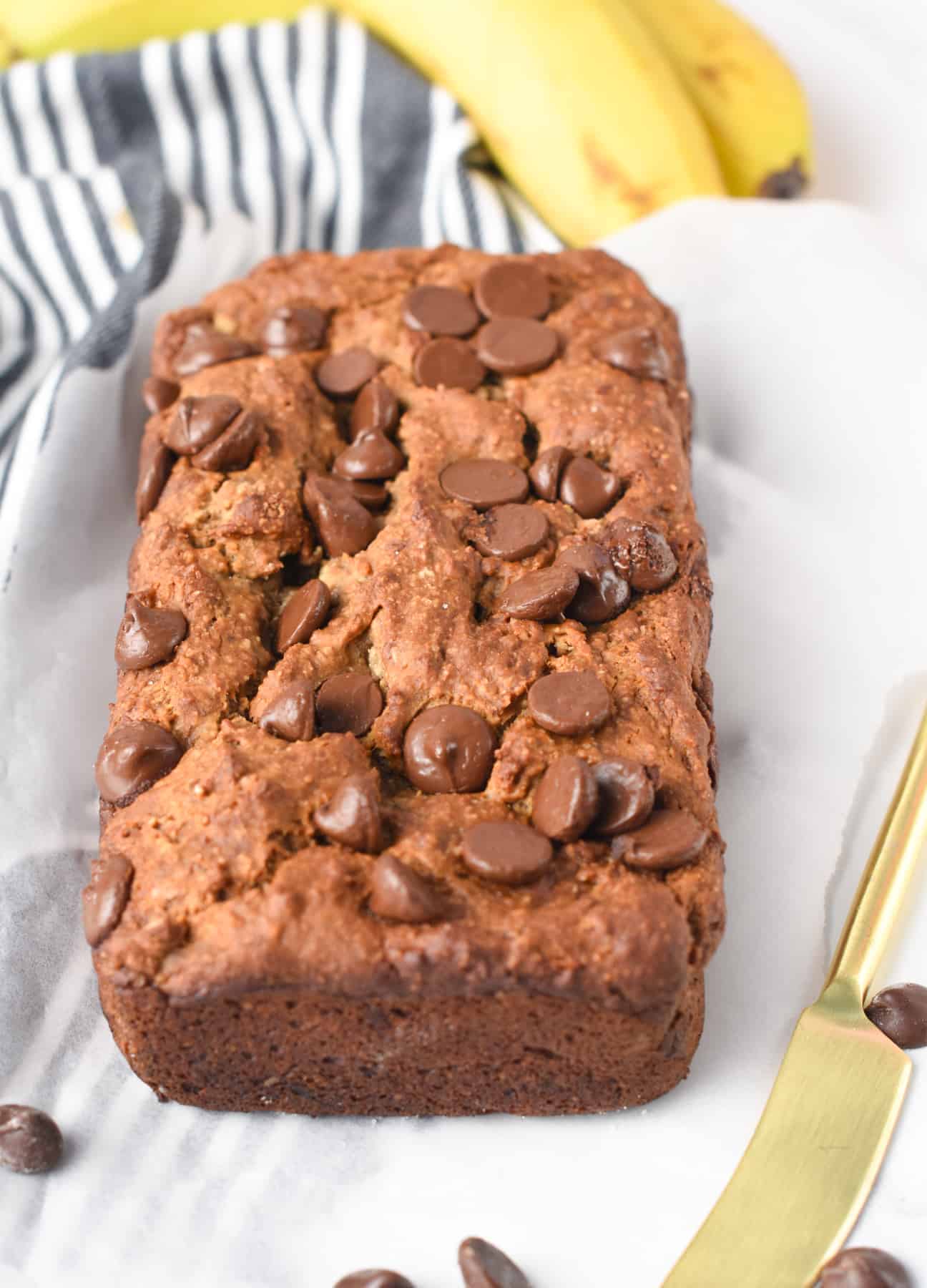 We love vegan banana bread recipes in our house, and I have shared so many with you: 4-ingredients banana bread, healthy banana bread, the classic vegan banana bread, and now let me show you how to make protein powder banana bread!
How To Make Banana Bread With Protein Powder
It's pretty easy to make high-protein banana bread using a combination of oat flour and your favorite protein powder.
The texture of protein banana bread recipes is slightly denser and more packed than regular banana bread.
The trick to prevent the crumb from getting gummy or overly dense is to use oat flour instead of wheat-based flour!
Let me share my favorite ingredients below to make this vegan protein banana bread recipe.
Ingredients
Mashed ripe bananas – this recipe is a healthy banana bread using minimal sweetener, so the riper the bananas, the sweeter the bread is! Use the bananas with black spots on their skins for the best flavor.
Maple syrup or any plant-based liquid sweetener you love, like agave syrup or coconut nectar.
Melted coconut oil
Homemade oat flour – I tested the recipe with all-purpose flour or gluten-free all-purpose flour, and both came out very gummy and chewy, so please stick to homemade oat flour for the best result.
Vanilla pea protein powder – you can actually use any plant-based protein powder in this recipe, including hemp powder or almond powder if you prefer their taste. The texture will always vary slightly depending on the powder you use. Some vegan protein powders are more liquid absorbent than others, but overall the bread will come out tasty.
Baking powder
Baking soda
Cinnamon
Dark chocolate chips – optional, to sprinkle on top of the bread.
Measuring The Bananas
First, peel and mash the ripe bananas on a chopping board using a potato masher or a fork. When the bananas are turned into a smooth puree, place them in measuring cups to measure the amount of 1 cup+ 1/4 cup. This is about 3 large bananas.
Place the mashed bananas, maple syrup and melted coconut oil in a mixing bowl and stir to combine.
Stirring In Dry Ingredients
Now stir in the dry ingredients: oat flour, protein powder, baking soda, baking powder, and cinnamon. The batter should be thick and fluffy.
Transfer into a 9 x 5-inch loaf pan covered with oiled parchment paper.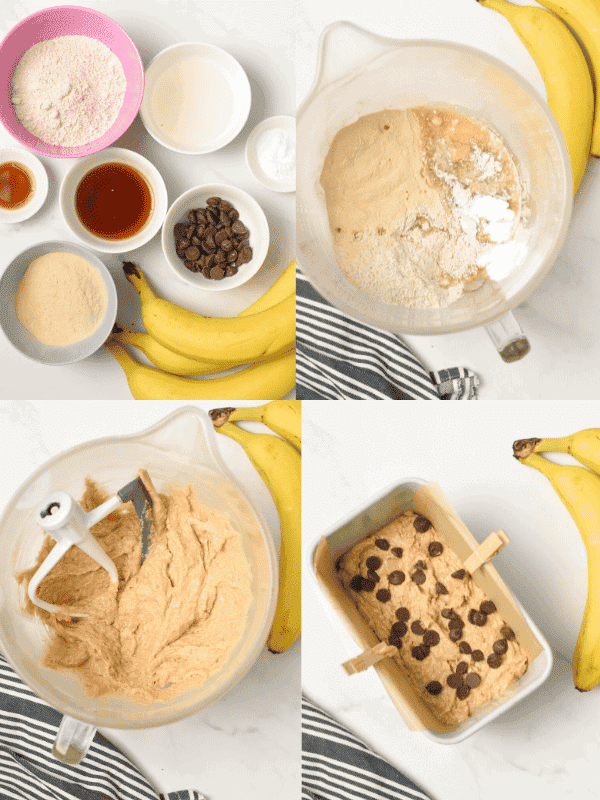 Baking
Bake the pound cake in the center rack of an oven preheated to 350°F ( 180°C) for 35-45 minutes.
The protein banana bread is ready when the top is set, golden-brown and a pick inserted in the center comes out with only some sticky batter on it.
Cooling Down
Remove the bread from the oven and pull it out from the loaf pan using the pieces of hanging parchment paper on the side.
Release the high-protein banana bread and cool on a wire rack for 3 hours before slicing.
Texture
Most protein powder banana bread loaves are quite packed. They won't rise as much as regular banana bread. So expect a flatter bread with denser crumbs than usual.
Serving
This protein banana bread recipe is delicious on its own, and kids love it!
It's actually a healthy vegan kid breakfast packed with plant-based protein and nutrients like fiber, and wholegrain from oats.
However, you can serve it with some extra delicious toppings like a dollop of:
Almond Butter
Peanut Butter
Chia Seed Jam
Sunflower Seed Butter for a nut-free option
Choosing The Protein Powder
We tested this protein powder banana bread with 3 types of plant-based protein powder.
However, we didn't try the recipe with whey protein powder. Whey protein powder is not a vegan protein, so we don't use it in our recipes.
If you do, keep in mind that it's a highly liquid absorbent powder, and the bread texture will be very dense if used.
The best option for making a protein powder banana bread is to use a vanilla flavored protein made from:
Pea Protein
Almond Protein
Peanut Protein
Of course, hemp protein powder works as well, but we found the flavor of hemp a bit overpowering in this high-protein banana bread recipe.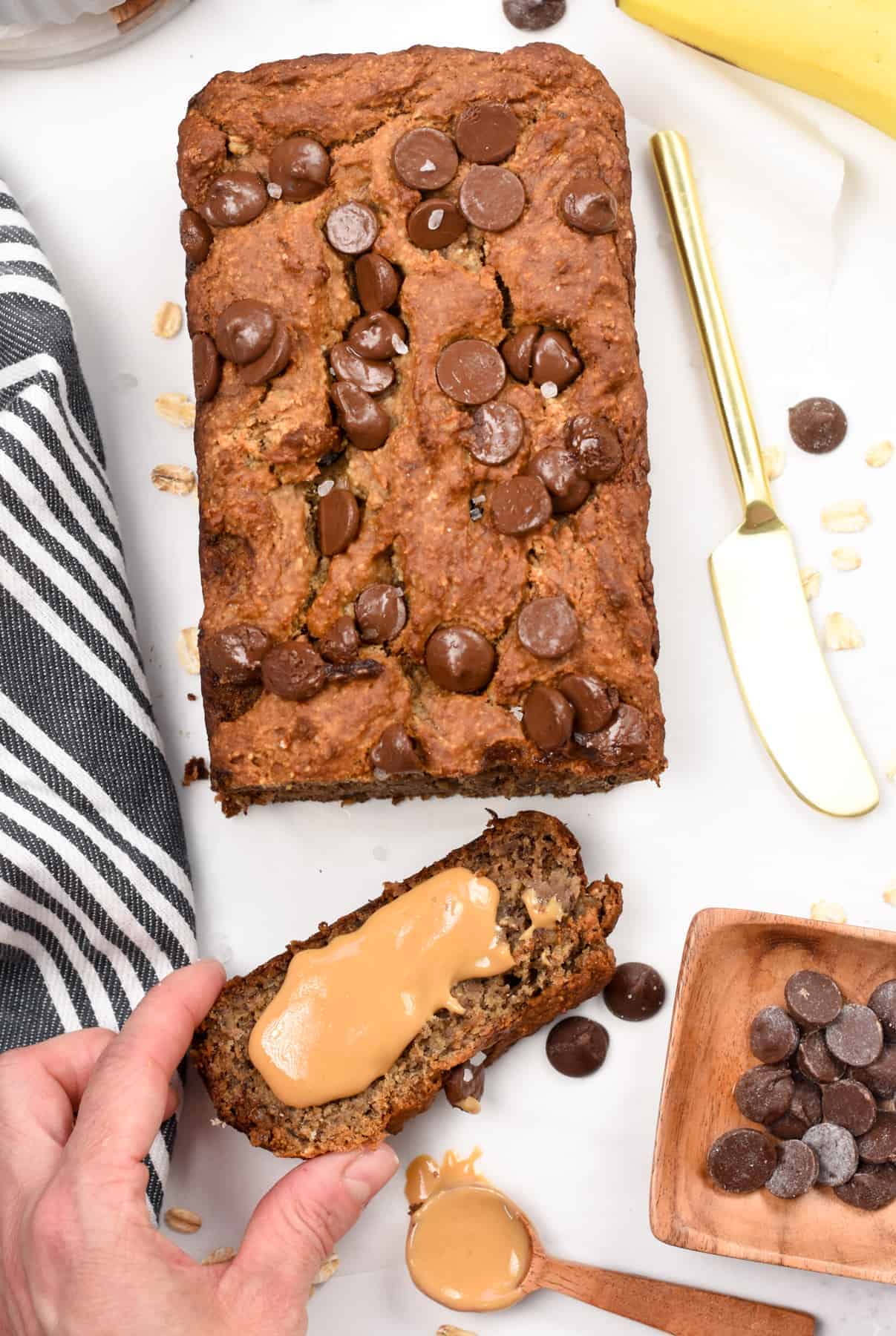 Storage Instructions
Like all vegan banana bread recipes, they store very well for a few days at room temperature if packed in a sealed box.
But, you can also pop the bread in the fridge to keep it fresh for longer.
The last option is to freeze banana bread, whole or by slices, in ziplock bags and thaw the day before at room temperature.
Allergy Swaps
Below I listed some swaps for the common ingredients used in this recipe. Pick only one swap at a time to avoid impacting the texture of the bread too much.
Oat flour – this recipe works with white whole wheat flour as well. The result would simply be denser. Don't overmix the batter to prevent this from happening.
Coconut oil – any liquid oil works in this recipe, including olive oil, and avocado oil.
More Vegan Banana Bread Recipes
I have plenty of other vegan banana bread recipes for you to try on the blog, pick some of the below:
More High-Protein Recipes
If you love baking with protein powder, try some of my other high-protein recipes below:
Have you made this easy protein banana bread recipe? Share a comment or review below to connect with me.
Your friend, Carine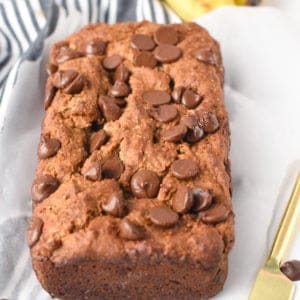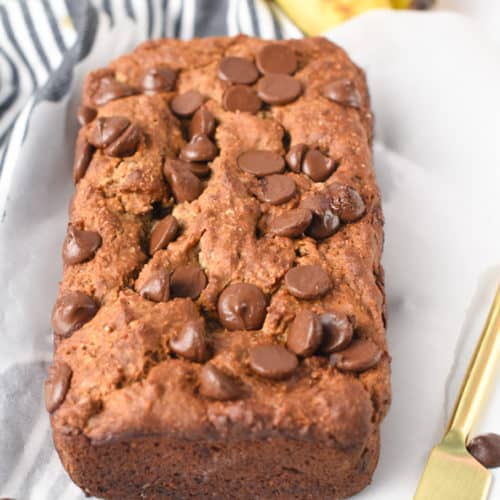 Protein Powder Banana Bread
A high-protein Banana Bread recipe as a healthy post-workout protein breakfast, 100% vegan and gluten-free.
Pin
Print
Review
Instructions
Preheat oven to 350°F (180°C). Line a 9 x 5-inch loaf pan with parchment paper and lightly oiled paper with oil spray or coconut oil. Set aside.

Peel, mash the banana into a puree, and measure the amount called by the recipe using a measuring cup.

In a mixing bowl, add mashed banana, maple syrup, melted coconut, and stir to combine.

Stir in the dry ingredients: oat flour, protein powder, baking soda, baking powder, and cinnamon, until just combined. Don't overmix to avoid gummy bread.

Pour the banana bread into the prepared loaf pan, sprinkle the dark chocolate chips on top, and bake for 35-45 minutes or until golden brown.

This bread remains a bit moist in the center, so it's normal if you insert a pick in the center and the batter still sticks slightly to it.

Cool it down completely before slicing, it takes about 3 hours on a cooling rack at room temperature.
Storage
Store at room temperature for up to 4 days in a sealed box.
Share on Facebook
Pin Recipe
Nutrition
Serving:
1
slice
|
Calories:
129
kcal
|
Carbohydrates:
15.2
g
|
Protein:
4.8
g
|
Fat:
6.1
g
|
Saturated Fat:
4.1
g
|
Polyunsaturated Fat:
0.4
g
|
Monounsaturated Fat:
0.9
g
|
Sodium:
173.9
mg
|
Potassium:
99.6
mg
|
Fiber:
1.3
g
|
Sugar:
7.2
g
|
Vitamin A:
10.5
IU
|
Vitamin C:
1.4
mg
|
Calcium:
36.2
mg
|
Iron:
1.3
mg
|
Magnesium:
16.6
mg
|
Phosphorus:
44.7
mg
|
Zinc:
0.3
mg