Vegan Gluten-Free Banana Bread
This Vegan Gluten-Free Banana Bread is made with homemade oat flour for a wholesome, nourishing, and healthy breakfast banana bread. You will love its moist texture and delicious oat flavor.
Is Banana Bread Always Vegan
The classic gluten-free banana bread from the grocery store or the bakery contains eggs, milk, and sometimes butter. So it's not vegan-friendly.
However, it's very easy to make vegan gluten-free banana bread at home with just a few ingredients.
How To Make Vegan Gluten-Free Banana Bread With Oat Flour
Banana bread is comfort food by excellence, and everyone deserves a piece. But banana bread can also be healthy, nourishing, and good for you.
This vegan, gluten-free banana bread with oat flour is the one that ticks all these boxes.
So if you are looking for a healthy vegan banana bread recipe to start the day, then this vegan banana oat bread is the one!
Oat flour, rolled oats, and nuts, this banana bread has all the healthy plant-based ingredients to supercharge your breakfast with:
Fiber
Protein
Healthy fat
Ingredients
You only need a few ingredients to make this oat flour banana bread.
First, make sure you followed my tutorial to make your own homemade oat flour. This saves time and money!
Ripe Bananas – pick the ugly ones with black spots on the skin. I prefer darker bananas. It makes the bread sweeter.
Oat Flour – I am using ultra-fine gluten-free homemade oat flour.
Old-Fashioned Rolled Oats – the thick oats. Don't use instant oats or quick-cooking oats. They make the bread dense.
Flaxseed Egg – stir the flax meal with lukewarm water, set it aside for 10 minutes until it forms an egg-like texture. This acts as an egg replacer in your vegan banana bread.
Light Brown Sugar – or coconut sugar. A great unrefined sugar to give a caramel flavor and golden brown color to baking. Also, the Glycemic Index of coconut sugar is lower than brown sugar, and consequently, it releases a steady level of energy throughout the day.
Extra Virgin Melted Coconut Oil or melted vegan butter.
Baking Soda
Baking Powder
Ground Cinnamon
Vanilla Extract
Chopped Nuts or chocolate chips – feel free to stir in 1/2 cup of finely chopped pecans, walnuts, or dark chocolate chips.
Mashing The Bananas
First, peel off the bananas, place them on a chopping board, and mash them with a potato masher or a fork.
Measure precisely the amount of mashed banana to make the bread come out moist and hold its shape.
Vegan banana bread made with oat flour depends even more on the amount of banana to hold its shape.
Prepare the loaf pan, line the bottom and sides with parchment paper, and oil with coconut oil. Set it aside.
Combining Wet Ingredients To Dry Ingredients
In a large mixing bowl, whisk together mashed bananas, melted coconut oil, flax egg, light brown sugar, and vanilla extract.
Then, stir the dry ingredients: gluten-free oat flour, rolled oats, baking powder, baking soda, and cinnamon. The banana bread batter should be thick and heavy.
Baking The Bread
Transfer the banana bread batter into an 8-inch x 5-inch loaf pan covered with oiled parchment paper.
Bake in the center rack of the oven preheated to 350°F (180°C) for 55 – 65 minutes or until a pick inserted in the center comes out clean.
Cooling Down
Cool the banana bread down on a cooling rack for 2-3 hours or until it reaches room temperature.
Slice the bread once it's at room temperature, not before, or the texture will be too dense and heavy.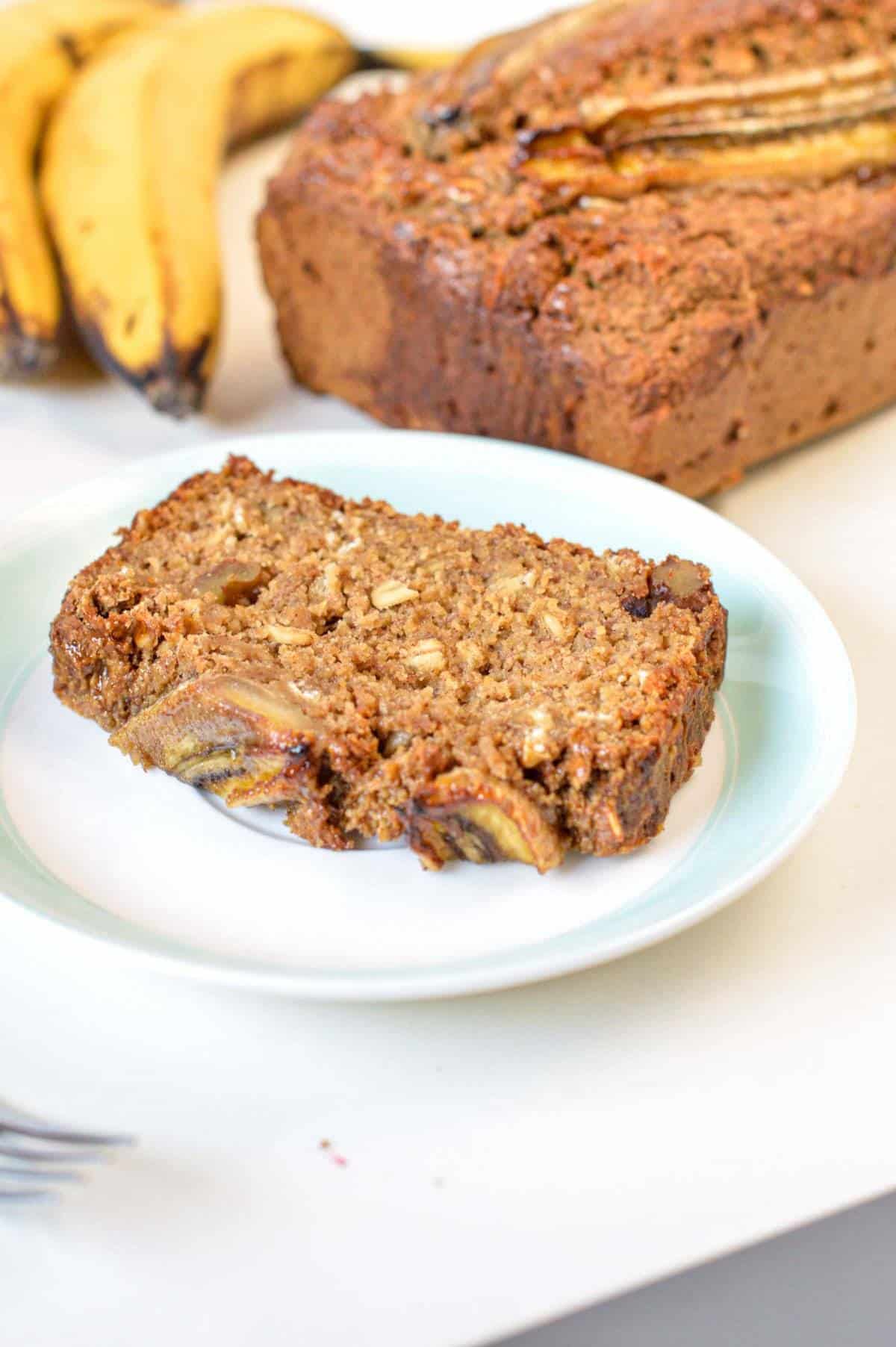 A Healthy Vegan Gluten-Free Banana Bread
This vegan gluten-free banana bread is definitely the healthiest banana bread recipe you will find around.
First, this banana bread recipe is much healthier than regular vegan banana bread because it's made of oat flour instead of white flour.
Oat flour adds much more fiber and proteins to your vegan banana bread and makes the bread fulfilling for breakfast.
In fact, 100 grams of oat flour brings you 16 grams of fiber and 21 grams of proteins. Note that white wheat flour contains only 2.7 grams of fiber and 10 grams of protein.
Fiber is essential for your body. It maintains healthy guts and a steady level of energy throughout the day.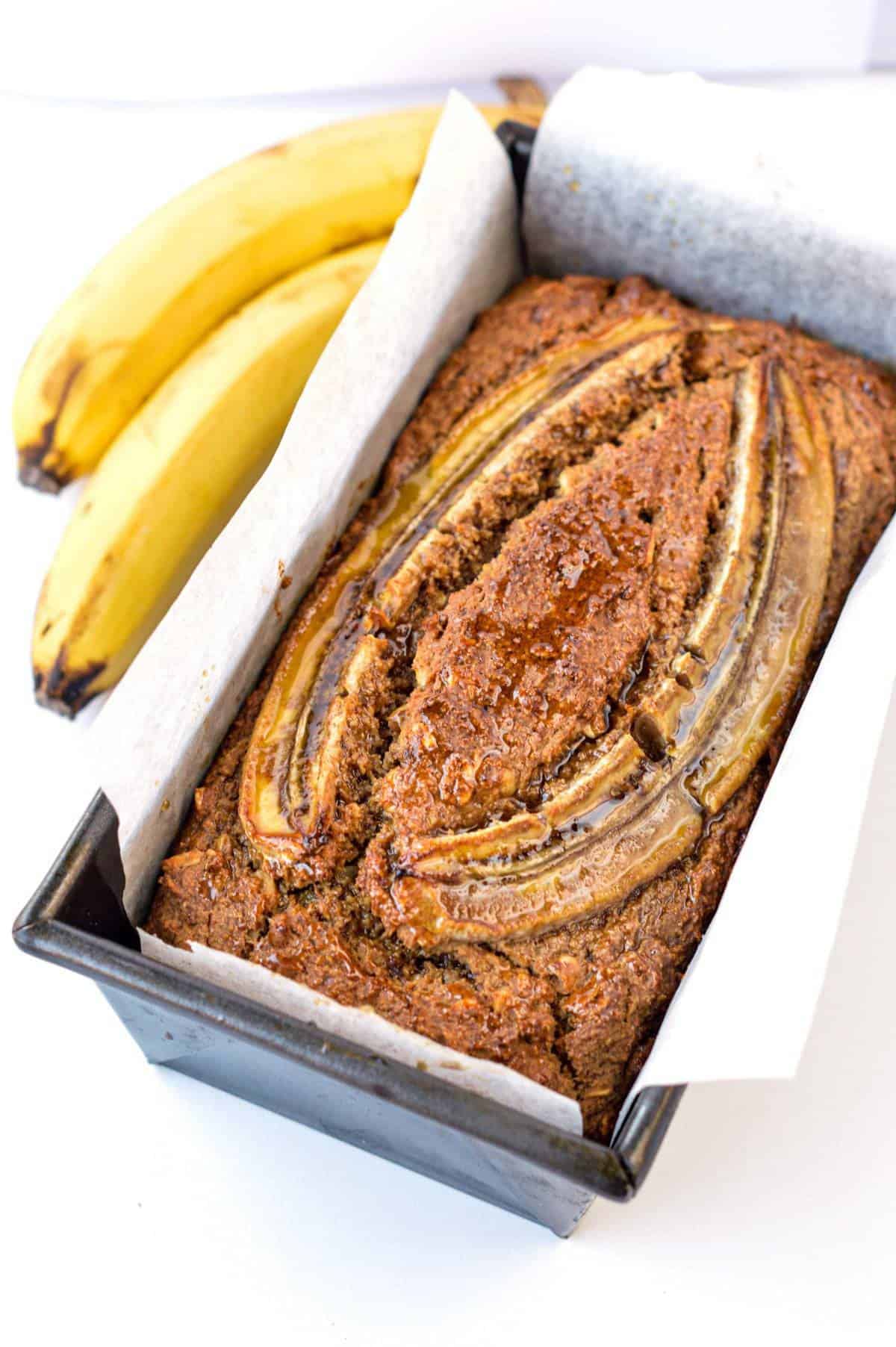 Next, this banana bread recipe uses coconut sugar as a sweetener. Coconut sugar contains iron, zinc, and calcium and has a lower GI than white sugar.
Finally, this easy vegan banana bread recipe calls for coconut oil which has a high amount of lauric acid, a natural anti-fungal.
So this egg-free banana bread is definitely your healthy option for breakfast or afternoon tea!
I hope you enjoyed this healthy vegan baking recipe! Don't forget to Pin the recipe below to save it for later!
Banana Bread Add-ons
You can add a half-peeled banana cut lengthwise on top of your bread just before baking. This adds moisture on top of your bread and an extra sweet flavor.
You can create different vegan banana bread flavors by adding some of the ingredients below into the batter:
Dark chocolate chips
Chopped walnuts
Chopped pecans
Coconut
Serving suggestions
This vegan gluten-free banana bread is the perfect vegan breakfast bread to make toasts or eat on its own.
You can serve the bread at room temperature or lukewarm by warming up each slice in a bread toaster.
The best spreads to add on top of this oatmeal banana bread are one or a combination of the below:
Peanut Butter
Almond Butter
Maple Syrup or agave syrup
Storage
This vegan banana bread can be stored for up to 4 days in a sealed container in the fridge. I recommend slicing the banana bread just before eating, so it keeps all its moist texture.
You can freeze the banana bread whole or sliced. Make sure you place the vegan banana bread in a freezer-safe container.
More Vegan Baking Recipes
If you love vegan banana recipes, I recommend the following delicious vegan recipe:
Don't forget to check all my Ripe Banana Recipes ideas for more ways to use those ripe bananas!
Have you made this vegan oat bread? Share a review or comment below, and don't forget to share your creation with us on Instagram!
Your friend, Carine