Vegan Banana Bread (4 Times Less Sugar!)
This Vegan Banana Bread is the easiest 1-bowl banana bread recipe with an ultra-moist texture, delicious cinnamon flavor, and crunchy walnuts. Bonus, it's also a healthy low-sugar banana bread with only 4.7 grams of sugar per slice and made with healthy unrefined sugar!
We have so many vegan banana bread recipes: Chickpea Flour Banana Bread, Vegan Gluten-Free Banana Bread, and so many others but never the classic vegan banana bread!
Keep reading to learn how to make an ultra-moist low-sugar vegan banana bread recipe.
Sugar In Classic Banana Bread
Did you know that regular banana bread contains 19 grams of sugar per slice? And you will be surprised that most of the sugar comes from added sugar, not bananas.
So here's a low-sugar banana bread recipe for you to enjoy and start the year healthy!
Is Classic Banana Bread Vegan?
Classic Banana Bread loaves from the shop or the bakery are not vegan since they contain eggs, milk, and sometimes butter.
How To Make Vegan Banana Bread
There are plenty of ways to make an egg-free banana bread that is vegan-friendly.
You can make it with oat flour, like in my vegan, gluten-free banana bread recipe, use chickpea flour or simply use the most basic pantry ingredients below.
Ingredients
To make this one bowl banana bread recipe, you need:
Ripe Bananas – Find bananas with black spots on their skin. The ripest, the sweetness the banana bread will be without adding tons of sugar. That's the trick to making a low-sugar banana bread recipe.
All-Purpose Flour or white whole wheat flour or spelt flour – this recipe doesn't work with oat flour or almond flour. Try my vegan oat banana bread if you want to use other flours.
Coconut Sugar – This recipe uses coconut sugar as a sweetener. It's a low-GI unrefined sugar with nutritious properties, but it also adds a lovely nutty caramel flavor to the banana bread. Plus, this recipe uses 3 times less added sugar than a regular banana bread recipe to keep the recipe healthy and good for you.
Light Olive Oil – any vegetable oil works in this recipe, but olive oil is low in saturated fat and better for you, so it's my favorite choice to make banana bread.
Baking Powder
Baking Soda
Ground Cinnamon
Vanilla Extract
Chopped Nuts – you can use walnuts, pecan, or a combination of both. I recommend finely chopping the nuts before adding in the bread. You can also roast the nuts for extra flavors.
Salt
Mashing The Bananas
The success of any banana bread recipe is the amount of banana added!
If you measure the mashed bananas roughly, you are sure to have too moist or too dry banana bread.
So first, mash the bananas very well until smooth and runny – removing the lumps creates a super moist banana bread crumb!
Then, use measuring cups to exactly measure the amount you need in the recipe.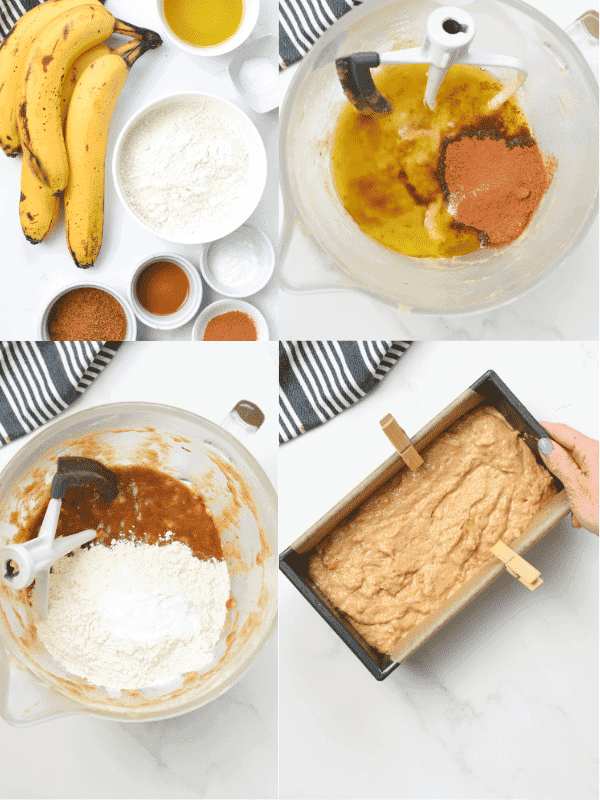 Banana Bread Batter
In a large mixing bowl, combine the flour, baking powder, baking soda, and ground cinnamon. Set it aside.
Now, stir in oil, vanilla extract, coconut sugar, and salt with the mashed bananas. When well combined, stir in the dry ingredients until you get a smooth, consistent thick banana bread batter.
Fold the 1/2 cup chopped nuts at the end or some extra chocolate chips, if desired. This is totally optional and up to your taste.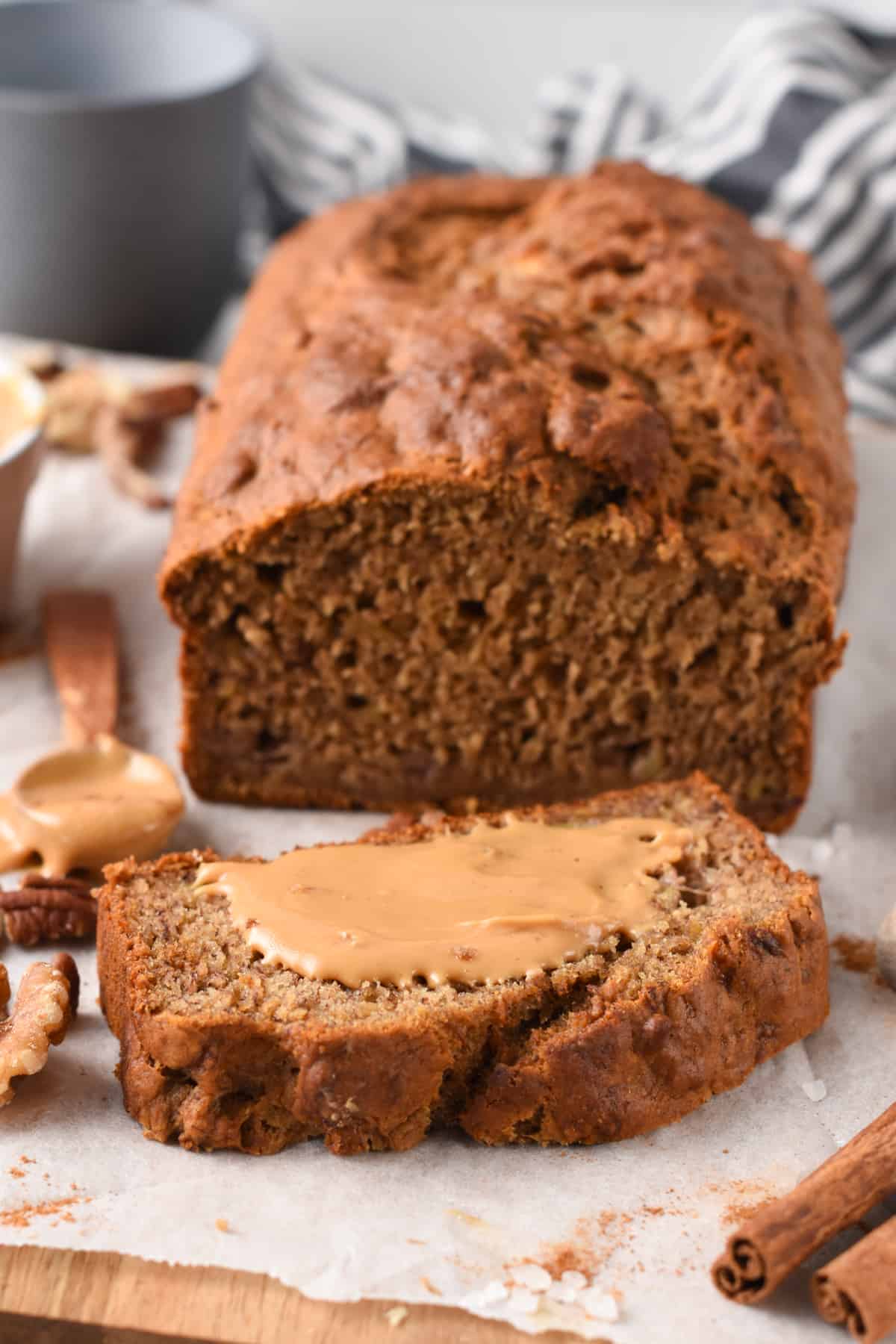 Baking Banana Bread
Preheat the oven to 350°F (180°C). Line a 9-inch x 5-inch loaf pan with parchment paper and lightly oil the paper with coconut oil. Set aside.
Bake the banana bread in the center rack of the oven for about 50-55 minutes or until a pick inserted in the center comes out clean.
To prevent the top of the banana bread from darkening too fast, tent the pan with a piece of foil after 30-40 minutes of baking.
Cooling Down
Remove the loaf pan from the oven, and using the hanging piece of parchment paper, pull out the banana bread from the pan.
Cool down on a cooling rack for about 2 hours or until the banana bread reaches room temperature.
Storage
Slice the banana bread just before serving. This keeps the remaining banana bread ultra-moist.
You can store banana bread in the fridge for up to 5 days. I recommend storing the bread in a sealed box or on a plate covered with a towel to keep it fresh and moist.
You can freeze banana bread whole or sliced and thaw it at room temperature the day before.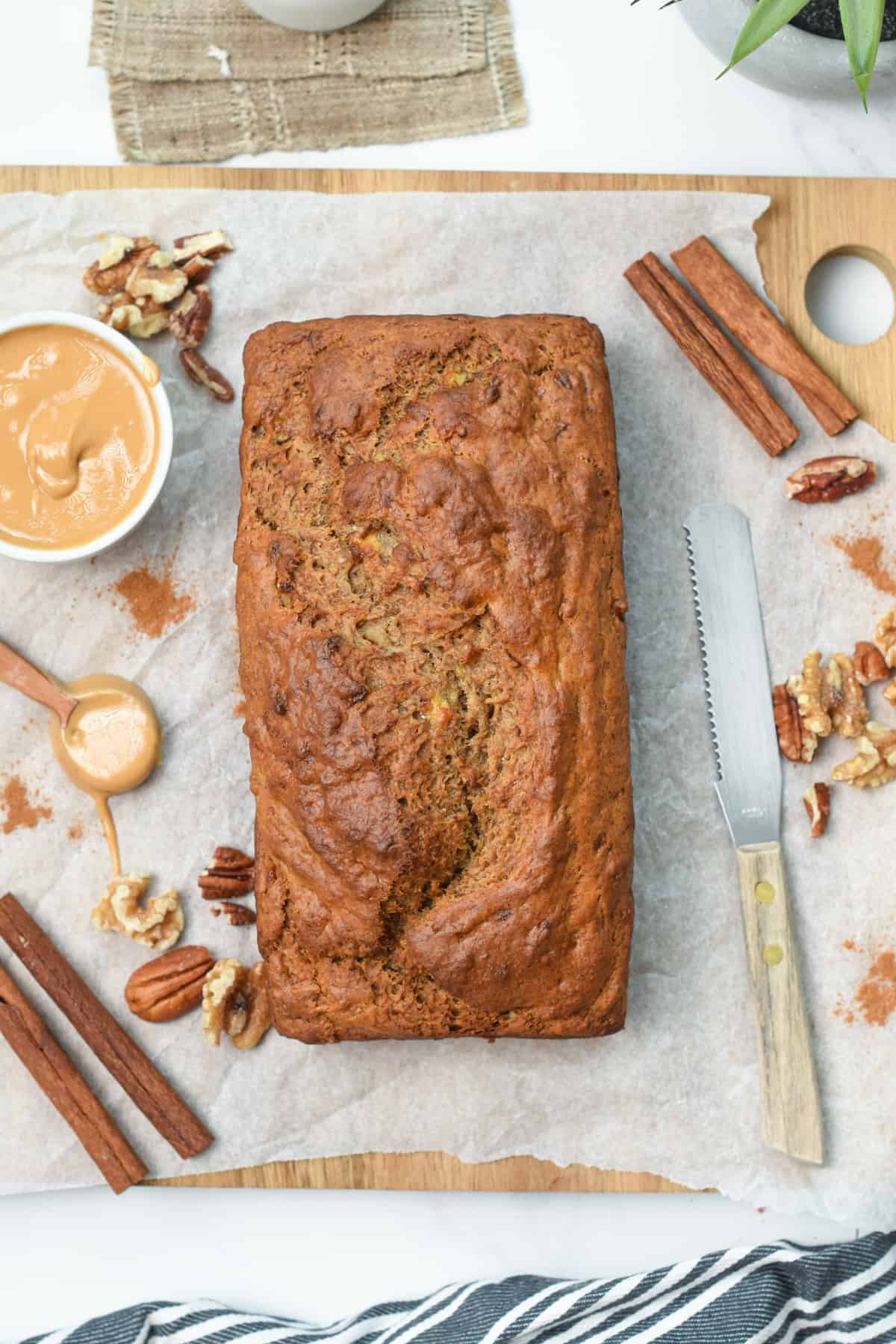 Serving
This egg-free dairy-free banana bread is absolutely delicious on its own as a healthy vegan breakfast or afternoon snack with a hot chocolate or coffee.
But, you can also top up your slice with delicious plant-based protein like:
Peanut butter
Almond butter
Cashew butter
Sunflower seed butter
Hemp butter
Pinch of hemp seeds
Frequently Asked Questions
Below I listed some answers to your most common question. You can also comment below to ask me anything.
Can I Make Sugar-free Banana Bread?
Yes, you can entirely skip the added sugar in this recipe resulting in a no sugar added banana bread. Bananas are already high in fructose, and if yours are ripe, the added sugar is not necessary.
Can I Make The Recipe Oil-free?
Some readers reported success replacing the oil with unsweetened apple sauce. You can also use my chickpea flour banana bread recipe that's a 100% oil-free vegan gluten-free banana bread recipe.
Can I Use Liquid Sweeteners?
I didn't try maple syrup or agave syrup in this recipe, but it should work up to 1/4 cup.
However, I noticed that liquid sweeteners make the bread denser and sometimes gummy at the bottom, so it's preferable to use granulated sugar like coconut sugar, brown sugar, or unrefined cane sugar.
My Batter Is Too Thick, What Can I Do?
This happens if you add too much flour or your mashed bananas are not liquid enough. Feel free to add up to 1/4 cup of almond milk to make the batter thinner.
Can I Use Gluten-free Flour?
You can replace all-purpose flour with an all-purpose gluten-free flour blend containing gums. Pick one where the package states it's a 1:1 ratio replacement.
More Vegan Banana Bread Recipes
I have a passion for vegan recipes using ripped bananas, but especially for banana bread.
Below are my most popular plant-based banana bread recipes for you to try. All are low-sugar and healthy.
Have you made this quick bread recipe? Share a comment or review below to connect with me and tell me how much you love it!
Your friend Carine