Vegan Chocolate Chip Banana Bread
This Vegan Chocolate Chip Banana Bread is an easy, soft, moist banana bread filled with crunchy chocolate chips.
If you have many ripe bananas in your kitchen, this is the recipe you want to try.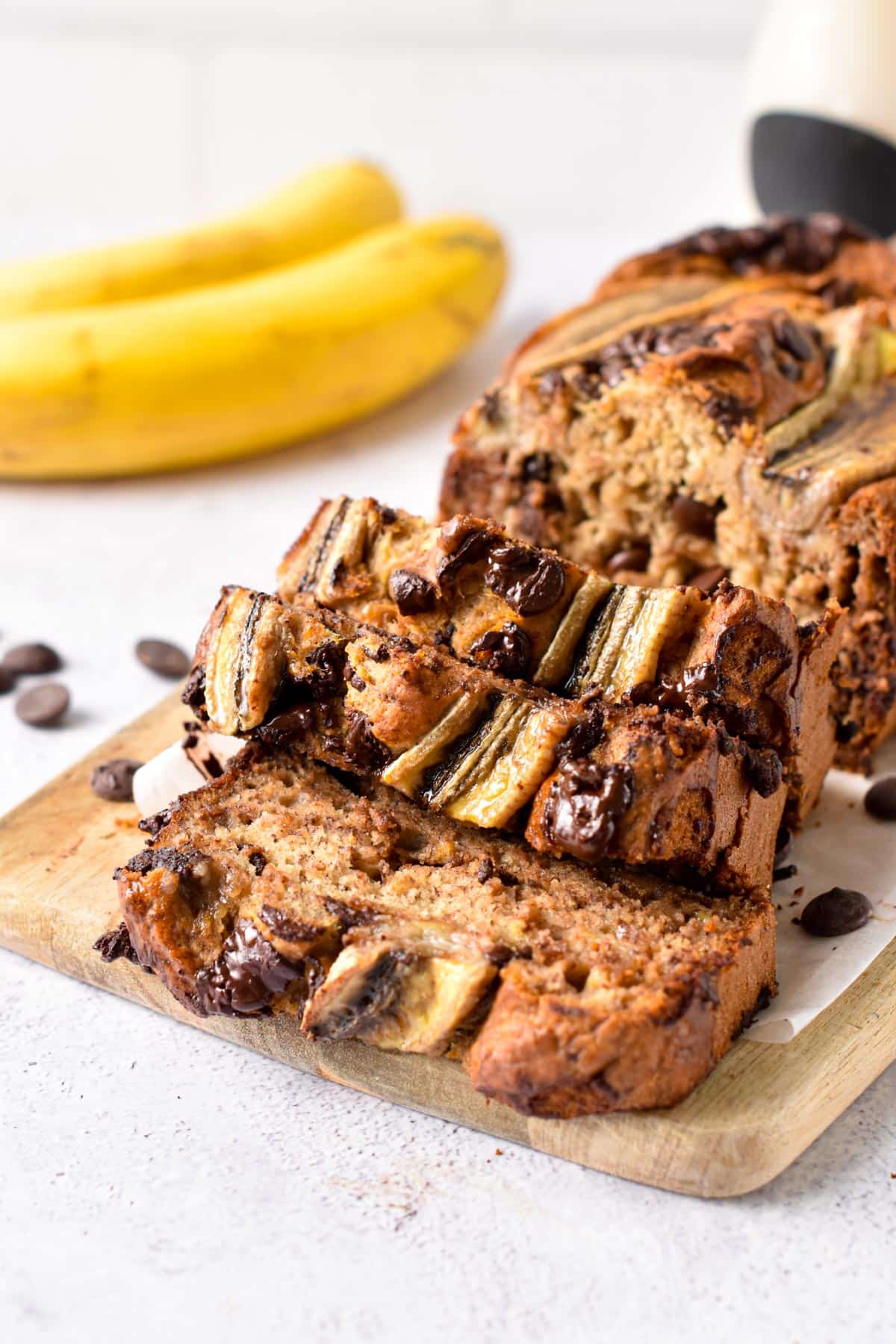 Banana bread is such a versatile recipe that you can adapt it to all dietary requirements and tastes.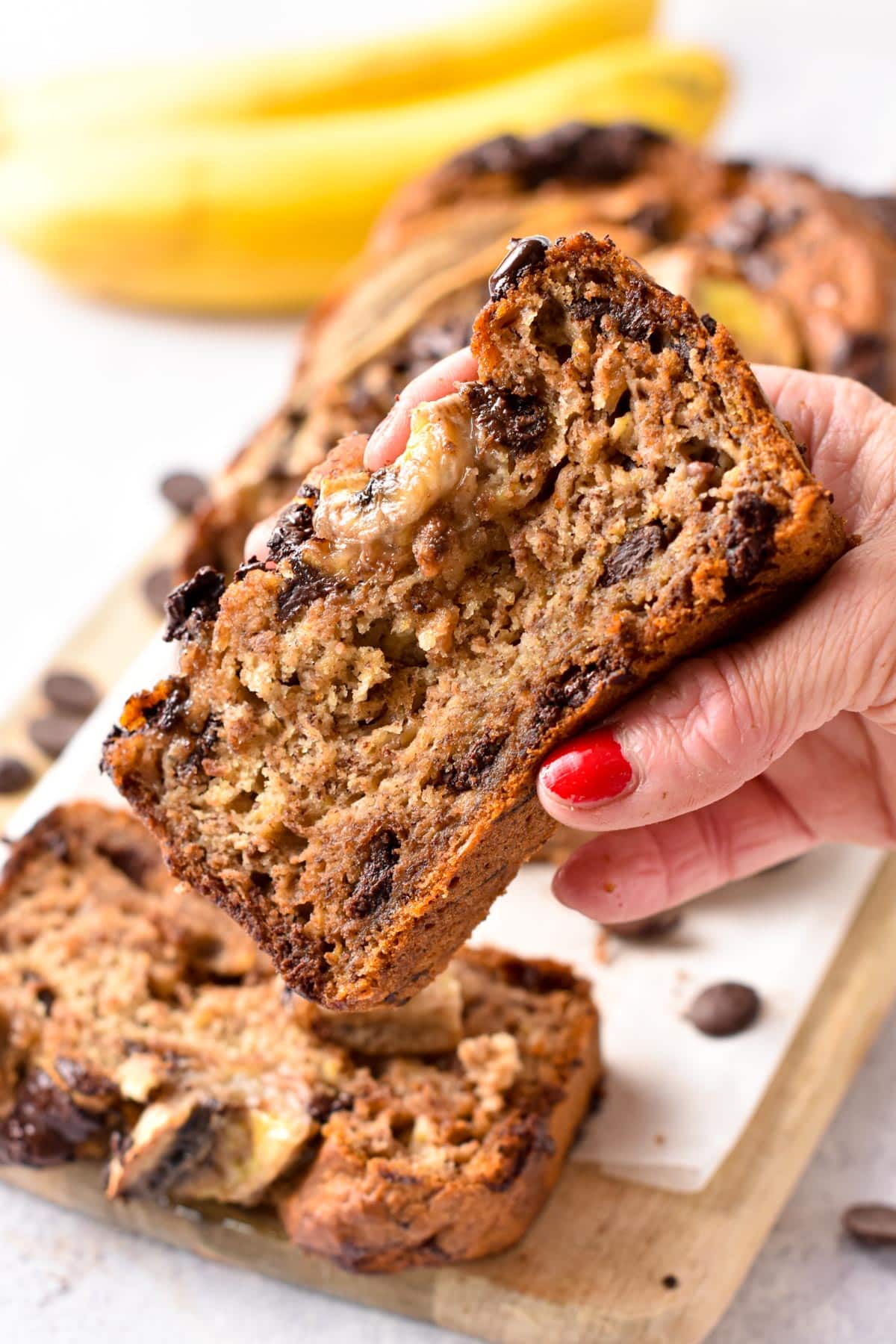 How To Make Vegan Chocolate Chip Banana Bread
It's easier to make dairy-free, egg-free banana bread than most people think. You don't need egg replacers, not even a flax egg, for this recipe.
Ingredients
All you need to bake this lovely bread are:
All-Purpose Flour – Use classic flour, white spelt flour, or white whole wheat flour for a healthier option.
Baking Powder
Baking Soda
Olive Oil or any vegetable oil like canola oil or melted coconut oil.
Vanilla Extract
Cinnamon
Ripe Bananas – I highly recommend using these dark spotted bananas for sweetness. This allows for avoiding adding sugar to the recipe.
Dark Chocolate Chips – I suggest using sugar-free dark chocolate chips if you opt for a healthy vegan banana bread recipe. These chocolate chips are sweetened with natural sugar-free sweeteners like stevia and erythritol. It makes the bread sweet, without the sugar added.
Salt
Optional – Add some coconut sugar or sugar if you like your banana bread sweeter. You can choose from coconut sugar, brown sugar, or sugar-free erythritol.
Preparation
First, peel and mash the bananas. You can use a fork or potato masher directly in the mixing bowl to mash the banana.
Or, add the banana pieces to the bowl of your stand mixer and use the paddle attachment until it forms a puree.
Use measuring cups to pack the mashed banana into them and measure the amount called by the recipe. If you mash too many bananas, freeze them for a smoothie.
But keep the amount right for the recipe, don't be tempted to add too much, or the bread will come up packed and dense.
Combining Ingredients
Place the mashed banana in a large mixing bowl. Add the oil, vanilla extract, and sugar if used. Whisk to combine the liquid ingredients evenly.
Next, add the dry ingredients: cinnamon, flour, baking soda, baking powder, and salt. Stir to combine until no more flour lumps can be seen.
Fold in the chocolate chips and stir to incorporate.
Preheat the oven to 350°F (180°C). Line a 9-inch x 5-inch loaf pan with parchment paper and lightly oil the paper with an oil spray.
Pour the banana bread batter into the loaf pan.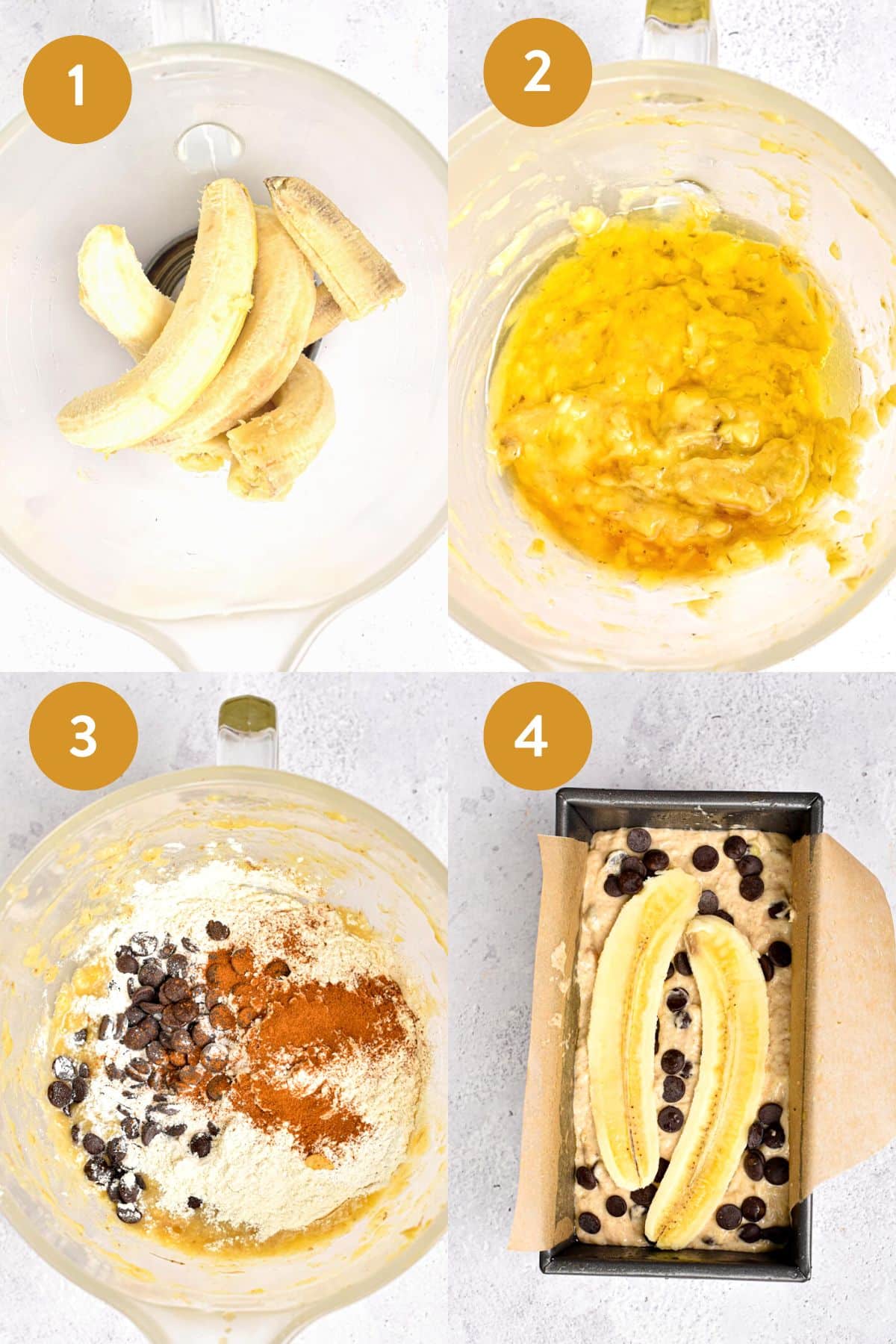 Decorating
Decorate the top of the bread by sprinkling extra chocolate chips.
Then, peel an extra yellow banana cut in half lengthwise and place the two halves for extra moisture and sweetness.
Bake on the center rack of the oven until the bread rises, gets a lovely golden brown color, and a toothpick inserted in the center of the bread comes out clean, and the top is golden brown.
It takes 45 to 60 minutes to fully bake the banana bread at 350°F (180°C).
Remove from the oven and cool down in the pan for a few minutes.
Then, use the hanging part of parchment paper to pull the bread out of the pan and cool it completely at room temperature on a wire rack.
Serving
This banana bread is delicious on its own but even better served lukewarm with some of the toppings below:
Nut-Butters – like peanut butter, almond butter, or sunflower seed butter.
Jam
Vegan Butter
Maple Syrup
I also like to brush the top of the bread with maple syrup. It gives a lovely glossy look and adds sweet flavors.
Allergy Swaps
If you have allergies or dietary restrictions, try some of the substitutions below:
Gluten-Free – I haven't tried this recipe with gluten-free flour, but I am confident that all-purpose gluten-free flour blends would work well.
Sugar-Free – Pick your favorite sugar-free chocolate chips. For a boost of sweetness, add sugar-free sweeteners like erythritol.
Storage Instructions
This banana bread can be refrigerated and stored for up to 7 days in an airtight box in the fridge.
The best is to keep banana bread whole and slice it when you want some. This way, the crumb stays fresh, moist, and soft for longer.
You can store sliced banana bread in the freezer and thaw them at room temperature for a few hours, for a few seconds in a microwave, or in a bread toaster.
Flavors
You can use this recipe as a base for creating a range of vegan banana bread flavors like:
Nut Banana Bread – Stir in ½ cup of chopped walnuts, pecans, or almonds along with the chocolate chips.
Plain – Skip the chocolate chips for plain banana bread.
Fruity – Stir in 1/3 cup of dried raisins, dried cranberries, or fresh blueberries.
Frequently Asked Questions
Can I Skip The Oil?
I didn't try an oil-free option, but you should be able to swap the oil for vegan yogurt or unsweetened applesauce with great results.
The bread might come out denser, less fluffy, and light.
Does Vegan Banana Bread Need To Be Refrigerated?
No, you can keep this vegan banana bread in your kitchen in a bread box or cake box for a few days.
Storing it in the same box in the fridge will allow you to keep it for a few more days.
More Banana Bread Recipes
If you like this recipe, you'll love these other banana bread recipes:
Have you baked this vegan chocolate chip banana bread? Share a comment or review below.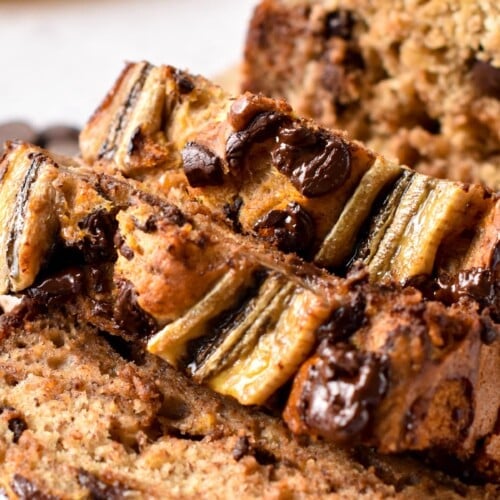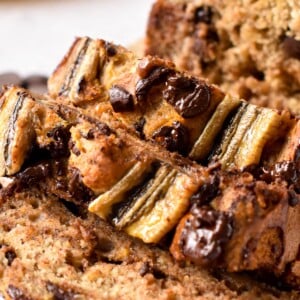 Vegan Chocolate Chip Banana Bread
This Vegan Chocolate Chip Banana Bread is a loaf of delicious vegan banana bread with a moist banana crumb and crunchy chocolate chips.
Pin
Print
Review
Instructions
Preheat oven to 350°F (180°C). Line a 9-inch x 5-inch loaf pan with parchment paper. Slightly oil the paper and pan with oil spray or coconut oil. Set aside.

In a large mixing bowl, mash the ripe bananas with a potato masher, a fork, or the paddle attachment of your stand mixer. Mash until almost no lumps show. It must be very runny for an ultra-moist texture. Measure 1 cup + 1/2 cup of mashed bananas – if extra, freeze for later.

Stir the olive oil, vanilla extract, and salt with the mashed bananas until well combined. If you want to add sugar, incorporate the coconut sugar into the batter.

In another bowl, stir flour, baking powder, baking soda, and cinnamon.

Fold in the dry ingredients into the wet ingredients and stir with a wooden spoon or silicone spatula until the batter is consistent. Incorporate the chocolate chips.

Transfer the batter to the prepared loaf pan and bake it on the center rack of the oven until a pick inserted in the center of the loaf comes out clean – about 50 – 55 minutes. You can add a piece of foil on top of the pan after 30 minutes to prevent the banana bread from browning too fast.

Cool down on a wire rack for 2 hours before slicing.
Storage
Store at room temperature for up to 3 to 4 days or up to 7 days in the fridge in a sealed container. It can be frozen and thawed the day before at room temperature.
Share on Facebook
Pin Recipe
Nutrition
Serving:
1
slice
|
Calories:
171.5
kcal
|
Carbohydrates:
20.3
g
|
Protein:
2.6
g
|
Fat:
9.4
g
|
Saturated Fat:
1.2
g
|
Polyunsaturated Fat:
3
g
|
Monounsaturated Fat:
4.8
g
|
Sodium:
220.5
mg
|
Potassium:
107.5
mg
|
Fiber:
1.4
g
|
Sugar:
4.7
g
|
Vitamin A:
14
IU
|
Vitamin C:
1.7
mg
|
Calcium:
50.7
mg
|
Iron:
1.1
mg
|
Magnesium:
16.6
mg
|
Phosphorus:
52.7
mg
|
Zinc:
0.3
mg