Carrot Cake Banana Bread (Egg-Free, Dairy-Free)
This Carrot Cake Banana Bread is a delicious bread recipe that combines two favorite classic recipes, banana bread, and carrot cake.
Plus, this banana bread is also egg-free, dairy-free and vegan approved.
We love a classic vegan banana bread recipe, but we also love our vegan carrot cake. So here's a combination of two of our favorite vegan baking recipes in one!
Say hello to this moist banana bread filled with shredded carrots and delicious spices.
How To Make Carrot Cake Banana Bread
This carrot banana bread is basically banana bread with some of the most classic carrot cake ingredients.
Let's see how you can make this simple bread in one bowl.
Ingredients
Ripe bananas – or yellow bananas. The riper, the sweeter the bread will be.
All-purpose flour or spelt flour. Feel free to try any all-purpose gluten-free flour blend containing gums for a gluten-free option. We didn't test this recipe with gluten-free flour, but although it might work, it will give quite a different texture.
Grated carrots
Melted coconut oil or any vegetable oil you like including canola oil, olive oil, or melted vegan butter.
Coconut sugar – or brown sugar, sugar, or maple syrup. Liquid sweeteners make the batter a bit denser and gummy.
Vanilla extract
Walnuts
Cinnamon
Nutmeg
Salt
Baking powder
Baking soda
Mashing The Banana
First, peel bananas and mash with a fork on a chopping board until smooth and almost no lumps form.
You can also beat the bananas in the bowl of a stand mixer using the paddle attachment.
Measure the amount called by the recipe and set it aside in a large bowl.
Shredding Carrots
Meanwhile, peel and shred carrots using a hand grater on the thicker attachment. Set aside the amount required by the recipe.
Banana Bread Batter
Add coconut sugar, melted coconut oil, and vanilla into the bowl with the mashed bananas.
Stir until all wet ingredients are well combined with sugar.
Then, stir in the remaining dry ingredients: flour, baking powder, baking soda, cinnamon, nutmeg, and salt.
Fold in carrots and chopped walnuts at the end and stir until just combined.
Don't over-mix the banana carrot batter, or the bread will be dense and heavy.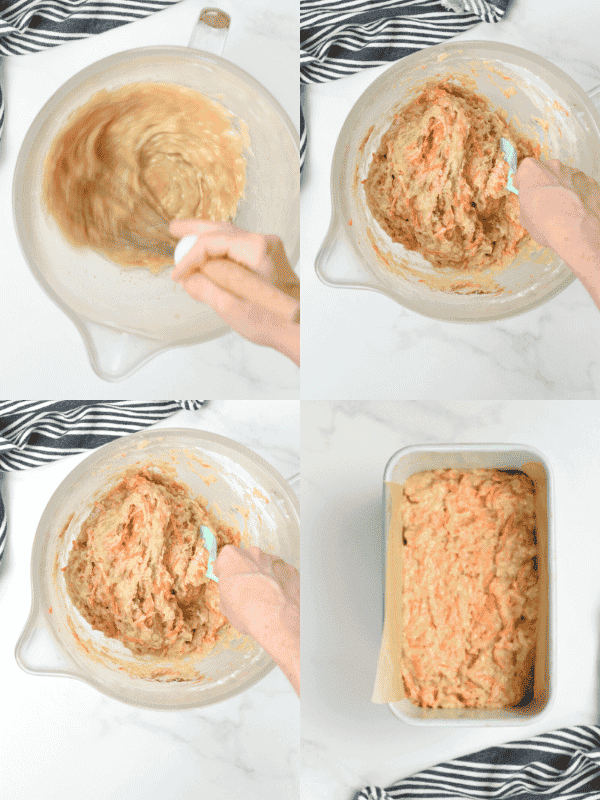 Baking The Banana Carrot Bread
Preheat oven to 350°F (180°C). Line a 9-inch x 5-inch loaf pan with parchment paper. Lightly oil the paper with oil spray and set it aside.
Fill the loaf pan with the carrot banana bread batter and bake on the center rack of the oven until a toothpick inserted in the center comes out clean.
You can add a piece of foil on top of the bread halfway if it browns too fast on top.
Cool it down for 5 minutes in the pan, then using the hanging part of parchment, pull out the bread and release it on a wire rack.
Cool the bread down entirely before frosting.
Add-ons
This carrot banana bread is amazing with walnuts as in the base recipe.
But, you can swap the nuts or add some of the below ingredients to the nuts. Fold in between 1/4 cup to 1/2 cup of:
Dried raisins
Dried cranberries
Shredded coconut
Chocolate chips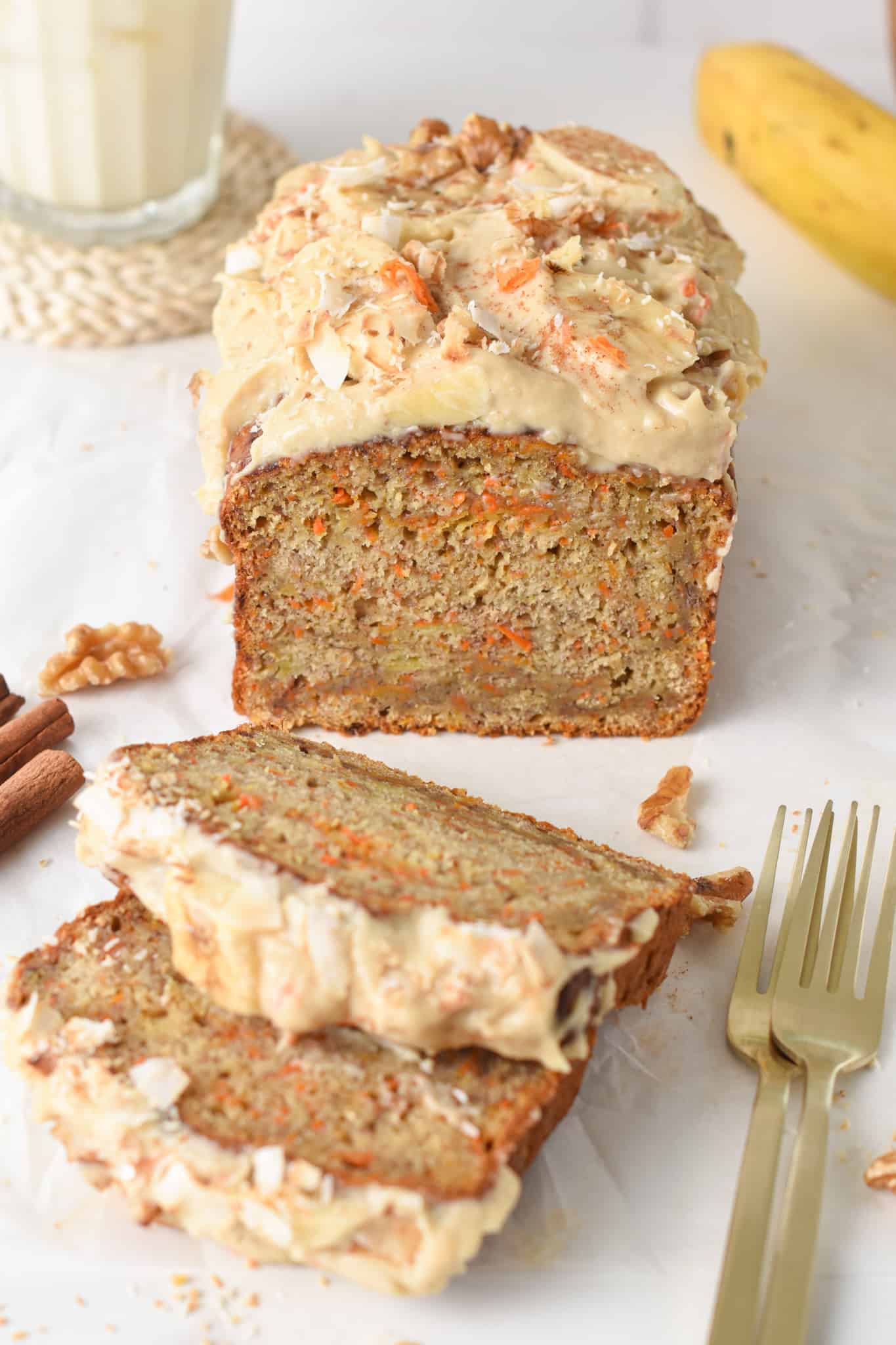 Storage
This banana bread contains carrots, and therefore it's best to store your banana bread in the fridge in an airtight box.
Also, avoid pre-slicing the bread to keep its crumbs ultra-moist. Store it for up to 4 days in the fridge or up to 3 months in the freezer. Thaw the day before in the fridge before serving.
Serving Ideas
This carrot banana bread is absolutely delicious on its own as it already contains a sweet, creamy cream cheese frosting.
But, you can add some of the toppings below onto each slice if desired.
Peanut butter
Almond butter
Chia seed jam
Date caramel
Frosting The Carrot Bread
A carrot bread without frosting is not as delicious, so we highly recommend picking one of the two vegan frosting options below to spread on top of your bread.
These frosting recipes are larger than the amount needed for this bread, so you will have leftovers to freeze or make half the recipe.
The best frostings for carrot bread are:
Frost the cooled banana bread with some of the frosting above using a spatula.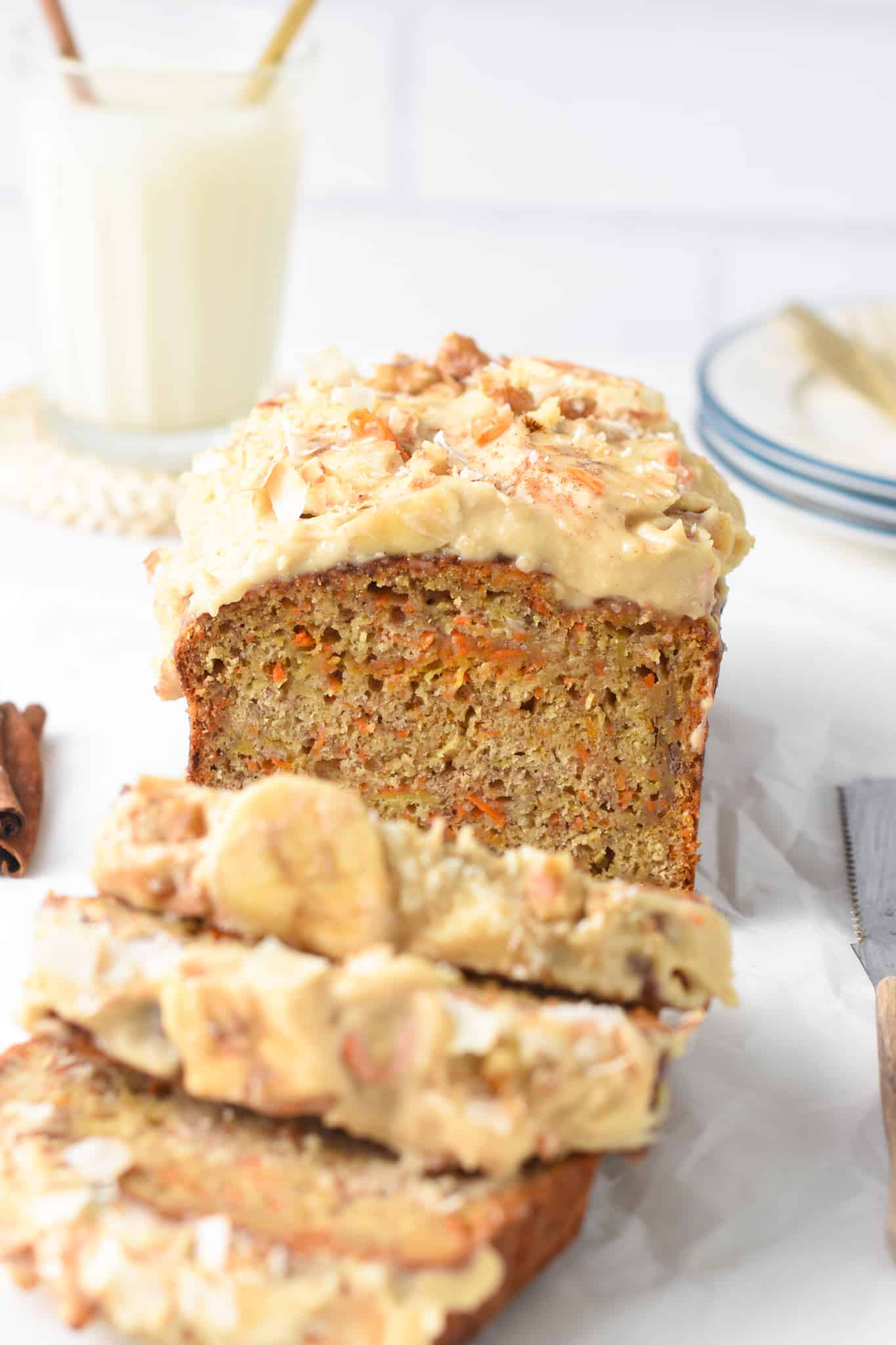 Frequently Asked questions
Below I listed the most common answer to your questions about this vegan carrot banana bread.
Can I Swap Carrots For Zucchinis?
Yes, you can make banana zucchini bread with this recipe. But, grated zucchinis contain way more water than carrots.
So first, grate and drain the zucchini in a towel to remove all excess water. Then, add to the recipe.
Alternatively, you can use my Zucchini Banana Bread recipe for perfect results.
Can I Use Gluten-free Flour?
All-purpose gluten-free flour that contains gums will most like work but will give a different bread texture.
Can I Make It Oil-free?
We didn't try the banana bread oil-free, but usually, you can replace the oil with the same amount of applesauce or homemade pumpkin puree or sweet potato puree.
How Can I Decorate The Cake?
Start by making one of my frostings and then sprinkle some toasted chopped walnuts, fresh banana slices, and toasted coconut chips on top of the bread.
More Vegan Quick Bread Recipes
I love to bake fruit bread, especially banana bread. Below are my other delicious baked goods recipes for you to try.
Have you made this Vegan Carrot Cake Banana Bread?
Share a comment or review below to connect with me and let me know how much you liked it.
Carine.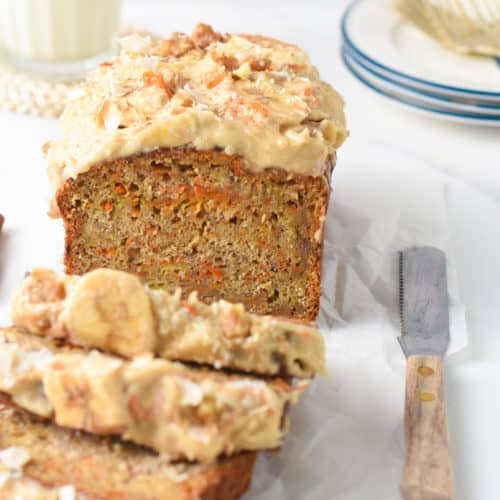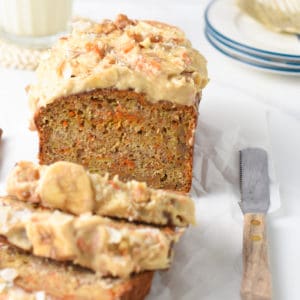 Carrot Cake Banana Bread
Instructions
Preheat oven to 350°F (180°C). Line a 9-inch x 5-inch loaf pan with parchment paper. Oil the paper and pan with coconut oil. Set aside.

Peel, mash the bananas using a fork on a flat surface. Measure the exact amount required by the recipe 1 cup + 1/2 cup of mashed bananas.

In a large mixing bowl, combine the mashed bananas, sugar, melted coconut oil, and vanilla extract.

Stir in all-purpose flour, baking powder, baking soda, cinnamon, nutmeg, and salt. Stir until just combined, then fold in the shredded carrots and walnuts. Don't over mix or the bread can be gummy.

Transfer batter into the loaf pan and bake for 50-55 minutes.

Cool 5 minutes in the pan, then lift the parchment paper to release the bread onto a cooling rack.
Frosting
Cool completely before frosting with cashew frosting. Decorate with toasted walnuts, coconut chips, and fresh banana slices.

Store in an airtight cake box for 4 days in the fridge or freeze. Thaw the day before at room temperature.
Share on Facebook
Pin Recipe
Nutrition
Serving:
1
slice
|
Calories:
176
kcal
|
Carbohydrates:
24
g
|
Protein:
2.5
g
|
Fat:
8.5
g
|
Saturated Fat:
5.5
g
|
Polyunsaturated Fat:
1.7
g
|
Monounsaturated Fat:
0.7
g
|
Sodium:
181.5
mg
|
Potassium:
167
mg
|
Fiber:
1.7
g
|
Sugar:
7
g
|
Vitamin A:
1800.9
IU
|
Vitamin C:
3.1
mg
|
Calcium:
50.6
mg
|
Iron:
1
mg
|
Magnesium:
17.8
mg
|
Phosphorus:
52.8
mg
|
Zinc:
0.3
mg