This eggless Banana Bread is an easy banana bread recipe with a moist, sweet flavor like regular banana bread.
Plus, this banana bread has a gluten-free and no sugar added option.
As a conscious family, we make this banana bread recipe eggless all the time, and it's pretty much inspired by our vegan banana bread recipe.
The difference is that we add a bit more soft brown sugar and use coconut oil, making the texture even fluffier.
What's Eggless Banana Bread?
Eggless Banana Bread is a banana bread recipe made without eggs and perfect for people with egg allergies.
Plus, this recipe is not only egg-free, but it's also dairy-free banana bread meaning no butter or milk is used in the batter, and it's suitable for plant-based food lovers.
Does Classic Banana Bread Have Eggs?
Yes, a classic banana bread recipe has one or two eggs, and it most of the time also includes dairy like melted butter.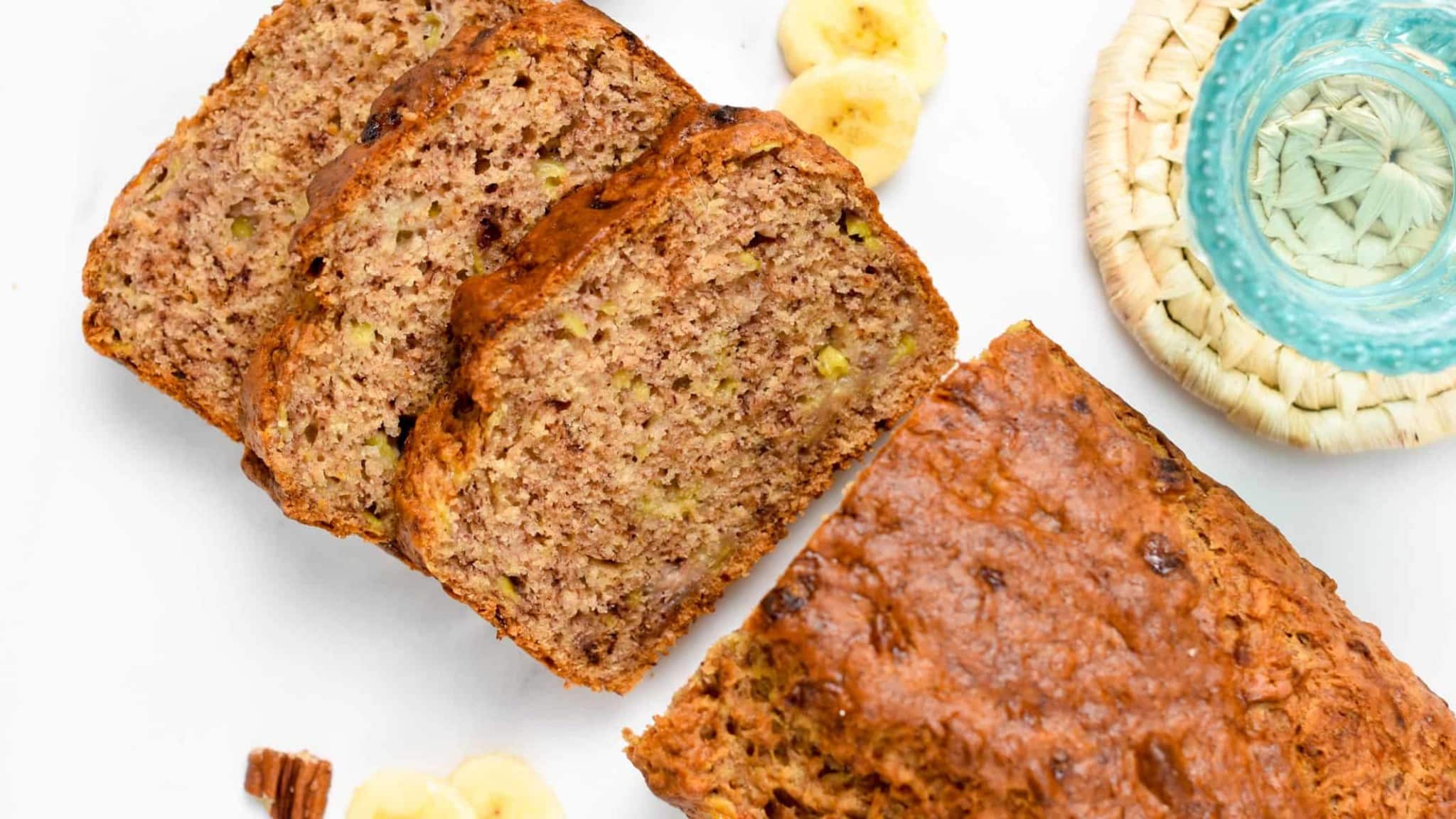 How To Make Eggless Banana Bread Recipe
Making banana bread eggless is very simple, and you don't need any egg replacer or flax eggs.
All you need are some basic pantry ingredients below:
Ingredients
Ripe Bananas – you need about 4 ripe bananas for this banana bread recipe. The riper the bananas are, the sweeter the banana bread will be. So you can definitely adjust your sweetness.
Soft Brown Sugar or use sugar-free brown erythritol to cut down the sugar. White sugar also works.
Melted Coconut Oil or any vegetable oil you like including canola oil or light olive oil.
Vanilla Extract – For even more flavors.
Salt
All-Purpose Flour – Or whole wheat flour.
Baking Powder
Baking Soda
Cinnamon
Chopped Nuts – like chopped walnuts or chopped pecans or a combination of both.
Preheat the oven to 350°F (180°C) before starting the recipe.
Wet Ingredients
In a large mixing bowl, place the peeled bananas and mash with a fork or potato masher into a smooth banana puree.
It's fine if you can see some banana pieces.
Stir in the oil and vanilla and set the bowl aside.
Dry Ingredients
In another bowl, stir flour, soft brown sugar, salt, baking powder, baking soda, and cinnamon.
Then stir the wet ingredients into the dry and use a silicone spatula to bring the ingredients together into a smooth banana bread batter.
Fold in chopped nuts if desired.
Baking Eggless Banana Bread
Line a 9-inch x 5-inch loaf pan with parchment paper.
Keep some paper hanging over both sides of the pan. This makes it easier to release the baked banana bread at the end.
Slightly oil the paper with melted coconut oil and a pastry brush or oil spray.
Pour the banana bread batter into the prepared loaf pan and spread evenly into the pan.
You can add a pinch of chopped nuts on top or a half-ripe banana cut lengthwise if desired.
Slightly press any food you add on top of the batter.
Bake the banana bread in the center rack of the oven for about 40 to 45 minutes or until a toothpick inserted in the center of the bread come out clean.
Cool the banana bread down into a pan for 10 minutes.
Then, lift the banana bread out from the pan using the two pieces of parchment paper hanging over the sides.
Cool down for 2 to 3 hours before slicing the eggless banana bread so the texture is perfectly set.
Serving
You can serve this eggless banana bread plain, for breakfast or as a snack with a cup of coffee, vegan hot chocolate, or tea.
Or you can add some lovely toppings to your slice of banana cake like:
Peanut butter
Almond butter
Chocolate spread
Storing Eggless Bread
Most banana bread recipes can be kept for up to 4 to 5 days in the fridge if placed in a sealed container or cake box.
But, if you are making banana bread without eggs or dairy, the banana bread can also be stored in a cake box at room temperature for up to 2 days.
Freezing
You can freeze also freeze banana bread, whole or sliced.
Also, make sure you wrap the banana bread in plastic wrap or an airtight container before freezing. This prevents the bread from getting dry when thawed.
Thaw banana bread at room temperature the day before eating.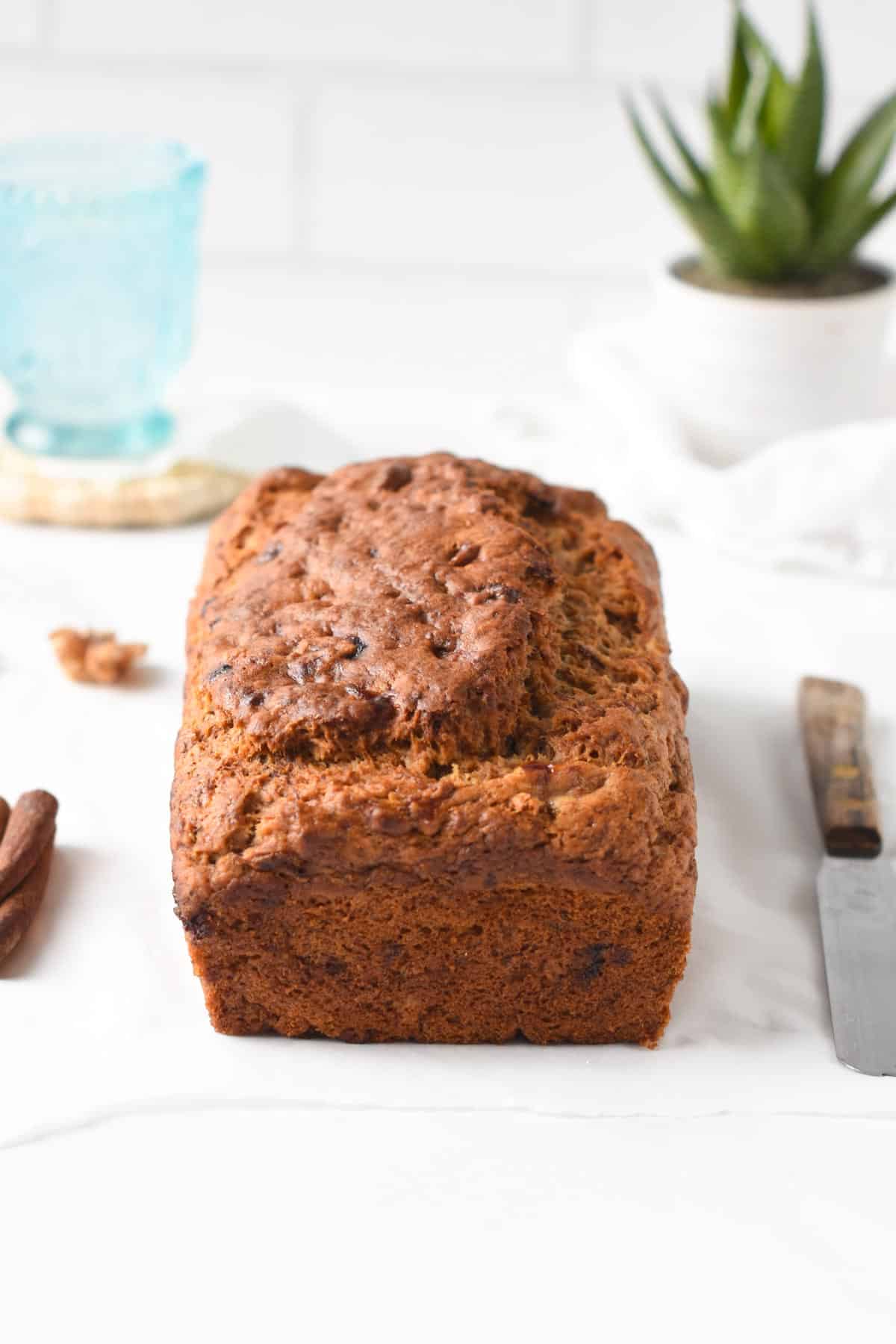 Allergy Swaps
Below I listed some ingredient alternatives you can choose to make this recipe allergy-friendly.
No Added Sugar – You can skip the sugar in the recipe or sweeten the batter with a natural granulated sugar-free sweetener like allulose, xylitol, or erythritol. It will also decrease the calories and carbohydrates per serving.
Gluten-Free – You can replace all-purpose flour with an all-purpose gluten-free flour blend with added xanthan gum with great results.
Nut-Free – The added chopped nuts are totally optional. You can skip them or replace them with the same amount of chocolate chips, shredded coconut, or sunflower seeds.
Coconut-Free – Replace the melted coconut oil with any vegetable oil like canola oil or olive oil. I recommend using light flavor oil and avoiding avocado oil that adds a strong flavor and greenish color to the banana bread crumb.
Frequently Asked Questions
Below are the answers to your most frequent questions about this banana bread recipe:
How Ripe Is Too Ripe For Banana Bread?
There's never a too-ripe banana for banana bread.
Actually, the darker the banana skin is, the better the banana bread will be. Even the brown, mushy bananas are perfect for this.
On the other hand, you can also use yellow bananas in banana bread recipes.
You don't have to use overripe bananas to make tasty banana bread.
If so, use the amount of sugar stated in the recipe to guarantee perfect sweet bread.
Don't decrease the sugar with yellow banana or the bread won't be very sweet.
Can I Skip The Sugar?
Yes, you can skip the sugar especially if you are using overripe bananas, the flavor will be great with less to no sugar at all.
Of course, don't expect the bread to be as sweet if you totally cut the sugar but the recipe will bake very well with no added sugar.
Can I Add Some Chocolate Chips?
Yes, you can stir in up to 1/2 cup of dark chocolate chips in the banana bread batter at the end. For full instructions, try my Vegan Chocolate Chip Banana Bread Recipe.
You can add this along to the nuts or swap nuts for chocolate chips.
Can I Make It Gluten-Free?
Yes, you can use a gluten-free certified all-purpose flour blend with added xanthan gum and use gluten-free baking powder.
More Banana Bread Recipes
I have a passion for ripe banana recipes and below are more delicious egg-free banana bread recipes for you to try: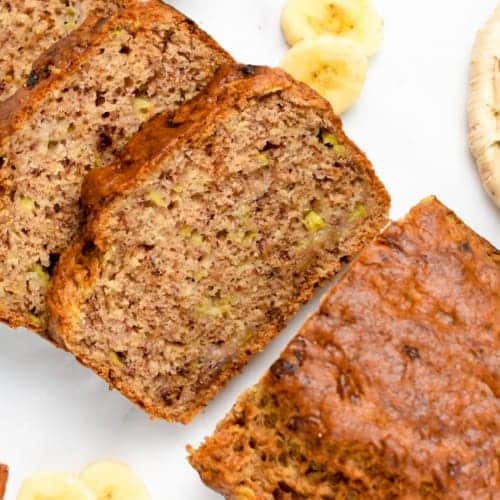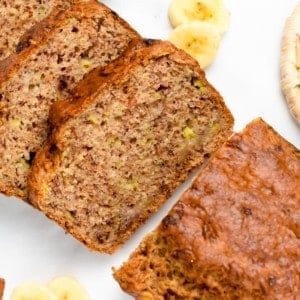 Eggless Banana Bread
Instructions
Preheat the oven to 350°F (180°C). Line a 9-inch x 5-inch loaf pan with parchment paper. Slightly oil the paper and pan with oil spray or coconut oil. Set aside.

In a large mixing bowl, mash the ripe bananas with a potato masher, a fork, or the paddle attachment of your stand mixer. Mash until almost no lumps show, it must be very runny for an ultra-moist texture. Measure 1 cup + 1/2 cup of mashed bananas – if extra, freeze for later.

Stir the oil, vanilla extract, brown sugar, and salt with the mashed bananas until well combined.

In another bowl, stir flour, baking powder, baking soda, and cinnamon.

Fold the dry ingredients into the wet ingredients and stir with a wooden spoon or silicone spatula until the batter is consistent.

Fold in chopped nuts if desired.

Transfer the batter into the prepared loaf pan and bake in the center rack of the oven until a pick inserted in the center of the loaf comes out clean – about 50 to 55 minutes. You can add a piece of foil on top of the pan after 30 minutes to prevent the banana bread from browning too fast.

Cool down on a wire rack for 2 hours before slicing.
Storage
Store at room temperature for up to 3 days or up to 5 days in the fridge in a sealed container. It can be frozen and thaw the day before at room temperature.
Notes
Note 1: Equivalent to 4 large ripe bananas, black spots on the skin. Note 2: You can also use light olive oil, canola oil, or any oil you like in baking. Note 3: You can use the same amount of white spelt flour or white wholewheat flour.
Share on Facebook
Pin Recipe
Nutrition
Serving:
1
slice
|
Calories:
169.3
kcal
|
Carbohydrates:
27.9
g
|
Protein:
1.9
g
|
Fat:
6.3
g
|
Saturated Fat:
5.1
g
|
Polyunsaturated Fat:
0.2
g
|
Monounsaturated Fat:
0.4
g
|
Sodium:
216.4
mg
|
Potassium:
131.7
mg
|
Fiber:
1.3
g
|
Sugar:
12.4
g
|
Vitamin A:
19
IU
|
Vitamin C:
2.5
mg
|
Calcium:
54
mg
|
Iron:
1
mg
|
Magnesium:
12.3
mg
|
Phosphorus:
38.3
mg
|
Zinc:
0.2
mg