Cashew Frosting (Vegan, Dairy-free)
This Cashew Frosting is an easy dairy-free, vegan frosting made from cashew nuts and perfect to spread on bread or layers in cakes.
It's thick, easy to spread, and tastes like regular cream cheese frosting without any dairy product.
This new vegan frosting recipe is perfect for cream cheese lovers.
What's Cashew Frosting?
Cashew frosting, also called cashew icing, is a thick, smooth vegan cake frosting recipe made out of cashew nuts, almond milk, or coconut yogurt.
It's a spreadable frosting with a similar taste and texture to buttercream, without the dairy or vegan butter.
It's also naturally:
Gluten-free
Refined sugar-free
Paleo-friendly
How To Make Cashew Frosting
All you need to make a cashew frosting are a few ingredients and a high-speed blender.
Ingredients
Raw cashews – unroasted cashews are best for this raw cashew frosting. You must soak the cashews for at least 30 minutes in boiling water or 3 hours in cold water. This softens the cashews and makes the frosting ultra-smooth and creamy.
Coconut yogurt – that's the best choice to make dairy-free cream cheese frosting, it adds the tangy flavor you expect from cream cheese frosting, and it's naturally made of 2 ingredients: coconut cream and probiotic.
Vanilla extract
Lemon juice
Maple syrup or powdered sugar. Other liquid sweeteners that work in this recipe are agave syrup or brown rice syrup.
Optional – melted coconut oil or cocoa butter to firm up the frosting.
Soaking The Cashews
First, place the cashews in a large bowl and cover them with boiling water. Cover and set aside for 30 minutes at room temperature.
You can also soak them overnight and cover the nuts with cold water.
I prefer the boiling water method because it makes the recipe faster.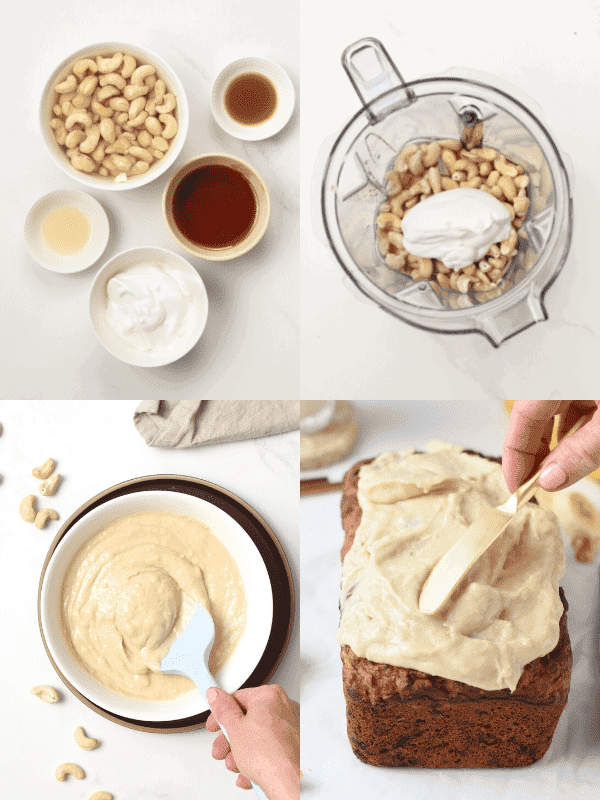 Blending
Then, add the drained, soaked cashews, coconut yogurt, lemon juice, maple syrup, and vanilla extract in the jug of a high-speed blender.
Blend on the high-speed setting until the mixture is creamy and smooth
You may have to use the tamper attachment of the blender to push down the nuts and ingredients to the center of the blade.
You can also stop the blender every 30 seconds, scrape down the sides of the jug, and repeat until smooth.
Varying The Texture – Buttercream Or Cream Cheese Style Frosting
Now, depending on your liking, you can adapt the frosting texture.
This basic vegan cashew frosting tastes like buttercream frosting. But for a cashew cream cheese frosting texture, I recommend adding 2-3 tablespoons melted coconut oil in the blender.
In fact, coconut oil firms up under 73°F (23°C), and it's a great way to make the frosting thicker, and firmer.
It won't make the frosting pipeable anyway but add texture similar to cream cheese after spending 1 hour in the fridge.
Refrigerating
For the best texture and flavor, I highly recommend refrigerating the frosting for 1 hour.
In fact, blending the nuts create heat, and the frosting is much more liquid and spreadable before refrigerating.
Frosting Cakes, Bread, And Cookies
This cashew frosting recipe is great for frosting cakes, bread, or cookies.
Unfortunately, it's not a frosting that pipes really well on top of cupcakes or muffins because it spreads easily.
The best recipes to pair with cashew cream cheese vegan frosting are:
Storage
This cashew frosting recipe can be stored for up to 3 days in an airtight container in the fridge.
You can use leftovers as a snack to dip fresh fruits like apple wedges or fresh berries.
Otherwise, freeze the frosting in airtight bags or containers and thaw the day before in the fridge.
Frequently Asked Questions
Can I Pipe This Cashew Frosting?
No, this recipe is great for spreading, but it won't hold its shape if pipped on top of cupcakes.
Can I Swap Cashews For Something Else?
Yes, if you have a cashew allergy, you can use macadamia nuts instead.
They are much more expensive and take a bit more time to blend into a smooth frosting but works as a cashew alternative.
Can I Make Sugar-free Cashew Frosting?
You can skip the sweetener in this recipe or use a sugar-free sweetener like monk fruit syrup or 5-6 drops of stevia liquid.
I recommend avoiding granulated sweetener that provides a grainy texture to the frosting.
Can I Use A Food Processor?
The recipe won't get as smooth in a food processor, but you can still achieve decent results.

More Vegan Frosting Recipe
Below I listed some more dairy-free frosting and vegan icing recipes ideas for you to try:
Have you made this cashew frosting recipe? Leave a comment or review below to connect with me and let me know how you used it.
Your friend, Carine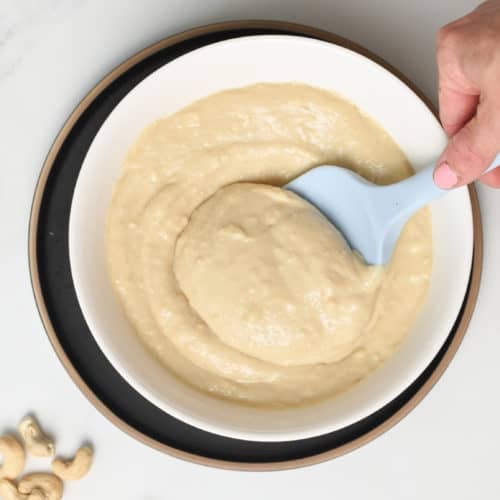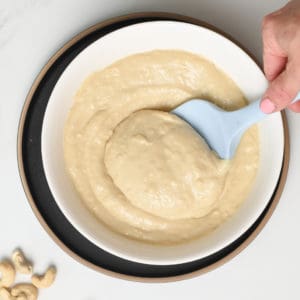 Cashew Frosting
An easy vegan cream cheese frosting with cashew to frost cakes, bread, and cookies.
Pin
Print
Review
Servings: 8 servings (1/4 cup each)
Calories: 325.6 kcal
Ingredients
Optional – for a firmer texture
Instructions
Place the raw cashews in a glass bowl, cover with boiling water. Place a lid on top of the bowl and set aside 30 minutes at room temperature.

Drain over a sieve and place the soaked drained cashews in the jug of a high-speed blender along with the remaining ingredients.

Blend on high-speed in bursts of 30 seconds, scraping down the walls of the jug if needed, until the mixture is smooth.

Transfer the mixture into a bowl, refrigerate for 1 hour to set.

Use to frost a two-layer 8-inch cake. This frosting is not pipeable. It's a buttercream-style frosting to spread on cake layers or the top of bread.
Storage
Store leftovers in an airtight container for up to 3 days in the fridge or 3 months in the freezer. Thaw the day before in the fridge.
Share on Facebook
Pin Recipe
Nutrition
Serving: 1serving (1/4 cup) | Calories: 325.6kcal | Carbohydrates: 44.7g | Protein: 3.5g | Fat: 15.8g | Saturated Fat: 8.9g | Polyunsaturated Fat: 1.4g | Monounsaturated Fat: 4.3g | Sodium: 7.8mg | Potassium: 285.6mg | Fiber: 0.9g | Sugar: 35.5g | Vitamin A: 0.1IU | Vitamin C: 0.6mg | Calcium: 70.4mg | Iron: 1.5mg | Magnesium: 63.4mg | Phosphorus: 114mg | Zinc: 1.5mg