An easy 3-ingredient Vegan Royal Icing recipe for piping onto cookies or pound cakes and adding a delicious white, sweet glaze to food.
Bonus, this vegan icing recipe is not only egg-free but also gluten-free.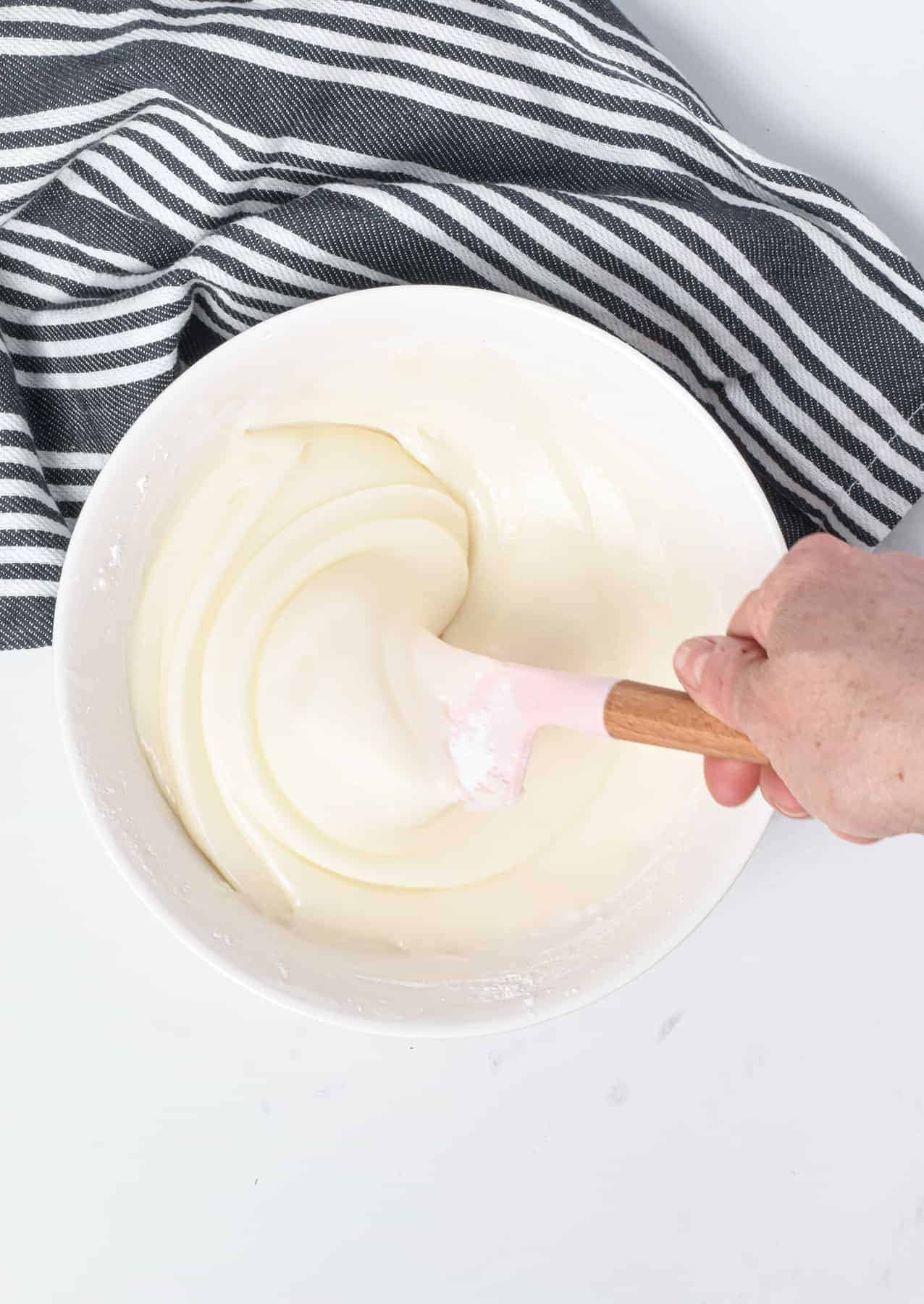 Royal icing is the best part of baking. It's sweet with a pure white shiny color that makes any vegan cake, vegan muffin, or vegan cookie beautiful.
Here I am sharing my tips to make a simple royal icing without meringue powder and minimal ingredients.
Is Royal Icing Vegan?
No, authentic royal icing recipe is made of meringue powder, a ready-made mix of cornstarch and dried egg white.
How To Make Vegan Royal Icing
It's so easy to make a vegan royal icing at home, using some of your most basic pantry ingredients. Then there are two ways to make the icing.
Icing to glaze cakes and pound cakes – this is the runnier version.
Icing for piping onto cookies – this is a thicker version.
Below I will share all my tips to create the best vegan icing for cookies or cakes.
Ingredients
To make both versions of this egg-free royal icing, you need 3-ingredients:
Icing sugar that's the regular powder sugar you also use for vegan frosting.
Vanilla extract – this is optional, only for flavor. You can also use lemon juice instead.
Gel food coloring drops – optional too, but if you want to add color to your icing, use gel food coloring instead of liquid food coloring that dilutes icing.
Soy cream – this acts as an egg replacer in the recipe. Soy cream, like Alpro, contains added gums that make the royal icing thicker than regular almond milk. While some plant-based milk also contains gums, they don't contain much of it, or most of the time don't have any, and they don't make icing thick as soy cream.
Mix ingredients
To make your vegan royal icing, stir the icing sugar, soy cream, and vanilla extract together until a thick white icing forms.
If the icing is too runny, add more powder sugar. If too thick, thin out with more soy cream.
Add some color
This is optional, but icing colors are fun! To make different colors, you can split the batch of this vegan royal icing recipe into small bowls and add 3-4 drops of gel food coloring.
Stir to combine, and if the coloring makes the icing too liquid, add a pinch more icing sugar to balance and reach the right texture.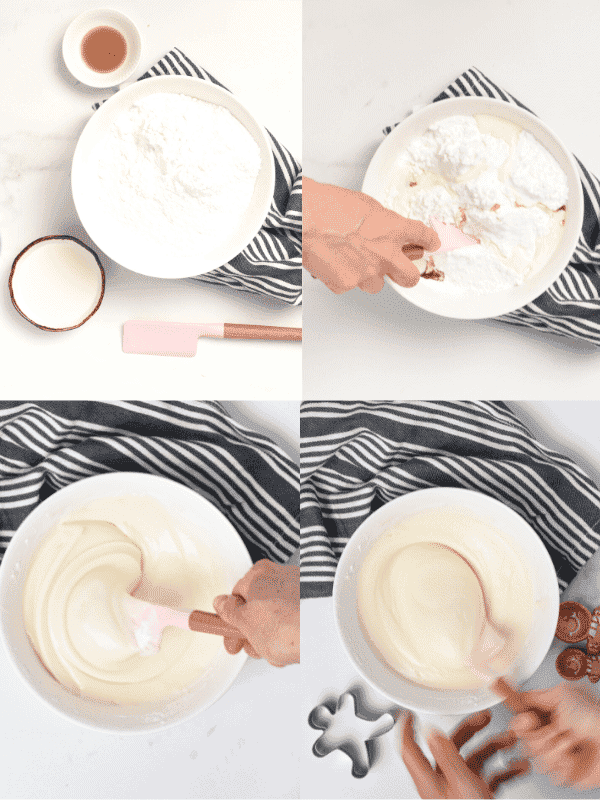 Option 1: Drizzling On Top Of Cakes Or Muffins
You can use this royal icing immediately if you simply want to drizzle on top of muffins, as I do on my pumpkin banana muffin or vegan lemon pound cake, using a spoon.
The icing is slightly runny and perfect if used at room temperature but too runny for a piping bag.
Option 2: Piping The Icing
If you want to use this royal icing in a piping bag to decorate my vegan gingerbread cookies, for example, then you must:
Add 1/4cup more icing sugar.
Refrigerate the batch of royal icing for 1 hour in a mixing bowl covered with plastic wrap, making sure the plastic touches the icing to prevent the top of the icing from forming a crust.
Then, fill a piping bag and use it to decorate:
Gingerbread Cookies
Gingerbread House
Frequently Asked Questions
Can I Swap Soy Cream For Something Else?
You can use a combination of 3 tablespoons of plant-based milk and 2 tablespoons of corn syrup instead.
My Icing Is Too Runny, What Can I Do?
This happens if you didn't add enough icing sugar.
Icing sugar is light and volatile and often difficult to measure precisely with a measuring cup.
To fix your icing, add more icing sugar, one tablespoon at a time, until it reaches your favorite texture.
Don't forget to store the icing for 1 hour in the fridge in a bowl covered with a piece of plastic wrap. Cold vegan icing thickens better and is easier to pip.
My Icing Isn't Hardening, Can I Save It?
If it's hot where you live, the icing can take hours to dry out at room temperature.
The best is to pop the decorated food in the fridge for 20 minutes to set the royal icing faster.
Vegan Recipes To Frost With This Icing
Below I listed my favorite cookie recipe that you can frost with this vegan royal icing.
Did you try this vegan royal icing recipe? Share a comment or review below to let me know how it goes and which food you decorated with it!
Your friend, Carine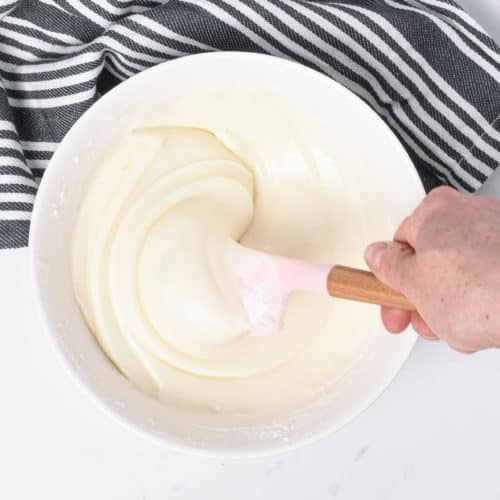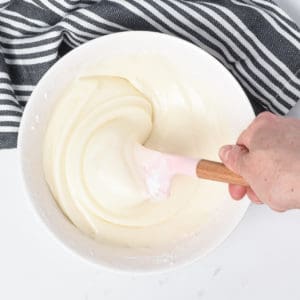 Vegan Royal Icing
An easy 3-Ingredient Egg-free Royal Icing for glazing muffins, cakes, or decorating cookies with a piping bag.
Pin
Print
Review
Servings:
1
batch (2.5 cups)
Shop My Tools
Instructions
In a large mixing bowl, add the 2 cups of icing sugar – make sure you sweep the top for precision.

Stir in soy cream, vanilla extract until it forms a thick white paste. Divide the batch into small bowls and add 3-4 drops of gel food colorings to make different icing colors.
For glazing
You can use this icing immediately on top of muffins or pound cakes.

To pipe on cookies, add more icing sugar to make the royal icing thicker, and store in the fridge for 1 hour in a bowl sealed on top with a piece of plastic wrap – wrap must touch the icing to avoid the icing to crust on top.

Then, fill a piping bag with the cold icing and ice cookies.

Place the cookies in the fridge to set the icing fast.
Troubleshooting
If the icing is too runny or too wet, add more icing sugar 1 tablespoon at a time until it reaches your favorite texture. If too thick, stir in more soy cream 1 teaspoon at a time.
Notes
Soy cream swap: you can mix 3 tablespoons of unsweetened plant-based milk and 2 tablespoons of corn syrup to replace soy cream. If both don't combine well, microwave the mix for 20 seconds, stir to combine, and stir in the mixing bowl with the remaining ingredients.
Share on Facebook
Pin Recipe
Nutrition
Serving:
0.25
cup
|
Calories:
42.5
kcal
|
Carbohydrates:
103.5
g
|
Protein:
0.3
g
|
Fat:
2.9
g
|
Saturated Fat:
0.6
g
|
Polyunsaturated Fat:
0.1
g
|
Monounsaturated Fat:
2.2
g
|
Sodium:
23.4
mg
|
Potassium:
57.7
mg
|
Sugar:
3.5
g
|
Vitamin A:
4.4
IU
|
Calcium:
2.7
mg
|
Iron:
0.1
mg
|
Magnesium:
0.1
mg
|
Phosphorus:
19
mg
|
Zinc:
0.1
mg