Gluten-free Soft Almond Flour Lemon Cookies
These almond flour lemon cookies are soft and chewy vegan gluten-free lemon cookies easy to make with only a few wholesome ingredients. Bonus, these lemon cookies are also refined-sugar-free and paleo-approved!
These are soft shortbread cookies entirely made of almond flour and vegan lemon cookies too! To make these soft and chewy meltaway lemon cookies with almond flour, you need:
Ultra-fine almond flour – I don't recommend baking with almond meal. It has a coarse texture and darker color and gives a gritty texture to almond flour cookies.
Freshly squeeze lemon juice.
Lemon zest – make sure you are using untreated lemon to avoid pesticide residues.
Baking powder or half baking soda, so here 1/8 teaspoon.
Salt
Maple syrup – or any other liquid sweetener like agave syrup.
Coconut oil – it must be coconut oil, no vegetable oil, or the cookie won't firm up properly.
Vanilla extract
Lemon extract – optional but delicious to enhance the lemon flavor of these cookies.
Combine the dry ingredients to the wet
First, bring all the dry ingredients together into a large bowl and stir to combine. Then, add fresh lemon juice, melted coconut oil, lemon zest, and maple syrup and stir to form a sticky cookie dough.
Shape the cookies
Line a baking sheet with parchment paper and lightly oil the paper with coconut oil. Slightly grease your hand with coconut oil to prevent the batter from sticking to your hands.
Now, scoop about 2 tablespoons of dough from the bowl and roll the dough ball between your hands.
Then place the cookie dough ball on the baking tray and gently press it down with your hand palm. You want the cookie to stay a bit thick in the center to be moist and soft.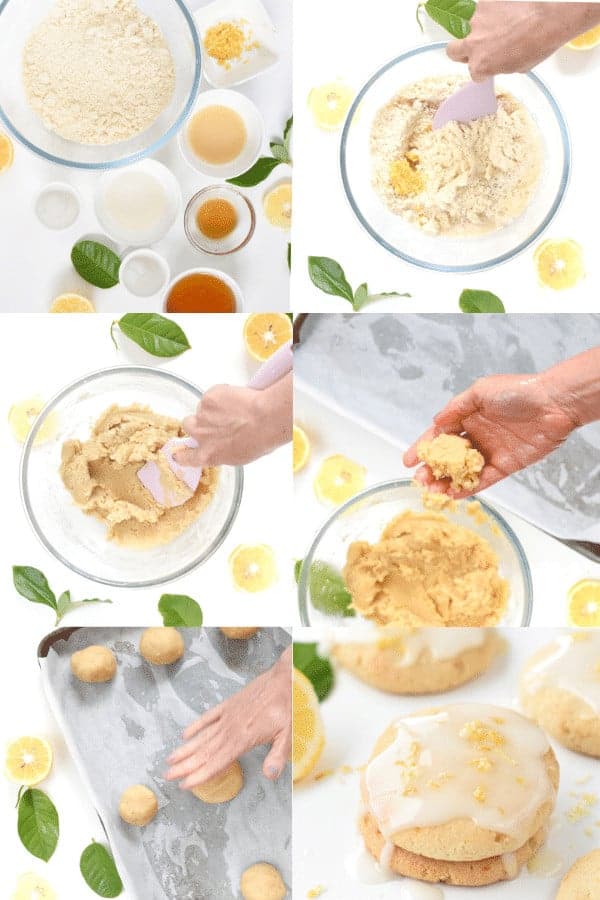 Bake and cool down
Bake the cookies in preheated oven to 350 F (160C) for 14-18 minutes or until slightly golden brown on the sides. Remove from the oven and cool down on the baking tray for 10 minutes.
Then, slide a spatula under each cookie and cool on a cooling rack before decorating.
Gluten-free lemon glazing
To decorate your lemon cookies, combine powdered sugar and lemon juice. Drizzle the glazing on top of the cookies and add a dust of lemon zest to decorate.
Then, you can place the cookies in the fridge to slightly harden the glaze.
To watch how to make this, open my story about making the Almond Flour Lemon Cookies.
Yes, you can add up to 1/3 cup of poppy seeds to these dairy-free cookies. Add the seeds at the beginning of the recipe, along with the dry ingredients.
How does it taste?
These are entirely made of almond flour, so they definitely have an almond flour flavor. But almond perfectly blends with the tangy lemon flavor. They are soft, chewy cookies, way less sweet or buttery than a classic lemon crinkle cookie.
How can I increase sweeteners?
This gluten-free lemon cookie with almond flour is low in sugar vegan cookie recipe. The cookies are not very sweet on their own. To increase sweetness, add one of the options below:
The lemon glazing suggested.
One extra tablespoon of maple syrup in the batter.
Lemon stevia drops in the batter.
Roll the uncooked cookie dough balls in powdered sugar before pressing them into a cookie shape. This method is similar to the one used in a classic lemon crinkle cookie recipe, and it will make the cookie look similar.
Can I use coconut flour?
No, you can't replace almond flour with coconut flour in any baking recipes. Coconut flour is 4 times more liquid absorbent, and the ratio of flour will be very different.
Can I use sugar-free maple syrup?
You can make a vegan keto lemon cookie with this recipe if you replace the maple syrup with monk fruit-based syrup. The texture of the cookie will be slightly drier since keto syrup contains lots of fiber.
These almond flour lemon cookies store very well in an airtight container in the fridge for up to 4 days. The texture becomes sticky with time as almond flour soak up some moisture from the air.
You can also freeze your cookies in ziplock bags and thaw the day before at room temperature on a cooling rack.
I love to bake with almond flour because it's full of plant-based protein, and it tastes delicious in cookies. Below I listed my favorite vegan, gluten-free almond flour cookie recipes for you to try. All are paleo-friendly and dairy-free
Have you made this lemon cookie recipe? Share a review or comment below. I love to hear your feedback on my recipes.
XOXO Carine
Almond Flour Lemon Cookies
A soft, chewy vegan, gluten-free lemon cookie recipe made with almond flour and no refined sugar.
Pin
Print
Review
Save
Saved Recipes
Servings:
9
cookies (2 tbsp each)
Ingredients
Optional - to roll the cookie balls
Instructions
Preheat the oven to 180°C (350°F). Line a cookie sheet with parchment paper. Set aside.

In a large mixing bowl, add all the ingredients: almond flour, melted coconut oil, maple syrup, baking soda, salt, lemon juice, vanilla extract, and lemon extract.

Stir with a spatula to form the cookie dough batter. It should be soft and sticky but easy to roll into a cookie ball, not wet or runny - see picture above in my post. If it is too wet, add more almond flour 1 tablespoon at a time.

To shape the cookies, first, rub your hands with coconut oil, then scoop out 2 tablespoons of cookie dough and roll between your hands to form a ball.

Place each cookie dough ball on the prepared baking tray or roll each ball into powdered sugar to boost their sweetness and create a lemon crinkle look. You can skip this step if you prefer adding lemon glazing. Leave a 1-thumb space between each. They don't expand in the oven, but you need space to flatten the cookies without touching each other.

Press each lemon cookie ball gently to flatten slightly, the sides of the cookie may crack slightly, and that's ok.

Bake for 14-18 minutes or until the sides of the cookies are slightly golden brown. They will be soft when you take them out of the oven, and that's fine.

Cool 10 minutes on the cookie sheet, then slide a spatula under each cookie to transfer onto a cooling rack.
Glaze
These cookies are not very sweet, and the glazing makes all the difference!

Combine powdered sugar, lemon juice, and lemon zest.

When your cookies are cold, drizzle 2 teaspoons of glazing on each cookie. Place the cookies in the fridge for 2 hours to set the glazing.
Storage
Store in a dry place in a sealed box for up to 4 days. They can get sticky if stored in a humid place or in the fridge.
Share on Facebook
Pin Recipe
Nutrition
Serving:
1
cookie
|
Calories:
228
kcal
|
Carbohydrates:
17
g
|
Protein:
5
g
|
Fat:
17
g
|
Saturated Fat:
5
g
|
Sodium:
96
mg
|
Potassium:
22
mg
|
Fiber:
3
g
|
Sugar:
12
g
|
Vitamin A:
1
IU
|
Vitamin C:
3
mg
|
Calcium:
61
mg
|
Iron:
1
mg