Almond Flour Shortbread Cookies With 3 Ingredients
These gluten-free almond flour shortbread cookies are the easiest, healthy vegan shortbread cookie recipe.
They have the best tender, melting texture and are slightly crispy when you bite into them.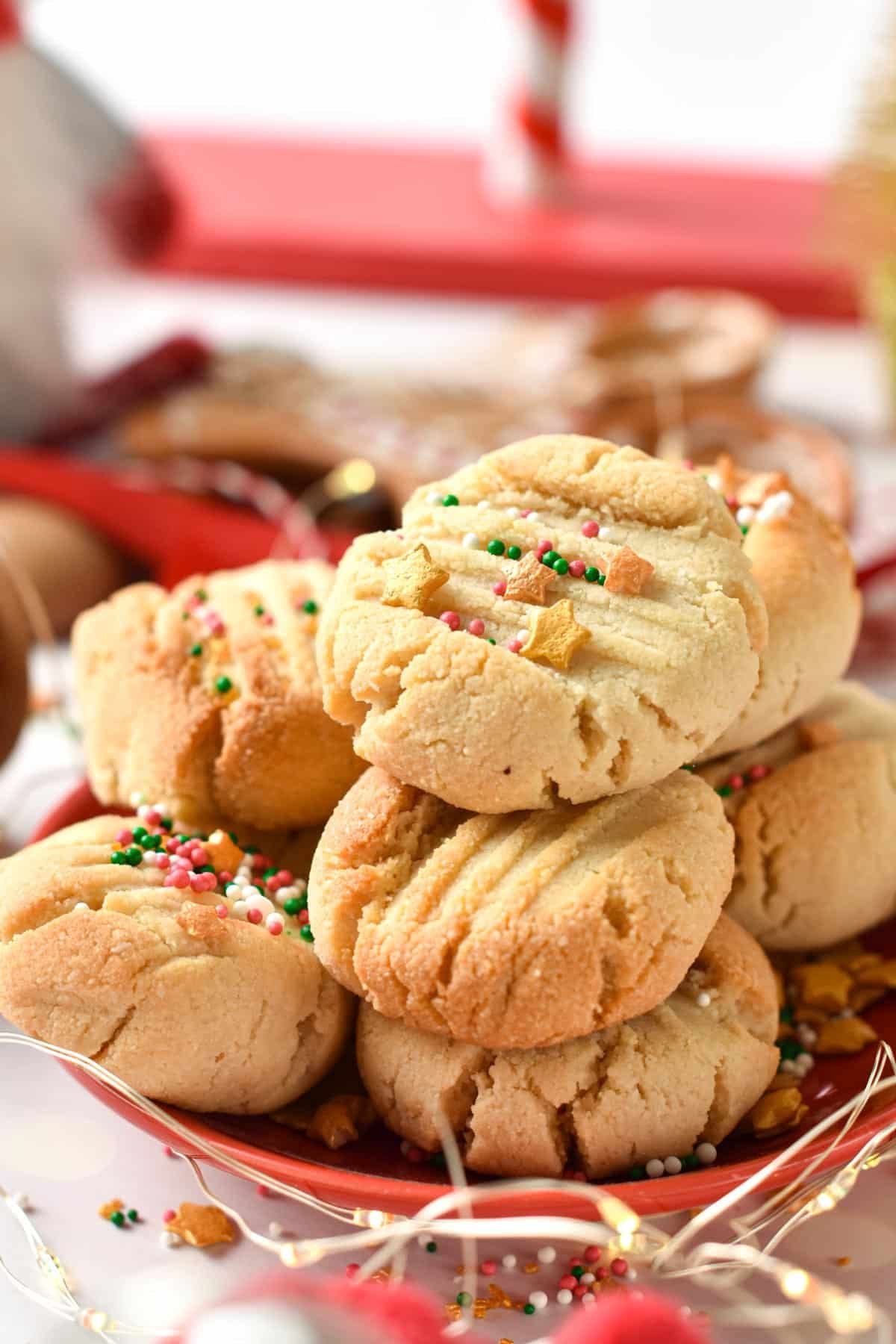 What Are Almond Flour Cookies?
If you love shortbread cookies but want to make them a little bit healthier, with fewer carbs, and avoid wheat flour, this is the recipe for you.
Almond Flour Shortbread cookies are made with a handful of ingredients and ready in no time to enjoy for breakfast, snack, or dessert.
Why You'll Love This Recipe
These 3-ingredient almond flour cookies are super simple to make and ready in less than 30 minutes. Plus, the recipe fits most diets as it is:
Gluten-free – almond flour is 100% gluten-free flour.
Paleo – this recipe doesn't use grain or xanthan gum, often used in gluten-free baking.
Vegan – these cookies are egg-free and dairy-free.
Egg-Free
Dairy-Free
Paleo
Low-Carb
Keto-Friendly
How To Make Almond Flour Shortbread Cookies
This is an easy vegan almond shortbread cookie recipe meaning they are egg-free, dairy-free cookies.
Consequently, their texture is slightly softer than a regular shortbread recipe but an amazing healthy shortbread cookie recipe without butter!
In fact, these are vegan shortbread cookies with coconut oil, a plant-based fat perfect for making crunchy cookies.
To make this simple recipe, you need to gather only 3 simple ingredients. Let me share my tips with you to select the best healthy ingredients for this recipe.
Ingredients
Almond Flour – make sure you are using ultra-fine almond flour and not coarse almond meal. The recipe works with both, but an almond meal adds a gritty texture to cookies and a darker color.
Maple Syrup – or agave syrup. I didn't try the recipe with any other liquid sweetener.
Coconut Oil – this is a gluten-free shortbread cookie recipe with coconut oil. Coconut oil is a great plant-based fat to make crunchy vegan cookies. You can use refined coconut oil to avoid the coconut flavor from the oil. Don't replace it with any other oil, or the cookies would be way too soft.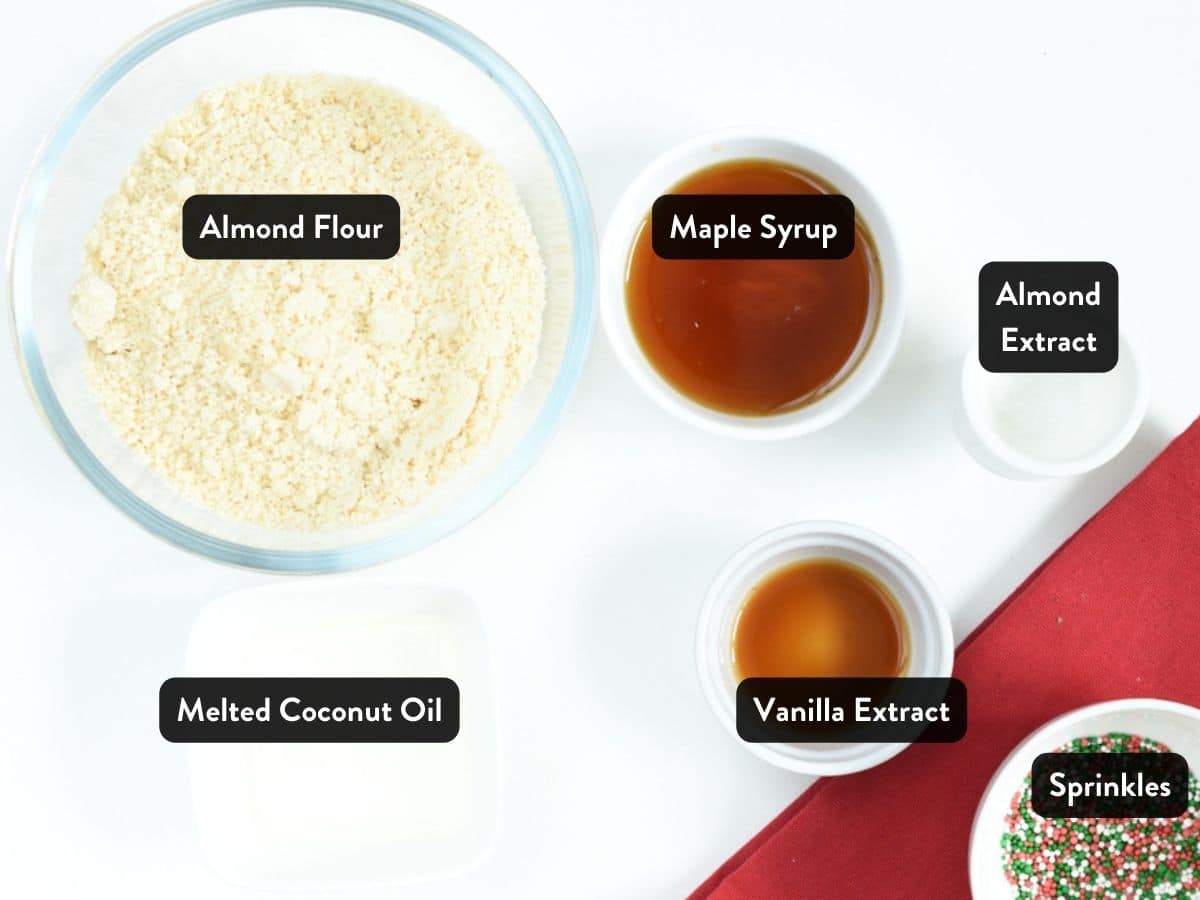 Optional ingredients
Of course, you can add a few flavorsome ingredients to add flavor to these healthy vegan shortbread cookies.
I highly recommend it, but if you want to keep the recipe simple, and make plain shortbread cookies, don't bother adding these little extra ingredients.
My favorite add-ons are:
Almond extract – add 1/2 teaspoon to the cookie dough.
Vanilla extract – add 1/2 teaspoon to the cookie dough.
Sea salt – add 1/4 teaspoon to the cookie dough.
Orange zest – add 1 teaspoon to the cookie dough.
Chocolate chips – add 1/4 cup of dark chocolate chips into the dough to make vegan chocolate chip shortbread cookies.
Combine all ingredients
This is it. All you have to do is combine the dry ingredients with the wet ingredients until they form a sticky cookie dough.

The thinner, the crispier
Then, form 12 cookie dough balls from the dough and place each ball on a cookie sheet covered with parchment paper.
This cookie dough won't expand in the oven, so you don't have to leave much space between each cookie.
Finally, press each ball slightly with the back of a fork to flatten it into a 0.4 inch (1cm) thick cookie.
The thinner, the crispier they will be. Finally, bake in preheated oven 325°F (160°C) for 12-15 minutes.
They are ready when the sides are slightly golden brown and slightly soft in the middle.

Cooling
Cool completely at room temperature, first 5 minutes on the cookie sheet, then on a cooling rack.
These cookies firm up with time and get their best texture after 3 hours at room temperature.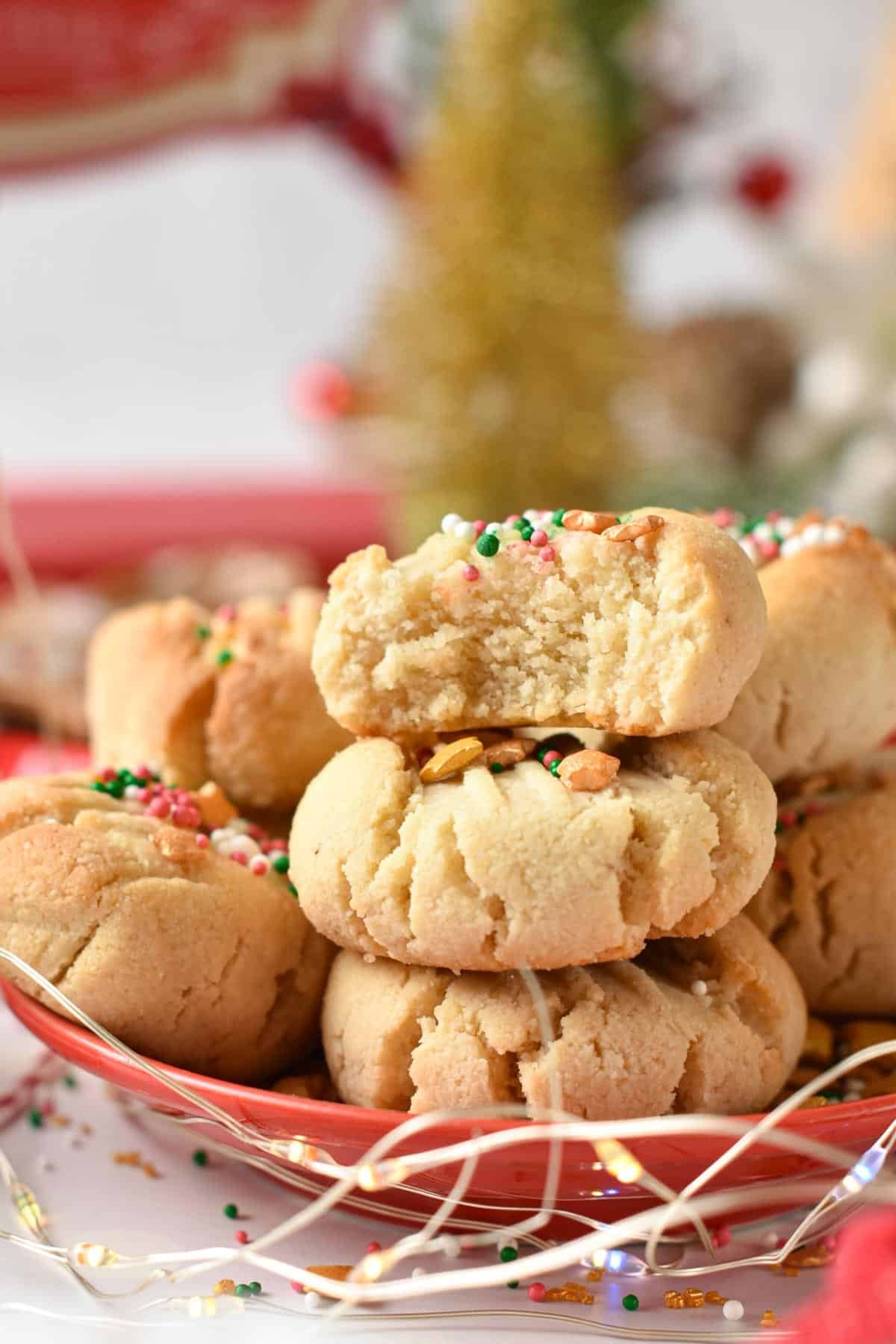 Decorating The Cookies
You can add some sprinkles on top of your cookies, as you see in my picture, to make healthy Christmas shortbread cookies.
Or drizzle melted chocolate chips on top.
Storage Instructions
These are egg-free, dairy-free cookies, so they store very well at room temperature in a cookie jar.
You can store the cookies for up to 1 week in the pantry or the fridge. They soften with time as the air moisture softens the dough.
Frequently Asked Questions
How do almond flour cookies taste?
These gluten-free shortbread cookies with almond flour are slightly softer than wheat-based cookies.
But if you like your shortbread cookies crispier, press them thinner into a 0.4-inch thickness (1cm).
If your cookies are too thick, they will stay softer in the center, but overall, this recipe crisps on the outside with a tender center.
Can I make cut-out shortbread cookies with this recipe?
This cookie dough works very well for making cut-out shortbread cookies too. It actually makes thinner and crispier almond flour shortbread cookies.
The only thing to keep in mind is that the dough is slightly sticky.
So you will have to roll the dough between two parchment paper pieces to prevent it from sticking to the roller pin.
Can I use sugar-free maple syrup?
No, you can't use sugar-free maple syrup in this recipe. Sugar-free maple syrup contains a lot of fiber compared to natural maple syrup and is highly liquid absorbent.
It won't form a cookie dough but a cookie crumble.
More Vegan Almond Flour Cookie Recipes
I love to use almond flour in my cookie recipes. It not only adds delicious almond flavor, but it also decreases carbs and adds lots of plant-based proteins and nutrients.
Below I listed my favorite cookie recipes made with almond flour for you to try.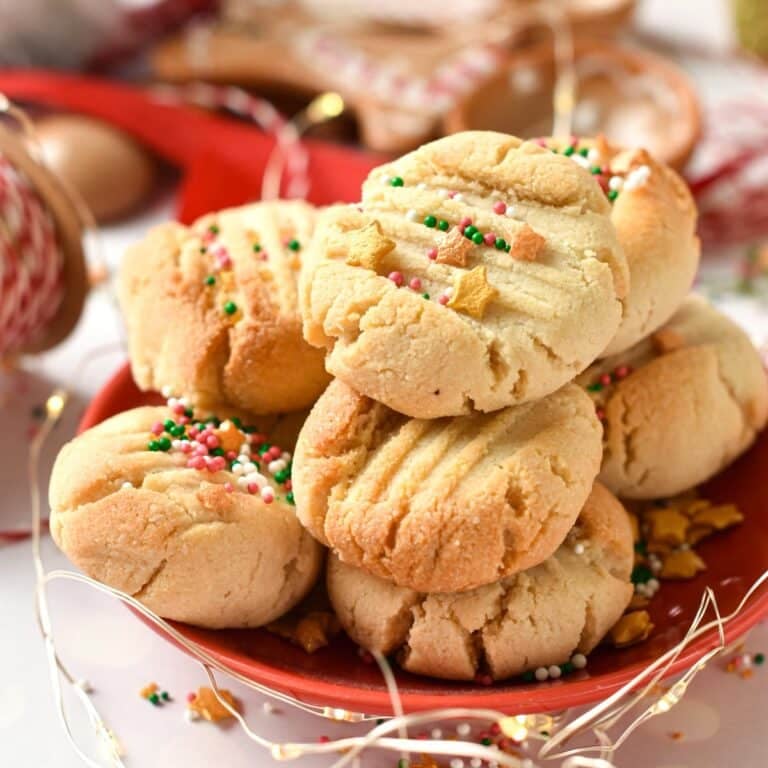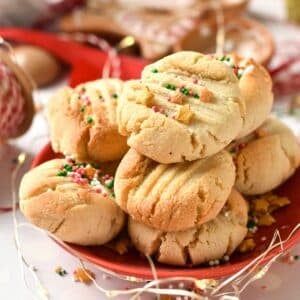 Gluten-free Almond Flour Shortbread Cookies with only 3 Ingredients
Easy, healthy shortbread cookies made with almond flour, egg-free, dairy-free, and vegan.
Pin
Print
Review
Servings: 12 cookies
Calories: 124 kcal
Ingredients
Optional ingredients – recommended to add flavors
Instructions
Before starting, keep in mind that these are slightly softer than regular shortbread cookies. They are vegan, gluten-free cookies made with wholesome ingredients, crispy on the outside, and chewier in the center.

Preheat oven to 325°F (160°C). Line a cookie sheet with parchment paper.

In a medium-size mixing bowl, add all the ingredients: almond flour, maple syrup, melted coconut oil, salt, vanilla extract, and almond extract,

Combine the ingredients with a spatula first, squeeze the dough with your hands to bring ingredients together, and form a cookie dough ball. If too wet, you can add more almond flour.

Scoop the dough with a measuring tablespoon and roll it into a ball.

Place each ball onto the lined cookie sheet.

Use a fork to flatten each cookie. The thinner, the crispier they will be. You can add sprinkles now, using a fork to press them gently into the batter.

Bake for 10-12 minutes until slightly golden and slightly hard on top.

Cool on the cookie sheet for 5 minutes, then transfer to a cooling rack to completely cool down.
Storage
Store in the fridge in a sealed container for up to 5 days
Notes
Flour: you need ultra-fine almond flour for this recipe, not almond meal. Measure the flour packed in the cup. I didn't try the recipe with a different type of flour. Sweeteners: you can replace maple syrup with agave syrup. I didn't try other sweeteners, and I don't recommend sugar-free liquid sweeteners. They are high in fiber and will dry out the dough. Texture: Keep in mind that these are healthy vegan shortbread, and their texture is slightly different and slightly softer in the middle. For a crispier cookie, you can replace 1 tablespoon of maple syrup with 1 tablespoon of water.
Share on Facebook
Pin Recipe
Nutrition
Serving: 1cookie | Calories: 124kcal | Carbohydrates: 6g | Protein: 3g | Fat: 10g | Saturated Fat: 4g | Sodium: 49mg | Potassium: 11mg | Fiber: 1g | Sugar: 4g | Calcium: 35mg | Iron: 1mg