2-Ingredient Cookies (Vegan, Gluten-Free)
These 2-Ingredient Cookies are healthy almond flour cookies crispy on the edges, chewy in the middle, and the simplest cookies you'll ever make!
Plus, these almond cookies are also egg-free, dairy-free, gluten-free, and vegan-friendly!
It's cookie season, and nobody wants cookie recipes that take ages to make.
So what if I tell you that you can make delicious vegan cookies with two ingredients?
You might have tried my easy three ingredients almond flour shortbread recipe, and I make it even easier with these 2-ingredient almond cookies.
They are soft in the center, chewy, and crispy on the edges, but take under 20 minutes to make!
So let's see how to make these delicious easy vegan, gluten-free cookies with almond flour.
How To Make 2-Ingredient Cookies With Almond Flour
There are many ways to make cookies with two ingredients, of course.
Some recipes use peanut butter, others use bananas and oats, but I wanted to share a cookie that is easy to make without any fancy tools like a food processor or blender.
And also a vegan cookie recipe that tastes like your favorite vanilla cookies but is ready in no time.
Ingredients
The ingredients are simple. All you need are:
Almond Flour – I used ultra-fine almond flour with a thin, yellow color that makes the cookies tasty, not grainy, with a beautiful sun color. However, you can also use an almond meal. Learn how to measure your flour.
Maple Syrup – or any liquid sweetener you love, like agave syrup, coconut nectar, or brown rice syrup.
Prepare
Before you start, preheat the oven to 350°F (180°C). Line a baking sheet with parchment paper and lightly oil the paper with coconut oil. Set aside.
Combine
All you have to do is to combine both ingredients in a mixing bowl. Stir them with a spatula until the batter is sticky and slightly wet.
Rolling Cookie Balls
First, oil your hands with coconut oil because the dough is sticky!
Then, scoop out one tablespoon of cookie dough, roll it between your hands and place each cookie dough ball onto a baking sheet covered with parchment paper slightly oiled with coconut oil.
Leave some space between each cookie as you will flatten them later.
You should form 6 cookie balls with this recipe, and yes, you can double up the recipe to make a larger batch of cookies!
Pressing Down
Now, use your oiled fingers to flatten the cookies. The thinner, the crisper the edges will be, play with thickness to adjust texture and flavor.
Baking
Now bake the cookies in the center rack of the oven for 10-12 minutes or until just golden brown on the edges.
Cool down on a wire rack immediately and wait 30 minutes for the best texture. The cookies firm up with time.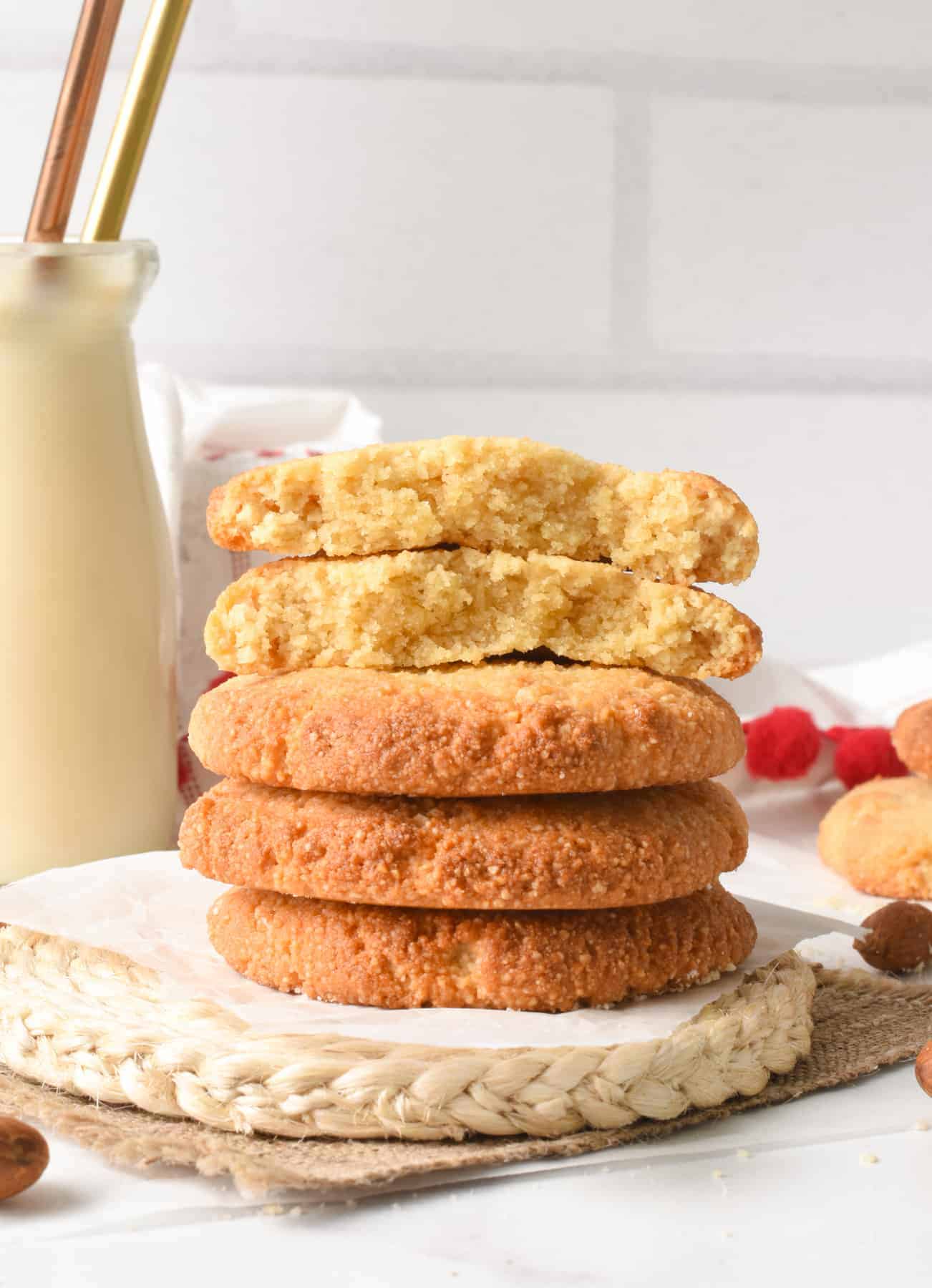 Add-Ons
Of course, you can use this easy cookie recipe with almond flour to create a range of flavorsome almond cookies.
For example, you can add to the batter flavor by adding 1/2 to 1 teaspoon of:
Ground cinnamon
Vanilla extract
Almond extract
Lemon extract
Lemon or orange zest
You can also stir in 3 tablespoons of:
Dark Chocolate Chips
Unsweetened coconut to make coconut almond cookies.
Dried fruits like dried raisins, dried cranberries, and finely chopped dates.
Decorating The Cookies
You can also decorate the cookies with melted chocolate. Simply cool down the cookies at room temperature.
Then, in a mixing bowl, melt 1/2 cup of dark chocolate chips with one teaspoon of coconut oil. Melt in the microwave or a non-stick saucepan over medium heat.
Dip half the cookies into the melted chocolate or drizzle the melted chocolate on top of each cookie.
To set the chocolate shell hard, place the cookies in the fridge for 10 minutes.
Another option is to use my vegan royal icing recipe to glaze the top of the cookies and add sprinkles on top.
Storage Instructions
Almond flour cookies always get a bit sticky and soften if in contact with air. That's why I never store these 2-ingredient cookies in the fridge.
Instead, I place them in a sealed cookie jar, and they keep well for up to a week at room temperature.
Allergy Swaps
Obviously, there are always some swaps I have to share for those with food allergies.
Sugar-free keto swap – almond flour is a low-carb flour itself. But maple syrup is high in carbs. So if you want to decrease the net carbs per cookie and make these 2-ingredient cookies keto-friendly, use sugar-free maple syrup made of fiber syrup or monk fruit.
Almond swap – this recipe works very well with homemade oat flour for a nut-free option.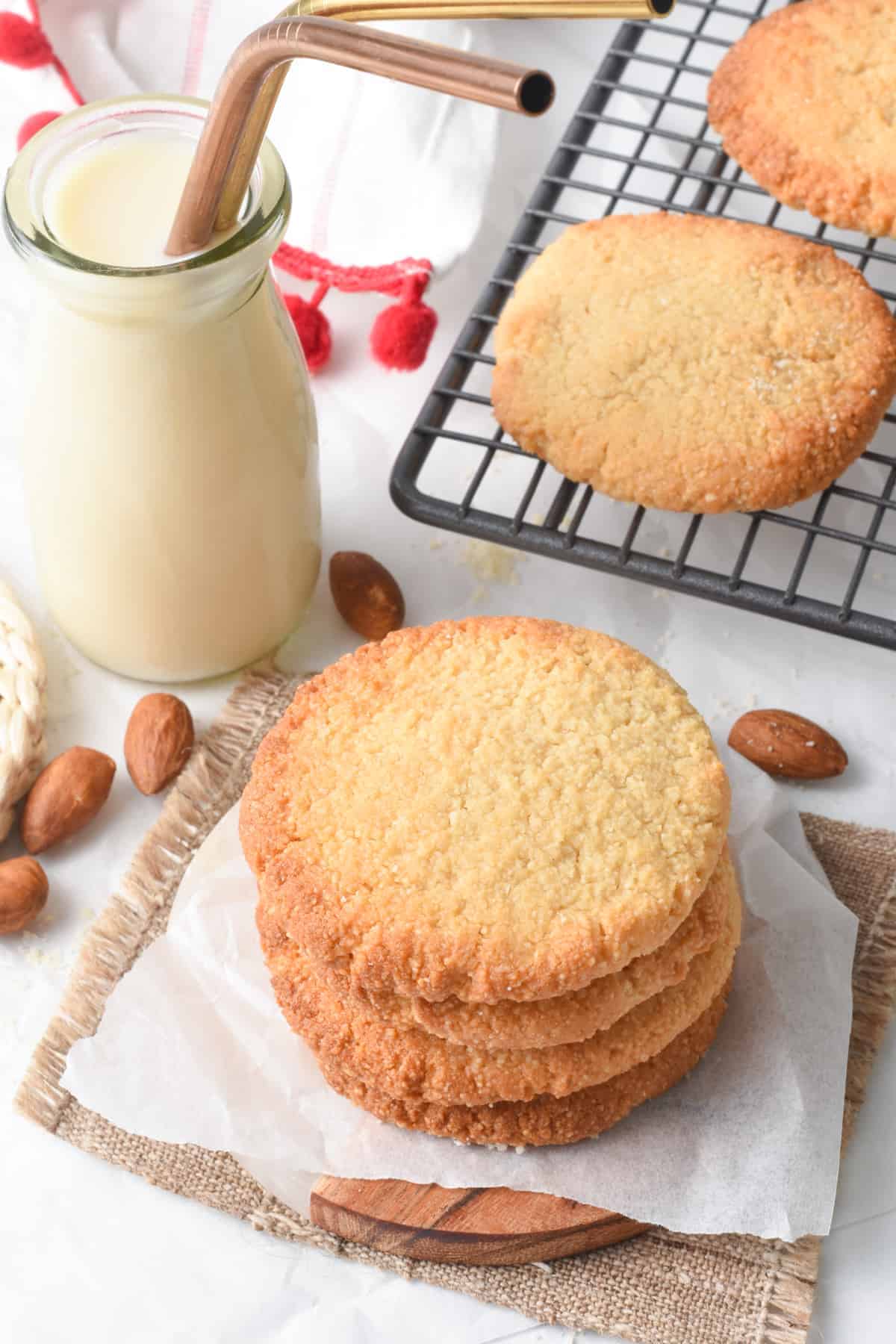 Storage Instructions
You can store the cookies in an airtight box for about one week at room temperature.
Also, you can freeze these almond cookies and thaw them at room temperature before serving.
More Vegan Almond Flour Cookie Recipes
Below are my most popular almond flour cookie recipes for you to try:
Have you made these 2-ingredient cookies? Share a comment or review below to tell me how they turned out!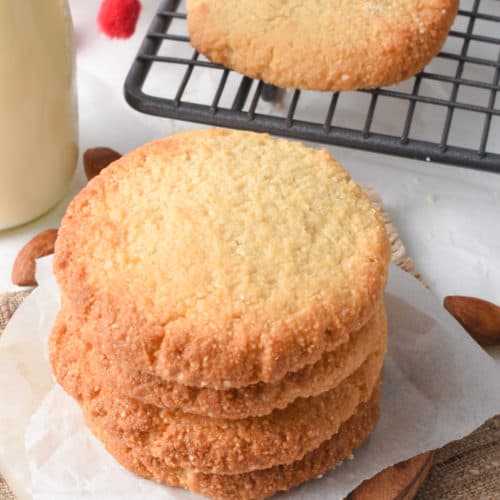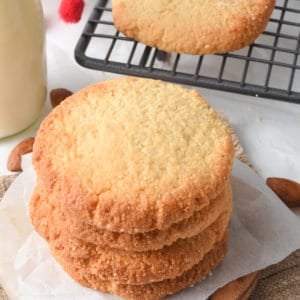 2-Ingredient Cookies
An easy healthy almond cookie recipe made with only 2 ingredients that is 100% vegan, gluten-free, and keto-friendly.
Pin
Print
Review
Servings: 6 cookies
Calories: 150.5 kcal
Instructions
Preheat the oven to 350°F(180°C). Line a cookie sheet with parchment paper and lightly oil the paper with coconut oil.

In a large mixing bowl, combine almond flour and maple syrup until the dough is wet and sticky.

Oil your hands, scoop about 1 1/2 tablespoon of dough, roll it between your hands, and place them on the cookie sheet. Leave a 1-thumb space between each cookie ball. Repeat this until you form 6 balls, oiling your hands as needed as the dough is quite sticky.

Flatten each dough ball with your hand: the thinner, the crisper. I like to keep mine slightly thick for a moist center.

Bake on the center rack of the oven for 10-12 minutes or until the edges are just turning golden brown.

Cool them down immediately on a cooling rack for 30 minutes. They firm up as they cool down.
Storage
Store up to 1 week in an airtight container at room temperature.
Share on Facebook
Pin Recipe
Nutrition
Serving: 1cookie | Calories: 150.5kcal | Carbohydrates: 15.2g | Protein: 4g | Fat: 9.2g | Saturated Fat: 0.7g | Sodium: 1.5mg | Potassium: 37.5mg | Fiber: 2g | Sugar: 10.6g | Calcium: 57.4mg | Iron: 0.7mg | Magnesium: 3.5mg | Zinc: 0.1mg