Flour is the base ingredient of the vast majority of baking recipes, learn how to properly measure it with cups or scales!
It can be tricky to measure flour for regular recipes, but it's even more challenging to measure alternative, no-bake, and keto-friendly flours like Almond Flour or Coconut Flour because they have varying densities.
How To Measure Flour
You might be wondering why it's so important to measure flour accurately. And if a recipe offers both grams and cups, which one should you pick?
Let me explain why it might vary and what matters the most.
Cups vs. Weight
Cups are a way of measuring volumes, while scales measure a mass. As a result, ingredient A with a higher density than ingredient B would have a smaller volume for the same weight.
It's easy to picture with a block of wood vs. a block of lead. If you have two identical cubes (same volume), the weight of the lead cube would be much higher.
For flours, it's crucial as any ground ingredient's volume is very dependent on how finely it was ground.
As a result, your flour might weigh more for the same volume than my flour, just because it's finer.
But then, which one matters the most? Should you match the weight or the volume?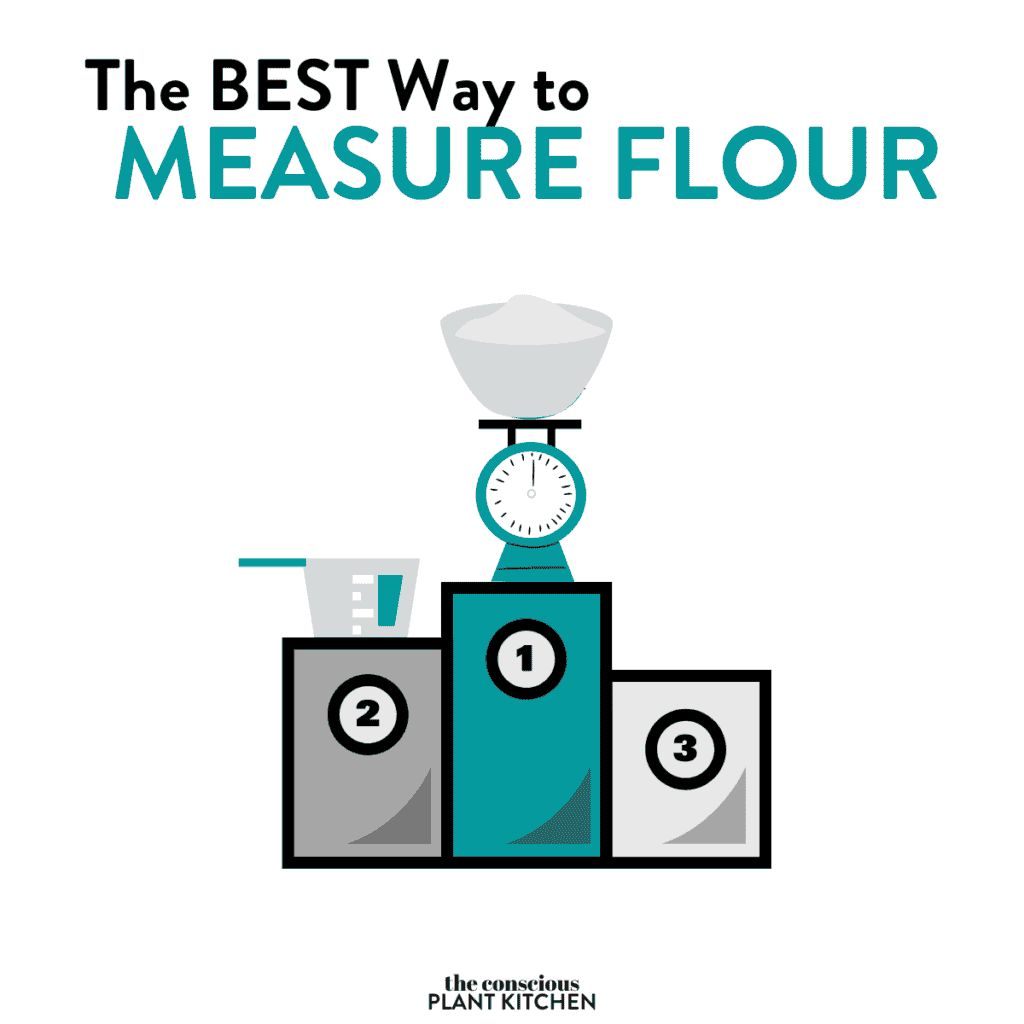 What is the best option?
All flours absorb water. That's how baking works. Water absorption is directly related to the size of flour particles.
Therefore measuring flour in weight is the recommended way.
Wheat flour is slightly different as the particle size is somewhat standardized. So in most countries around the world, one cup of wheat flour would weigh about the same.
This is not true for other flours, in particular gluten-free flours that often have no milling standards.
Measuring Flour With Cups
If you have to use measuring cups, it is essential to follow a specific method to have the most accurate measurement.
Note that we are using US Customary measurements, as a result:
1 Cup = 16 Tablespoons = 48 Teaspoons
To do so, follow the Fluff, Scoop & Level Method. Make sure to use dry measuring cups otherwise some flour will stay stuck inside.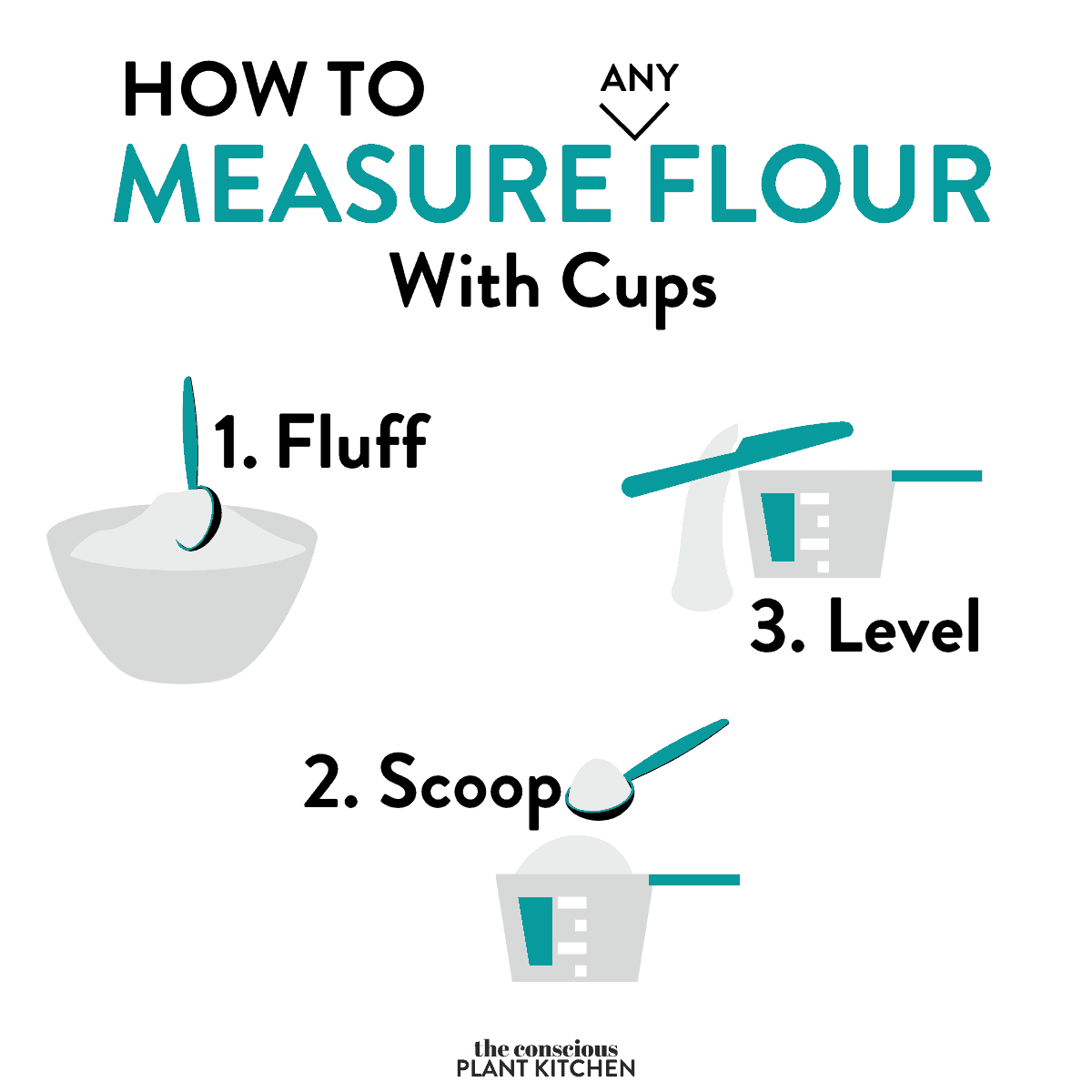 Step 1: Fluffing
Fluffing the flour allows to break lumps of flour and makes it more uniform.
You can fluff your flour in its jar by stirring a spoon or a fork through the flour for a few seconds.
Step 2: Scooping
When the flour is fluffed, scoop it with a spoon or a smaller measuring cup and transfer it to your target measuring cup.
Keep piling more flour until it is forming a heap taller than the measuring cup.
Step 3: Leveling
Leveling the flour consists of scraping the top of the flour heap to keep the volume of the cup strictly.
It's not something you have to do with liquids as it would just drip out of the measuring cup.
The easiest way to level is to use the back of a knife to scrape the excess flour without packing the cup.
If you removed too much flour, scoop some more until you reach the rim of the measuring cup and level again.
Should I Pack The Flour?
Packing refers to compressing the flour once it's in your measuring cup.
By convention, we don't do that since the resulting density would depend on how hard you pack.
Should I sift the flour?
Putting your flour through a sifter removes any lumps.
Sifting can be used as an alternative to fluffing.
Can I scoop flour directly with the measuring cup?
No, scooping with the measuring cups is the same as packing the flour.
You need to use another smaller spoon to scoop the flour.
Weighing Flour With A Scale
Our recommendation is to always measure any flour with a kitchen scale.
It's more accurate, faster, and simpler.
Weighing with a scale takes only two steps:
Step 1: Tare The Scale
Place a cup or bowl on your scale after turning it on. Make sure it's large enough to contain all the flour you need.
When the scale has stabilized, click on its tare button to make it show 0 grams.
Step 2: Measure The Flour
Pour flour into the bowl until you reach the desired weight.
Adjust finely with a teaspoon to have a very accurate measurement.
Common Flour Conversions
Assuming your flour is relatively standard, you can use the following conversions to go from grams to cups and vice versa.
International Conversions
Because we use US Customary measurements, we use the following measurements:
1 US Cup = 236ml (generally rounded to 240 ml)
1 US Cup = 16 Tablespoons
1 US Tablespoon = 14.75 ml (generally rounded to 15 ml) = 3 Teaspoons
1 US Teaspoon = 4.92 ml (generally rounded to 5 ml)
It's essential to make sure your measuring cups and spoons are US Cups.
Other countries use other volumes.
1 US Legal Cup = 240 ml (+1.6% of a US Customary Cup)
1 Metric Cup and 1 Canadian Cup = 250 ml (+6% of a US Customary Cup)
1 Latin America Cup varies from 200 to 250 ml (-15% to +6% of a US Customary Cup)
1 Japanese Cup = 200 ml (-15% of a US Customary Cup)
1 Russian Cup = 123 ml (-48% of a US Customary Cup)
And it's not only cups that can trick you!
1 Australian Tablespoon = 20 ml = 4 Australian Teaspoons (5 ml)
1 Metric Tablespoon = 15 ml = 3 Metric Teaspoons (5 ml)
1 Cup Of Almond Flour In Grams
One cup of Almond Flour measures between 95 grams and 118 grams, depending on the granularity of the flour.
We measured ours to 110 grams, so it's what we typically reference in our recipes.
1 Cup Of Coconut Flour In Grams
Coconut flour is one of these flours that you can find in a vast range of granularity.
One cup of Coconut Flour measures between 90 grams and 130 grams.
We measured one cup of our Coconut Flour to precisely 120 grams.
1 Cup Of Psyllium Husk In Grams
Psyllium Husk is also highly dependent on how fine the ground is.
As a result, you'd find that it varies massively from 80 grams per US Cup to as much as 290 grams per cup.
We measured our to be at 150 grams per cup.
1 Cup Of Flaxseed Meal In Grams
Ground Flaxseed measures anywhere between 105 and 170 grams per cup.
We measured ours at 160 grams per cup.
1 Cup Of Chickpea Flour In Grams
Chickpea Flour is somewhere between 90 and 140 grams per cup. It mostly depends on how dry the chickpeas were when processed.
We measured ours at 120 grams per cup.
1 Cup Of Sunflower Seed Flour In Grams
Sunflower Seed Flour has a mass between 90 and 160 grams per cup.
We measured ours at 135 grams per cup.
1 Cup Of Baking Powder In Grams
Baking Powder is relatively inconsistent as well.
1 Cup of Baking Powder varies between 180 grams and 230 grams.
Luckily, we don't use much, but that can still have an impact. So err on the side of caution by sticking to the lower value.
1 Cup Of Baking Soda In Grams
Baking Soda's density doesn't vary much. As a result, 1 US Customary Cup of Baking Soda is between 200 and 205 grams.
1 Cup Of All-Purpose Flour In Grams
1 Cup of Flour measures between 120 grams and 150 grams.
We measured our regular flour to 125 grams.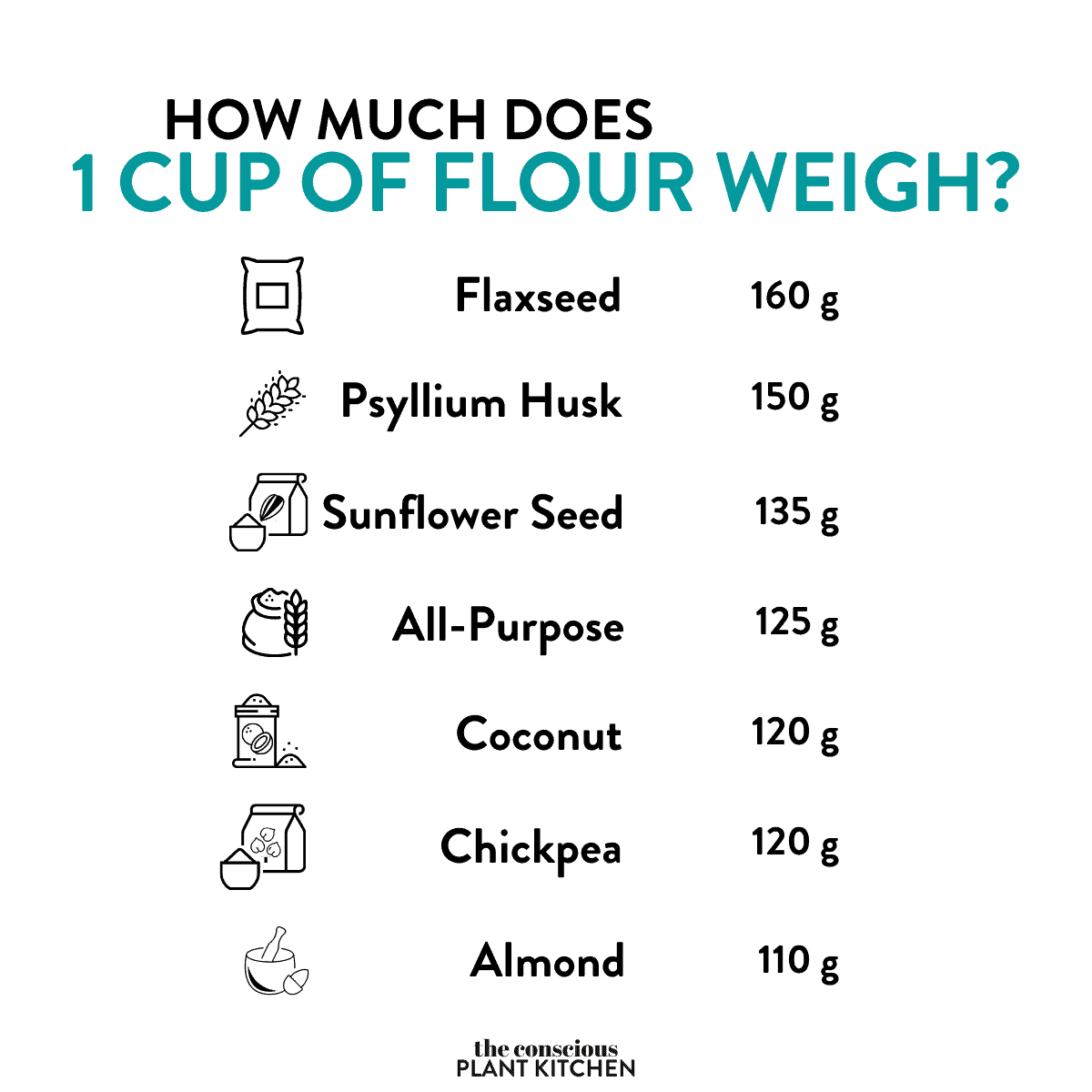 Our Favorite Baking Recipes
We love baking. If you want to try your measuring cups or your scale, have a go at the following recipes: