Coconut Flour Shortbread Cookies (No Eggs)
These coconut flour shortbread cookies are healthy 5-ingredient vegan coconut flour cookies with a delicious, chewy texture.
Bonus, these healthy coconut flour cookies are also grain-free and keto-friendly.
There is no season to enjoy a delicious crunchy shortbread cookie!
And what's better than healthy coconut flour shortbread cookies 100% vegan to snack on with a cup of coffee?
What's Coconut Flour?
Coconut flour is a low-carb keto flour made from dried coconut meat. It is a very healthy gluten-free flour, low in carbs and high in fiber.
Due to the high fiber content of coconut flour, it can be difficult to:
Bake with coconut flour – especially in vegan baking recipes where eggs are not involved as a binder.
Swallow coconut flour cookies – the high fiber content dries up the mouth quickly, and some people found coconut flour difficult to swallow. That's why you should always drink plenty of water when eating high-fiber food.
The key to baking with coconut flour is to use a fresh bag of flour with no lumps and measure the flour accurately, preferably in weight rather than cups.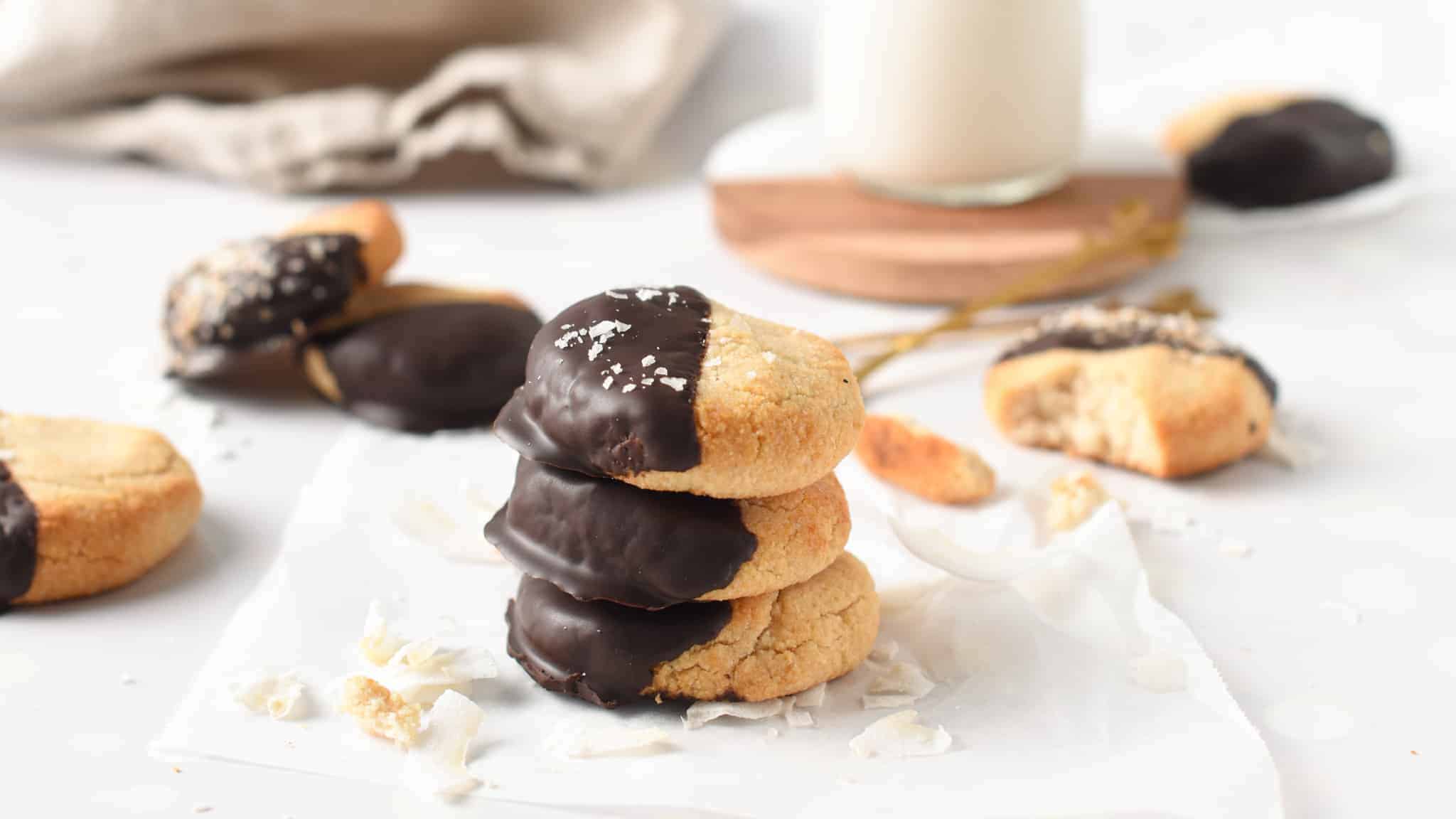 How To Make Coconut Flour Shortbread Cookies
You only need 3 ingredients for these shortbread cookies made with coconut flour.
However, while the recipe is pretty straightforward, make sure you measure each ingredient precisely for the best result.
Ingredients
The ingredients you need to make these coconut flour shortbread recipes are wholesome natural ingredients you probably have in your pantry.
Coconut Flour – make sure you use a fresh bag of coconut flour or flour that hasn't been in contact with humidity. In fact, coconut flour is highly liquid absorbent, and an old bag of flour, not stored in an airtight container, forms lumps. As a result, the amount of 'active' fiber in your coconut flour won't be the same if it has not been stored properly. Learn how to properly measure flour!
Maple Syrup – other liquid sweeteners will work, making dryer cookies. That's why maple syrup is recommended for these shortbread cookies made with coconut flour.
Melted Coconut Oil – you can use refined coconut oil if you don't like an overpowering coconut flavor in your coconut flour cookies. In fact, refined coconut oil has no flavor compared to unrefined coconut oil.
Vanilla Extract
Almond Milk
Pinch of Sea Salt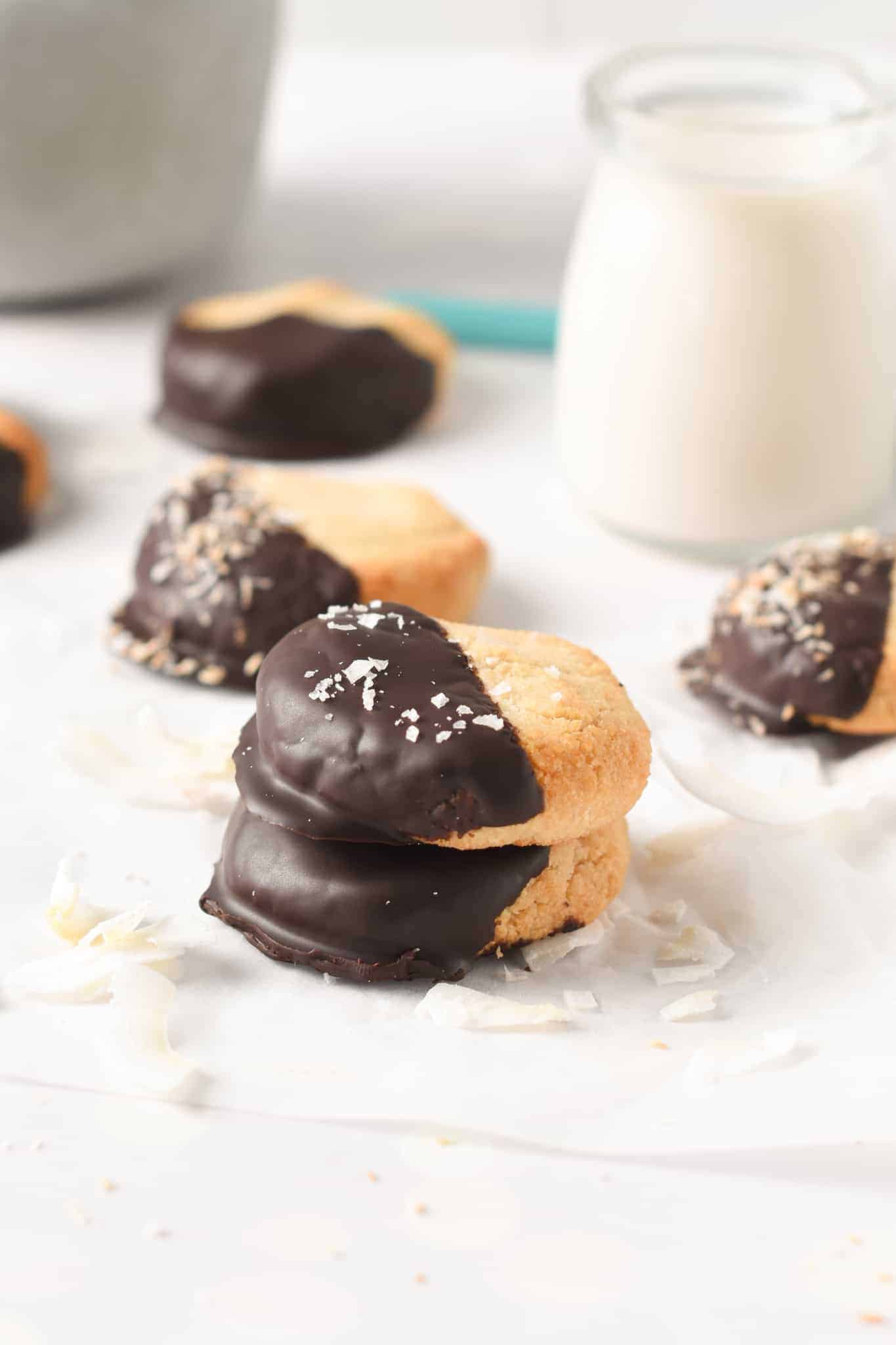 Instructions
As mentioned before, it can be tricky to bake with coconut flour because it contains a lot of fiber. To help you achieve the best coconut flour shortbread cookies, I have updated this recipe.
Follow the step-by-step recipe pictures below to make the best gluten-free vegan cookies with coconut flour.
Step 1: Measuring Coconut Flour
Coconut flour is high in fiber, and fiber tends to dry the cookie dough very quickly. Scoop and sweep the measuring cup, don't overpack or press it.
Step 2: Combine Ingredients
In a large mixing bowl, add the coconut flour, salt, vanilla extract, melted coconut oil, almond milk, and maple syrup.
Combine the ingredients with a mixing spoon until it comes together and forms a soft moist cookie dough.
Step 3: Resting The Dough
Rest the cookie dough for 5 minutes at room temperature so it gives the flour time to bind the ingredients together.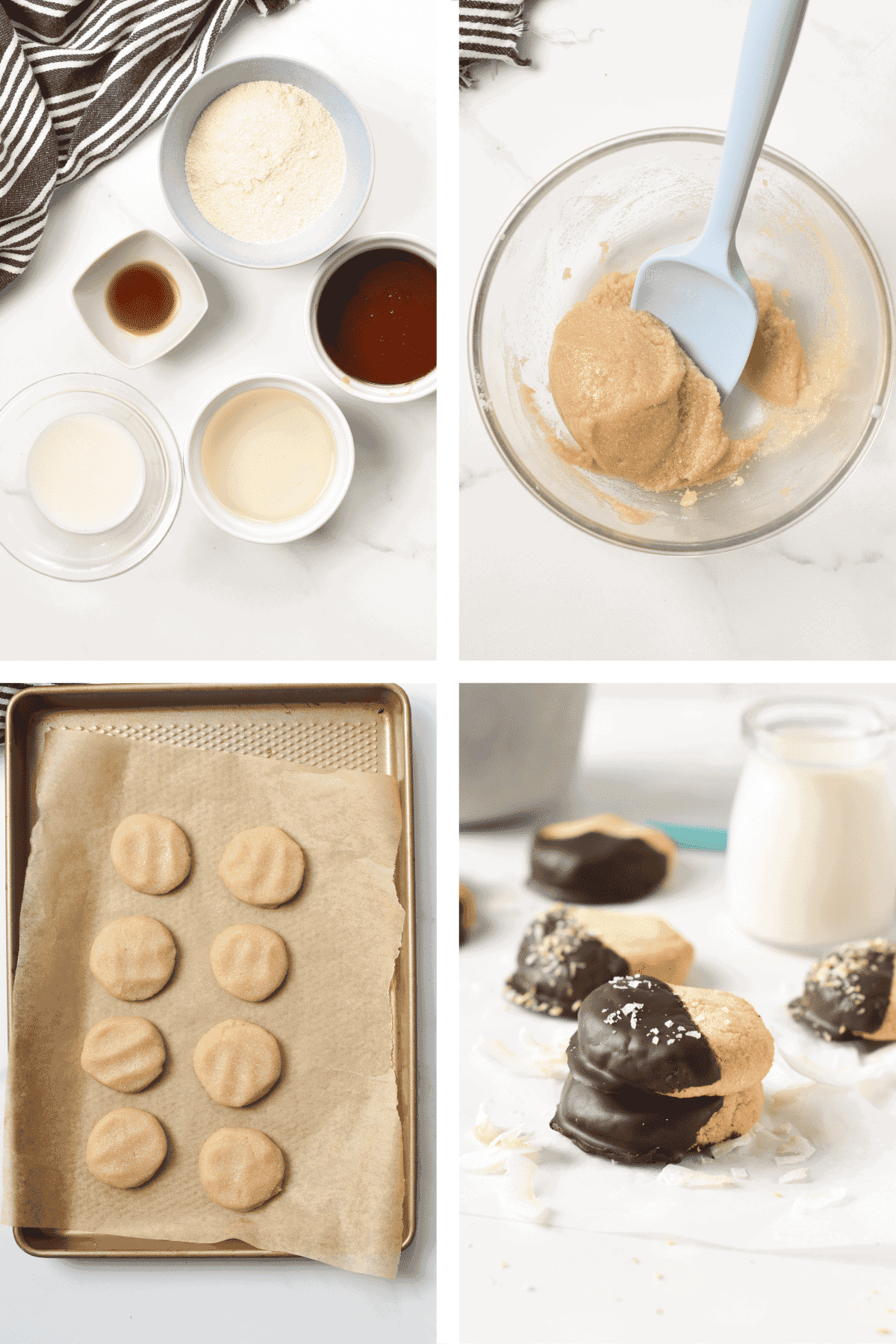 Step 4: Rolling Into Balls
Scoop out 1 tablespoon of cookie dough roll into a smooth ball and place on a baking sheet covered with parchment paper.
Press down each ball with your hand palm to flatten it slightly.
Step 5: Baking
Preheat the oven to 350°F (180°C) and bake the cookies for 10-12 minutes or until the sides are golden brown.
The baking time depends a lot on the thickness of your coconut flour cookies. If some bake faster, remove them first from the oven.
Step 6: Cooling Down
Cool the coconut flour cookies on the baking sheet for 10 minutes before transferring them onto a cooling rack.
Let them cool until they reach room temperature, then dip them into melted chocolate.
Decorating Coconut Flour Cookies
This is optional but decorating shortbread cookies is always fun.
I recommend melting vegan dark chocolate chips and dipping half of the shortbread into the melted chocolate.
I hope you enjoyed this dairy-free coconut flour cookie recipe. If so, don't forget to share it on Pinterest for later!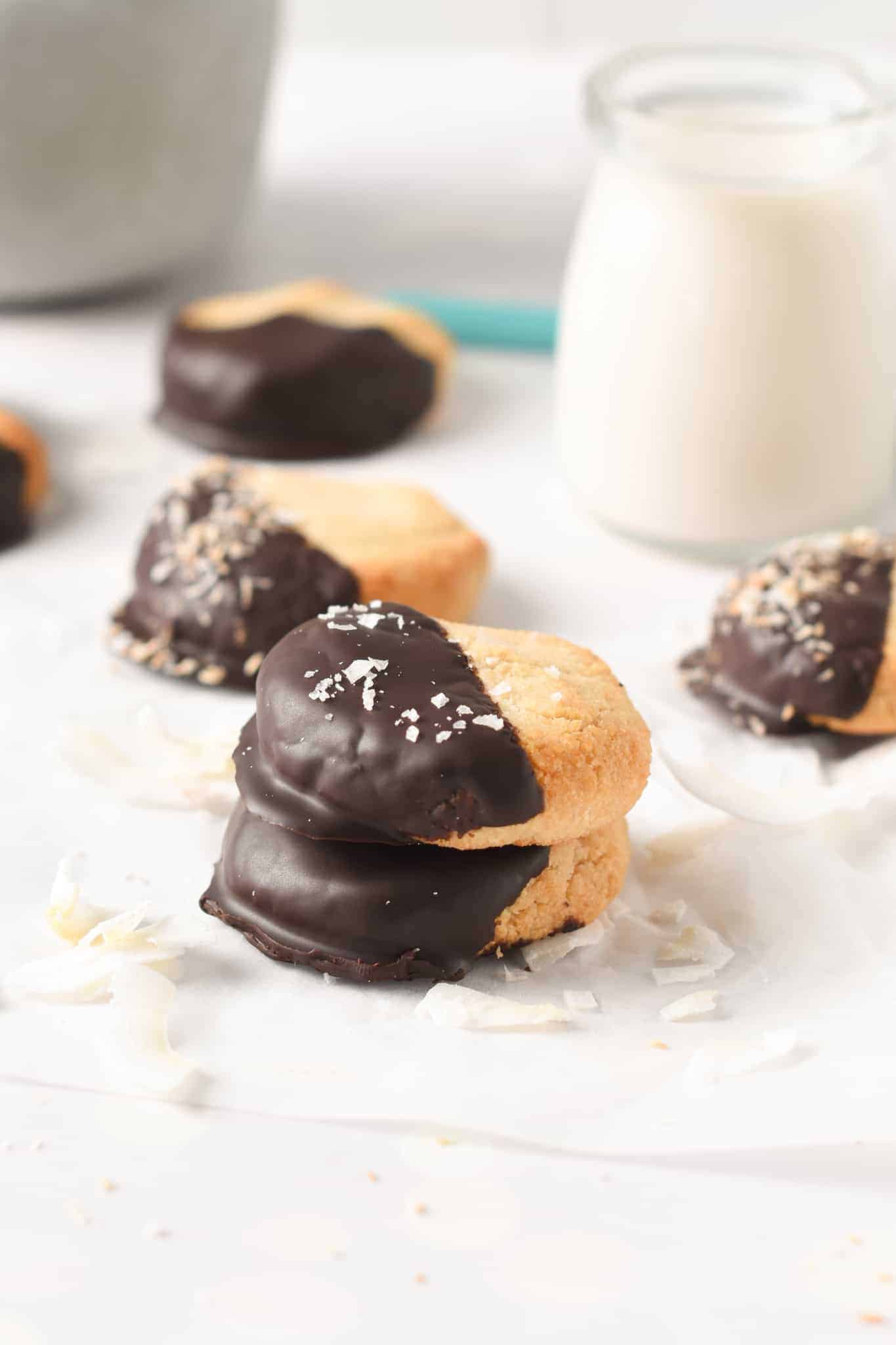 Frequently Asked Questions
Can I Use Almond Flour?
No, you can't replace coconut flour with the same ratio of almond flour.
Almond flour contains 4 times less fiber than coconut flour, and therefore the ratio of dry ingredients to wet ingredients will be very different.
If you love almond cookies, try my 3-ingredient almond flour shortbread cookie recipe.
Can I Use Other Sweeteners?
You can use sugar-free liquid sweetener or agave syrup in this recipe.
However, keep in mind that sugar-free liquid sweeteners are high in fiber as well, and therefore the texture of the cookies will be much more dry and fragile.
You may need way more syrup or oil to achieve the same texture.
You can't use crystal sweeteners in this recipe like coconut sugar or brown sugar. It must be a liquid sweetener.
Can I Add Nut Butter To The Recipe?
No, you can't replace coconut with nut butter like peanut butter or almond butter.
The only fat substitute available is vegan butter – not vegan margarine!
Can I Roll And Cut Out The Dough?
No this is not a cut-out cookie recipe. The cookie dough is soft, sticky, and moist and you won't be able to roll it.
More Vegan Cookie Recipes
If you love easy vegan cookie recipes, you may want to try my other recipes:
Have you made these nut-free vegan shortbread cookies? Share a comment or review below. I love to hear back from you on my recipes.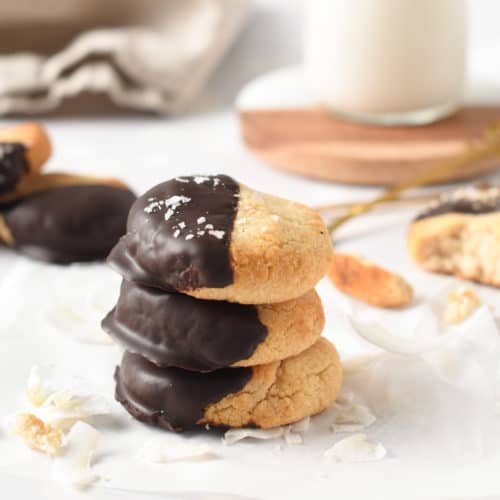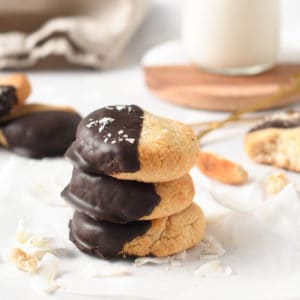 Coconut Flour Shortbread Cookies
These Vegan Shortbread Cookies with coconut flour are an easy 4-ingredient recipe 100% gluten-free, low-carb, paleo, and keto-friendly.
Pin
Print
Review
Servings: 9 cookies
Calories: 153.7 kcal
Instructions
Preheat the oven to 350°F (180°C). Line one large cookie sheet with parchment paper. Set aside.

In a medium mixing bowl, add all the dry ingredients: coconut flour and salt.

Stir in maple syrup, melted coconut oil, vanilla extract, and almond milk at room temperature.

Combine with a silicone spatula for about 40 seconds until it forms a soft, sticky, and moist cookie dough.

Set aside for 5 minutes at room temperature. The dough should stay soft, sticky, and easy to roll into balls.

Scoop one tablespoon of batter and roll it between lightly oiled hands before placing the ball on the baking sheet. Slightly flatten the ball into a cookie shape.

Repeat the step above until you form 9 cookies.

Bake for 10-12 minutes or until the sides are just starting to become golden brown. Note that baking time varies a lot based on the thickness of the cookies. Don't over-bake them, or they will be very hard and dry in the middle.

Cool down on the baking sheet for 10 minutes (don't touch them as they are still soft when hot). After transfer on a cookie rack to cool down to room temperature

If you want to decorate the cookies with melted dark chocolate, wait for the cookies to be at room temperature. You can freeze the dipped cookies for 2-5 minutes to set the chocolate shell quickly.
Storage
Store in a cookie jar at room temperature for up to 1 month or freeze in a ziplock bag. Defrost the day before.
Notes
Nutrition panel for keto, using monk fruit sweetener: 1 cookie without chocolate dipping. Carbs: 7.1 g | fiber: 5.6 g | Net carbs: 1.5 g |fat: 4.5 g |calories: 56 kcal | protein : 0g.
Share on Facebook
Pin Recipe
Nutrition
Serving: 1cookie | Calories: 153.7kcal | Carbohydrates: 17.4g | Protein: 2.3g | Fat: 8.3g | Saturated Fat: 7.3g | Polyunsaturated Fat: 0.1g | Monounsaturated Fat: 0.4g | Sodium: 102.5mg | Potassium: 27.5mg | Fiber: 5.8g | Sugar: 8.4g | Calcium: 15.1mg | Iron: 0.4mg | Magnesium: 2.6mg | Phosphorus: 0.1mg | Zinc: 0.1mg