These Vegan Shortbread Cookies are buttery, crumbly melt-in-your-mouth vanilla cookies perfect for celebrating the holiday season.
These taste absolutely the same as classic shortbread cookies, and none of your guests will guess they are vegan Christmas cookies.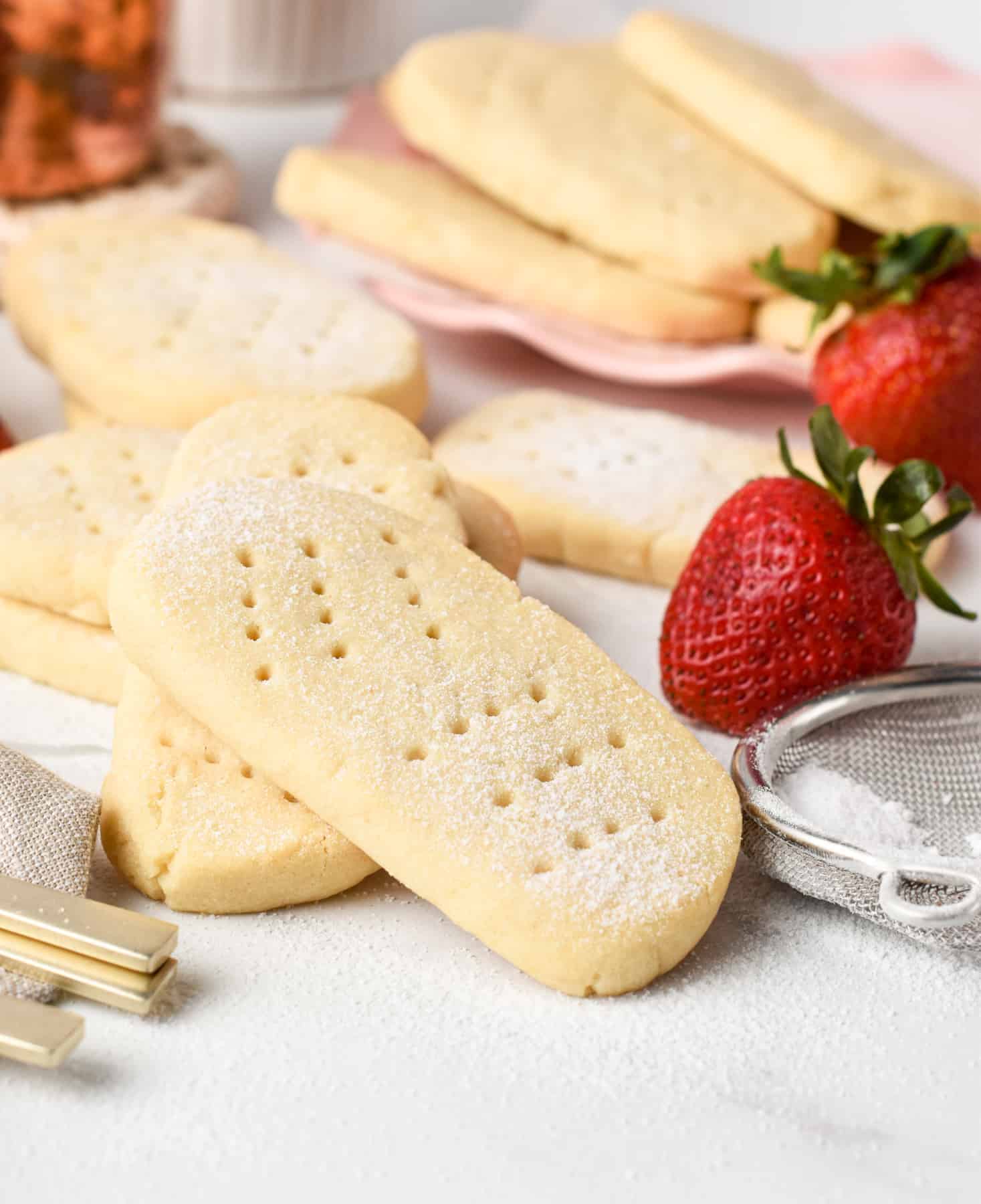 The holiday season is here, and I am all into baking delicious cookies to share with family and friends.
Last week, I shared with you my gingerbread cookies and almond flour chocolate chips cookies. Now, time for more shortbread recipes to add to the Christmas cookie platter.
Are Shortbread Cookies Vegan?
No, classic shortbread cookies use regular butter, and therefore they are not vegan.
How To Make Vegan Shortbread Cookies
Since Classic Shortbread Cookies are almost vegan, all you need to make vegan-friendly shortbread is to use vegan butter as a butter replacement.
Plus, a good shortbread cookie should use less sugar than regular cookies and powdered sugar instead of crystal sugar to get the signature shortbread texture.
So let me walk you through how to make these lovely vanilla shortbread cookies.
Ingredients
All-purpose flour – I didn't try gluten-free all-purpose flour in this recipe, but I am confident that an all-purpose gluten-free flour blend containing gums will work pretty well in this recipe. This recipe doesn't work with coconut or almond flour. Use my coconut flour shortbread recipe or almond flour shortbread recipe if you don't want to use all-purpose wheat flour.
Softened vegan butter – don't use a vegetable shortening or vegan spread. These two options stay soft and creamy even refrigerated, and therefore, your cookie dough will be way too soft and spread. You need a vegan block from brands like Earth Balance butter or Naturli vegan block. Also, coconut oil won't make a good shortbread at all, the cookies will end up very tough and hard, and it's not recommended in this recipe.
Vanilla extract
Powdered sugar– that's the secret of any shortbread recipe. Icing sugar is what makes the cookies softer, crumbly, and not hard as regular cookies.
Salt
Beating The Vegan Butter And Sugar
First, add the softened vegan butter and powdered sugar to the bowl of a stand mixer.
Using the paddle attachment, beat both ingredients together for about 1 minute or until creamy and light in color.
You can also use a mixing bowl and a hand beater to combine ingredients.
Stirring In Flour
Now, add in flour and mix slowly on the low-speed setting of your stand mixer until the dough is crumbly but not dry. The shortbread cookie dough should stick together if you press it in your hand.
Refrigerating The Dough
Now, bring the dough into a brick shape and place it in the center of a piece of plastic wrap or parchment paper. Wrap the rectangle shape of dough tightly and refrigerate for one hour.
Prepare cookie sheet
Line 2 cookie sheets with parchment paper and lightly oil the paper with an oil spray or olive oil, or coconut oil. Set aside.
Preheat your oven to 350°F (180°C).
Remove the cookie dough from the fridge. It should be hard enough to slice. If not, pop it for 5-10 minutes in the freezer.
The cold also increases the crumbly melt-in-your-mouth texture of the shortbread, so I highly recommend that if you have time.
Place the shortbread dough on a chopping board, remove the plastic wrap, and, using a sharp knife, slice thin slices to form a rectangle with a 1/4-inch thickness.
Pricking The Shortbread Cookies
Place each cookie on the prepared baking sheets leaving half thumb space between each cookie. These vegan shortbread cookies won't expand in the oven, so it's fine to place them close to each other.
Now use a fork to prick the top of each cookie.
As a rule of thumb, classic shortbreads are pricked four times. Twice on the top, twice at the bottom, as seen in the pictures below.
Baking The Cookies
Bake the cookies in the center rack of the oven for 10-12 minutes. They shouldn't darken or get golden brown.
Remove the tray from the oven as soon as the top of the cookies is set, but the cookies are still light and white in color.
Cool them down for 10 minutes on the cookie sheet before transferring them on a wire rack to fully cool down.
Then, let them cool down at room temperature for 20 minutes.
Shortbread Texture
A shortbread cookie shouldn't be hard or crunchy. Instead, it's a soft, crumbly, melt-in-your-mouth holiday cookie recipe. If your cookies are too hard, it can be because you:
Over-baked them.
Use coconut oil instead of a plant-based butter.
Used granulated sugar instead of powdered sugar.
Decoration
Most classic shortbread cookies are served plain, but of course, some decoration is always fun and delicious.
You can dip half the shortbread cookies into melted dark chocolate chips or add a pinch of powdered sugar on top.
Storage Instructions
Shortbread cookies are much more sensitive to moisture than other cookies.
To keep their texture perfect, store the shortbread cookies in a sealed cookie jar at room temperature, not in your fridge. These shortbread cookies last up to 1 week.
You can also freeze shortbread cookie dough or shortbread cookies in a zip lock bag and thaw them the day before.
If you freeze the cookie dough, thaw it in the fridge. For baked cookies, thaw at room temperature.
More Vegan Cookie Recipes
I love to create vegan recipes for the holidays, especially vegan cookies. Below are my favorite vegan holiday cookie recipes for you to try:
Have you made these vegan shortbread cookies? Share a comment or review below to tell me how much you loved them!
Your friend, Carine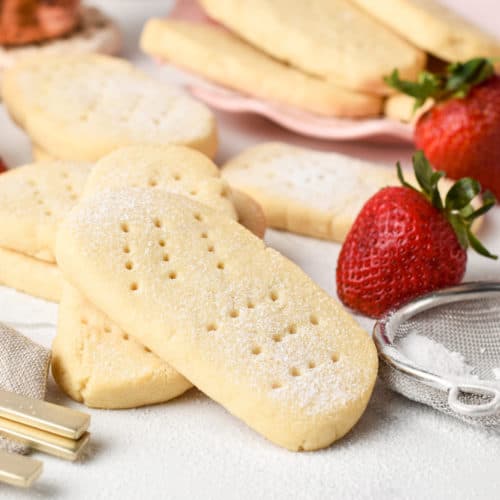 Vegan Shortbread Cookies
These Vegan Shortbread Cookies are buttery, crumbly melt-in-your-mouth vanilla cookies, perfect to celebrate the holiday season. These taste absolutely the same as classic shortbread cookies and none of your guesst will guess they are vegan Christmas cookies.
Pin
Print
Review
Instructions
In a stand mixer using the paddle attachment, beat the vegan butter and powder sugar for 1 minute until smooth, creamy and fluffy. You can also use a hand beater and beat ingredients into a mixing bowl.

Fold in vanilla and salt and keep beating on the low-speed setting until well incorporated. Scrape down the sides of the bowl if the powdered sugar bursts out.

Still on the low-speed setting, gradually add the flour until the dough forms. Scrape the bowl again to bring all the ingredients together and combine until the dough is soft, crumbly but holds well if pressed in your hand. If too wet, add more flour 1 tablespoon at a time. If too dry, add 1 tablespoon of water.

Shape the dough into a rectangle/brick shape- see my pictures above for tips and wrap it into a piece of plastic wrap or parchment paper. Chill for 1 hour in the fridge.

Preheat the oven to 350°F (180°C). Line two cookie sheets with parchment paper. Oil the paper with coconut oil or vegan butter. Set aside.

Remove from the fridge and cut the brick of dough into slices of 1/4 inch (0.6 cm) thick.

Place each shortbread biscuit onto the prepared cookie sheets covered with lightly oiled parchment paper. Use a fork to prick the top of each cookie and form a typical shortbread pattern – see pictures above.

Bake at 350°F (180°C) for 10-12 minutes in the center rack of the oven or until the cookies are set on top but still light in color. They shouldn't become golden brown are they are over-baked and won't be soft and melt-in-your-mouth cookies.

Cool down on a cooling rack for 10 minutes before transferring onto a wire rack and cool down for an extra 20 minutes.
Storage
Store in a sealed cookie jar at room temperature for up to 1 week, or freeze and thaw the day before at room temperature.
Share on Facebook
Pin Recipe
Nutrition
Serving:
1
cookie
|
Calories:
121.7
kcal
|
Carbohydrates:
14.4
g
|
Protein:
1.4
g
|
Fat:
8.2
g
|
Saturated Fat:
1.5
g
|
Polyunsaturated Fat:
2.5
g
|
Monounsaturated Fat:
3.9
g
|
Trans Fat:
1.5
g
|
Sodium:
210.6
mg
|
Potassium:
16.8
mg
|
Fiber:
0.4
g
|
Sugar:
0.1
g
|
Calcium:
2.5
mg
|
Iron:
0.6
mg
|
Magnesium:
3.1
mg
|
Phosphorus:
15.3
mg
|
Zinc:
0.1
mg