Vegan Gingerbread Cookies
These Vegan Gingerbread cookies are soft in the middle and crispy on the edges with the best balance of spices and delicious cinnamon, molasse, and ginger flavor.
So, let's start the holiday season with the most classic Vegan Christmas cookie recipe ever!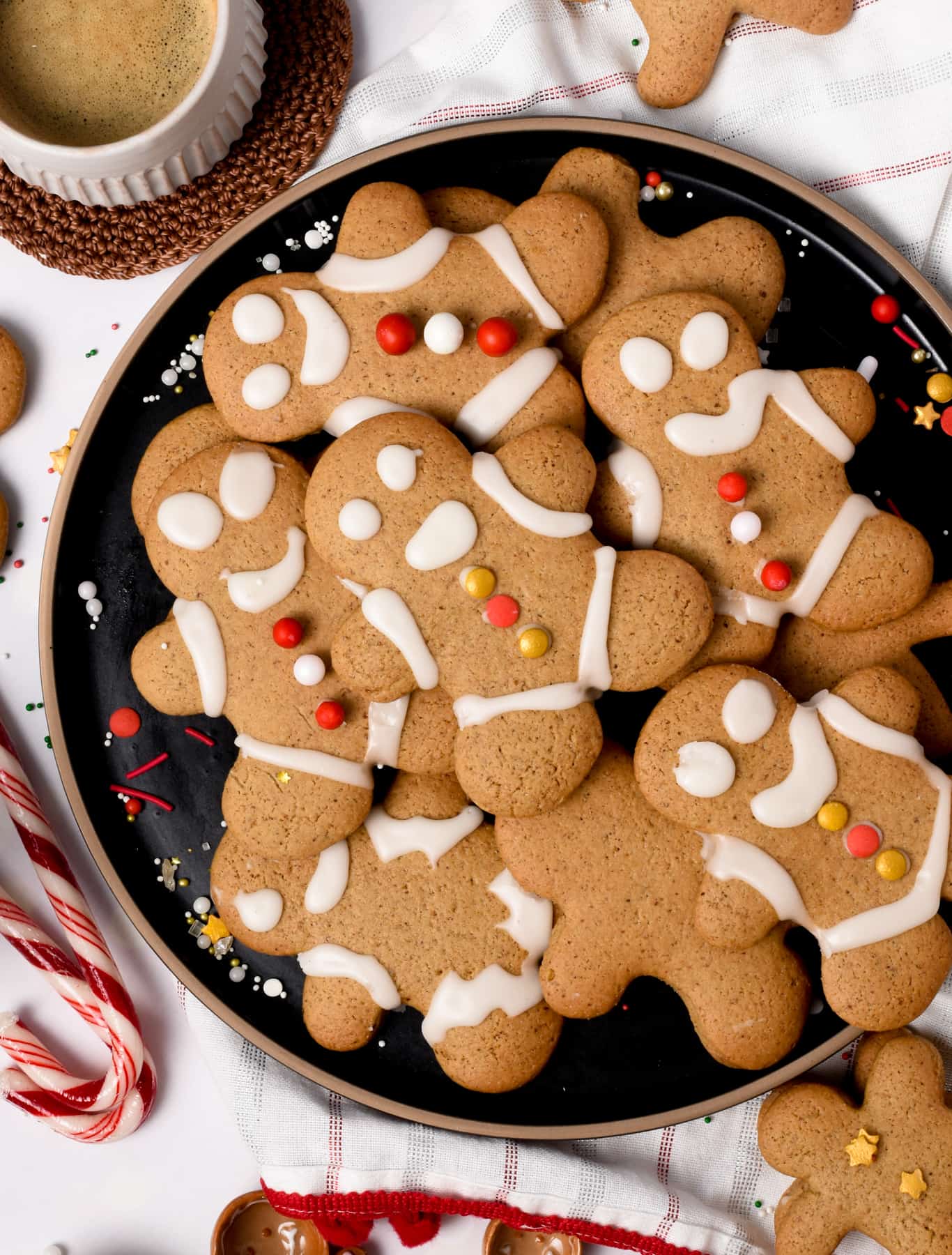 The countdown to Christmas has started in our house, and the smell of these freshly baked Gingerbread cookies really kicks in the holiday season.
I probably made these vegan cookies ten times in so many shapes, and however I make them, the house smells like Christmas, and the kids are so excited.
So let me share with you how you can make healthy gingerbread cookies, because yes, these are not only egg-free gingerbread cookies, they are also made with less sugar and molasse a naturally high plant-based-iron ingredient.
How To Make Vegan Gingerbread Cookies
It's so satisfying to make your own homemade gingerbread man cookies. Even better with this easy recipe, you can basically make it in one bowl with only a few ingredients.
Ingredients
All you need to make gingerbread cookies are:
All-purpose flour – I didn't test the recipe with gluten-free flour, even though I am sure you can swap wheat flour for a 1:1 gluten-free all-purpose flour as long as it contains a stabilizer like guar gum or xanthan gum.
Flaxseed meal – can swap for ground chia seeds. This acts as an egg replacer in your vegan cookie recipe.
Unsweetened almond milk or any non-dairy milk you like oat milk, soy milk, or coconut milk.
Vanilla extract
Baking soda
Salt
Ground ginger
Ground cinnamon
All spices – or more cinnamon if you don't have this store-bought mix.
Unsulphured molasse or maple syrup, but any other liquid syrup works. But keep in mind that molasse is what makes gingerbread cookies darker in color, chewy and soft in the middle with this delicate nutty flavor. Plus, as a vegan, you should definitely add molasse to your day as it's an iron-loaded ingredient! What's better than eating cookies that fuel you up with the good stuff?
Vegan butter – I used soft vegan butter. I left the butter for 30 minutes at room temperature to soften before using it in the recipe. However, I didn't get any good results with coconut oil, so I don't recommend that option.
Soft brown sugar – most gingerbread cookie recipes use dark brown sugar. That's up to you, but I prefer soft brown sugar. It contains more moisture and makes the cookie softer in the middle.

Beating Butter and Sweetener
First, add the softened vegan butter, soft brown sugar, vanilla extract, and molasse – or liquid sweetener – in a large bowl or the bowl of your stand mixer.
Using a hand beater or your stand mixer with the paddle attachment, beat the butter until the mixture is creamy and light brown -about 1 minute on high speed.
Stirring In Dry Ingredients
Stop the beater and add the remaining ingredients to the wet ingredients, starting with a flaxseed meal, almond milk, flour, and spices.
Beat again on low speed until the batter comes together into a thick, dark brown sticky cookie dough.
Refrigerating The Dough
Split the dough in half to make two even batches of cookie dough.
Place each cookie dough ball onto a piece of plastic wrap. Next, wrap each ball and flatten them into a disc, as seen in the pictures above.
Place each disc in the fridge for at least 1 hour or overnight. This is a must-do. Refrigerating gingerbread cookie dough makes it easier to roll but, most of all, extremely flavorsome!
This is actually great news if you plan to meal prep your vegan Christmas cookies.
You can make this cookie dough up to 2 days before, store it in the fridge, roll it and cut it out just before the big day.
Rolling The Dough And Cutting It
Now remove the chilled dough, remove the plastic wrap, and place it onto a lightly floured surface.
Knead the dough for a few seconds and use some flour if it's too sticky. The dough should be soft and easy to roll. It shouldn't stick to the roller pin at all, or it means you are missing some flour.
Flatten and start to roll into a thin 1/4 inch thickness. Use a cookie cutter to cut out the cookie dough into the shapes you like.
Note that the smaller the cookies are, the faster they bake. My regular Gingerbread Man Cookies are about 12 cm in height and bake in 12 minutes.
Baking
Transfer the gingerbread cookies onto a cookie sheet covered with lightly oiled parchment paper.
To do so, I gently slide a spatula under each cookie and transfer them onto the baking sheet.
Make sure you leave some space between each cookie because these expand slightly in the oven.
Preheat the oven to 350°F (180°C) and bake the vegan cookies in the center rack of the oven for 10 – 12 minutes or until the sides are golden brown, and the middle has slightly raised and still moist and soft.
Cool them down for 5 minutes on the cookie rack before transferring them to a cooling rack for a few hours.
Decorating
Of course, gingerbread cookies are much more beautiful if decorated with royal icing. That's why I created a vegan royal icing recipe for you to pipe on top of your cookies.
The recipe is pretty straightforward and easy to make from powdered sugar.
Tips For Icing Beautiful Cookies
My tips to easily set icing on cookies are to:
Pop the gingerbread cookies for 10 minutes in the fridge before icing them. This is just enough to make their surface cold and stick the vegan icing recipe on top of the cookie.
Use a cold royal icing fresh from the fridge. I store mine for 1 hour in the fridge before filling my piping bag.
Use the smallest nozzle of the piping bag to avoid too much icing running out at once,
Never decorate hot or lukewarm cookies with any icing because the cookie dough will melt your icing resulting in a big mess.
Next part, sprinkle! You can find lots of vegan sprinkles brands on the market that makes the cookies colorful and kids-friendly.
I used a touch of the vegan icing recipe to stick each sprinkle on top of my gingerbread man cookies.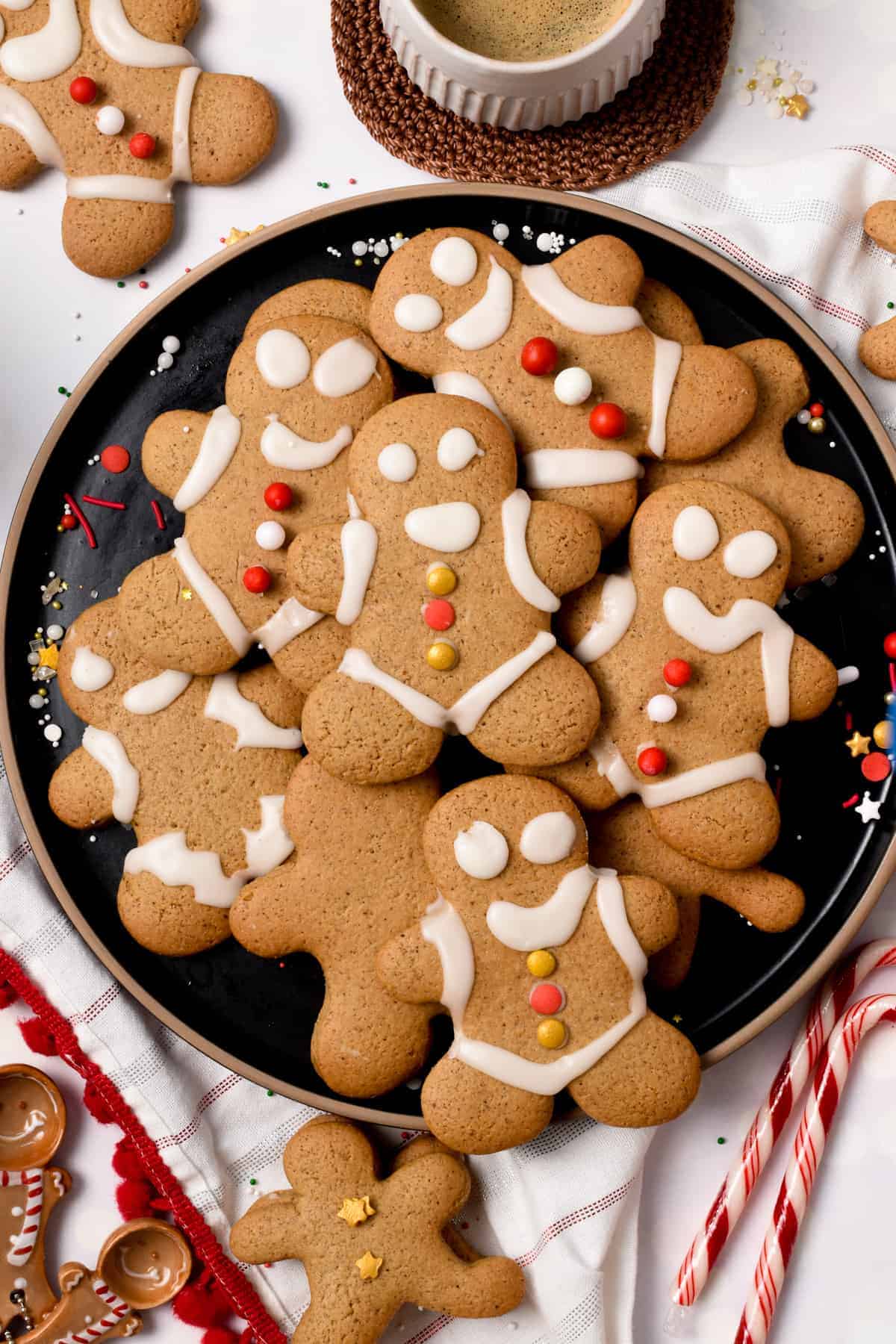 Storage
These are egg-free gingerbread cookies which means they store very well at room temperature if placed in a cookie jar.
I kept these cookies for up to 1 week without seeing any alteration in texture or color. You can also store them in the fridge, but they harden a bit when refrigerated.
The last option, if you made more than one batch, is to freeze the extra gingerbread cookies in a ziplock bag and thaw them at room temperature the day before serving.
Swaps
Gluten-free options – as mentioned earlier, I didn't try the recipe with gluten-free flour but by experience, I am sure that a 1:1 all-purpose gluten-free flour blend will work as a wheat flour replacement. However, this recipe won't work with almond flour or coconut flour.
Flax meal – you can replace flax meal with ground chia seeds or cornstarch in the same amount.
Other sweeteners – you can swap brown sugar for coconut sugar for a low GI option and molasse for maple syrup or coconut nectar.
Sugar-free options- molasse for sugar-free maple syrup and swap the brown sugar for golden monk fruit erythritol blend.
Frequently Asked Questions
Can I make a vegan gingerbread house with this recipe?
Yes, you can use this dough to make a lovely Christmas gingerbread house, but you will have to double or triple the recipe.
Also, bake longer, around 16-18 minutes, to make harder cookies that hold the house for weeks.
My dough is too sticky, what can I do?
Simply add more flour to the chilled dough, and knead to incorporate until the dough is easy to roll on a floured surface and won't stick to the rolling pin.
Can I make this cookie dough without a stand mixer?
Yes, you can use an electric beater to beat butter and sweetener or a wire whisk working fast to beat and cream vegan butter.
Then, use a silicone or wooden spoon to bring the ingredients together.
Finally, when it becomes hard to stir, oil your hands, and knead with your hands, the dough is sticky, so that's why I recommend a stand mixer with the paddle attachment.
More Vegan Cookie Recipes
Below are my favorite Vegan Christmas Cookies recipes for you to try: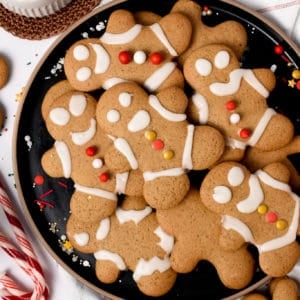 Vegan Gingerbread Cookies
An easy Egg-free Gingerbread Man Cookie recipe for your holiday cookie platter.
Pin
Print
Review
Servings: 12 gingerbread men cookies
Calories: 179.6 kcal
Instructions
In the bowl of a stand mixer, using the paddle attachment, beat vegan butter, soft brown sugar, and molasse for 1 minute on high speed, until smooth and creamy.

Next, beat in almond milk, flaxseed meal, and vanilla and keep beating for 30 seconds on medium speed.

Stop beater, add the remaining dry ingredients: flour, baking soda, salt, ground ginger, ground cinnamon, all spices.

Beat the dry ingredients into the wet ingredients at low speed. The cookie dough will be wet and slightly sticky, and that's normal.

Divide the dough into two balls of the same size. Wrap each ball into plastic wrap tightly and slightly flatten into a disc. Refrigerate the dough for 1-2 hours or overnight. Chilling is compulsory, or the dough would be fragile and gingerbread flavors not intense.
Roll dough
Preheat the oven to 350°F (180°C). Line parchment paper onto two or three cookie sheets and lightly oil each with oil spray. Set aside.

Remove one disc of chilled gingerbread cookie dough from the fridge. Flour your kitchen work surface, place the dough in front of you, sprinkle extra flour on the top, and roll into a thin disc of 1/4 inch thickness. Gingerbread dough cracks easily. Use your fingers to patch the cracks if needed.

Cut into shapes and place each gingerbread man in the prepared cookie sheet leaving half thumb space between each.
Bake
Bake for 9-12 minutes or until golden brown. If your cookie cutters are smaller, they cook faster, around 6-8 minutes. Just watch closely and remove them from the oven when the sides are golden brown. For crunchier cookies, bake for longer. For softer gingerbread cookies, cook less time.

Cool down for 5 minutes on the cookie sheet before transferring carefully on a wire rack. Cool entirely before glazing with vegan royal icing.
Decoration
Use one batch of my vegan royal icing and some vegan sprinkles to decorate the cold cookies. Pop the cookies 10minutes in the fridge to set the icing easily.
Storage
Store at room temperature in a cookie jar or on a plate for up to 1 week or freeze for later.
Share on Facebook
Pin Recipe
Nutrition
Serving: 1cookie (no icing) | Calories: 179.6kcal | Carbohydrates: 32.6g | Protein: 2.3g | Fat: 4.5g | Saturated Fat: 1.1g | Polyunsaturated Fat: 1.3g | Monounsaturated Fat: 1.7g | Trans Fat: 0.1g | Sodium: 146.2mg | Potassium: 180.6mg | Fiber: 1g | Sugar: 16g | Vitamin A: 241.7IU | Vitamin C: 0.1mg | Calcium: 42.1mg | Iron: 1.6mg | Magnesium: 29.9mg | Phosphorus: 28.7mg | Zinc: 0.2mg