These Pecan Snowball Cookies are easy, melt-in-your-mouth shortbread cookies filled with pieces of crushed toasted pecans.
This is the perfect Christmas cookie recipe to celebrate the holiday season.
It's almost Christmas, and what I love the most about this season is baking Christmas cookies of all kinds. Last year, I shared with you my peppermint snowball cookies, and you loved them.
Snowball cookies are not only cute, but they are also an easy, no-fail Christmas cookie recipe for beginners.
It's so simple to bring the ingredients together, and their melt-in-your-mouth texture never disappoints.
So let me share with you how to make these delicious pecan snowball cookies.
What Are Pecan Snowball Cookies?
You may also know them as Russian Tea Cakes or Mexican Wedding Cookies, but they all are the same recipe.
It's a buttery, thick shortbread cookie filled with chopped pecans and coated with confectioner sugar.

How To Make Pecan Snowball Cookies
It's super easy to make these buttery shortbread cookies to succeed in making delicious snowball cookies. You need to use softened butter and toasted chopped pecans.
In fact, if your butter is too hard and cold, the cookie dough ends up crumbly and won't come together.
Plus, the untoasted nuts taste is not very pleasant, turning the cookies a bit bitter.
Ingredients
All you need to make the best vegan snowball cookies with pecans are:
Butter of Choice – We used plant-based margarine, but plant-based butter works as well. Don't use coconut oil. It won't come out great at all.
All-Purpose Flour or spelt flour. I didn't try all-purpose gluten-free flour, but some readers reported success with a 1:1 ratio blend containing xanthan gum.
Powdered Sugar – also known as confectioner's sugar.
Vanilla Extract
Toasted Pecan – finely chopped
Toasting The Pecans
Before you start, bring the butter to room temperature for about 30 minutes. You want the butter to be soft and creamy for the best results.
Meanwhile, preheat the oven to 350°F (180°C). Place the pecans whole on a small baking tray and bake them for 5 to 6 minutes or until fragrant and roasted.
Remove the pecan nuts from the oven and transfer them into a bowl to cool down.
When cooled, finely chop the toasted pecans on a chopping board using a sharp knife. Set aside.
You can also dry-roast the pecan nuts in a non-stick saucepan over medium heat. Cook them for about 2 minutes while occasionally stirring them, and cook them until fragrant.
Creaming Plant-Based Butter
Place the softened butter, powdered sugar, and vanilla in a medium bowl or the bowl of your stand mixer.
Using a paddle attachment or beating tools of an electric mixer, beat the butter, vanilla, and powdered sugar until creamy and smooth. That's what we call creamed butter in baking.
Adding Flour
Now, pour the flour and beat on low speed until the dough comes together. It shouldn't be dry or crumbly the dough should be creamy and smooth.
Finally, fold in the chopped toasted pecan nuts and beat on low speed for a few seconds to just incorporate.
If too dry, it means you probably didn't add enough butter or too much flour. In this case, add a bit of water, 1 or 2 teaspoons at a time, and beat to incorporate.
Refrigerating The Dough
Film the dough ball with plastic wrap and refrigerate it for 15 minutes.
Meanwhile, preheat the oven to 350°F (180°C). Line two cookie sheets with parchment paper. Slightly oil the paper with oil spray but not too much of the cookies will spread.
Then, scoop out about 1 ½ tablespoons of batter. I used a small cookie dough scoop to do so. Slightly oil your hands and roll the dough between your palms into a ball.
Baking The Cookies
Place the cookie dough balls on the baking sheet and leave one thumb of space between each cookie dough ball.
They won't expand much, but it makes it easier to remove them from the tray later on.
Bake one pan on the center rack and the other on the rack just under for about 15 minutes or until slightly golden.
Don't overbake snowball cookies to keep them moist and soft in the center.
Let the cookies cool down on the rack for 5 minutes or until easy to touch, then transfer them to a cooling rack for 5 more minutes.
Rolling Into Powdered Sugar
The secret of perfect snowball cookies with lovely dust of powdered sugar around them is to roll the lukewarm baked cookies in the powdered sugar.
If the cookies are too hot, the powdered sugar will melt. If too cold, the sugar won't stick to the cookies.
Place the baked snowball cookies into a bowl filled with powdered sugar and roll them to coat the cookie dough balls with the sugar.
Bring back to the wire rack and repeat until all the cookies are coated with powdered sugar.
Add-Ons
You can play with flavors and add some delicious ingredients to the batter. Try halving the amount of pecan and stir in some of the below instead:
Mini Chocolate Chips – white or dark chocolate chips are great additions to the base recipe.
Walnuts – toasted and chopped
Slivered almonds
Crushed Candy Canes
Almond Extract
Storage Instructions
These pecan snowball cookies store very well in an airtight metallic cookie jar, airtight container, or glass jar. They last about 6 days at room temperature or 3 months in zip-lock bags in the freezer.
Thaw the cookies the day before serving at room temperature.
Allergy Swaps
Below are some substitution suggestions to try if you are allergic to some of the recipe's ingredients.
Gluten-Free – I didn't try gluten-free flour, but I am confident that a 1:1 all-purpose gluten-free flour blend should work.
Sugar-Free – Powdered erythritol works in this recipe, but don't use powdered xylitol, or the cookies will be too soft.
Butter – Margarine and plant-based butter works perfectly, and that's our recommendation.
Nut-Free – You can swap pecans for sunflower seeds, pumpkin seeds, or shredded coconut, or leave them out to make plain snowball cookies
Frequently Asked Questions
Below are my answers to your most frequent questions about this recipe.
Can I Replace Pecans With Something Else In Snowball Cookies?
Yes, you can swap pecans for shredded coconut, chocolate chips, or toasted seeds.
Can I Use Almond Flour Or Coconut Flour To Make Snowball Cookies?
No, this recipe won't work with low-carb flour. You must use all-purpose flour.
Are Classic Snowball Cookies Vegan?
No, the traditional recipe uses butter, but it's easy to make vegan snowball cookies using plant-based butter, as we do here.
Can I Use A Food Processor For Snowball Cookies?
Yes, you can make this buttery pecan snowball cookie dough in a food processor using the S-shape dough attachment.
Have you tried this pecan snowball cookie recipe? Share a comment or review below.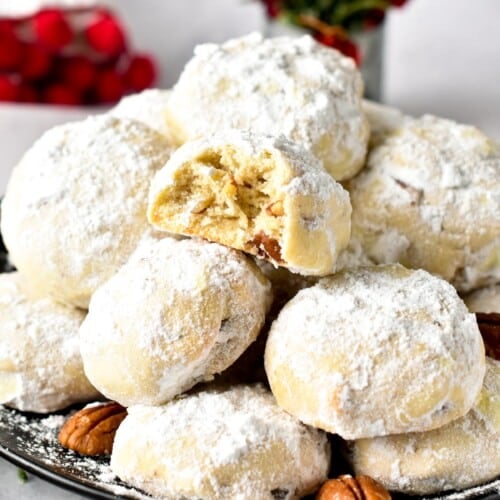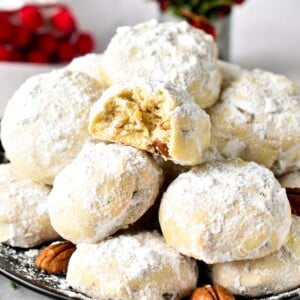 Pecan Snowball Cookies
These Pecan Snowball Cookies are easy, melt-in-your-mouth shortbread cookies filled with pieces of crushed toasted pecans. This is the perfect Christmas cookie recipe to celebrate the holiday season.
Pin
Print
Review
Ingredients
For rolling and decorating cookies
Instructions
Preheat the oven to 350°F (180°C). Line 2 cookie sheets with parchment paper and lightly oil them with coconut oil. Set aside.
Toast Pecans
Place the whole pecans on a non-stick baking sheet covered with parchment paper. Bake for 5-6 minutes until fragrant and toasted.

Cool down on a cooled plate, then finely chop the pecans on a chopping board with a sharp knife. Set aside.
Cookie dough
In a large mixing bowl, or the bowl of your stand mixer using the paddle attachment, beat the softened plant-based butter, vanilla extract, and powdered sugar until light and fluffy.

Stir in flour and beat on the low-speed setting to incorporate. The dough is ready when everything comes together into a creamy batter.

Fold in chopped, cooled pecan and beat for a few seconds to incorporate.

Film the bowl with plastic wrap or a silicone lid.

Chill the dough for 15 minutes in the fridge.

Meanwhile, prepare a bowl with extra powdered sugar to roll the cookies after baking.

Remove the dough from the fridge, and divide it into 15 balls of the same size – about 1.5 tablespoons of dough each. Roll each dough ball nicely between your hands and place it on the prepared cookie sheet, leaving half a thumb of space between each.

Bake the cookies for 12-15 minutes or until just golden brown at 350°F (180°C).

Cool them down for 5 minutes on the baking sheet, then 5 minutes on a wire rack until lukewarm.

Roll the lukewarm cookies into the bowl with powdered sugar to fully coat.

Cool down the pecan snowball cookies on a wire rack.
Storage
Store in a sealed cookie jar at room temperature for 4-6 days or a week in the fridge.
Share on Facebook
Pin Recipe
Nutrition
Serving:
1
cookie
|
Calories:
212
kcal
|
Carbohydrates:
23.5
g
|
Protein:
2.5
g
|
Fat:
15.9
g
|
Saturated Fat:
2.9
g
|
Polyunsaturated Fat:
4.3
g
|
Monounsaturated Fat:
8
g
|
Sodium:
143.1
mg
|
Potassium:
47.1
mg
|
Fiber:
1
g
|
Sugar:
0.3
g
|
Vitamin A:
544.1
IU
|
Vitamin B12:
0.02
µg
|
Vitamin C:
0.1
mg
|
Calcium:
10.8
mg
|
Iron:
1
mg
|
Magnesium:
10.6
mg
|
Phosphorus:
37.5
mg
|
Zinc:
0.4
mg