Peanut Butter Dip (6g Protein, 110kcal)
This Peanut Butter Yogurt Dip is an easy healthy, high-protein snack packed with 6 grams of protein per serving and 110 kcal.
It's the perfect healthy snack to dip in apple slices or spread on toast.
High-protein recipes and protein snacks are excellent ways of recharging after a workout.
If you don't feel like baking a batch of protein pancakes, try this peanut butter yogurt dip instead.
Why You'll Love This Recipe
It's ready in 10 minutes, with the most delicious fresh creamy texture, and packed with 6 grams of protein per serving to keep you full for hours.
Plus this recipe is naturally:
Dairy-free – no need for cream cheese or dairy at all
Low in saturated fat – using only half creamy peanut butter and powdered peanut butter to decrease fat but keep the protein and peanut butter flavor on top
What's Peanut Butter Dip?
It's a peanut butter yogurt dip made from 3 simple ingredients, high-protein yogurt, peanut butter, and refined sugar-free sweetener.
It's the perfect dip to snack on and for dipping pieces of apple or pear.
How To Make Peanut Butter Yogurt Dip
All you need to make this delicious dip are 6 basic ingredients.
Ingredients
Natural Peanut Butter with no added sugar, no added oil.
Greek Yogurt you love – my favorite options are plant-based Greek-style yogurt high in protein like oat yogurt, soy yogurt, or coconut yogurt.
Maple Syrup or any liquid sweetener to add sweetness to the dip. You can use sugar-free liquid syrup or sugar-free granulated sweetener to make a low-carb dip.
Vanilla Extract – Vanilla extract gives this snack even more flavors.
Cinnamon – for a touch of spices, cinnamon is the best companion to apples.
Powdered Peanut Butter or protein powder – This is optional but it thickens the dip, enhances the peanut butter flavor, and also boosts the protein content of the peanut butter yogurt dip.
Mix together
Simply bring all the ingredients into a mixing bowl and stir to combine.
Serve in a serving bowl immediately or refrigerate for 1 hour for a cool dip.
Best Food To Dip In Peanut Butter Dip
You can dip pretty much every fruit in this dip.
The best fruits to dip in are:
Apple slices
Pear slices
Orange
Strawberries
Pineapple
Other things to dip in peanut butter:
Celery – yes, celery and peanut butter, even sweet, taste great!
Biscuits like my homemade almond shortbread cookies or vegan shortbread cookies or graham crackers.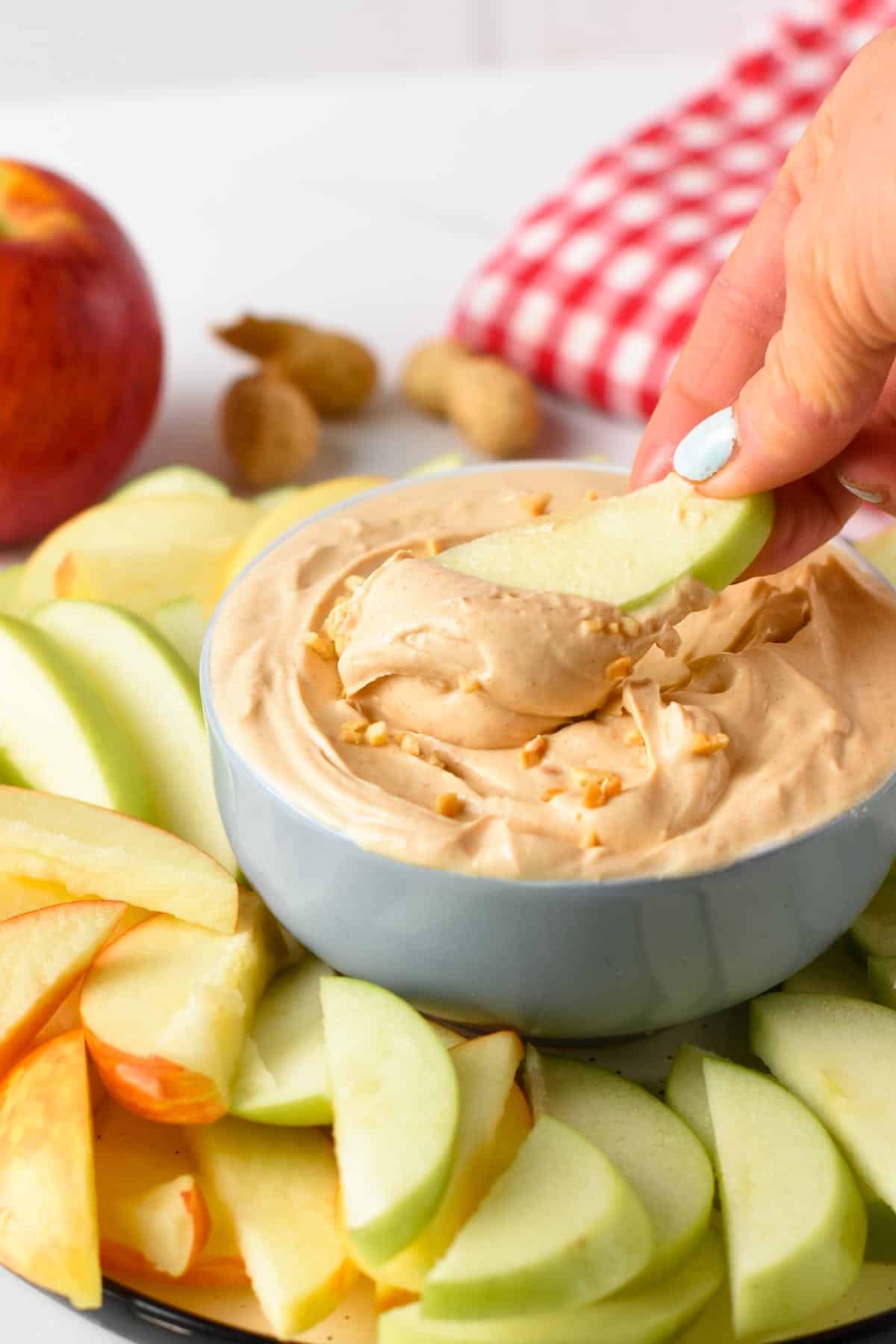 Toppings
This peanut butter dip is delicious plain but even better with some crunchy topping that you can add on top or stir in.
The best additions are 1/4 cup of one or a mix of the below ingredients:
Dark Chocolate Chips
Chopped Nuts like pecans, walnuts, toasted crunched peanuts
Coconut Flakes
Serve Peanut Butter Dip
This is a delicious recipe to fix a sweet craving in the afternoon or after a workout.
Because this dip is packed with protein, low in sugar, and low in calories, it's very fulfilling and doesn't trigger sugar cravings.
Serve 1/4 cup of this with one small apple sliced in wedges and you can have the healthier 150kcal snack packed with 6 grams of plant proteins.
To keep it even lower in sugar and calories, use low sugar fruits or fruits high in water like:
Raspberries
Strawberries
Melon and watermelon
Blackberries
Blueberries
Storage
You can store this peanut butter dip in the fridge for up to 3 days in a sealed airtight container.
You can also freeze the dip and thaw it in the fridge the day before serving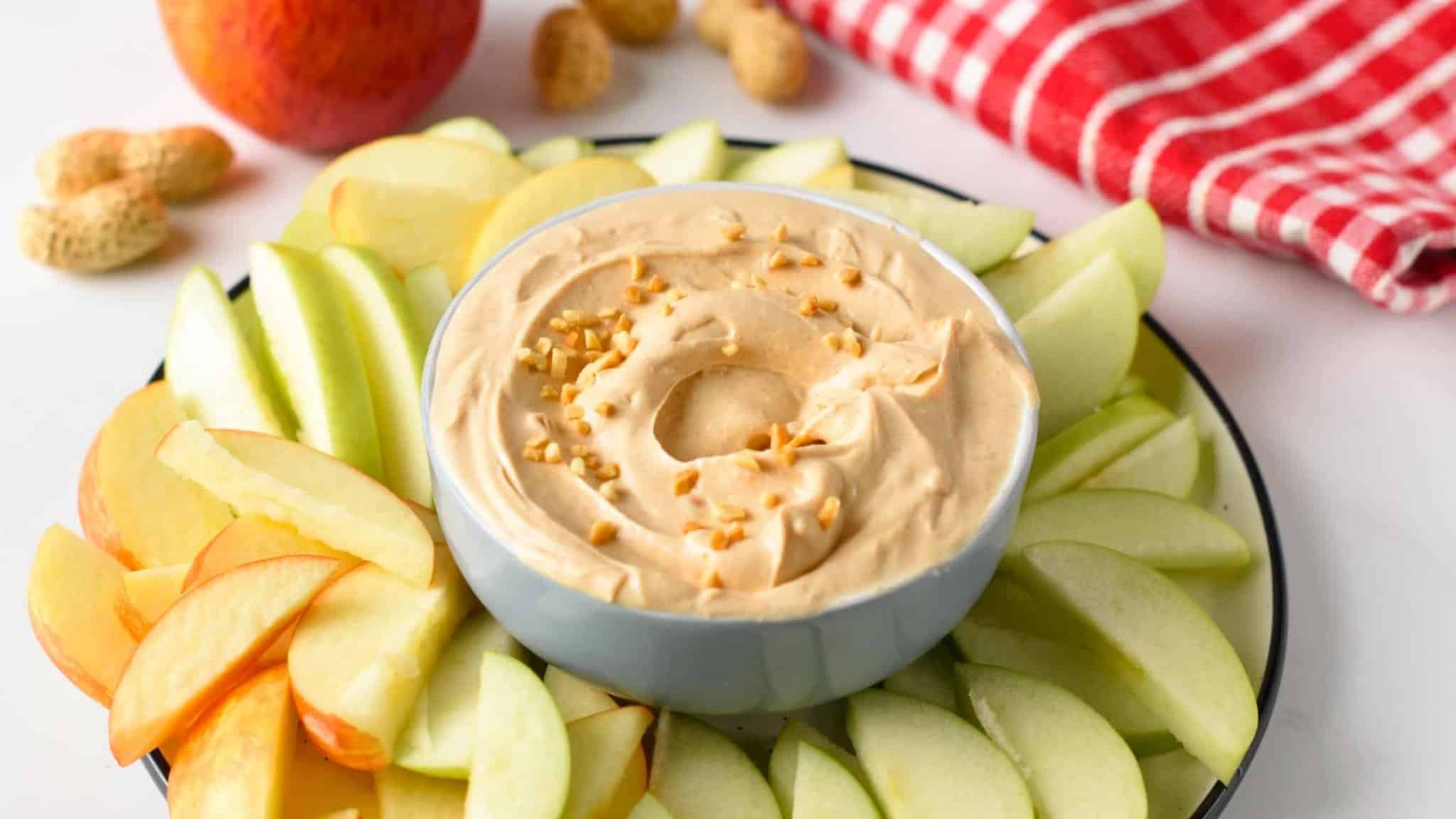 Allergy Swaps
Below I listed some allergy swaps options to make this recipe suitable for everyone:
Peanut Allergy – use other nut butter like almond butter or sun butter for a totally nut-free option.
Gluten-Free – the dip is naturally gluten-free.
Dairy-Free – we develop this recipe to be dairy-free using plant-based yogurt and it works very well.
Sugar-Free Keto Option – use a natural sugar-free sweetener and unsweetened protein powder.
Frequently Asked Questions
Below are the answers to your most popular questions about this peanut butter dip.
Can I Skip The Sweetener?
Yes, you can skip the sweetener, it won't be very sweet but the recipe works sugar-free.
Can I Skip Protein Powder?
Yes, this is optional and it's added to make the dip thicker, and creamier and boost its protein content. However, the recipe works well without
My Dip Is Too Thick, What Can I Do?
If you added protein powder a bit too much, it will dry out the dip.
To balance that just add a splash of your favorite milk, almond milk or coconut milk are great options.
More High-Protein Recipes
If you like easy, healthy high-protein recipes, you'll love these:
Have you made this peanut butter dip recipe? Share a comment or review below.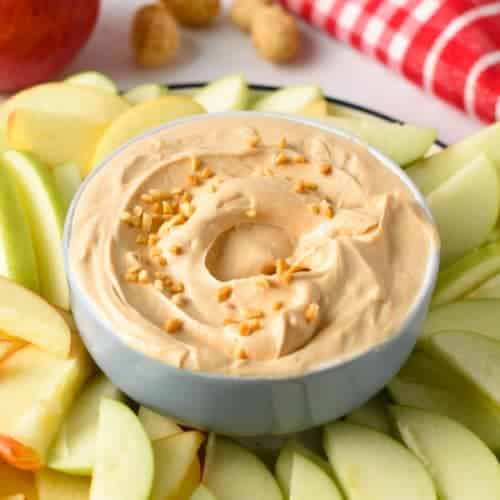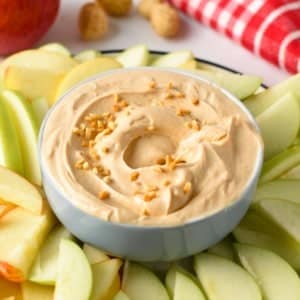 Peanut Butter Dip
This Peanut Butter Yogurt Dip is an easy protein snack perfect to dip apple slices or spread on toast.
Pin
Print
Review
Servings: 6 servings (1/4cup)
Calories: 114.6 kcal
Instructions
In a bowl, stir maple syrup and peanut butter until smooth. Microwave for 30 seconds if your mixture is too tough to mix together.

Stir in the yogurt, vanilla extract, cinnamon, and powdered peanut butter or protein powder, if used.

Serve as a protein dip with apple slices of fruits you love.
Storage
Store up to 3 days in the fridge in an airtight container or freeze for later.
Share on Facebook
Pin Recipe
Nutrition
Serving: 1serving (1/4 cup) | Calories: 114.6kcal | Carbohydrates: 9.6g | Protein: 6.2g | Fat: 6.4g | Saturated Fat: 1.3g | Polyunsaturated Fat: 1.3g | Monounsaturated Fat: 2.7g | Cholesterol: 5.5mg | Sodium: 70.6mg | Potassium: 105mg | Fiber: 1.4g | Sugar: 5.3g | Vitamin A: 0.5IU | Vitamin B12: 0.8µg | Vitamin C: 5mg | Vitamin D: 0.5µg | Calcium: 92.1mg | Iron: 0.2mg | Magnesium: 19mg | Phosphorus: 36.6mg | Zinc: 0.3mg