Protein Pancakes (15g Protein, No Eggs)
These fluffy Protein Pancakes are the easiest recipe for a high-protein breakfast.
They are ready in 15 minutes, super fluffy, and packed with 15 grams of protein per serving! Plus, they are egg-free and dairy-free.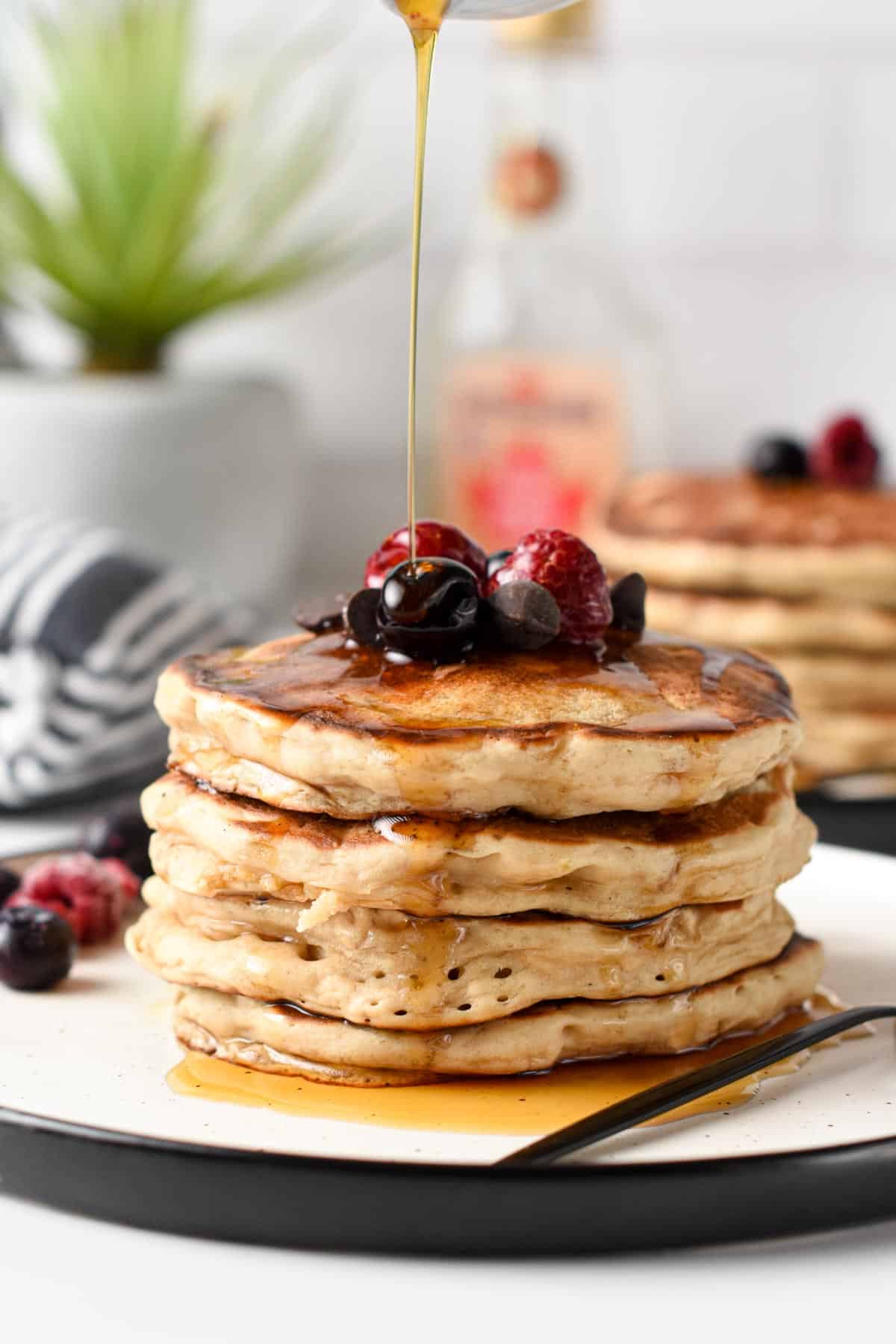 What Are Protein Pancakes?
I love high-protein recipes as a fulfilling post-workout breakfast, and these pancakes are the easiest to make.
I adapted my vegan protein pancake recipe to increase the protein content even more, and it's a success. They are the fluffiness eggless protein pancakes and so tasty.
So let's see how to make the best protein pancakes in 10 minutes for breakfast.
How To Make Protein Pancakes
Protein pancakes are the easiest to make, and the great news is that you only need simple pantry ingredients to make them!
Ingredients
All-Purpose Flour – Use either classic all-purpose flour or white wholewheat flour for a boost of fiber.
Protein Powder – I am using vanilla plant-based protein powder made with pea protein. Any brand and flavor should work as well.
Baking Powder
Sweetener – You can use any natural crystal sweetener, such as coconut sugar, white sugar, allulose, tagatose, or erythritol.
Unsweetened Almond Milk – I recommend using high-protein milk. My almond milk contains 4 grams of protein per cup. It's fortified with soy protein which increases the pancake protein content.
Salt
Lemon Juice – Lemon juice or apple cider vinegar. This makes the pancakes ultra fluffy as the acidity of this ingredient breaks down the carbs and starches from the flour into carbon dioxide bubbles.
Old-Fashioned Rolled Oats – Oats add fiber and proteins to the pancakes.
Optional Add-Ons
You can incorporate any of the ingredients below into the batter for a boost of flavor or extra protein:
2 tablespoons of hemp seeds – this up the protein content even more.
1/3 cup of blueberries
2-3 tablespoons of dark chocolate chips
1/4 cup of chopped nuts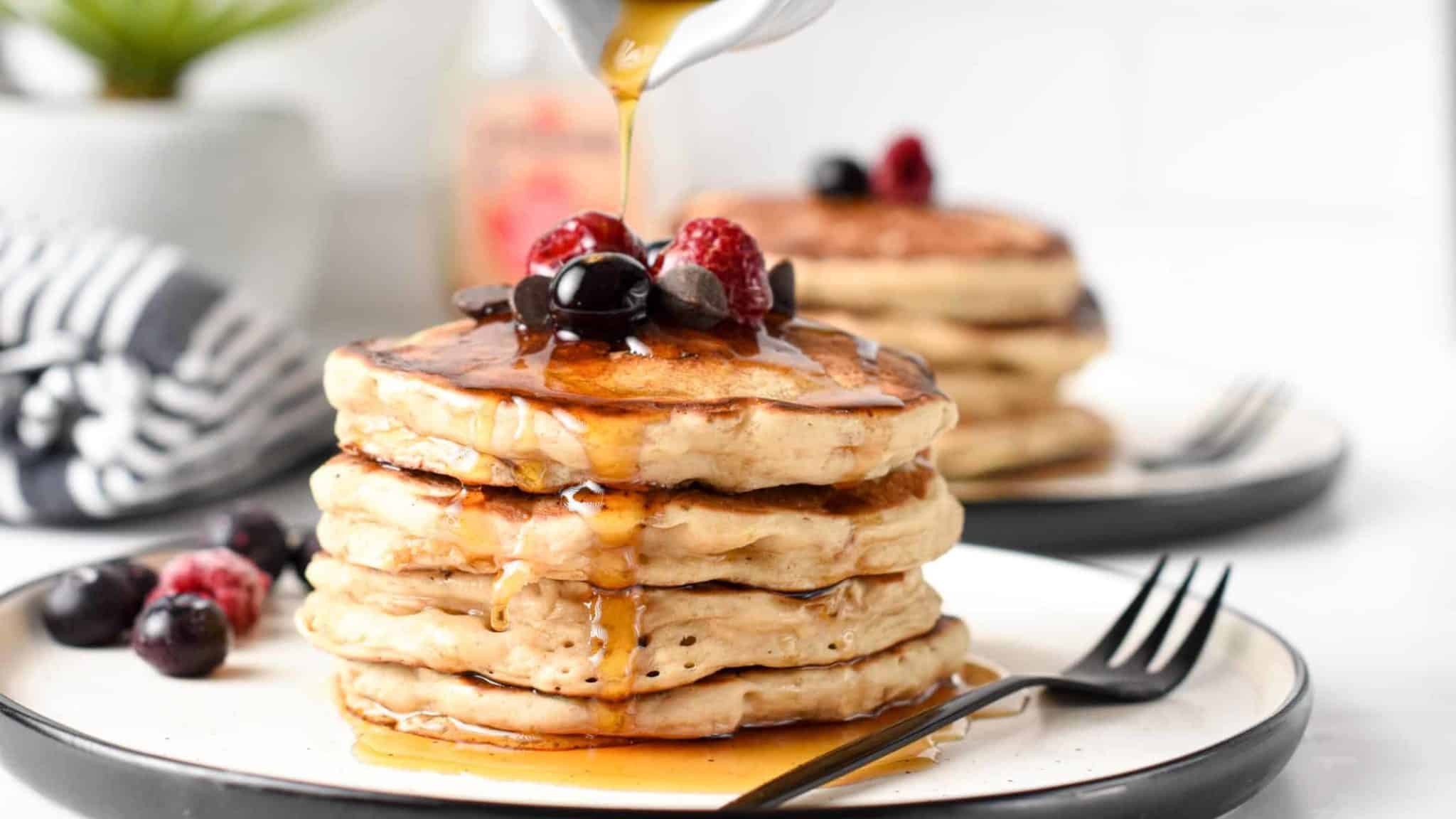 Preparing The Batter
In a mixing bowl, whisk the dry ingredients together: flour, oats, protein powder, salt, and sweetener.
I use a sugar-free crystal sweetener like erythritol, but you can use coconut sugar or sugar.
Pour the liquid ingredients on top of the dry ingredients: almond milk, lemon juice, and vanilla extract.
Note that if you are using vanilla protein powder, the vanilla extract is optional, or the vanilla flavor will be overpowering.
Cooking Protein Pancakes
Warm a pancake griddle or non-stick crepe pan over medium heat.
Spray some olive oil on the surface, and use a piece of absorbent paper to rub oil onto the pan.
Scoop about 1/4 cup of pancake batter and pour onto the griddle or pan.
I like to keep the pancakes medium, but you can make smaller pancakes using two tablespoons of batter at once.
Cook for 2 to 3 minutes or until some bubbles form on the top of the pancakes and when the sides dry out.
Then, slide a spatula under the pancakes and flip them over.
Cook for an extra minute on the other side before cooling down on a wire rack.
You can foil the cooked pancakes to keep them warm while cooking the remaining batter.
Cook all the pancakes, greasing the pan between each addition.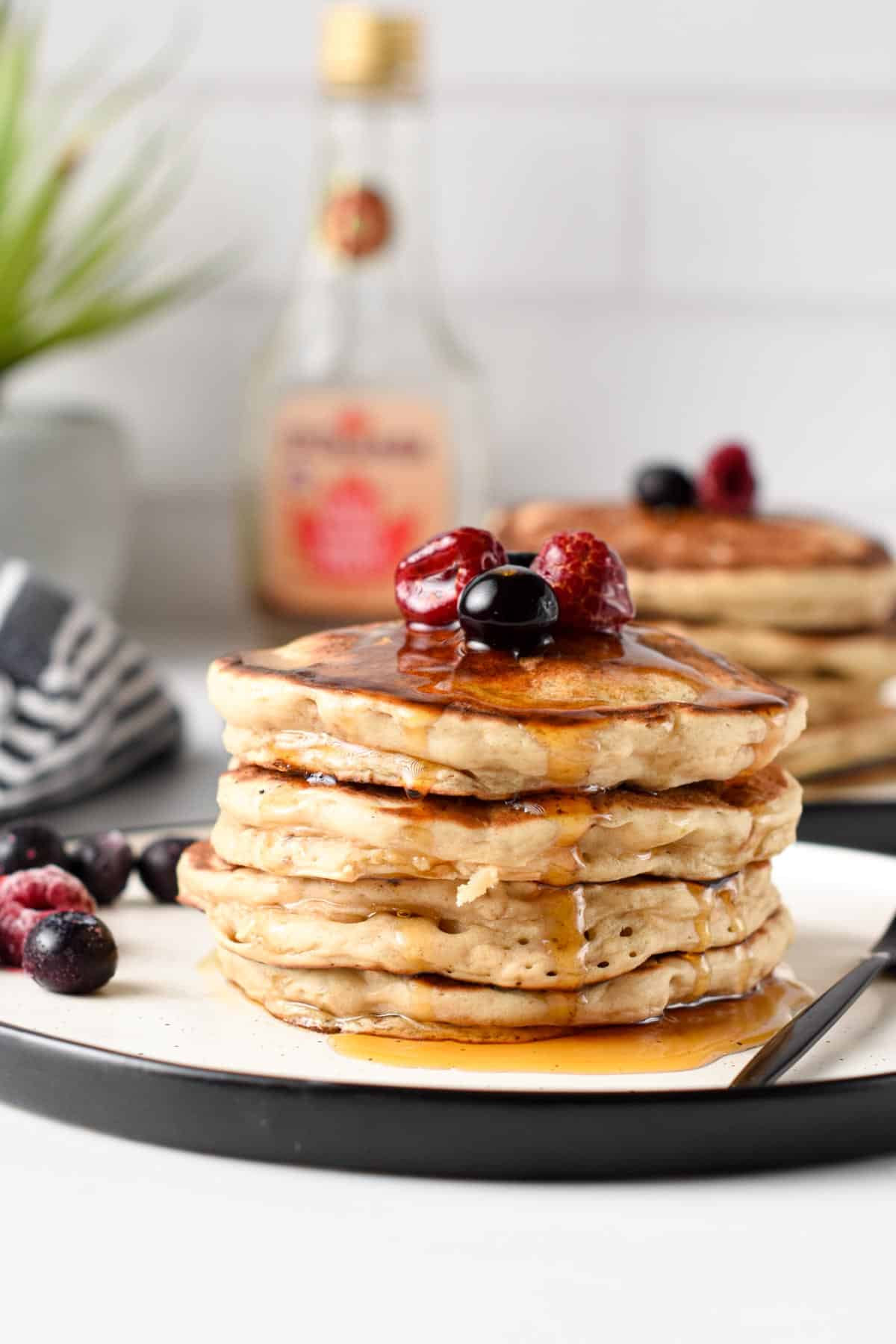 Serving The Protein Pancakes
These vanilla protein pancakes are delicious when topped with:
Fresh fruit like banana slices or berries.
Peanut butter, almond butter, or sunflower seed flour.
Maple Syrup – or sugar-free syrup to keep the calories and sugar low.
Yogurt such as coconut or cashew yogurt.
Storage Instructions
Store the leftover protein pancakes in the fridge in an airtight container for up to 3 days.
You can also freeze cooked pancakes in zip-lock bags and thaw them in the fridge the day before.
Rewarming Pancakes
These pancakes are tasty and can be eaten cold or lukewarm.
You can rewarm pancakes in a bread toaster, on a hot pancake griddle, or in the microwave. But microwaves make their texture a bit chewy.
Allergy Swaps
Below I listed some options to make these protein pancakes even if you have food allergies.
Soy-Free – Use protein powder made of peanut, hemp, or almond. Then, pick milk like almond milk or oat milk.
Gluten-Free – Pick certified gluten-free oats and gluten-free all-purpose flour blend. Also, make sure that your baking powder is gluten-free. Another option is to swap the oats for quinoa flakes.
Frequently Asked Questions
Can I Increase The Protein In Protein Pancakes?
Protein powder is the easiest way to quickly increase the protein content of pancake recipes.
But, protein powder is expensive, and not everyone has some at home.
So below, I listed some other options to make any pancake recipe higher in protein at a reasonable price.
Swap 1/4 cup of non-dairy milk for protein Greek cashew yogurt. Yes, there's high-protein, dairy-free yogurt!
Add high-protein seeds like hemp seeds, flaxseeds, or chia seeds. Don't add more than 1 or 2 tablespoons, or the batter can get dry and dense.
Pick protein-fortified milk- many soy milks and almond milks have a protein-loaded version.
Serve with extra protein yogurt or nut butter on the top. Peanut butter and almond butter are great sources of proteins.
Can I Use Chocolate Protein Powder?
Any protein powder flavor can be used in this recipe.
Why Is My Pancake Batter Too Thick?
Every protein powder has a different composition and amount of protein.
Protein is highly liquid absorbent.
So if your brand makes the dough thick, add more milk until it's easy to pour and spread on the griddle.
It should be slightly thicker than regular pancake batter.
Can I Skip The Sweetener?
Yes, the recipe works with no sweetener.
Can I Freeze Protein Pancake Batter?
Yes, you can freeze this protein pancake batter in an ice cube tray and cook the ice cube directly in a non-stick pan, covered with a lid, until the batter defrosts, melts, and cooks.
Can I Replace Flour For Almond Flour Or Coconut Flour?
No, the recipe won't work with low-carb flour. The pancakes won't hold their shapes.
More Vegan Protein Recipes
If you enjoy protein-loaded breakfast and snacks, you'll love these recipes:
Did you made these protein pancakes? Share a comment or review below.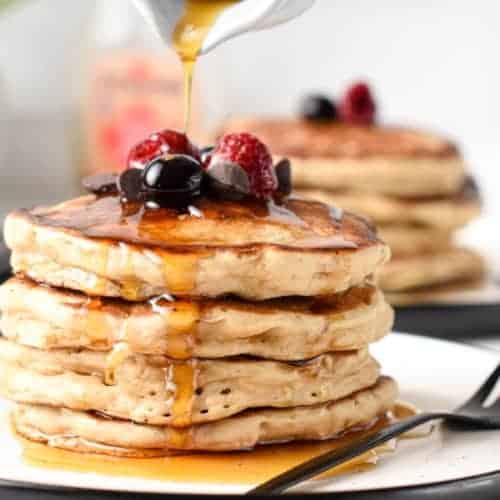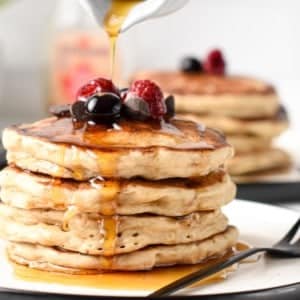 Protein Pancakes
These fluffy Protein Pancakes are easy to whip in less than 10 minutes and are packed with 15 grams of protein per serving! Plus they are egg-free and dairy-free.
Pin
Print
Review
Servings:
4
serving (2 pancakes per serving)
Ingredients
Optional – for unflavored protein powder
Instructions
In a mixing bowl, whisk almond milk, yogurt, and lemon juice and set aside while measuring the remaining ingredients.

In another mixing bowl, whisk dry ingredients evenly: white whole wheat flour, oats, protein powder, baking powder, sugar, and salt.

Stir the milk mixture into the bowl with the dry ingredients until a thick pancake batter forms with no lump. It should be pretty thick, and that's normal.

Warm a pancake griddle greased with a tiny bit of coconut oil over medium heat.

Scoop 2 tablespoons of pancakes batter per pancake on the griddle and spread in a round shape. If the batter is too thick, thin it out by adding an extra splash of almond milk.

Cook the pancake for 2-3 minutes on low-medium heat until dry on the edges, then flip and cook an extra minute until it puffs.

Cool down on a wire rack and cook the remaining batter.

Serve with vegan toppings you love like peanut butter, maple syrup, and chia jam.
Storage
Store leftovers for up to 4 days in an airtight container in the fridge or freeze and thaw at room temperature the day before serving. Rewarm on a hot pancake griddle or in a bread toaster.
Notes
Note 1: Soy milk is high in protein or protein fortified almond milk. Note 2: We used plant-based Greek-style coconut yogurt, cashew yogurt, or soy yogurt. Note 3: You can use spelt flour or all-purpose flour as well. Note 4: Any granulated sweetener works including sugar-free like erythritol, xylitol, or allulose.
Share on Facebook
Pin Recipe
Nutrition
Serving:
2
pancakes
|
Calories:
218.2
kcal
|
Carbohydrates:
35.8
g
|
Protein:
15.2
g
|
Fat:
2.5
g
|
Saturated Fat:
0.2
g
|
Polyunsaturated Fat:
1
g
|
Monounsaturated Fat:
0.4
g
|
Cholesterol:
0.6
mg
|
Sodium:
733.7
mg
|
Potassium:
170.4
mg
|
Fiber:
4.4
g
|
Sugar:
8.1
g
|
Vitamin A:
232.5
IU
|
Vitamin B12:
0.7
µg
|
Vitamin C:
5.2
mg
|
Vitamin D:
0.7
µg
|
Calcium:
312.8
mg
|
Iron:
2.9
mg
|
Magnesium:
15.3
mg
|
Phosphorus:
180.5
mg
|
Zinc:
0.8
mg