Protein Donuts Recipe (Egg-Free, Flourless, Oil-Free)
This Protein Donuts Recipe is a delicious low-fat, low-calorie baked donuts recipe made with protein powder.
It's a great post-workout snack or breakfast packed with protein and healthy carbs from oats.
If you are craving donuts for breakfast but don't want the oil, and calories and prefer a nourishing option, this protein donut recipe is for you.
What Are Protein Donuts?
A protein donut is made with protein powder and baked in the oven. It's low in fat because it's not fried in oil and doesn't contain oils, eggs, or sugar in the batter.
It's a healthier donuts recipe packed with protein to keep you full for longer and enjoy a treat without the guilt.
How To Make Protein Donuts
There are many ways to make protein donuts, some recipe calls for almond flour and eggs, and others use all-purpose flour.
Here I am sharing flourless, oil-free, vegan-approved protein donuts. It's a perfect protein doughnuts recipe for people working out because they are packed with fiber and protein and are low in fat.
Ingredients
All you need to make this recipe are:
Old-fashioned Oats or homemade oat flour.
Protein Powder – feel free to use any flavor of chocolate or vanilla protein powder depending on the flavor you like for your donuts.
Granulated Sweetener – for low-calorie sugar-free donuts, use erythritol stevia blends. Otherwise, any sugar works, including coconut sugar, for a healthy alternative.
Almond Milk – or any other low-sugar dairy-free milk.
Yogurt of Choice – focusing on high-protein yogurt made of soy is a great option, but any yogurt works here, including oat yogurt, and coconut yogurt.
Baking Powder
Vanilla Extract – optional. Skip if your protein powder has a strong vanilla flavor.
Making The Batter
The batter is pretty straightforward to make. You can use your homemade oat flour or use your blender to make the batter all at once.
First, place the dry ingredients in the blender: old-fashioned rolled oats, sweetener, protein powder, and blend until fine and ground.
Then transfer into a bowl and stir in the remaining ingredients: baking powder, almond milk, yogurt, and vanilla extract.
You can, of course, blend all the ingredients, but I found the batter packed and gummy when over-blended.
I recommend stirring ingredients with a spoon in a mixing bowl.
Note that if you blend all ingredients, it's better to rest the batter 10 minutes before baking to avoid packed donuts.
Baking
First, preheat the oven to 350°F (180°C) and spray a six-hole donut pan with oil spray.
If you are using a silicone pan, place the pan on a baking sheet to make it easier to slide into the oven. Set aside
Fill each donut hole with 3-4 tablespoons of batter – about 3/4 of their level not up to the top.
Bake in the center rack of the oven for 20-25 minutes or until golden brown and a pick inserted in the center come out with a little crumb on it.
Cool the donuts down for 5 minutes in the pan before transferring them to a cooling rack.
Don't transfer them too fast on the rack or their top flattens, losing their lovely shape.
Protein Donut Glazing Recipe
A donut, healthier or not, is always better frosted!
First, wait for the donuts to cool down, and then pick one of the donut glazing recipes below based on your health goals and tastebuds.
You can use some of my frosting recipes below: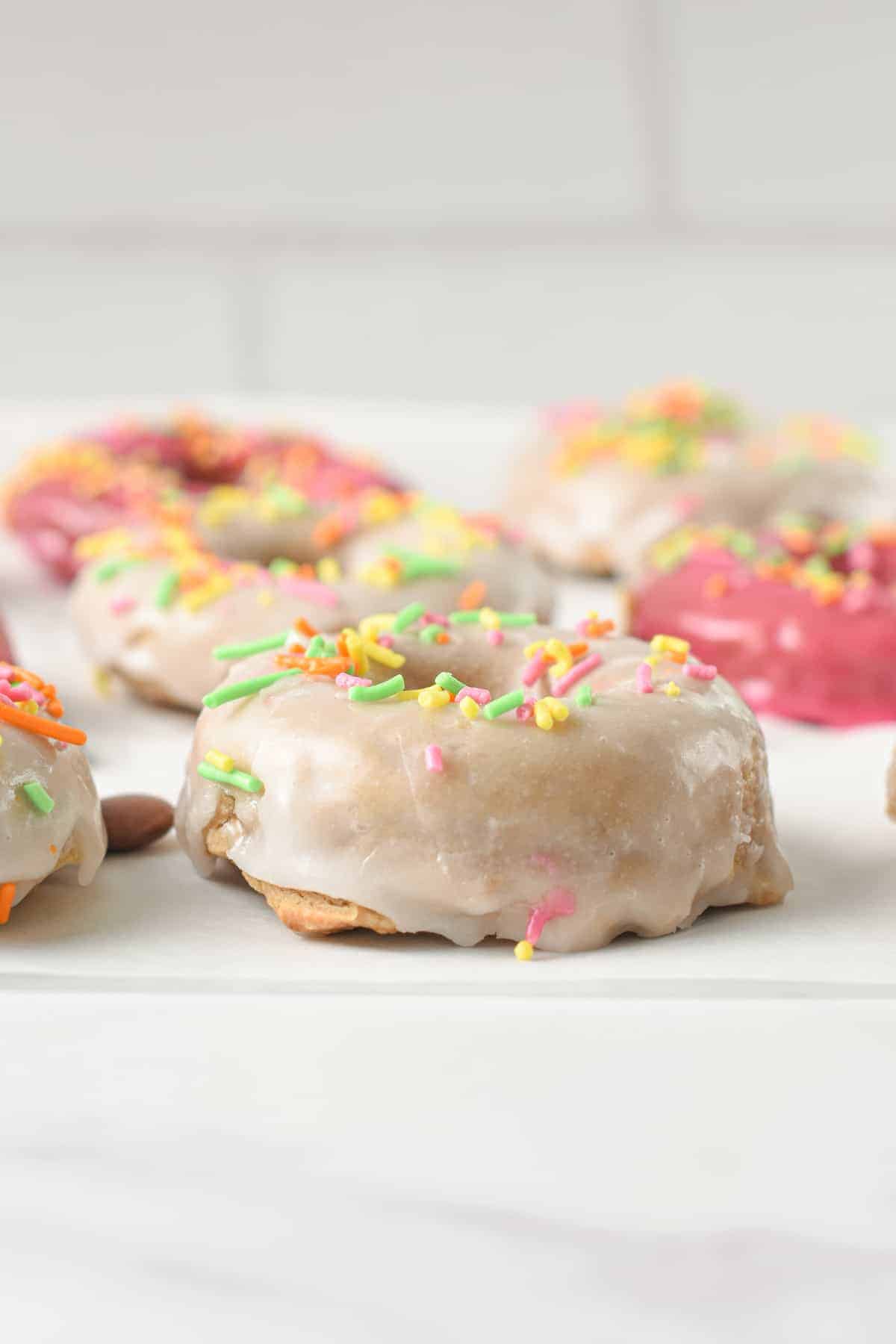 Decorating
You can add some extra topping onto the donut glazing like :
Sprinkles – there are some sugar-free options available online.
Crushed peanuts or almonds for a boost of protein and healthy fat.
Chocolate chips
Desiccated coconut
Dried cranberries
Texture
These donuts are not as light and fluffy as regular donuts because they are flourless and contain protein powder.
They are more dense and chewy but good for you and packed with healthy slow-release carbs from oats and proteins.
Storage Instructions
These donuts can be frozen for up to 3 months and thaw at room temperature the day before.
Otherwise, they store very well in an airtight container in the fridge for four days.
Nutrition
The nutrition panel doesn't include frosting.
Add the protein from the frosting if you use my vegan protein frosting recipe to determine the protein per serving.
Frequently Asked Questions
Can I Air Fry Donuts?
Yes, if your donut pan fits your air fryer basket, then you can air fry the recipe at 325°F (160°C) for 15-20 minutes or until golden on top.
Swaps
Gluten-free Option
Feel free to use gluten-free certified oat for this recipe or replace it with all-purpose gluten-free flour. Keep in mind that gluten-free flour makes the donuts dense and chewy.
Yogurt Swap
If you don't have yogurt at home, this recipe works with the same amount of applesauce or mashed bananas.
Another option is to use half mashed banana, half peanut butter, or almond butter – another great way to add healthy fat and plant-based proteins to your recipe.
More Vegan Protein Recipes
If you like recipes loaded with protein, you'll love these: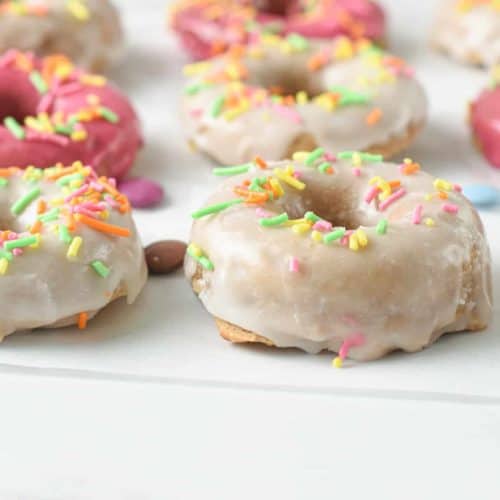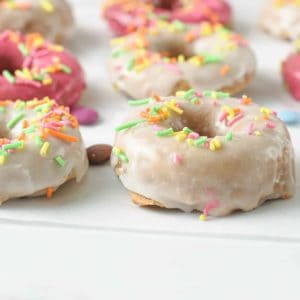 Protein Donuts Recipe
This Protein Donut Recipe is made with oat and protein powder, no flour, no sugar and 100% vegan.
Pin
Print
Review
Instructions
Preheat oven to 350°F (180°C). Spray oil onto a 6-hole donut pan. Set aside.

In a blender, blend rolled oats, protein powder, and sweetener.

Transfer to a mixing bowl and combine with yogurt, milk, and baking powder. Stir until the batter looks like muffins batter, thick and slightly runny.

Fill each donut hole with 3-4 tablespoons of batter.

Bake in the center rack for 20-25 minutes or until golden brown.

Cool the protein donuts down for 5 minutes in the pan then transfer them to a cooling rack
Storage
Store the donuts in the fridge in an airtight container for up to 4 days or freeze them for up to 3 months and thaw the day before.
Share on Facebook
Pin Recipe
Nutrition
Serving:
1
donut
|
Calories:
81.5
kcal
|
Carbohydrates:
12.2
g
|
Protein:
5.3
g
|
Fat:
1.4
g
|
Saturated Fat:
0.1
g
|
Polyunsaturated Fat:
0.4
g
|
Monounsaturated Fat:
0.3
g
|
Sodium:
149.6
mg
|
Potassium:
36.9
mg
|
Fiber:
1.1
g
|
Sugar:
4.6
g
|
Vitamin C:
1.2
mg
|
Vitamin D:
0.1
µg
|
Calcium:
85
mg
|
Iron:
1.5
mg
|
Magnesium:
14.2
mg
|
Phosphorus:
56.1
mg
|
Zinc:
0.4
mg