A fluffy, crumbly easy vegan cornbread recipe made in one bowl with a few basic pantry ingredients and delicious as a side to vegan chili.
Bonus, this egg-free cornbread recipe is also refined sugar-free with a gluten-free option.
Cornbread is one of the most popular Thanksgiving side dishes.
So when the fall season is coming up, it's a great time to make a batch of this delicious bread to serve as a side to any vegan curry.
Is Classic Cornbread Vegan?
No, an authentic cornbread recipe contains eggs and often buttermilk made of milk and butter
. So with so many dairy products, a cornbread recipe is not vegan-friendly.
However, you can make a delicious plant-based cornbread recipe at home in less than 30 minutes.
Is Cornbread Sweet Or Savory?
Classic Cornbread is slightly sweet, but you don't have to add sugar to the recipe.
Instead, you can make plain cornbread. Swap the sugar for 1 teaspoon of salt in the recipe.
How To Make Vegan Cornbread
It's so easy to make cornbread and so rewarding to bring this homemade bread to the table as a comforting side to soup or curry.
Ingredients
To make this vegan cornbread, you need:
Melted vegan butter or any light-flavored oil like light olive oil or canola oil.
All-purpose flour or gluten-free all-purpose flour.
Yellow cornmeal
Unrefined sugar – add 1/2 cup for a perfectly sweet cornbread or skip for a plain cornbread and add 1 teaspoon of salt instead.
Baking powder
Baking soda
Dairy-free milk of choice – feel free to use almond milk, soy milk, or oat milk.
Apple cider vinegar
Unsweetened applesauce – this acts as an egg replacer and makes the bread moist and slightly sweet.
Making the Cornbread Batter
First, preheat the oven to 400°F (200°C). Line an 8-inch x 8-inch square dish with parchment paper. Lightly oil the paper to prevent the cornbread from sticking to the paper. Set aside.
For the batter, simply whisk almond milk and apple cider vinegar in a mixing bowl along with sugar and applesauce.
Then, fold in the remaining dry ingredients: yellow cornmeal, flour, baking soda, and baking powder. Stir and pour the batter into the baking pan.
Baking
Bake the cornbread for 25 to 35 minutes at 400°F (200°C) or until it is golden brown on top and a pick inserted in the center of the bread comes out clean.
Serving
Cornbread should be fluffy, slightly dry, and grainy.
To enjoy its best texture, immediately transfer the baked cornbread to a wire rack and cool down for at least 30 minutes before slicing.
Slice into 16 squares and serve as a side to any of your favorite vegan meal recipes.
Storage
Cornbread doesn't have to be refrigerated.
You can store the cornbread at room temperature on a plate covered with a clean kitchen towel and keep it fresh for 4 days.
Another option is to freeze your cornbread in ziplock bags or airtight containers.
Thaw the portion of cornbread at room temperature overnight and serve the next day.
What Goes Well With Cornbread?
You can make this recipe with some added toppings. Just before baking your cornbread, stir in the batter some of the below ingredients for added flavors:
Jalapenos – you can stir in 1/2 cup diced jalapenos in the batter or simply sprinkle slices on top of the batter before baking.
Vegan cheese – stir any of your favorite plant-based cheese in the batter, from 1/3 cup t o1/2 cup.
Nutritional yeast – a great way to add a cheesy flavor to vegan cornbread is to stir in or 3-4 tablespoons of nutritional yeast in the batter. Plus, Nutritional Yeast is 100% vegan-friendly and a good vegan source of iron.
Apples and onions – peel and dice apples and fry in olive oil with onion. Stir in the batter just before baking!
If you made the plain cornbread recipe, you could serve it with some of the delicious vegan toppings below. All of them taste amazing with cornbread:
Vegan Butter
A drizzle of agave syrup, coconut nectar, or maple syrup.
Swaps
If you have food allergies or want some alternatives to this cornbread recipe, I listed some options for you below.
Sugar– any granulated sweetener works in cornbread. It can be brown sugar, coconut sugar, or erythritol for a sugar-free option.
Flour – spelt flour or all-purpose gluten-free flour that contains gum works as a wheat flour replacement and makes vegan, gluten-free cornbread.
Apple sauce – you can swap apple sauce for one flax egg. Mix one tablespoon of flaxseed meal with 1/4 cup of lukewarm water and stir in the batter as an applesauce replacement.
Yellow cornmeal – there are many questions about which cornmeal should be used in cornbread. Originally, cornbread was made of yellow stone-ground cornmeal. It has a lovely yellow color to the bread and a grainy texture. However, if you can't find yellow cornmeal in your store, you can swap it for white cornmeal.
Frequently Asked Questions
Can I make vegan cornbread muffins?
Yes, you can bake this recipe in a 12-hole muffin pan slightly oiled with olive oil. Bake the cornbread muffins for 20 minutes at 350°F (180°C) until golden brown and dry in the center.
Why is my cornbread dry?
Cornbread is a dry kind of bread, but it shouldn't be too dry either!
If this happens, it can be that you overbaked it or used less fat in the recipe using almond milk, for example.
Soy milk contains more fat content and makes the cornbread much moister. Serve it with a dollop of vegan butter on a lukewarm slice of bread to balance the texture.
More Vegan Side Recipes
Below I listed some other delicious Thanksgiving vegan sides recipes for you to try with this cornbread recipe: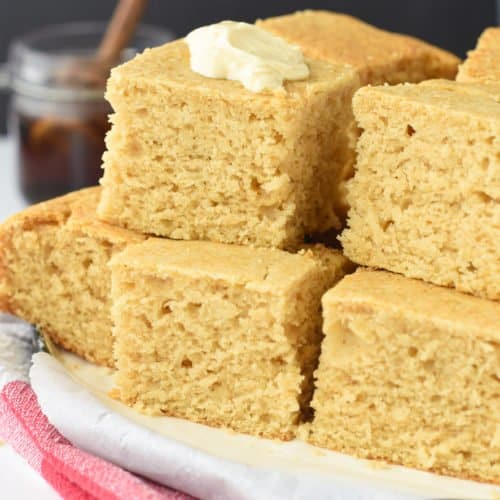 Vegan Cornbread Recipe
An easy vegan cornbread recipe with the most delicious fluffy, moist texture.
Pin
Print
Review
Servings: 16 servings
Calories: 123.4 kcal
Instructions
Preheat oven to 400°F (200°C). Line an 8-inch x 8-inch square pan with parchment paper. Lightly oil the paper. Set aside.

In a large mixing bowl, whisk all wet ingredients together: melted vegan butter, almond milk, apple sauce, apple cider vinegar, and sugar.

When the mixing is well combined, fold in yellow cornmeal, flour, baking powder, and baking soda.

Whisk until a thin, slightly yellow batter forms.

Pour in the prepared dish and bake on the center rack for 25-35 minutes or until golden on top and a pick inserted in the center of the cornbread comes out clean. Don't over-bake it, or it comes out very dry.

Cool down on a wire rack and slice into 16 squares to serve.
Storage
Store in an airtight container at room temperature for up to 4 days or freeze and thaw the day before serving.
Share on Facebook
Pin Recipe
Nutrition
Serving: 1slice | Calories: 123.4kcal | Carbohydrates: 20.2g | Protein: 1.9g | Fat: 4.4g | Saturated Fat: 0.8g | Polyunsaturated Fat: 1.4g | Monounsaturated Fat: 2g | Trans Fat: 0.7g | Sodium: 176.8mg | Potassium: 46.4mg | Fiber: 1.2g | Sugar: 6.8g | Vitamin A: 1.1IU | Vitamin C: 0.1mg | Calcium: 72.2mg | Iron: 0.8mg | Magnesium: 12.8mg | Phosphorus: 50.4mg | Zinc: 0.4mg