Vegan Pecan Pie – Easy, Gluten-Free
This Vegan Pecan Pie tastes like your old-time favorite pecan pie without the egg or butter!
It's a sweet pie with crunchy bites or pecan nut and it's the best vegan Thanksgiving dessert to share with family.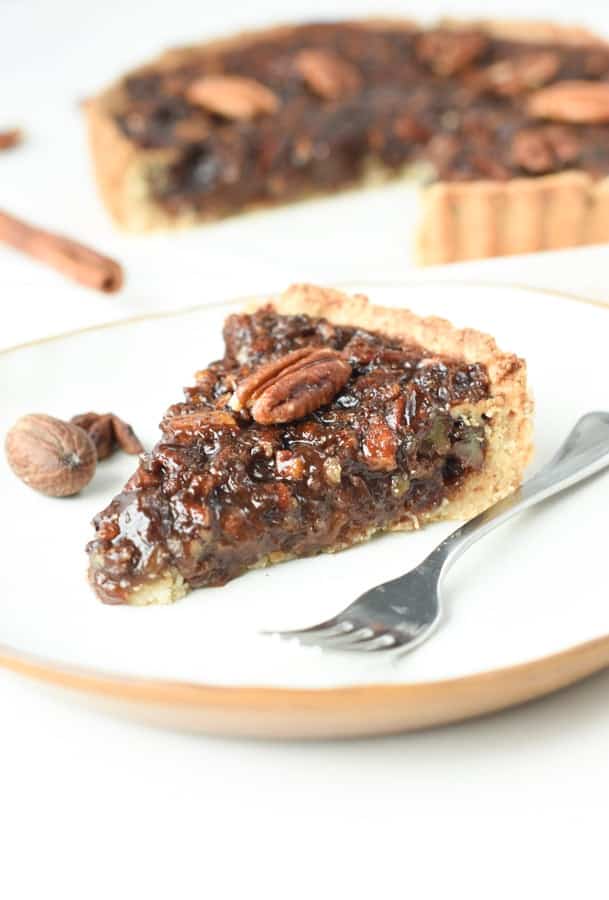 Are Classic Pecan Pies Vegan?
A classic old-fashioned pecan pie contains eggs and butter, so no, classic pecan pie recipes are not vegan.
To make it vegan, it's crucial to use plant-based alternatives and a specific recipe like mine below.
How To Make Vegan Pecan Pie
Let me share how you can make a delicious pecan pie without eggs or dairy.
First, you need to
Prepare a vegan pie crust. You can use a store-bought vegan pie crust or make your own following my vegan, gluten-free pie crust recipe.
Roll out the pie crust to cover an 8-inch or 9-inch pie dish and prick the crust with a fork. Pre-baking the crust is recommended especially if you are using a nut-based pie crust like my vegan almond flour pie crust or my food processor grain-free pie crust. Simply prebake the crust for 8 minutes.
Spread the chopped pecan pie all over the crust.
Whisk all the pecan pie filling ingredients together and bring to a boil in a saucepan to activate the flax eggs. Simmer for 2-3 minutes, then pour over the chopped pecan.
Bake. Place the pie crust in the middle rack of the oven and cover the pie with foil if you want to prevent the edges from browning too fast – especially if you are using a grain-free crust. This pie bakes in 30 to 40 minutes. You know it is ready when the filling is set on the borders and slightly jiggly in the center.
Cool completely at room temperature to set the filling for 3 hours, or overnight is the best.
Slice and serve raw or with a scoop of vegan ice cream.
Vegan Pecan Pie Ingredients
All you need to make this easy vegan pecan pie filling are:
Pecans – I used 1 1/2 cups of pecans chopped finely to cover an 8-inch pie dish. If you are using a 9-inch pie dish, you may need 2 cups of pecans.
Maple Syrup – the classic recipe uses corn syrup. Here I am using refined sugar-free liquid sweeteners. Maple syrup provides the best flavor, or you can use agave syrup too.
Coconut Sugar or brown sugar
Flaxseed Meal – this acts as an egg replacer in your pie filling.
Almond Butter, vegan butter, or coconut oil – a pecan pie filling has a buttery flavor. This flavor will be enhanced by vegan butter, but I usually prefer to use almond butter or coconut oil for a healthier dairy-free twist. Choose what you prefer.
Unsweetened Almond Milk – or any dairy-free milk you love.
Vanilla Extract
Ground Cinnamon
How Does Vegan Pecan Pie Taste?
Vegan pecan pie filling is sweet, buttery, and slightly chewy with crunchy bites of pecan nuts.
It tastes a bit different than an egg-based pecan pie. The filling is a bit more like a sticky caramel.
Serving Vegan Pecan Pie
This vegan pecan pie achieves its best texture and taste when completely cool down.
Don't release from the pan or slice too early, or the filling can be runny.
You can serve this vegan pecan pie with the vegan toppings below:
Vegan ice cream
Coconut whipped cream
More Vegan Pie Recipes
If you love baking pies, I have a few more vegan pie recipes for you to try: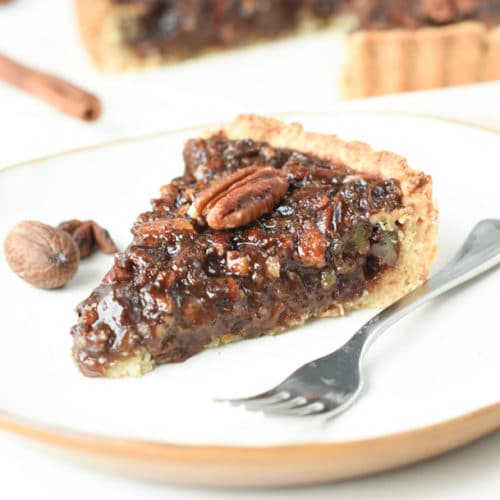 Vegan Pecan Pie
A sweet vegan pecan pie recipe with a refined sugar-free filling and gluten-free crust made of almond flour.
Pin
Print
Review
Servings: 12 slices
Calories: 273 kcal
Instructions
Preheat oven to 350°F (180°C).

Line an 8-inch or 9-inch pie pan with a vegan pie crust of your choice. Prick the crust with a fork and prebake for 8 minutes.

Meanwhile, prepare the pecan pie filling.

In a medium saucepan, over medium/high heat, combine unsweetened almond milk, maple syrup, coconut sugar, flaxseed meal, cinnamon, vanilla extract, and coconut oil.

Stir constantly until the mixture boils, then reduce to low-medium heat and simmer for 2 minutes, often stirring to prevent the liquid from sticking to the pan. The mixture will thicken look a bit slimy like a caramel sauce as the flaxseed meal absorbs liquid.

Remove the prebaked pie crust from the oven and spread the chopped pecan nuts evenly all other the prebaked crust.

Pour the hot pecan pie filling all over the pecan nuts to fill the pan up to 3/4 height. If you are using an 8-inch pan, you may have too much filling (I had 1/4 cups extra), but for a 9-inch pan, you should use all the filling.

Bake for 30-40 minutes or until the filling is well set on the borders and still slightly jiggly in the middle. You can cover the pan with foil to prevent the side of the crust from browning too fast.

Cool completely in the pie pan for 3 hours, then release on a plate. The texture will be even better the next day, so I highly recommend making the pie ahead.

Store in the fridge in a sealed container for up to 4 days.
Share on Facebook
Pin Recipe
Nutrition
Serving: 1slice | Calories: 273kcal | Carbohydrates: 31g | Protein: 3g | Fat: 16g | Saturated Fat: 2g | Sodium: 98mg | Potassium: 156mg | Fiber: 3g | Sugar: 17g | Vitamin A: 7IU | Vitamin C: 1mg | Calcium: 63mg | Iron: 1mg