This easy Vegan Pie Crust recipe has a delicious buttery, flaky texture and is perfect for any sweet or savory pie.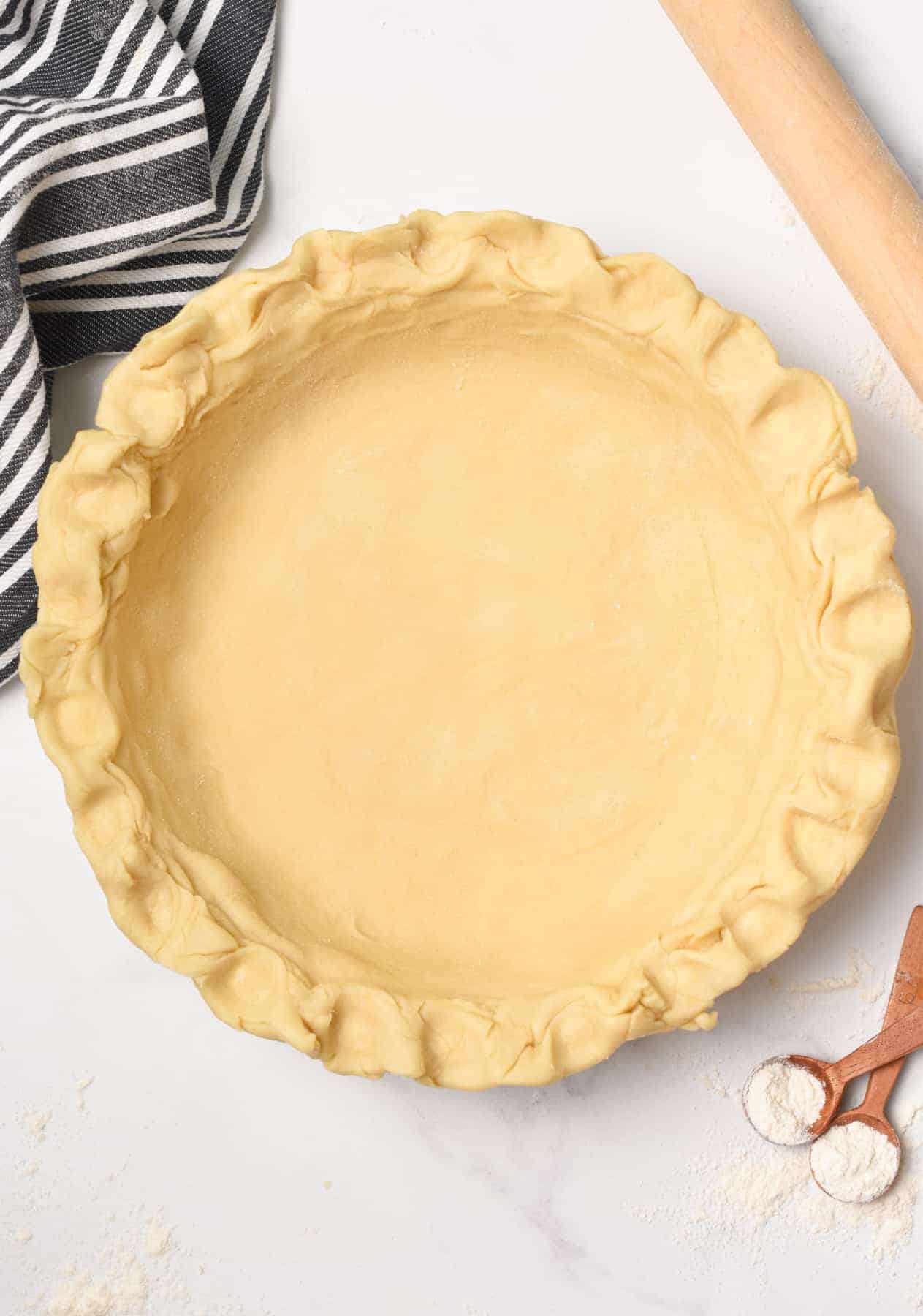 Are you vegan and missing pies, quiches, and tarts?
Let me tell you that you can make delicious vegan dessert pies or vegan savory pies using this easy vegan pie crust recipe.
It's the perfect crust for Vegan Pumpkin Pie, Vegan Blueberry Pie, or Vegan Pecan Pie.
Are All Pie Crusts Vegan?
No, a classic pie crust is made of butter and sometimes brushed on top with egg wash, especially for savory pies.
How To Make A Vegan Pie Crust
Last year, I shared my vegan, gluten-free pie crust made of almond flour.
Now time for the classic pie crust recipe, the one that we all crave at some point to make gorgeous pies.
Ingredients
All-purpose flour – use classic white flour. I didn't try this recipe using a gluten-free all-purpose flour blend, but it should work well if you use a brand with a 1:1 ratio to substitute wheat flour.
Vegan Butter – also called a vegan block. This is the hard block of dairy-free butter in your store. I cut mine into small cubes of about 1 inch and pop it back into the fridge when preparing the remaining ingredients to ensure the butter is very cold.
Vegan spread or vegetable shortening – I prefer the vegan spread. It's made of healthier oil choices. Also, a vegan spread is soft and easy to spread on toast, not hard as a vegan block.
Salt – or a tablespoon of sugar for a sweet pie. You can use any sugar you love.
Ice water – use water from an iced bath. For precision, I don't measure my iced water, but instead, I put ice cubes in a bowl and fill it with cold tap water. Then, I scoop out the needed amount before adding it to the food processor. This technique ensures the water is extremely cold and iced, and because you don't measure the water before adding ice cubes, your water volume doesn't change due to the ice cubes melting in the bowl.
Tools
Whether you're making a vegan pie crust or any pie crust, any passionate bakers like me will tell you that the best to make a quick and easy pie crust is:
A food processor
A stand mixer with a paddle attachment
Then comes the old-fashioned way using a pastry cutter or fork, but it takes ages, and I usually don't go that way.
But if you don't have any of the two kitchen appliances above, it's good to know that you can make a pie crust by hand.
Below I am going to share the food processor pie crust method. This is my favorite so far. It's fast, efficient, and no-fail, so perfect for beginners.
Iced Water Bowl
First, fill a bowl with cold water and ice cubes and set it aside for later. Then, make sure you add a minimum of 1/2 cup of chill water to the bowl. The amount doesn't have to be precise.
You will understand why later.
Combining Dry Ingredients
First, add the flour, salt, or sugar to the food processor bowl using the S-blade attachment.
Then, pulse a few times to combine all the dry ingredients.
Adding Fat
The trick to making a delicious flaky pie crust is using cold ingredients straight out of the fridge. It means the vegan butter and vegan spread should be cold and the water iced.
Add the cold vegan butter cubes and cold vegan spread on top of the dry ingredients in the food processor bowl.
Pulse a few times until it forms a crumbly dough, quite dry.
Adding Iced Water
Use a measuring cup to scoop out 1/3 cup of iced water from the bowl you prepared before and add the iced water to the food processor.
Process the batter on the low-speed setting to incorporate or until the dough is soft and comes together into a ball.
Remove the mixture from the bowl. It should be super soft, shiny, and oily but shouldn't stick to your hand. If too sticky, add 1-2 extra tablespoons of flour to the bowl, and pulse to combine.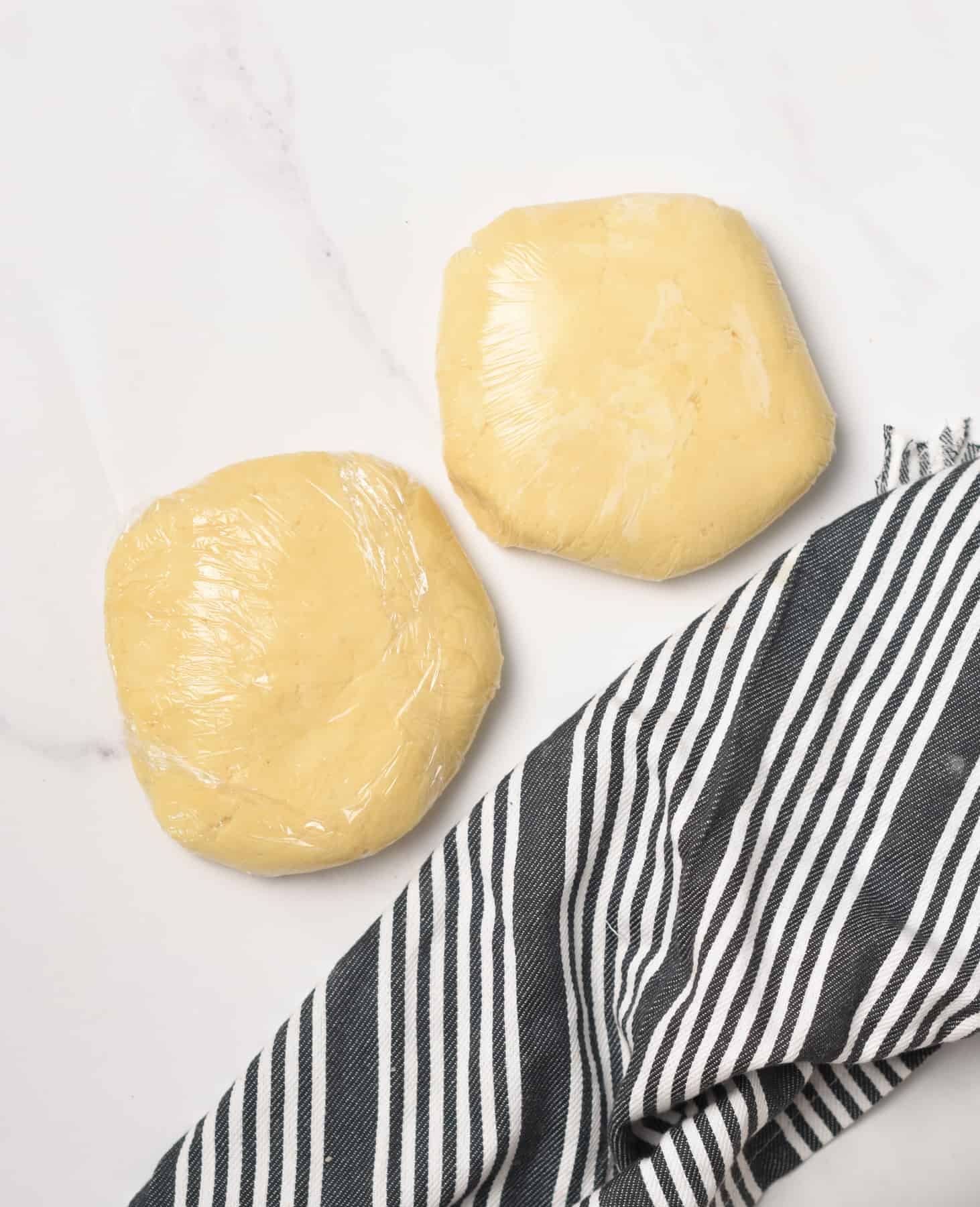 Refrigerating
Divide the vegan pie dough into two even portions. Wrap each ball tightly with parchment paper or plastic wrap and flatten it into a thick disc.
Refrigerate for at least one hour in the fridge.
Note that you can refrigerate the prepared pie crust for up to 4 days in the fridge, which is very convenient for meal-prepping some pies for the holiday season.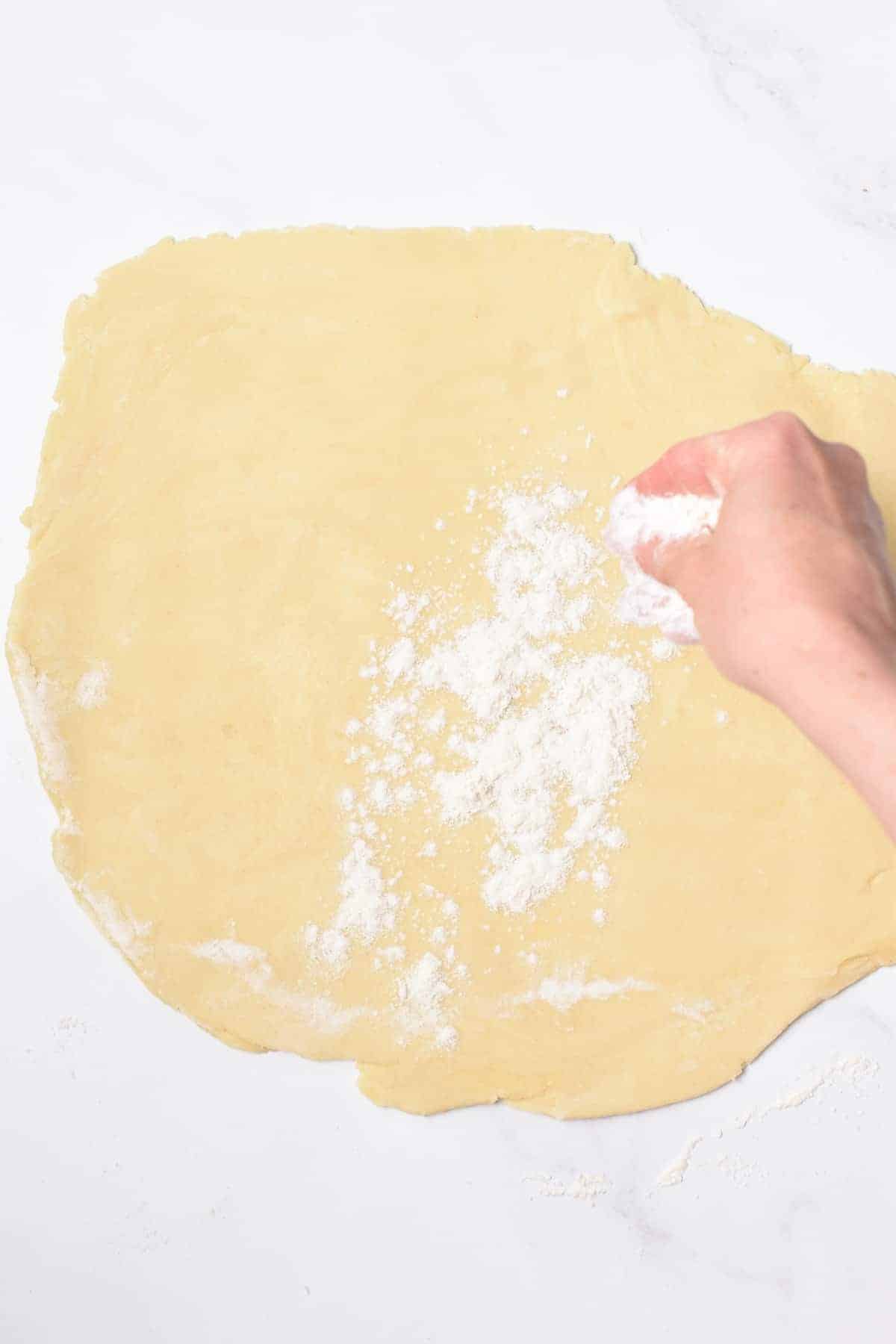 Rolling The Pie Crust
The next day, remove the dough from the fridge 10 minutes before rolling it.
Sprinkle some flour on a work surface, unwrap one dough disc, sprinkle some extra flour on top, and knead the dough. The dough will be hard and cold but soften fast and shouldn't stick to your hands.
If it's sticky, add more flour.
Using a rolling pin, roll the dough into three extra inches than the diameter of your pie dish. So for a 9-inch pan, roll it into a 12-inch circle.
You can use the excess dough to make a smaller pie crust for a mini pie.
Fill your pie pan with the pie crust and use it as a base for any pie recipe, following the recipe instruction. Some recipes request pre-baking the crust. Some others don't.
Overall for this vegan pie crust recipe, you don't have to prebake the crust in the oven to make a vegan quiche or vegan fruit pie like my vegan blueberry pie recipe.
For recipes that require pre-baking, I recommend placing some pie weights on the crust to prevent it from puffing up.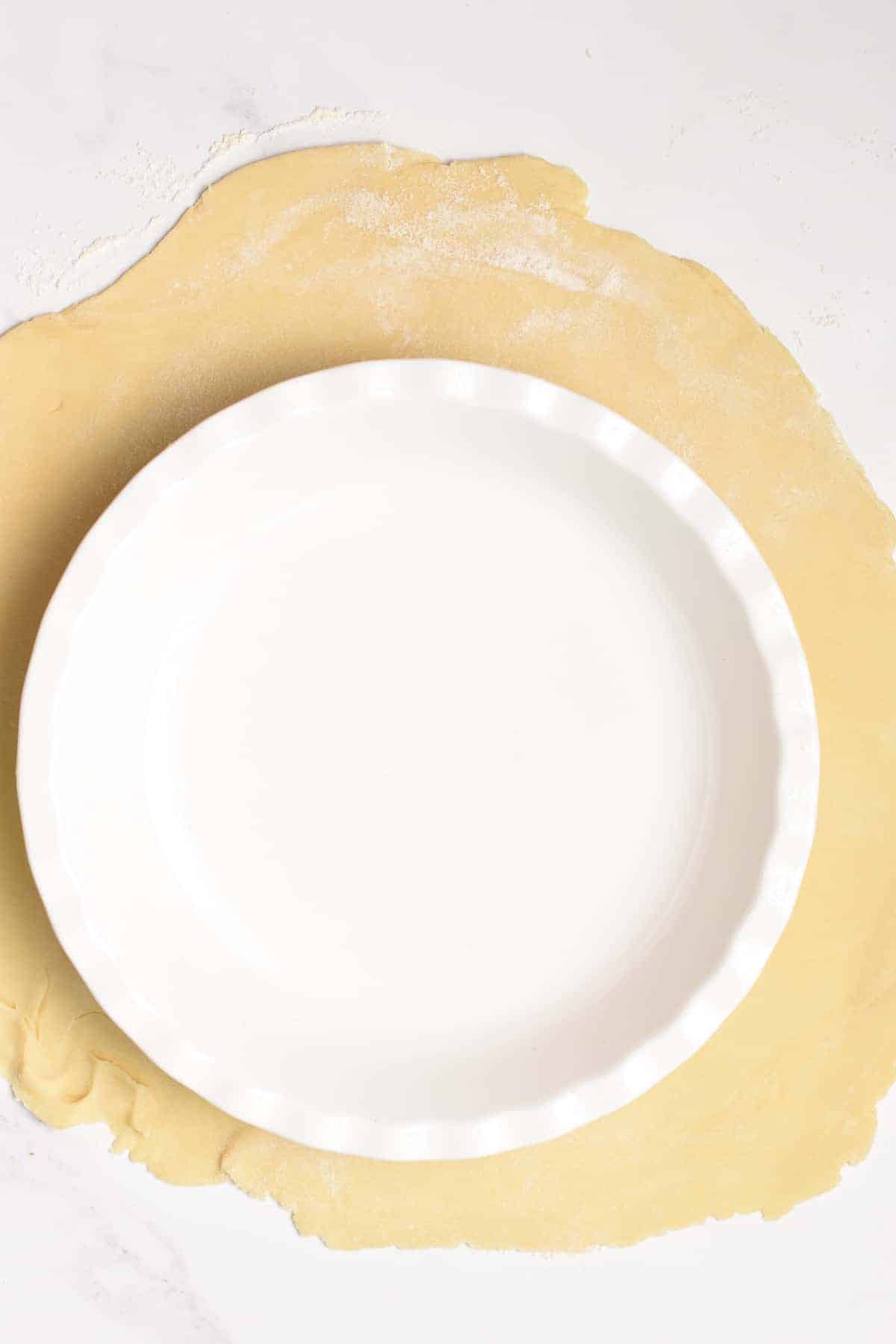 Storage Instructions
You can store the pie crust for up to 4 days in the fridge wrapped in plastic film wrap.
Or you can freeze the pie crust for up to 3 months in the freezer and thaw it in the fridge the day before using it in any recipe.
Frequently Asked Questions
Should I Pre-Bake The Crust?
No, you don't have to pre-bake this crust. Pre-bake the crust only if you follow a particular recipe calling for pre-baking.
Can I Use Coconut Oil Instead Of Vegan Butter?
No, coconut oil does not work in this recipe.
What Pie Crusts Are Vegan?
For a pie crust to be vegan, it needs to be made without eggs or dairy.
There are very few commercial vegan pie crust, so it's easier and healthier to make your own!
Are Pillsbury Crusts Vegan?
All Pillsbury pie crusts contain lard (so they aren't vegan), except for the Pet-Ritz All Vegetable Crust, which is made from only plant-based ingredients.
More Vegan Baking Recipes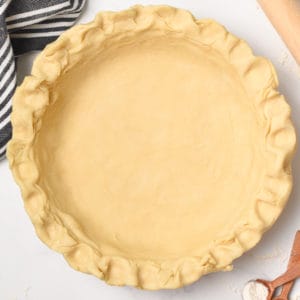 Vegan Pie Crust
An easy Vegan Pie Crust recipe with a delicious buttery, flaky texture and perfect for sweet or savory pies.
Pin
Print
Review
Servings: 2 crusts (9 inches)
Calories: 104.2 kcal
Ingredients
Optional – for sweet pies
Instructions
Before you start, add at least 1/2 cup tap cold water in a bowl with ice cubes. Set aside for later in the recipe.

In the bowl of a food processor, add all-purpose flour, salt, and sugar – only for sweet pies. Pulse 2-3 times to combine.

Add the cold vegan butter cut in small cubes and cold vegan spread. Blend 30 seconds on medium-high speed until it resembles a dry crumble with small pieces of flour/butter – see my pictures above in the post for visual help. You may have to stop the food processor a few times, scrape down the bowl to bring the flour that pulses on the sides to the center of the bowl.

Add 6 tablespoons of ice water from the bowl you prepared before.

Pulse the dough a few times to incorporate – the dough should form large clumps that stick well together if pressed in your hands. If it's still dry or crumbly, add more ice water 1 tablespoon at a time, pulsing between each addition until the dough comes together nicely and it's not sticky. If too sticky, add more flour, one tablespoon at a time, pulse to incorporate.

Transfer the dough to a lightly floured surface, knead with floured hands, fold the dough into itself until the extra flour is fully incorporated and not sticky.

Form two balls of dough of the same size, flatten into a disc of about a 1-inch thickness, wrap into plastic wrap, and store in the fridge for at least 1 hour before using or up to 4 days if making vegan pie crust ahead.
Rolling the pie crust
When you need the crust, place the disc of dough on a floured surface, and using a rolling pin roll, apply a soft pressure from the center of the disc to the outer edge until it forms a thin 12-inch crust for a 9 inches pan or an 11-inch crust for an 8-inch pan.

Use this vegan pie crust following the recipe instruction, prick the crust with a fork, and prebake the crust if recommended by the recipe.
Freezing pie crust
You can freeze the disc of dough wrapped in plastic wrap and thaw in the fridge the day before using. Freeze well up to 3 months.
Notes
No food processor: If you don't have a food processor, you can use a pastry cutter or two forks to incorporate the cold fats into the flour. It takes more time and more work to achieve the same result, but it's totally doable.
Share on Facebook
Pin Recipe
Nutrition
Serving: 1slice (from 9 inch pie) | Calories: 104.2kcal | Carbohydrates: 10.4g | Protein: 1.4g | Fat: 6.2g | Saturated Fat: 1.6g | Polyunsaturated Fat: 1.7g | Monounsaturated Fat: 2.5g | Trans Fat: 0.1g | Sodium: 109.5mg | Potassium: 16.6mg | Fiber: 0.4g | Sugar: 0.5g | Vitamin A: 359.6IU | Calcium: 2mg | Iron: 0.6mg | Magnesium: 2.9mg | Phosphorus: 14.4mg | Zinc: 0.1mg