Gluten-Free Vegan Pie Crust With Almond Flour
This Gluten-Free Vegan Pie Crust is a simple recipe with almond flour, perfect for any sweet or savory pie.
Plus, this almond flour crust recipe is also grain-free, so it's fine for vegan paleo eaters!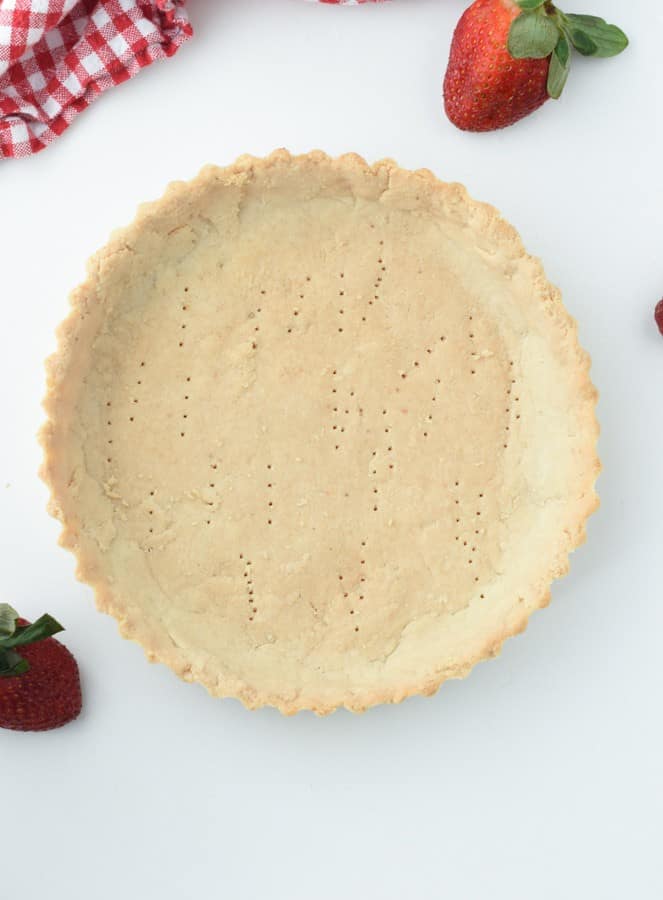 What's A Gluten-Free Vegan Pie Crust?
Most classic crust recipes contain dairy and eggs (so they're not vegan) as well as gluten (so they're not gluten-free).
The gluten-free pie crust recipes you can find are often not vegan, and the vegan pie crusts often contain gluten.
This gluten-free vegan pie crust covers both restrictions while remaining crusty and slightly flaky, with a delicious classic pie taste and texture.
It's the perfect crust for a gluten-free version of my Vegan Pumpkin Pie, Vegan Blueberry Pie, or Vegan Pecan Pie.
How To Make Gluten-Free Vegan Pie Crust
Classic pie crusts are not vegan simply because they often contain eggs or butter.
However, there are plenty of options to make vegan pie crusts.
Ingredients
Here I am sharing a vegan, gluten-free pie crust recipe made with nourishing gluten-free flours, high in fibers and nutrients:
Almond Flour – make sure you are using ultra-fine almond flour, not almond meal.
Arrowroot Flour – can be substituted by tapioca flour with similar results. Both are paleo-approved and create a tasty vegan paleo pie crust.
Lukewarm Water – don't use cold water in this recipe! This is a vegan pie crust with coconut oil. Coconut oil solidifies below 73°F (23°C), so if you are using cold water, you will have oil lumps in your crust. Always use lukewarm water for this vegan almond flour pie crust recipe.
Melted Coconut Oil – you can use refined coconut oil to avoid coconut flavor or use different oils, like light olive oil or avocado oil. Both are healthy options. You can also use softened vegan butter or vegan spread for a flaky crust.
Salt or Unrefined Sugar – choose a pinch of salt for savory pie doughs or 2 tablespoons of sugar or coconut sugar for a sweet crust.
Making The Dough
First, bring all the flours into a bowl and give it a good mix to combine. Then, stir in the melted coconut oil and lukewarm water.
Finally, knead the dough with your hand (no need for a pastry cutter here!). The dough must be soft, slightly damp, but not wet or sticky.
If needed, adjust the amount of water or arrowroot flour, adding 1/2 tablespoon of one or the other to achieve the right texture.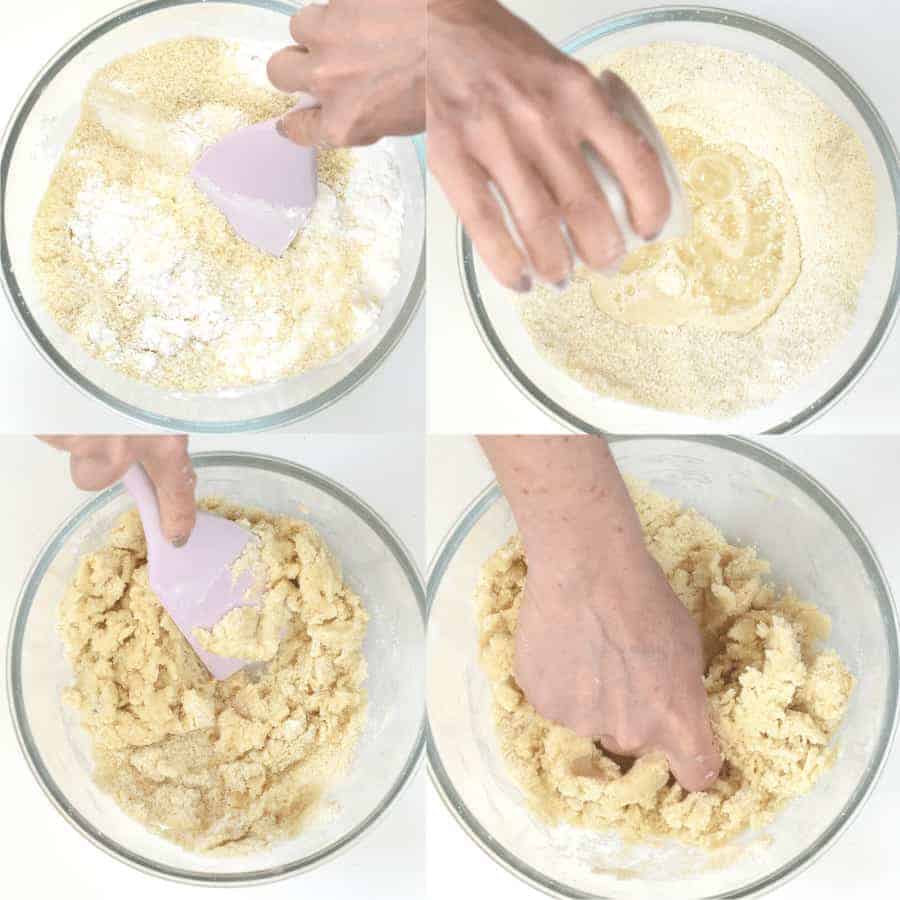 Making A Dough Ball
This easy grain-free pie crust recipe is made in 1 bowl with no need for a stand mixer or food processor. All you have to do is to bring all the ingredients together into a dough ball.
Rolling The Dough
Grain-free doughs are a bit sticky and can't be in direct contact with the rolling pin. You must roll this pie crust between two large pieces of parchment paper or 2 silicone mats until it is as thin as a classic pie crust.
First, place a piece of parchment paper onto the benchtop. Then, place the dough ball in the center of the parchment paper and cover it with another piece of parchment paper.
Press the ball to flatten roughly and start rolling until it is as thin as your favorite pie crust.
Flip over the pie pan
Now that you have rolled the pie crust peel off the top pieces of parchment paper. Slide your hand under the first piece of parchment paper where the rolled dough stands.
Flip over onto an 8-inch or 9-inch pie pan or pie plate.
I recommend greasing the pie dish before, and if you want to release this crust easily, use a removable-bottom pie pan.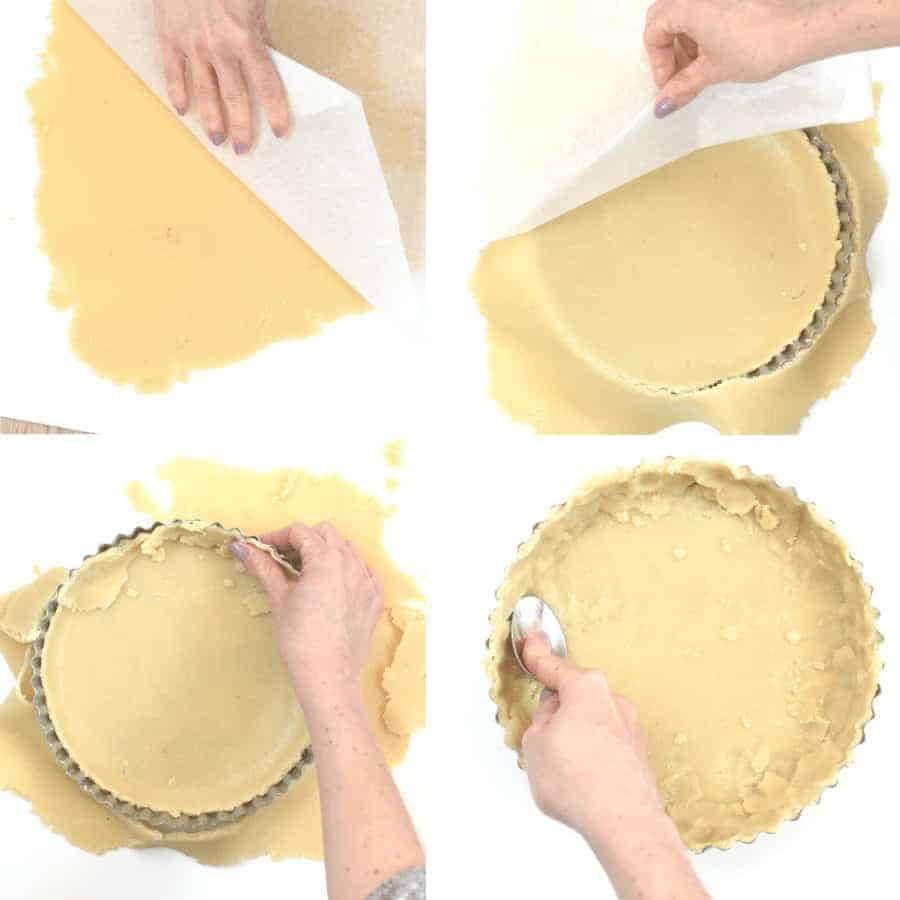 Fill the gaps
This pie crust is fragile, and you can have some cracks or holes that appear during the flipping process. Don't worry too much about that.
Simply collect the pieces of dough on the sides of the pan to pat/press onto the pan sides and holes.
To smoothen the crust, use the back of a spoon – I like to slightly wet the spoon with water to prevent it from sticking to the dough.
Pre-baking the crust
I recommend prebaking the crust for any pie that requires a baked filling like pumpkin pie, apple pie, or quiche.
First, prick the crust base with a fork and prebake for 7 to 8 minutes at 350°F (180°C).
Then, remove the pre-baked crust from the oven and pour the pie filling into the pre-baked crust and keep baking until the filling is set.
To avoid having the sides of the pie crust brown too fast, you can:
Cover the crust with foil
Brush top sides with water
Frequently Asked Questions
Which pie can I make with this crust?
You can make any sweet or savory pie using this vegan pie crust. It is a delicious vegan dessert pie crust for a crispy vegan apple pie crust recipe, such as a vegan pecan pie.
For these pies, always pre-bake the crust for 7-8 minutes at 350°F (180°C). You can also bake the crust entirely to make pie cases.
Bake for 15 minutes at 350°F (180°C), cool down, release and use as a pie case for strawberry or lemon curd pie.
Is it a flaky pie crust?
Yes and No. It depends on the fat base you choose for the recipe. If you use coconut oil, the crust will be hard and crispy like a biscuit. But, if you are using vegan butter or olive oil your crust will be flakier.
Can I Freeze The Pie Crust?
This Pie Crust can be frozen either before pre-baking or after. You can freeze the dough ball in a large ziplock bag and thaw it in the fridge overnight.
Alternatively, you can freeze the crust after pre-baking it. Wrap it in plastic wrap before freezing to avoid ice crystals and if possible, store it in a large container.
Thaw the prebaked crust in the fridge overnight or use it frozen with the fillings of your choice.
More Vegan Pie Recipes
If you love vegan, gluten-free pie recipes, I recommend trying some of the recipes below.
Gluten-Free Vegan Pie Crust
This Almond Flour Pie Crust is vegan, gluten-free, and grain-free, using only 4 ingredients.
Pin
Print
Review
Servings: 12 slices (8″ or 9″ pie)
Calories: 118 kcal
Ingredients
Optional – Depending on pie flavor
½ teaspoon Sea Salt - for a savory pie
2 tablespoons Crystal Sweetener - erythritol or sugar or unrefined sugar
Instructions
Before you start, note that this recipe's accuracy depends on how you measure ingredients. For accuracy, use a kitchen scale and grams/oz measurement provided in the metrics tab.

In a large mixing bowl, combine the flours with a spoon.

Make a well in the center of the flours and add lukewarm water and melted coconut oil.

Combine with a spoon, then use your hands to squeeze the batter and form a dough ball. It should be damp but not wet or dry. If too crumbly or dry and difficult to gather into a ball, add 1/2 tablespoon of lukewarm water and keep kneading the dough until a ball of dough forms. On the other hand, if too wet, add 1/2 tablespoon of arrowroot flour, knead until perfect texture is achieved. Repeat these steps until you can form a dough ball.
Rolling the dough
Place one large piece of parchment paper on the countertop. Place the dough ball in the center of this piece of paper. Place another large piece of parchment paper on top of the dough ball and slightly press to flatten the ball. I recommend watching the step-by-step pictures in my post above to guide you.

Start rolling the dough with your rolling pin until thin as a classic crust.

Peel off the top piece of parchment paper, slide your hand under the first piece of parchment paper (the one on which the dough has been rolled) and flip over a grease 8-inch or 9-inch pie dish. Note that a removable bottom pie dish makes the release of this crust much easier!

Peel off the last piece of parchment paper and push down the crust with your hand into the dish. You will be missing some dough on the sides, and some cracks may appear at the bottom of the crust. That is ok!

Use the leftover crust from outside of the dish to fix cracks or holes in the dish. Press pieces of dough with your fingers to stick on the sides of the pie dish to completely cover the sides or fill holes.

Use the back of a teaspoon to smooth the surface of the crust.

Prick the crust bottom with a fork before baking or prebaking.

You can store the unbaked crust in the fridge for up to 2 days, cover the top of the dish to prevent the dough from drying out.
Baking time
Prebake this crust for 7 minutes in the center rack of a preheated oven at 350°F (180°C) or fully bake for 15 minutes to make pie cases (for cold pie fillings).

Then, remove the prebaked crust from the oven and add the filling you want, and return to the oven until your filling is set. You can cover the top of the crust with a piece of foil to prevent the sides from browning too fast.
Notes
The nutrition panel is for 1 slice, no filling, based on 12 servings.
Fat choices
For a flaky pie crust use olive oil or vegan spread or soft vegan butter.
Use refined coconut oil to remove the coconut flavor. The texture will be crispy, biscuit-like with coconut oil.
Share on Facebook
Pin Recipe
Nutrition
Serving: 1slice | Calories: 118kcal | Carbohydrates: 8g | Protein: 3g | Fat: 9g | Saturated Fat: 3g | Sodium: 97mg | Fiber: 2g | Sugar: 1g | Calcium: 32mg | Iron: 1mg