The best Vegan Blueberry Cobbler with a cakey biscuit, slightly crunchy on the top, and a delicious muddle of juicy blueberries.
This is the perfect vegan dessert recipe for your holiday celebrations, Thanksgiving or Christmas, but any occasion works to share this easy dessert recipe.
Also, you can use any medley of berries in this vegan cobbler berry recipe like raspberries, strawberries, and blackberries.
Use what's in season or frozen fruits and make this cobbler recipe any time of the year.
What's The Difference Between A Crisp And A Cobbler?
Vegan cobbler recipes or vegan crisp recipes are very popular desserts to feed a crowd. Both are easy to make with basic ingredients in 1 bowl and ready in about 30 minutes.
They are also known as 'spoon' desserts as they are easily spooned into your plate without fancy presentation.
However, while both desserts are made of a juicy fruit layer topped with basically the same ingredients, cobblers and crisps have very different textures.
Crisp or crumble – both have a crispy topping made by rubbing ingredients with your fingertips to form crumbly pieces that look like granola. Often, crisps use rolled oats too to add an extra crispy texture.
Cobbler – on the opposite, a cobbler is topped with dollops of buttery biscuit dough resulting in a fluffy, cakey topping that looks like a 'bumpy' cobbled road.
How To Make A Vegan Blueberry Cobbler Recipe
There is nothing easier than making a vegan cobbler recipe.
I love this recipe when berries are in season or when we simply crave a quick family dessert that doesn't require hours to make.
All you need to make this easy vegan cobbler recipe are a few ingredients.
Berry Layer Ingredients
The berry layer of a cobbler is supposed to turn into a thick, sticky muddle or jam. You need 3 main ingredients, plus optional spices to make it.
Blueberries – fresh or frozen, you don't need to thaw the berries before using them in this recipe. Also, any other berries you love would work in this recipe. Feel free to mix the berries as well to create a berry cobbler. The best berries for this recipe are raspberries, strawberries, or blackberries.
Cornstarch – or tapioca flour or arrowroot flour. Any of these starchy flours work well. The purpose of this ingredient is to absorb any extra liquid to avoid a runny cobbler.
Lemon zest or orange zest – grate the outer skin of one of these acid fruits, finely chop, and add to flavor the fruit base.
Sugar – you can reduce the amount of sugar depending on how sweet your berries are. Another option is to make this dessert sugar-free, and diabetes-friendly, using erythritol or xylitol.
Simply combine all the ingredients above directly into a greased baking dish. Set aside while you make the cobbler biscuit recipe.
Cobbler Biscuit Ingredients
The biscuit topping of a cobbler recipe is cakey with a crispy outer. To achieve this amazing texture, you need the ingredients below:
All-purpose flour – or spelt flour or all-purpose gluten-free flour. This recipe doesn't work with almond flour or coconut flour!
Sugar – same as above, you can use less sugar or sugar-free alternatives like erythritol. Other healthy sugar options are unrefined cane sugar like demerara sugar or coconut sugar. Not that these sugars are darker in color and therefore, would turn the biscuit brown.
Vegan butter – melt your butter before using or use melted coconut oil.
Non-dairy milk – like coconut milk or almond milk. You can also replace the milk with lemon juice to add a tangy flavor to your dessert. Lemon and blueberries go very well together.
Vanilla extract
Baking powder
Cinnamon
Salt
In a large mixing bowl or in a stand mixer with the paddle attachment, add the dry ingredients: flour, sugar, baking powder, cinnamon and combine.
Then, stir in the liquid ingredients: melted vegan butter, vanilla, and almond milk until it forms a dough.
Assembling Vegan Cobbler
First, place the berries of your choice into a 9-inch x 13-inch greased baking dish. Combine the berries with cornstarch, sugar, and any additional flavor or zest you want.
Then, sprinkle the biscuit topping over the fruits. It doesn't have to be perfect just drop dollops of biscuits a bit everywhere to look like a 'cobbled' stone pathway.
Finally, bake for 30 minutes in a preheated oven at 350°F (180°C) until the biscuit is golden brown.
Serving Vegan Blueberry Cobbler
First, cool the cobbler at room temperature for 20 minutes before serving. This allows the berry juice to thicken and form a jam-like texture.
Next, spoon some cobbler onto a shallow bowl and top with vegan toppings of your choice.
Vegan vanilla ice cream
Coconut yogurt
Whipped coconut cream
Melted vegan white chocolate chips
Shredded coconut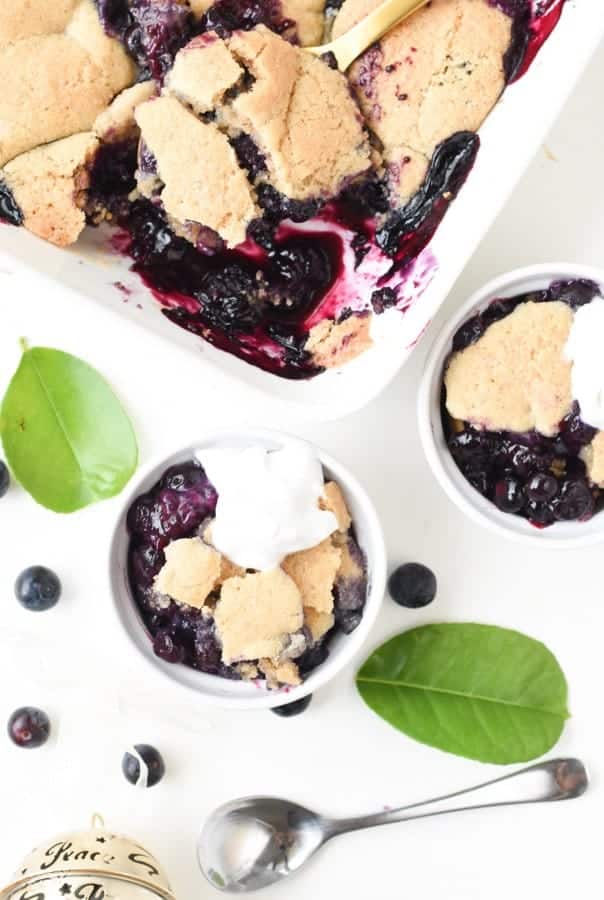 Storing Vegan Cobbler
This vegan cobbler must be stored in the fridge, in a sealed container, or in its baking dish tent with a piece of foil or wrap. It lasts in the fridge for up to 4 days.
You can serve leftover cobbler cold or slightly rewarm the cobbler in the oven before serving in a preheated oven at 325°F (150°C) until the biscuit crisp and the filling is lukewarm.
Can I Make This Recipe With Different Fruits?
Yes, you can replace the blueberries with other fruits, not only berries. For example, you can use:
Peaches – to make a vegan peach cobbler. Simple peel the fresh peaches and slice or use canned peach slices.
Apples – use peeled, cored crispy apples like honey crisp.
Rhubarb – peel and dice fresh rhubarb. You may want to use more sugar with this fruit to cover the acidity or rhubarb or combine half blueberries and half rhubarb to make a vegan blueberry rhubarb cobbler.
Cherries – fresh or frozen.
Any berries – or a mix of berry.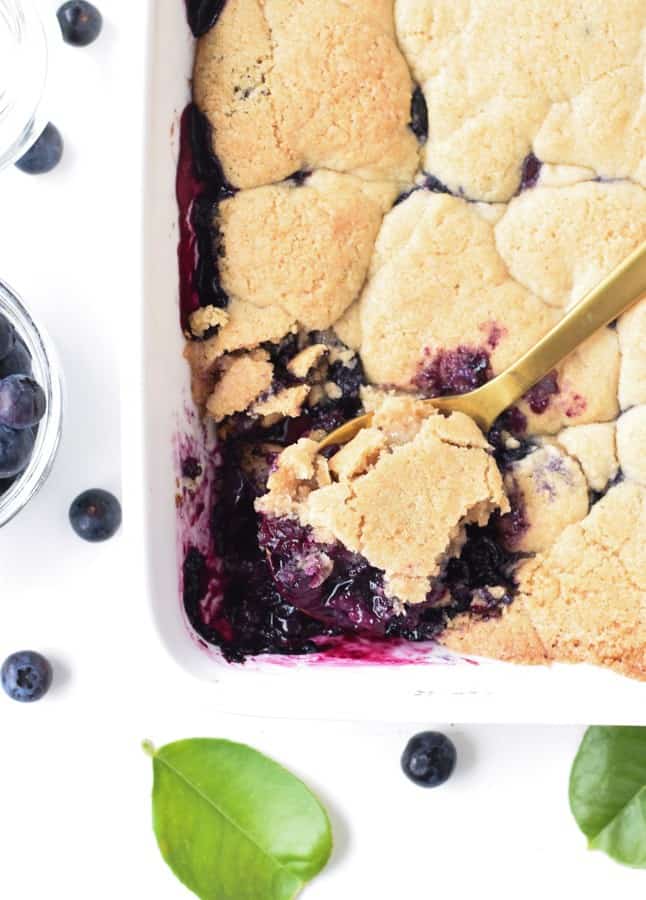 More Vegan Dessert Recipes
I love making vegan desserts for my family! You may also want to try some of the desserts below
Made this vegan berry cobbler recipe? Share a comment or review below I love to read your feedback on my recipes.
You can also join me on Pinterest for more vegan recipe inspirations.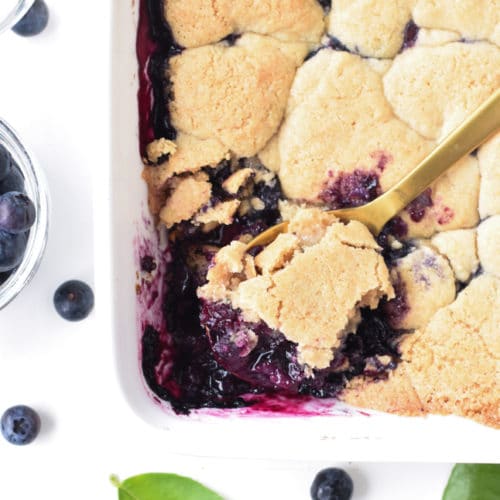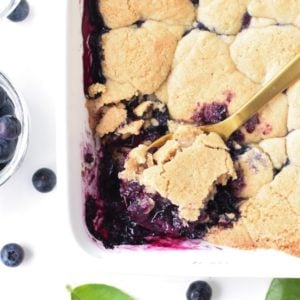 Vegan Blueberry Cobbler
The best Vegan blueberry cobbler with a cakey biscuit, slightly crunchy on top, and a delicious muddle of juicy blueberries.
Pin
Print
Review
Shop My Tools
Instructions
Preheat the oven to 350°F (180°C)

Slightly oil a 9 x 13-inch pan with vegan butter or coconut oil. Add blueberries, sugar, cornstarch, and lemon zest and mix directly in the baking pan. Set aside.

In a large mixing bowl, add flour, sugar, cinnamon, baking powder, and salt.

In a separate bowl, combine melted vegan butter, vanilla, almond milk. Pour onto the dry ingredients and mix until a cookie-dough-like batter forms.

Place scoops of the dough mixture on top of the blueberries. Spread with your fingers or spoon – it doesn't have to be perfect at all!

Bake for 30-35 minutes in the center rack of the oven, until the biscuit is crispy, golden in color and blueberries are juicy and it is bubbly on the sides of the pan.

To thicken the blueberry base, let cool for 20 minutes in the baking dish before serving.

Serve with vegan vanilla ice cream or a dollop of coconut whipped cream
Storage
Store in the fridge, cover the baking dish with wrap and refrigerate for up to 4-5 days.

Rewarm before serving or serve cold.
Share on Facebook
Pin Recipe
Nutrition
Serving:
1
serving
|
Calories:
274
kcal
|
Carbohydrates:
50
g
|
Protein:
3
g
|
Fat:
8
g
|
Saturated Fat:
2
g
|
Sodium:
365
mg
|
Potassium:
105
mg
|
Fiber:
2
g
|
Sugar:
33
g
|
Vitamin A:
528
IU
|
Vitamin C:
9
mg
|
Calcium:
155
mg
|
Iron:
1
mg