Vegan Gluten-Free Apple Crisp
This Healthy Vegan Apple Crisp recipe is a cozy, comforting vegan, gluten-free apple crisp with fresh apples and crispy oats.
A sweet, warm vegan dessert is even better with a creamy dollop of dairy-free coconut yogurt on top.
We all need to make an easy vegan apple crisp recipe at some point.
It can be to use your ripening apples to celebrate fall as I do now in New Zealand or to bring a warm, comforting, easy vegan dessert to the table.
Whatever your reasons, this healthy apple crisp recipe with oatmeal will make everyone happy.
Why You'll Love This Recipe
This apple crisp is absolutely delicious, and it's also:
Gluten-Free
Egg-Free
Dairy-Free
Rich in Vitamin C and Healthy Fat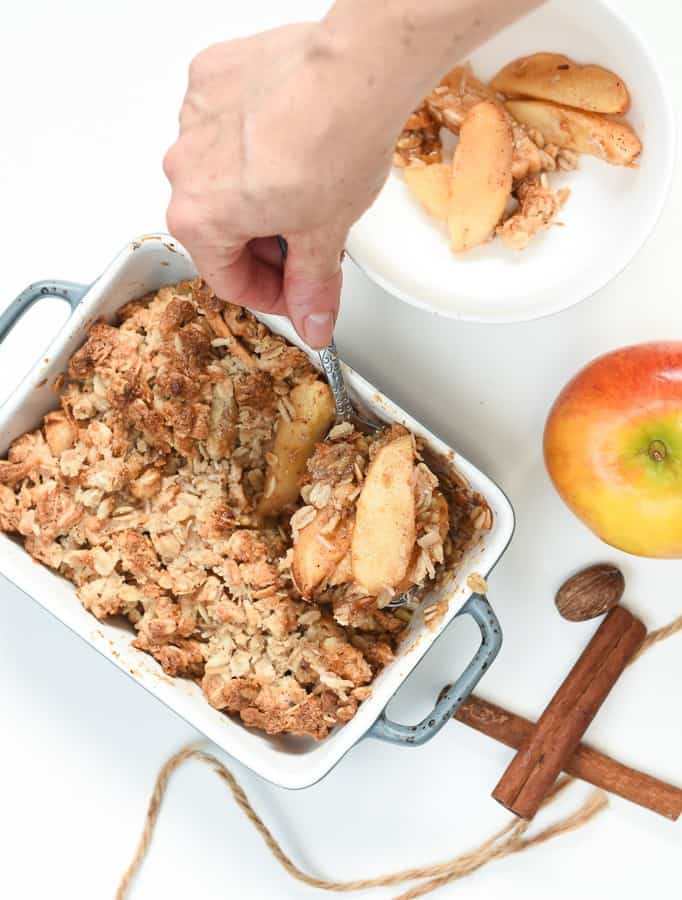 How To Make A Healthy Apple Crisp
Apple crisp is the easiest dessert recipe to prepare just before dinner and is ready to serve in just 30 minutes.
Bonus, it's possible to twist your classic apple crisp recipe to make a vegan, gluten-free apple crisp with no butter, no refined sugar, and no flour.
Ingredients
Let's see what you need to make the best-ever healthy apple crisp!
Apples – see the next paragraph to learn how to choose the best apples for your apple crisp recipe.
Gluten-free rolled oats – rolled oats are a very healthy cereal full of plant-based fiber, iron, and vitamin B6. Rolled oats make the most delicious crispy apple crisp. Of course, if you can't have oats, there is another option. You can replace oats with the same amount of millet flakes or sliced almonds. Note that millet flakes won't crisp as much as rolled oats.
Walnuts – they add lots of crunch to the topping and add up to your iron and magnesium intake too. Other delicious nuts to use instead are chopped almonds or chopped pecan nuts.
Unsweetened shredded coconut – this also makes the crisp very crispy in combination with oats and walnuts.
Almond flour – it's a healthy low-carb flour to boost your apple crisp recipe with healthy fat and less refined carbs.
Maple syrup – this is a healthy apple crisp recipe with maple syrup, but if you prefer, you can use any unrefined liquid sweetener you like. Agave syrup and brown rice syrup would work well too.
Avocado oil – or almond oil or grapeseed oil. All these oils have a high smoke point perfect for baking. Plus, they don't contain that much of saturated fat. This said coconut oil would work just as well. It simply contains more saturated fat than the other oil. Choose the oil that matches your health goals.
Lemon juice – you can also use orange juice to enhance the fall flavor of your dessert.
Cinnamon
Nutmeg – not everyone enjoys the flavor of nutmeg. If you don't, skip this part of the recipe or use more cinnamon or cardamom instead.
Choosing Your Apples
The best apples to use in apple crisp are the apples with a crisp! It means the apples you would use for an apple tart.
Apples release juice while baking but remain crisp and won't turn too mushy or soft. The most popular apple varieties for an apple crisp are:
Granny smith
Fuji
Gala
Honeycrisp
Pink lady
Golden Delicious
Red Delicious
Preparing the apples for an apple crisp
You can use fresh apples or old apples as long as they are not too squishy or soft.
The main thing to remember is to peel, core the apples, and remove any soft, squishy, or mushy spots. Then, cut the apples into thin slices of similar size.
The size is important because it will ensure that the apple slices cook at the same speed.
The best way to cut apple slices of the same size is to cut the apple in half, then cut each half into quarters, and finally, each quarter into quarters again.
You should make 1/4-inch slices for the best juicy apple crisp.
A juicy vegan apple filling
The best vegan apple crisp results in perfectly baked apples.
You want soft, maple-glazed apples that are still fork-tender.
What you don't want is mushy, watery filling. So the trick to making perfectly baked apples in a crisp recipe is to
Cut apples thinly – apples must be peeled and thinly sliced, 1/4 inches max.
Layer the apples in a maximum of 3 layers – too many layers of apples will take longer to cook. This results in a dry filling as all the juice will evaporate. On the other side, if your layers are too thin, the apple will cook very fast, even faster than the topping resulting in a water filling. Plus, the topping will never have time to bake and crisp.
To make the best healthy vegan apple crisps, you must place 3 layers of thin slices of apples on your baking dish, use 2 dishes if needed, and then crumble the topping on top.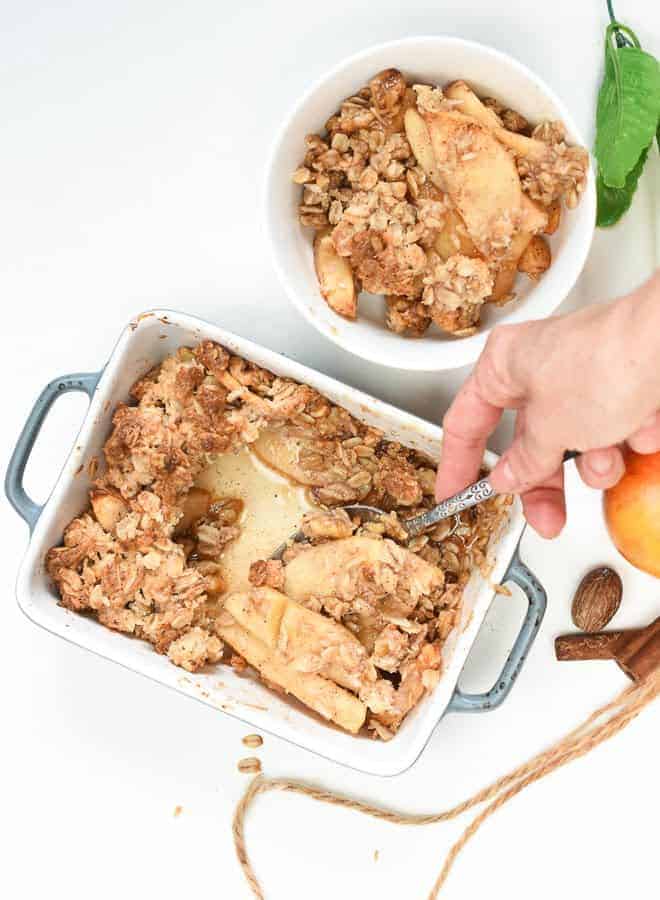 Making Healthy Crunchy Crisp Topping
The best crunchy, healthy apple crisp topping is achieved with the right balance of almond flour, nuts, coconut, oats, maple syrup, oil, and spices.
Nuts, oats, and coconut add to the texture and the crunch you are after.
The oil and maple syrup bind the almond flour to the rest to make the mixture crumbly like an oatmeal cookie crumble.
To ensure the top is crispy, you must crumble this batter with your finger.
Don't spread the crisp topping with a spatula, or it will form a single biscuit layer, similar to an apple cobbler.
Using your finger is the best technique if what you are after are crunchy pieces of oatmeal nut cookies.
Allergy Swaps
You can adjust this recipe to make it nut-free. A healthy apple crisp doesn't have to involve nuts.
You can swap almond flour with oat flour and walnuts with pumpkin seeds or more rolled oats.
Storing Vegan Apple Crisp
This recipe has no dairy product, and it stores well for 24 hours at room temperature.
You can store your vegan apple crisp overnight on your kitchen counter.
Cover the dish with a clean towel to prevent dust from coming in. If you want to store this for longer, pop it in the fridge.
Of course, the topping of your vegan apple crisp with oat will soften in the fridge. Keep reading to learn how to bring back the crisp of your apple crisp recipe.
Reheating Appl Crisp
The top of the crisp will be softer the next day, even more if you store the apple crisp in the fridge as it adds moisture to the crumb.
I recommend rewarming the crisp for 10-12 minutes, in small single-serve ramekins, on the medium rack of your oven at 350°F (180°C).
Bake until it's lukewarm in the center and the top gets crispy again.
You can also turn the broiler mode on for 1-2 minutes to give an extra boost of crispiness to your toppings.
Serving Vegan Gluten-Free Crisps
There are many vegan toppings you can serve with this vegan apple crisp recipe like:
Dairy-free coconut yogurt or soy yogurt
Dairy-free vanilla ice cream
A drizzle of maple syrup
Whipped coconut cream – open a can of pure coconut cream, scoop out the top part and whisk in a cod bowl until it makes whipped cream—flavor with stevia drops or maple syrup.
Raspberry coulis
Made this vegan apple crisp recipe yet? Share a picture with me on Instagram or in the comment section below!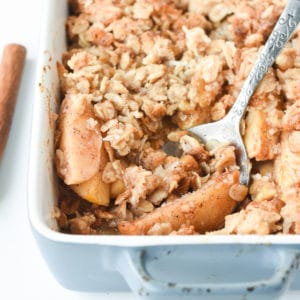 Vegan Gluten-Free Apple Crisp
A healthy juicy vegan apple crisp with an oat, nut crispy crumble.
Pin
Print
Review
Instructions
Preheat oven to 350°F (180°C). Grease a 9-inch x 13-inch dish or two smaller baking dishes if needed. Set aside.
Prepare the apples
Peel, core, and cut the apples into uniform slices, about 1/4 inch thickness. Cutting the slices thin and evenly ensures juicy, fast cooking crisp with soft apples. If you cut the apples too thick, the cooking will be longer, and it will dry the crisp topping.

Place the sliced apples into a large mixing bowl and toss with lemon juice, maple syrup, cinnamon, and nutmeg (if you love nutmeg, otherwise add more cinnamon or cardamom).

Stir well to cover all the apple slices with the sweet mixture.

Arrange the apples into the baking dish. Lay 2-3 layers of apple slices, not more. This is the best thickness for fork-tender maple-glazed apples with a crunchy topping. If you overlap too many apples, you will have to bake your crisp longer, the topping will dry out, and the filling may be watery.

Set the baking dishes aside while you are making the crisp.
Make the topping
In a large mixing bowl, combine all the topping ingredients: rolled oats, chopped walnuts, almond flour, shredded coconut, maple syrup, avocado oil, and cinnamon.

Massage the batter with your fingers to create a consistent crumble. The texture should be wet but crumbly.
Assemble the apple crisp
Sprinkle the topping evenly onto the apples until no more left. Don't spread or pack the topping using a spatula, or it will be more like a cobbler recipe, and the topping won't create crunchy cookie crumble pieces.

Bake in medium rack of your oven for

30-45 minutes

. If you are using 2 small dishes, you can bake both dishes at the same time. One in the center rack and one in the rack just under.

Check the cooking after

25 minutes

and every 10 minutes until it is cooked. You know a crisp is ready to go out of the oven when the bottom layer is bubbling, the apples are soft and juicy, and the surface of the crisp is golden brown and crispy. The wider the pan is, the faster it cooks, so always have an eye on your baking time to achieve your favorite texture.

Remove from the oven and cool for

10 minutes

before serving.

Serve lukewarm with a dollop of dairy-free coconut yogurt or dairy-free vanilla ice cream.
Storage
Store on the counter at room temperature for 24 hours. Cover the dish with a towel to prevent dust from coming in.

Then store in the fridge for up to 4 days.
Rewarm the crisp
The next day your crisp topping will be soft, even softer if stored in the fridge. I recommend always rewarming your apple crisp in oven-proof single-serve ramekin at 180°C (350°F) until the top crisp and the apples are lukewarm. Add an extra drizzle of maple syrup to prevent the apples from drying out.
Notes
A medium-sized apple weighs roughly 120g.
Share on Facebook
Pin Recipe
Nutrition
Serving:
1
serving
|
Calories:
376
kcal
|
Carbohydrates:
38
g
|
Protein:
5
g
|
Fat:
25
g
|
Saturated Fat:
12
g
|
Sodium:
6
mg
|
Potassium:
265
mg
|
Fiber:
6
g
|
Sugar:
22
g
|
Vitamin A:
49
IU
|
Vitamin C:
5
mg
|
Calcium:
59
mg
|
Iron:
1
mg