Strawberry Crumble (The Best Strawberry Crisp)
An easy Strawberry Crumble recipe to celebrate summer and enjoy a delicious dessert ready in less than 30 minutes.
Plus, this crumble recipe is also vegan, gluten-free, and dairy-free to share with everyone.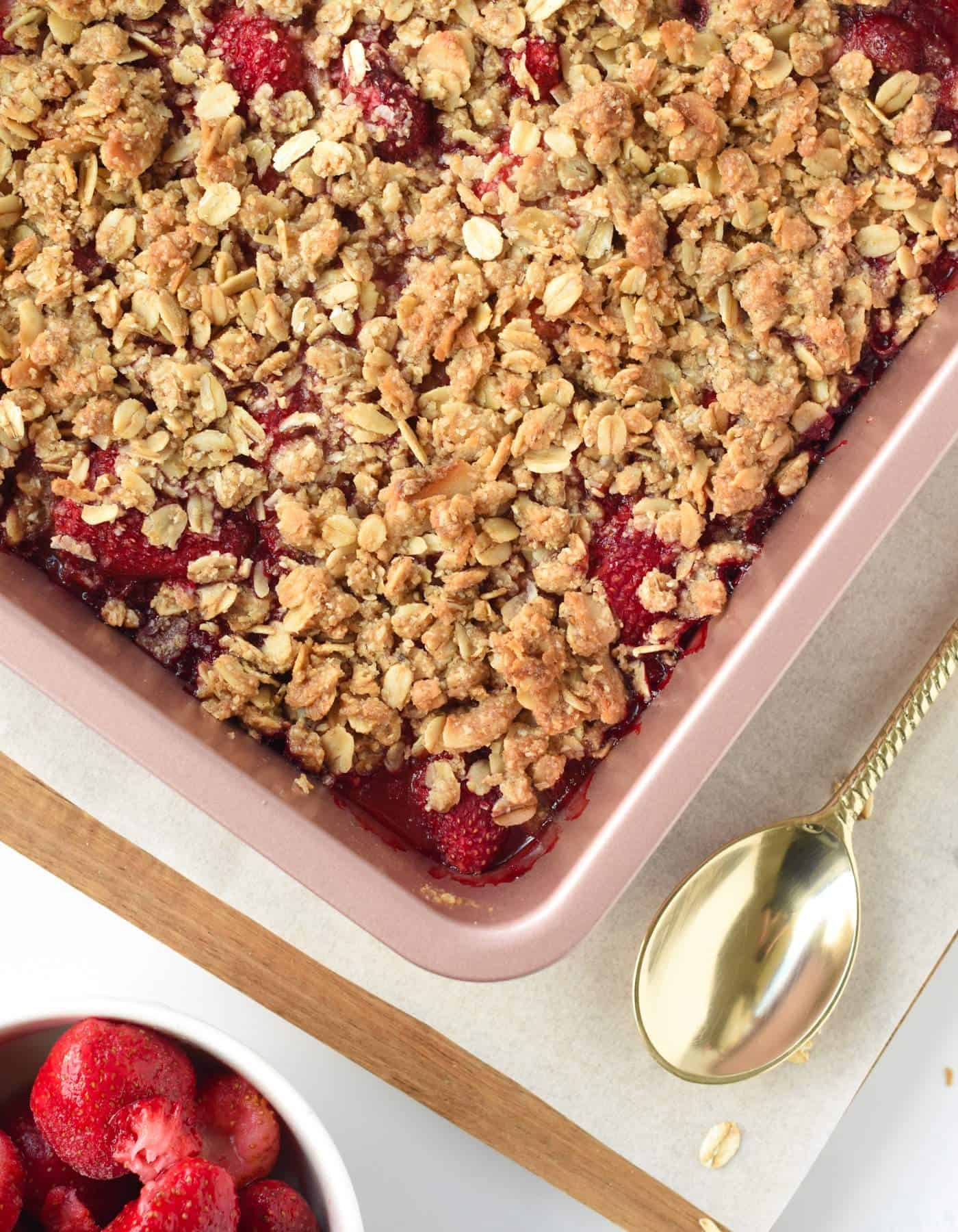 I love to share crumble or cobbler recipes because they are the easiest and most delicious desserts to quickly bring a sweet touch to your meal.
What's Strawberry Crumble?
A Strawberry Crumble is a simple two-layer dessert made of one layer of baked juicy strawberries topped with a crispy topping.
The topping of crumble, compared to cobbler, resembles breadcrumbs, and it's usually made of oat, nuts, coconut, and flour.
Combined with a softened fat base, like coconut oil or butter, it creates a delicious crispy crumb to crisp and balances the juicy strawberries.
How To Make Strawberry Crumble
There's nothing easier than a strawberry crumble recipe, and it's the best way to use all your ripe summer strawberries.
Let's see the simple ingredients you need to make the crumble base and strawberry crumble topping, including allergy-friendly options you can use if needed.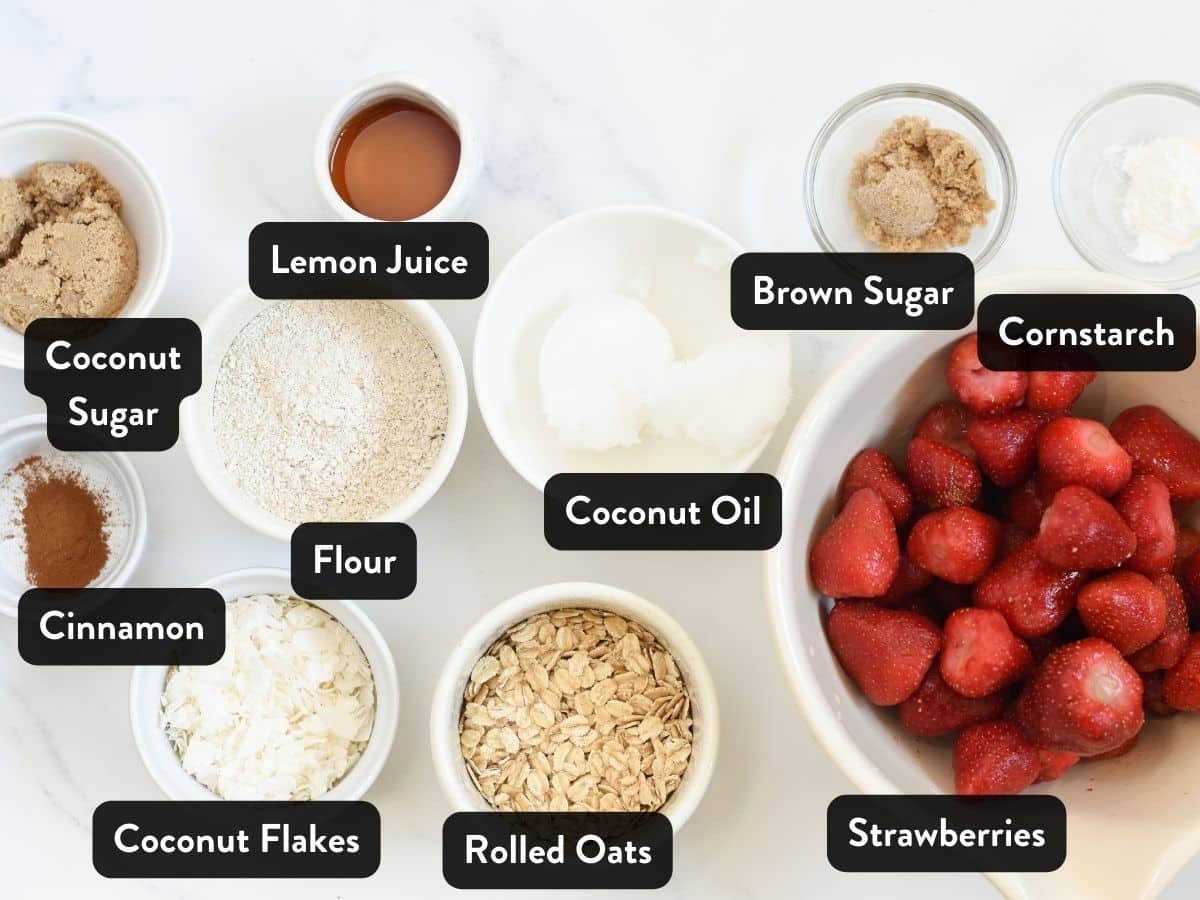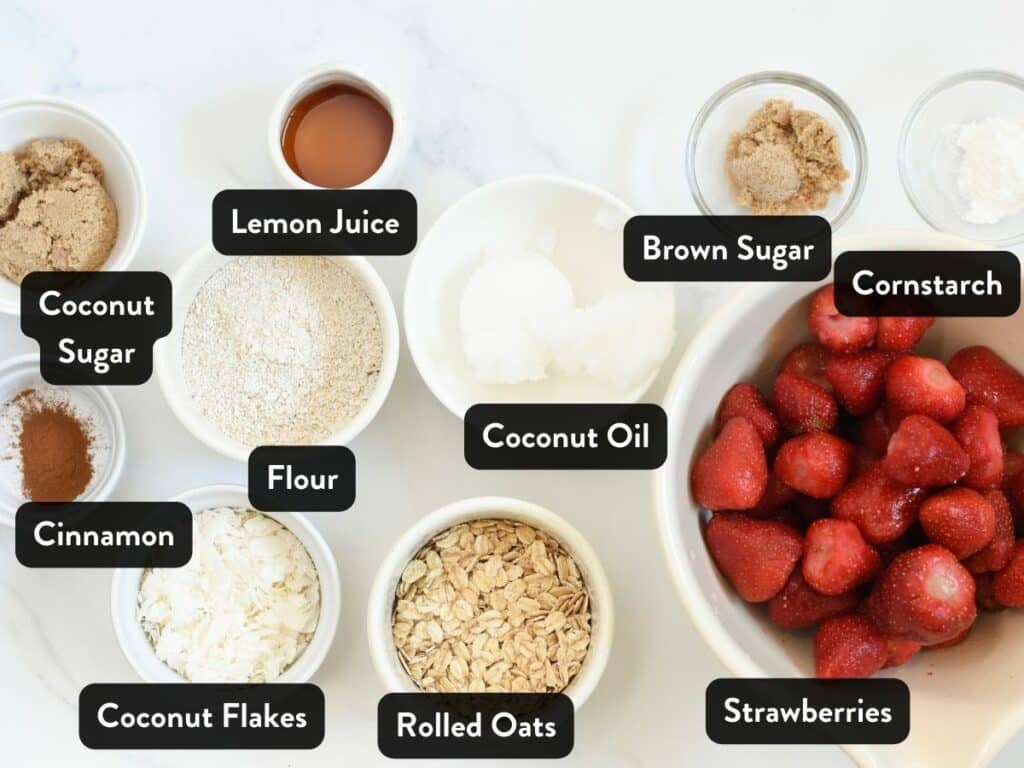 Ingredients For The Strawberry Filling
A crumble base is made of fruit sticky compote.
Fresh strawberries – fresh ripe strawberries are the sweetness. It's a great choice to avoid adding too much sugar to your crumble. But if it's not the strawberry season, you can use frozen strawberries both options works very well. If you are using frozen strawberries to make this crumble, don't thaw the fruits. Add the frozen strawberries to the recipe following the instructions below.
Cornstarch or arrowroot flour – Since strawberries contain a lot of water, you need some starchy flour to create a sticky jam-like texture to the base of your crumble. If you are after a healthier, low-carb option, swap the flour for a tablespoon of flaxseed meal or chia seeds!
Sweetener – I love to use coconut sugar or brown sugar for crumble. It adds a delicious caramel flavor to the dessert. Other low-sugar options that work perfectly in this strawberry crumble are erythritol or allulose. Both are sugar-free and diabetes-friendly.
Lemon juice – This is optional, but adding 1 teaspoon of lemon juice adds a lovely tangy flavor to the strawberries.
Strawberry Crumb Toppings
There are many ways to make a strawberry crisp topping that marry well with the strawberry flavor.
Below I listed my favorite recipes with some ideas for you to try.
Old fashioned rolled oats – quick oats or instant oats work very well but contain less texture or fiber.
Flour – all-purpose flour, gluten-free flour, oat flour, or almond flour. Any flour works very well in this strawberry crumble recipe. Choose the one that matches your health goals.
Brown sugar or coconut sugar or sugar-free 1:1 alternative like erythritol.
Coconut flakes – that's the best flavor to match strawberries, I believe, but other options are chopped walnuts or chopped almonds for the non-coconut fans!
Soft coconut oil or softened dairy-free butter – depending on the flour you choose, you will need less or more fat to gather the crumble toppings ingredients. Always start with the smaller amount called by the recipe card and increase if too dry.
Cinnamon – optional but flavorsome.
Vanilla extract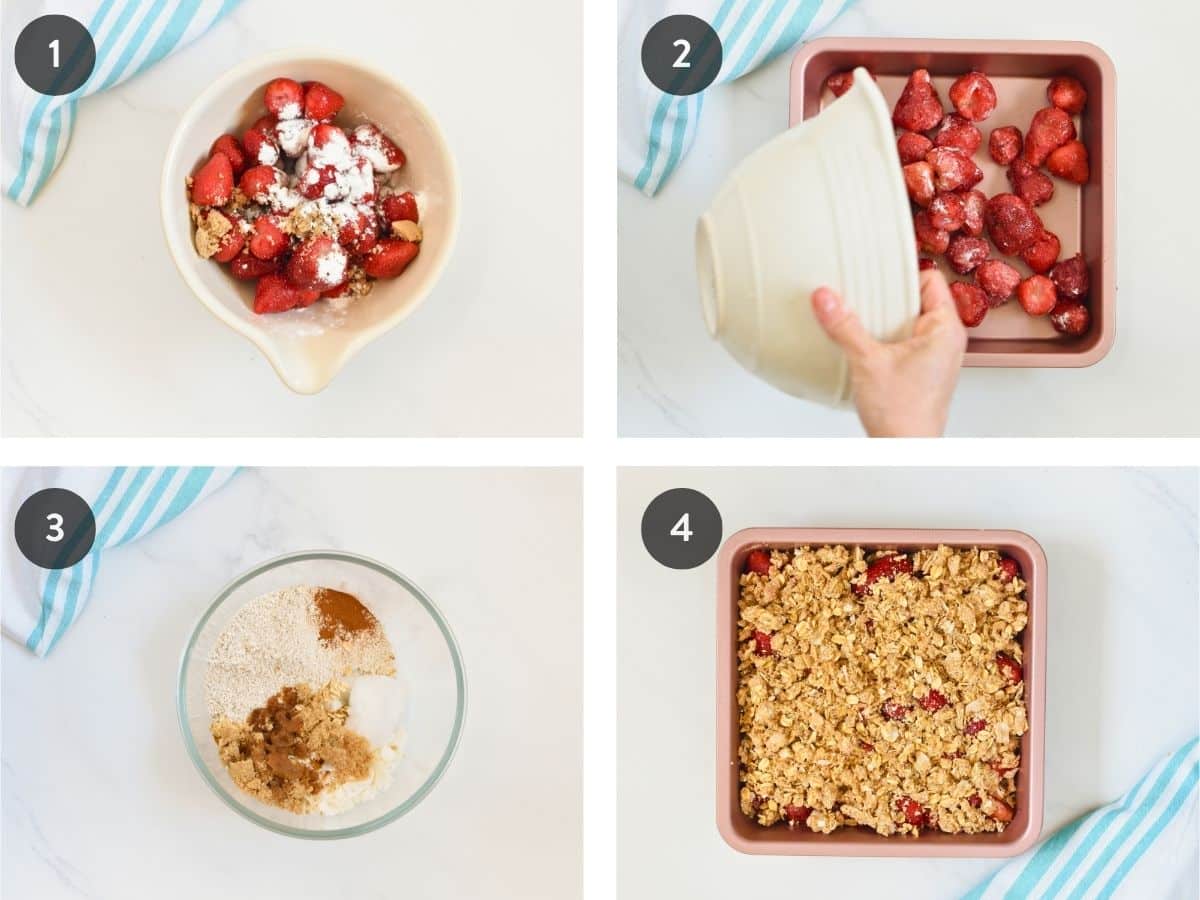 Preparing The Strawberries
First, in a large mixing bowl, add the stemmed, cored strawberries. You can use whole strawberries or cut them into smaller pieces. It doesn't matter much because strawberries cook very fast.
I like whole strawberries in my crumble. Then, stir in sugar, cornstarch, and vanilla extract.
Preparing The Base
Transfer the coated strawberries to an 8-inch x 8-inch baking dish, lightly greased with coconut oil. Set it aside.
Combining Crumble Ingredients
Next, in a large mixing bowl, add oats, flour, sugar, cinnamon, and coconut flakes. Rub in softened dairy-free butter or soft coconut oil until it forms a crumbly, breadcrumb-like texture.
Spreading Crumble
Sprinkle the crumble topping all over the strawberries.
Baking Crumble
Bake in the center rack of the oven for 20 minutes or 25 minutes.
You know the strawberry crumble is cooked through when the strawberries are juicy and bubbly, the toppings are crispy, and the top is golden brown.
Serving
Remove the strawberry crumble from the oven and cool for 5 minutes in the pan.
Serve in a small bowl topped with a dollop of one of these:
Vanilla ice cream – I used soy vanilla ice cream.
Whipped cream – try my whipped coconut cream for a dairy-free option.
Storage Instructions
The best part about this crumble dessert is that it stores very well in the fridge or the freezer.
Keep the leftover strawberry crumble in an airtight container in the fridge for up to 4 days. Rewarm it in the oven to give some crispiness to the toppings.
You can freeze the crumble and thaw it in the fridge the day before serving.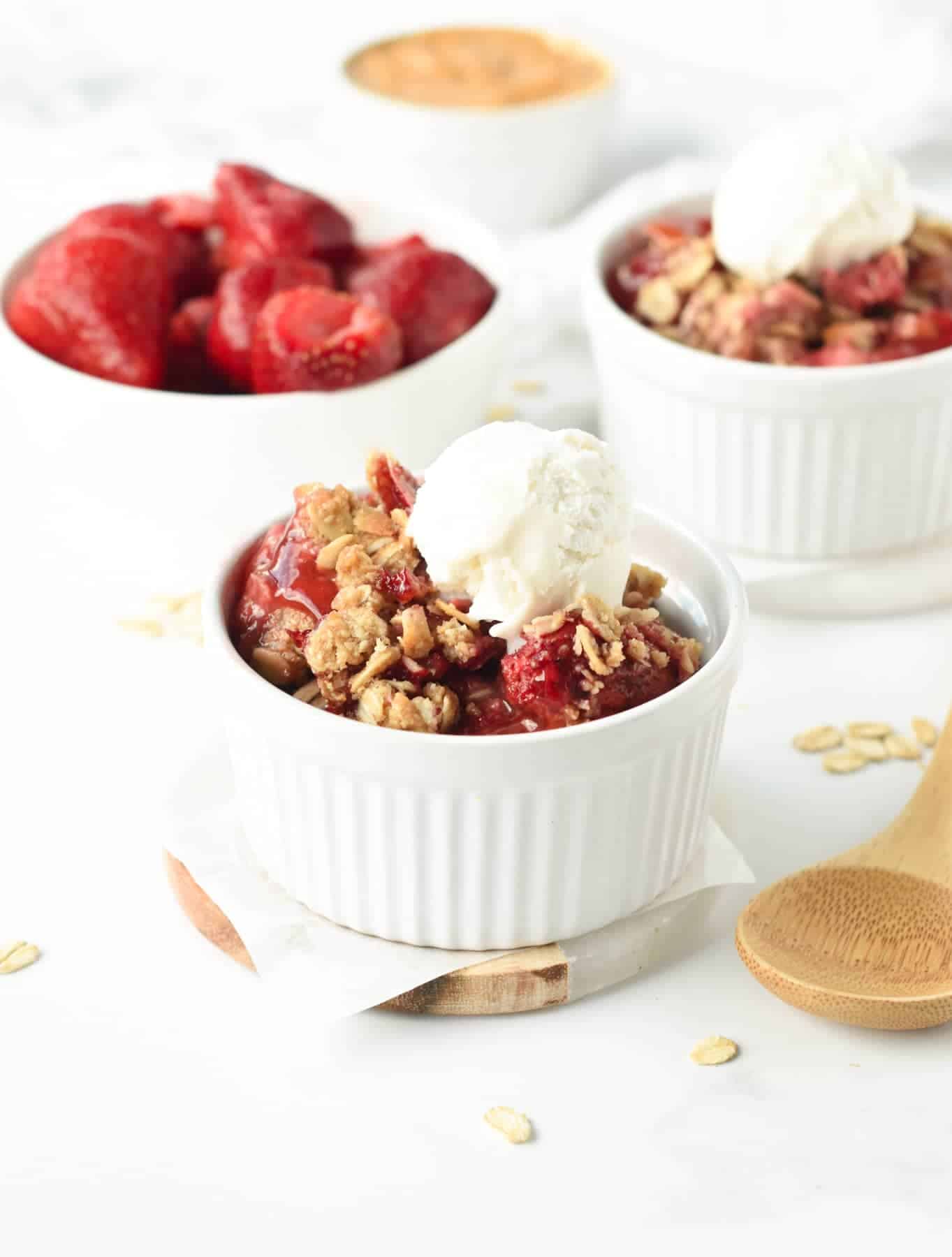 Healthy Variations
A crumble recipe doesn't have to be high-sugar or high-fat.
This quick and easy recipe is a healthy crumble version of the classic crumble, but if you want to make it even healthier, let me share my top 3 tweaks:
Swap to make this crumble low-sugar and lower in carbs are:
Cornstarch for chia seed or flaxseed meal – this adds fiber and protein.
Sugar for sugar-free natural crystal sweetener like erythritol – this removes all the calories from sugar and lightens up the dessert.
Flour for almond flour or oat flour
Other Fruits And Topping
Finally, if you don't have strawberries at home but still crave a crumble, use this recipe with other berries or fruits like:
Raspberries
Blueberries
Boysenberries
Peaches
Apple slices or use my apple crumble recipe.
Rhubarb – one of the most popular combinations is strawberry rhubarb crumble, and there's a reason for that! It tastes amazing. First, peel off the rhubarb stalks and chop them into small pieces until you get about 1/2 cup. Then combine the 1/2 cup chopped rhubarb with the strawberries and bake following the recipe below.
More Easy Dessert Recipes
I love to bake desserts that are simple and allergy-friendly. Below I listed my favorite vegan dessert recipes for you to try.
Have you made this strawberry crumble? Share a review or comment below to connect with me,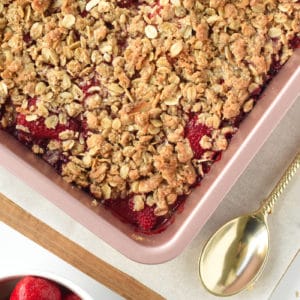 Strawberry Crumble
An easy strawberry crumble recipe with juicy strawberries topped with crispy oat and nuts topping.
Pin
Print
Review
Servings:
6
servings (1/2 cup)
Ingredients
Strawberry Crumble toppings
Instructions
Preheat oven to 350°F (180°C). Slightly oil an 8-inch x 8-inch square pan. Set aside.

Core the strawberry stems, and cut each strawberry into large bites or keep whole if preferred. Both options work great. Place the strawberries into a large mixing bowl with corn starch, sugar, lemon juice, and stir to coat.

Spread evenly into the baking dish. It's ok if it's not in a single layer. Strawberries bake really fast, even if they overlap. Set aside.

In another mixing bowl, mix flour of choice, rolled oats, coconut flakes (or chopped nuts), sugar, vanilla, and cinnamon.

Rub in soft coconut oil or softened dairy-free butter with fingertips until it forms a breadcrumb-like texture. Start with 5 tablespoons of soft coconut oil and add the extra one if too dry.

Sprinkle over the strawberries in the pan.

Bake for 25-30 minutes or until the fruits are cooked, bubbly, and the top is cooked and crispy.

Serve with a dollop of dairy-free ice cream or whipped cream.
Storage
Store leftovers for up to 3 days in the fridge in an airtight container.
Share on Facebook
Pin Recipe
Nutrition
Serving:
1
serving
|
Calories:
273.1
kcal
|
Carbohydrates:
32.7
g
|
Protein:
3
g
|
Fat:
15.5
g
|
Saturated Fat:
12.9
g
|
Polyunsaturated Fat:
0.6
g
|
Monounsaturated Fat:
1
g
|
Sodium:
6.6
mg
|
Potassium:
224.3
mg
|
Fiber:
3.7
g
|
Sugar:
16.1
g
|
Vitamin A:
11.8
IU
|
Vitamin C:
56.5
mg
|
Calcium:
31.9
mg
|
Iron:
1.4
mg
|
Magnesium:
29.5
mg
|
Phosphorus:
72.3
mg
|
Zinc:
0.6
mg