This Blackberry Crisp is an easy family dessert with juicy blackberries topped with a crispy oat crumbly topping.
Plus, this blackberry crisp is also dairy-free and vegan-friendly.
I love crisp and crumble recipes, and there's a reason why. They are the easiest dessert ever to make the whole family happy.
Who doesn't love a sweet fruit jam topped with a crispy biscuit!
Why You'll Love This Crisp
This Crumble and Crip Recipe is easy to make, and it is:
Vegan
Gluten-Free Option
Low-carb Keto-Friendly
Ready In Just 30 Minutes
Tastes absolutely delicious
How To Make Blackberry Crisp
It's easy to make a blackberry crisp in less than 30 minutes.
Let's see how you can make this easy summer dessert and use all your wild garden blackberries.
Ingredients
All you need to make this crisp berry recipe are:
Fresh Blackberries or frozen blackberries work as well.
Cornstarch – or arrowroot starch.
Old-Fashioned Rolled Oats – feel free to use gluten-free certified oats for a gluten-free recipe.
All-Purpose Flour or oat flour or almond flour for a low-carb crisp recipe.
Brown Sugar or coconut sugar, or sugar-free brown erythritol to cut this dessert's carbs, calories, and sugar.
Shredded Coconut
Coconut Oil
Cinnamon
Vanilla Extract
Preparing The Crumble
Preheat the oven to 375°F (190°C). Use some oil spray or melted coconut oil to grease a 9-inch x 9-inch square pan. Set aside.
First, combine the berries with cornstarch, cinnamon, and sugar in a large bowl until well coated. Set aside into a 9 inches x 9 inches square pan
Then, transfer the fruit onto the prepared baking dish and spread it evenly.
In the same bowl, no need to wash it, add all the dry ingredients: flour, oats, coconut, salt, and cinnamon. Stir well to combine.
Add the vanilla extract and softened coconut oil, and using your fingers or a pastry cutter, rub the soft coconut oil onto the dry ingredients until it forms pea-size pieces of batter
Baking The Blackberry Crisp
Crumble the batter all over the fruit layer in the previous baking dish.
Bake the crisp in the center rack of the oven at 375°F (190°C) for 30 minutes or until the berries are bubbly and form a jam-like texture.
You know your crisp is ready when the toppings are crispy and golden brown.
Serving Blackberry Crisp
This blackberry crisp must be served lukewarm in a small shallow bowl topped with some of the below ingredients.
Drizzle maple syrup for a boost of sweetness.
Whipped cream – we use whipped coconut cream.
A scoop of vanilla ice cream – we used dairy-free macadamia ice cream. You can also make your own Avocado Ice Cream.
Storage
A crisp recipe can be stored very well in its baking dish, wrapped with plastic wrap or foil, and placed in the fridge.
It lasts up to 4 days in the fridge.
You can also freeze crisp in single portions or the entire batch and thaw in the fridge the day before.
Rewarming crisp recipe
Crisp recipes are better lukewarm than cold.
To bring back some crispiness to the topping, place the crisp in an oven-safe ramekin and rewarm at 325°F (160°C) until warm in the center and the topping is crispy.
It takes about 10 to 15 minutes to rewarm.
You can also pop the ramekin in an air fryer basket at 300°F (140°C) until piping hot and crispy, which takes about 6 minutes.
Allergy Swaps
Below are some ingredient alternatives to make this easy dessert recipe suitable for any diet requirement:
Low-Carb and Diabetes-Friendly – Blackberries are one of the lowest carb and low-sugar berries, so it makes a great low-carb dessert. To make a low-carb blackberry recipe, use a natural granulated sweetener like erythritol or allulose. Then, swap regular flour for a low-carb flour like almond flour and serve with sugar-free ice cream. If oats are too high in carbs for you, swap for sliced almonds to add a similar texture minus the carbs.
Gluten-Free – Pick a gluten-free certified oats brand and use gluten-free all-purpose flour or almond flour to replace wheat flour.
Coconut-Free – If you don't like coconut flavor, use dairy-free butter for the topping, or refined coconut oil has no taste. You can swap shredded coconut with any chopped nuts you love, like almonds, pecans, or walnuts.
Frequently Asked Questions
I listed below the most common questions you have about this crisp recipe.
Can I Use Mixed Berries?
Yes, you can use this recipe with mixed berries like a combination of blueberries, raspberries, and blackberries that taste amazing.
Can I Use Frozen Blackberries?
You can use frozen berries, and you need to thaw a few hours to room temperature, or the cornstarch sugar coating won't stick well to the frozen berries.
What's The Difference Between Blackberry Crisp And Blackberry Crumble?
Both refer to the same recipe. In the USA, a crisp is the common name for this type of dessert, while everywhere in Europe, it's called a crumble.
More Crisp And Crumble Recipes
Below I listed some more fruit crumble or fruit crisp recipes for you to try:
Did you try this Blackberry Crisp recipe? Share a comment or review below to connect with me.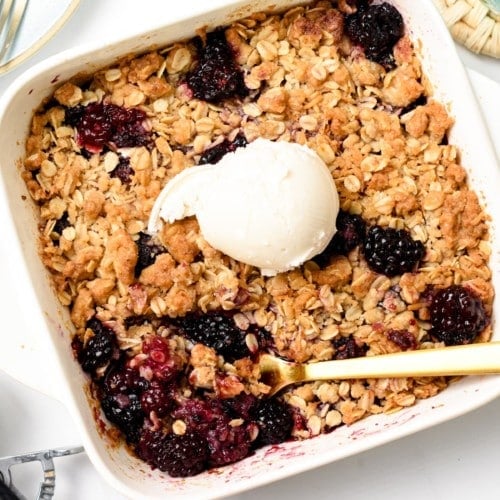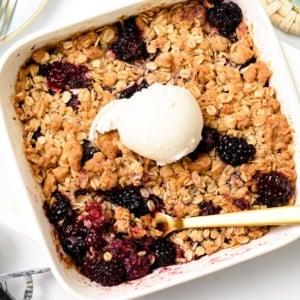 Blackberry Crisp
This Blackberry Crisp is an easy family dessert with juicy blackberries topped with a crispy oat crumbly topping.
Pin
Print
Review
Servings:
8
servings (1/2 cup)
Shop My Tools
Ingredients
Blackberry Crumble Toppings
Instructions
Preheat the oven to 375°F (190°C). Slightly oil a 9-inch x 9-inch square pan or a 9-inch x 11-inch pan. Set aside.

In a mixing bowl, stir blackberries, cornstarch, cinnamon, and sugar. Spread evenly into the prepared baking dish.

In another mixing bowl, mix flour of choice, rolled oats, coconut, sugar, vanilla, and cinnamon.

Rub in soft coconut oil or softened dairy-free butter with fingertips until it forms a breadcrumb-like texture.

Sprinkle the crisp topping over the fruit mixture.

Bake for 25 to 35 minutes or until the fruits are cooked, bubbly, and the top is cooked and crispy – golden brown color.

Serve with a dollop of dairy-free ice cream or whipped cream.
Storage
Store leftovers for up to 3 days in the fridge in an airtight container.
Notes
Note 1: If frozen, thaw the berries for a few hours at room temperature.
Note 2: Make it healthier and low-calories, low-sugar by using granulated sugar-free sweeteners like erythritol.
Share on Facebook
Pin Recipe
Nutrition
Serving:
1
serving
|
Calories:
194.8
kcal
|
Carbohydrates:
36.6
g
|
Protein:
2.7
g
|
Fat:
4.7
g
|
Saturated Fat:
1.9
g
|
Polyunsaturated Fat:
0.9
g
|
Monounsaturated Fat:
1.5
g
|
Sodium:
9.5
mg
|
Potassium:
224.9
mg
|
Fiber:
2.7
g
|
Sugar:
21
g
|
Vitamin A:
49.1
IU
|
Vitamin C:
3.7
mg
|
Calcium:
67.1
mg
|
Iron:
1.1
mg
|
Magnesium:
26.1
mg
|
Phosphorus:
61.6
mg
|
Zinc:
0.6
mg