This Strawberry Rhubarb Crisp is an easy family dessert with the most delicious sweet and sour combination of strawberries and rhubarb.
Plus, this crisp recipe is also dairy-free and easy to make sugar-free for a diabetes-friendly dessert.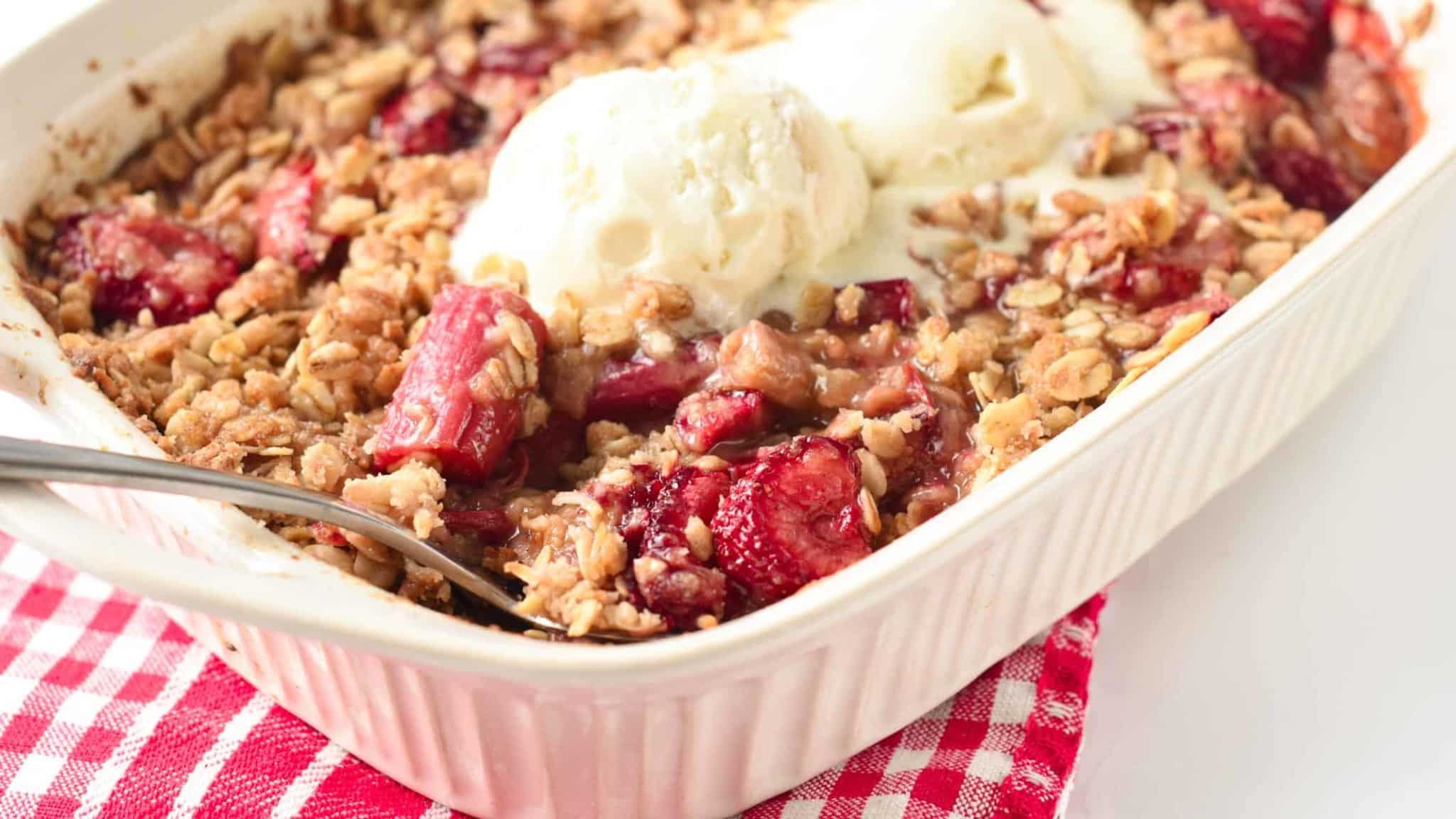 I love rhubarb recipes and I really want to share more with you here. Rhubarb is a healthy vegetable that grows massively in my garden so every year I love to make easy dessert recipes with it.
Since I am a big fan of crumble recipes, known as crisp recipes in the US, I often make rhubarb crisp.
It tastes very similar to rhubarb pie without the hassle of baking a pie crust.
What's A Strawberry Rhubarb Crisp?
A strawberry rhubarb crips is an easy crumble recipe that combines two delicious fruits and vegetables in a one-pan dessert.
Rhubarb brings a tangy and slightly sweet taste while strawberries add sweetness and delicious flavors.
It's a typical family dessert for summer that can be shared and topped with generous scoops of ice cream.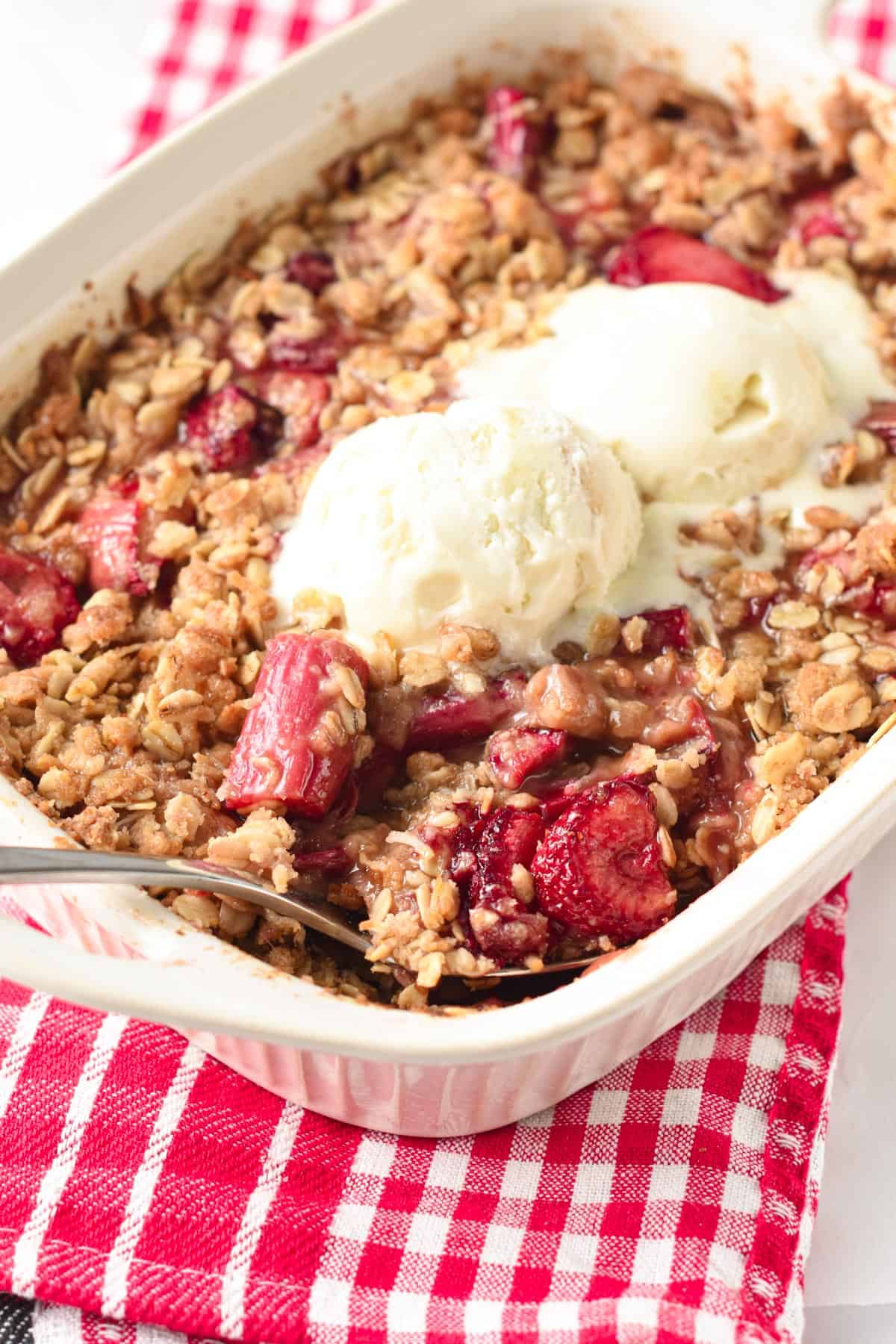 How To Make Strawberry Rhubarb Crisp
It's very easy to make strawberry rhubarb crisp all you need are:
Ingredients
Rhubarb Pieces – fresh or frozen. Rhubarb leaves are somewhat toxic so if you pick yours from your garden, make sure to remove all the leaves.
Strawberries Slices – fresh or frozen. Strawberries are the best sidekick to rhubarb and offer the best combination of sweet and sour.
Cornstarch or Arrowroot Flour for a grain-free option.
Soft Brown Sugar or coconut sugar or granulated sugar or sugar-free Monk fruit erythritol blend to make a sugar-free crisp recipe.
Old-Fashioned Rolled Oats – use certified gluten-free oats if you are gluten intolerant.
All-Purpose Flour – or gluten-free flour or almond flour for a low-carb alternative.
Vanilla Extract
Pecan – Pecans, or any nuts you love
Shredded Coconut
Fruit Layer
First, if you are using fresh rhubarb as I do, cut the end of the rhubarb stalks and discard them.
Then, cut the rhubarbs talks into 0.5-inch pieces (1 cm) and place them in a large mixing bowl.
If using fresh strawberries, core and discard the stems of the strawberries.
Cut the strawberries into medium-sized slices and place them in the bowl with the rhubarb.
Add in cornstarch and sugar, and stir to coat the rhubarb and strawberry slices with the mixture.
Spread the fruit layer evenly onto a 9-inch x 9-inch baking dish or a 9-inch x 11-inch ceramic pan as you like. Set it aside.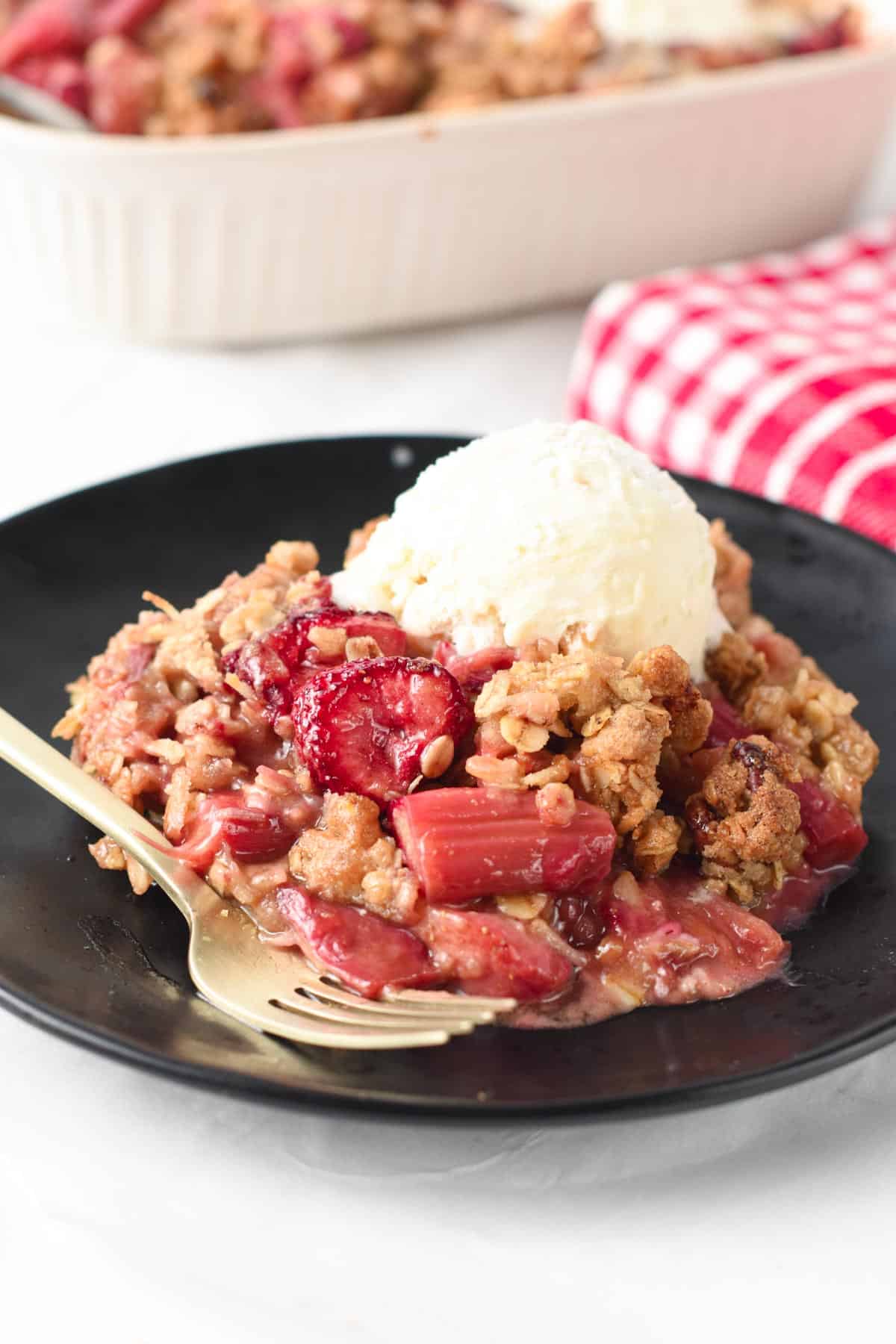 Crisp Topping
In a large bowl, combine the flour, brown sugar, cinnamon, vanilla, chopped pecan, shredded coconut, and soft butter – we used dairy-free butter or softened coconut oil.
Rub the softened butter with the remaining ingredients until it forms small bits and pieces.
Assembling The Dessert
Crumble the crisp topping all over the fruit mixture.
Bake at 375°F (190°C), in the center rack of the oven until the topping is golden brown and the fruit filling is bubbly.
Remove from the oven and cool down at room temperature for 15 minutes in its baking dish before serving.
Serving Rhubarb Crisp
Most of the time crisp recipes are served warm with ice cream or one of the creamy cold toppings below:
Scoop of Vanilla Ice Cream
Whipped Cream
Yogurt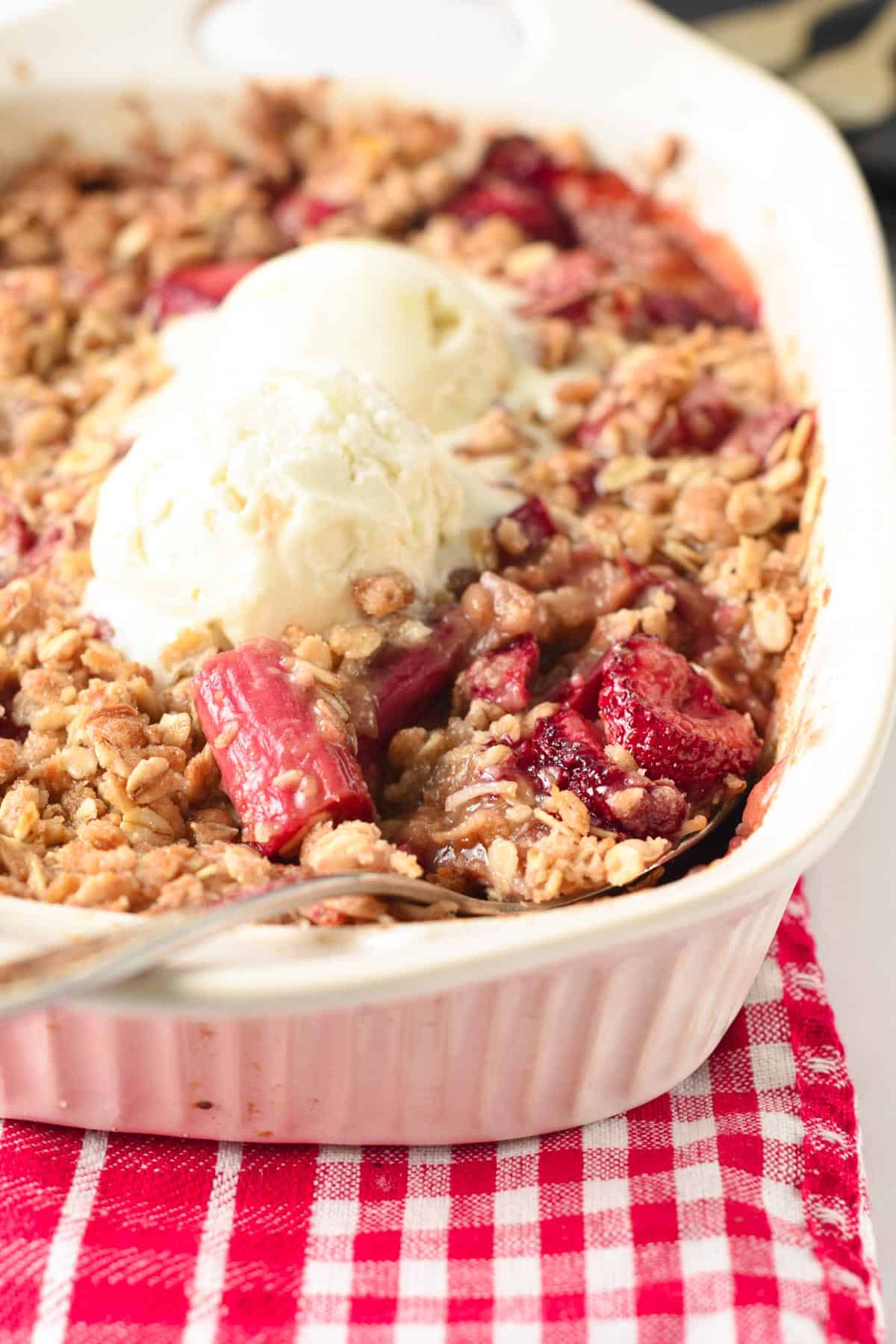 Storage
This Strawberry Rhubarb Crisp can be stored in its own baking dish, in the fridge, for up to 3 days.
It's recommended to seal the top of the dish to keep the crisp fresh and moist.
Otherwise, store it in an airtight box.
You can also freeze crisp leftovers, in single-serve portions in small containers or in a large airtight container.
Thaw in the fridge the day before
Rewarming Crisp
You can absolutely eat leftovers of crisp cold, straight out from the fridge. Or, if you like your Strawberry Rhubarb Crisp lukewarm, then you can:
Microwave for 30 seconds in a microwave-safe bowl – this softens the topping but it still tastes amazing.
Air fry for 5 to 8 minutes at 325°F (150°C).
Bake in the center rack of the oven in small oven-safe ramekins for 8 to 12 minutes at 325°F (150°C).
Allergy Swaps
I listed below some options to make this recipe even if you have some food allergies:
Sugar-Free Low-Carb Option – use a sugar-free granulated sweetener like allulose or erythritol instead of sugar. It has no carbs, no calories, and it's natural. Also, swap flour for low-carb flour like almond flour or oat flour.
Gluten-Free – pick a gluten-free certified oats brand and use almond flour or gluten-free all-purpose flour blend in the recipe.
Dairy-Free – we always use dairy-free butter or coconut oil as an alternative to butter in crumble recipes.
Nut-Free – swap pecans for more oats or more shredded coconut.
Frequently Asked Questions
Below I listed the answers to your most common questions about this Strawberry Rhubarb Crisp.
Can I Use Frozen Rhubarb Pieces?
Yes, you can use frozen rhubarb in this crisp recipe and you don't have to thaw the rhubarb before coating it with cornstarch and sugar.
How Does Rhubarb taste like?
If you are new to rhubarb, it's a very tart and sour vegetable on its own. So it's not recommended to eat rhubarb raw as it doesn't taste very good.
However, it makes amazing rhubarb desserts when cooked, like in a rhubarb crumble recipe or on the stove, in a nonstick saucepan with water and sugar, rhubarb makes delicious rhubarb compote.
It tastes between apple and lemon, it's sweet and tart but sweet too and gets ultra-smooth and melts in your mouth after baking or cooking.
More Easy Dessert Recipes
If you like this delicious crisp recipe, you'll love these:
Did you make this Strawberry Rhubarb Crumble recipe? Share a comment or review below.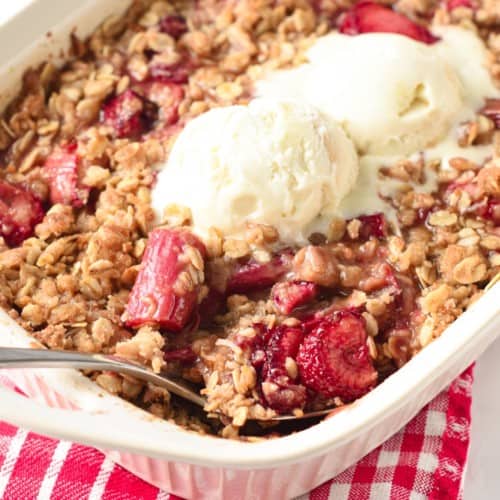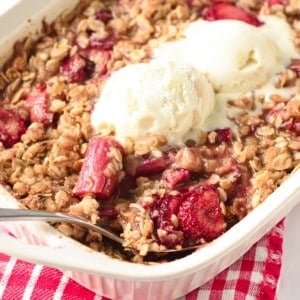 Strawberry Rhubarb Crisp
This Strawberry Rhubarb Crisp is an easy family dessert with the most delicious sweet and sour combination of strawberries and rhubarb. Plus, this crisp recipe is also dairy-free and easy to make sugar-free for a diabetes-friendly dessert.
Pin
Print
Review
Servings: 8 servings (1/2 cup)
Calories: 194.8 kcal
Ingredients
3 cups Rhubarb - fresh or frozen, cut into 1cm pieces (0.5")
2 cups Strawberry Slices - fresh or frozen
2 tablespoons Corn Starch - or arrowroot flour
¼ cup Coconut Sugar - or soft brown sugar
½ teaspoon Cinnamon
Strawberry Rhubarb Crumble Toppings
Instructions
Preheat the oven to 375°F (190°C). Slightly oil a 9-inch x 9-inch square pan or a 9-inch x 11-inch pan. Set aside.

Wash, rinse rhubarb stalks, discard ends and cut into 1/2 inches (1 cm) pieces. If using fresh strawberries, wash, core and slice.

In a mixing bowl, stir rhubarb piece, strawberry slices, cornstarch, cinnamon, and sugar. Spread evenly into the prepared baking dish

In another mixing bowl, mix flour of choice, rolled oats, chopped pecans, coconut, sugar, vanilla, and cinnamon.

Rub in soft coconut oil or softened coconut oil or dairy-free butter with fingertips until it forms a breadcrumb-like texture.

Sprinkle the crisp topping over the fruit mixture.

Bake for 25 to 35 minutes or until the fruits are cooked, bubbly, and the top is cooked and crispy – golden brown color.

Serve with a dollop of dairy-free ice cream or whipped cream.
Storage
Store leftovers for up to 3 days in the fridge in an airtight container.
Share on Facebook
Pin Recipe
Nutrition
Serving: 1serving | Calories: 194.8kcal | Carbohydrates: 36.6g | Protein: 2.7g | Fat: 4.7g | Saturated Fat: 1.9g | Polyunsaturated Fat: 0.9g | Monounsaturated Fat: 1.5g | Sodium: 9.5mg | Potassium: 224.9mg | Fiber: 2.7g | Sugar: 21g | Vitamin A: 49.1IU | Vitamin C: 3.7mg | Calcium: 67.1mg | Iron: 1.1mg | Magnesium: 26.1mg | Phosphorus: 61.6mg | Zinc: 0.6mg