This apple and peach crumble is one of the easiest summer desserts, perfect for using fresh peaches. It's a healthy crumble made with whole grains, refined sugar-free, and dairy-free.
I love peaches, but peaches crumbles are sometimes missing a touch of sourness.
That's why apple peach is the perfect combination for crumble recipes. The sourness of the green apples balances very well with the sweetness of peaches while also adding some texture.
If you like apple crisp and you are looking for a summer version, try this peach apple crisp recipe.
How To Make Apple And Peach Crumble
This apple peach crisp is so easy to make and like any of my crumble recipes, the easy dessert that never fails and always makes family and friends happy.
Ingredients
All you need to make a delicious peach apple crumble recipe are:
Green Apples – You can use most varieties of apples to make a crumble. I love green sour apples for two reasons. First, they don't get mushy or too soft after baking. Next, they are a bit sour, which goes well with the sweetness of the peaches.
Peach Slices – cored, peeled, and cut into slices or cubes as you like. If peaches are not in season, it's also fine to use canned peach slices. If yours are sold in juice, rinse them over a sieve, drain them, and use them in the recipe. This removes the sugar from the juice and prevents the crumble from being too sweet. However, if you like yours very sweet, use the drained canned peach slices as is.
Cornstarch, tapioca starch, or arrowroot flour.
Coconut Sugar or soft brown sugar, or any crystal sweetener you have at home, like coconut sugar, date sugar, or for a sugar-free option, brown erythritol.
Cinnamon
Oat Flour – You can also use regular flour or almond flour. Most flour options will deliver excellent results in this crumble recipe. For a gluten-free option, try buckwheat flour or all-purpose gluten-free flour.
Vanilla Extract
Shredded Coconut or chopped walnuts
Coconut Oil or softened dairy-free butter
Preparation
Preheat the oven to 350°F (180°C). Lightly oil a large baking dish – mine is an 8-inch x 8-inch square ceramic pan.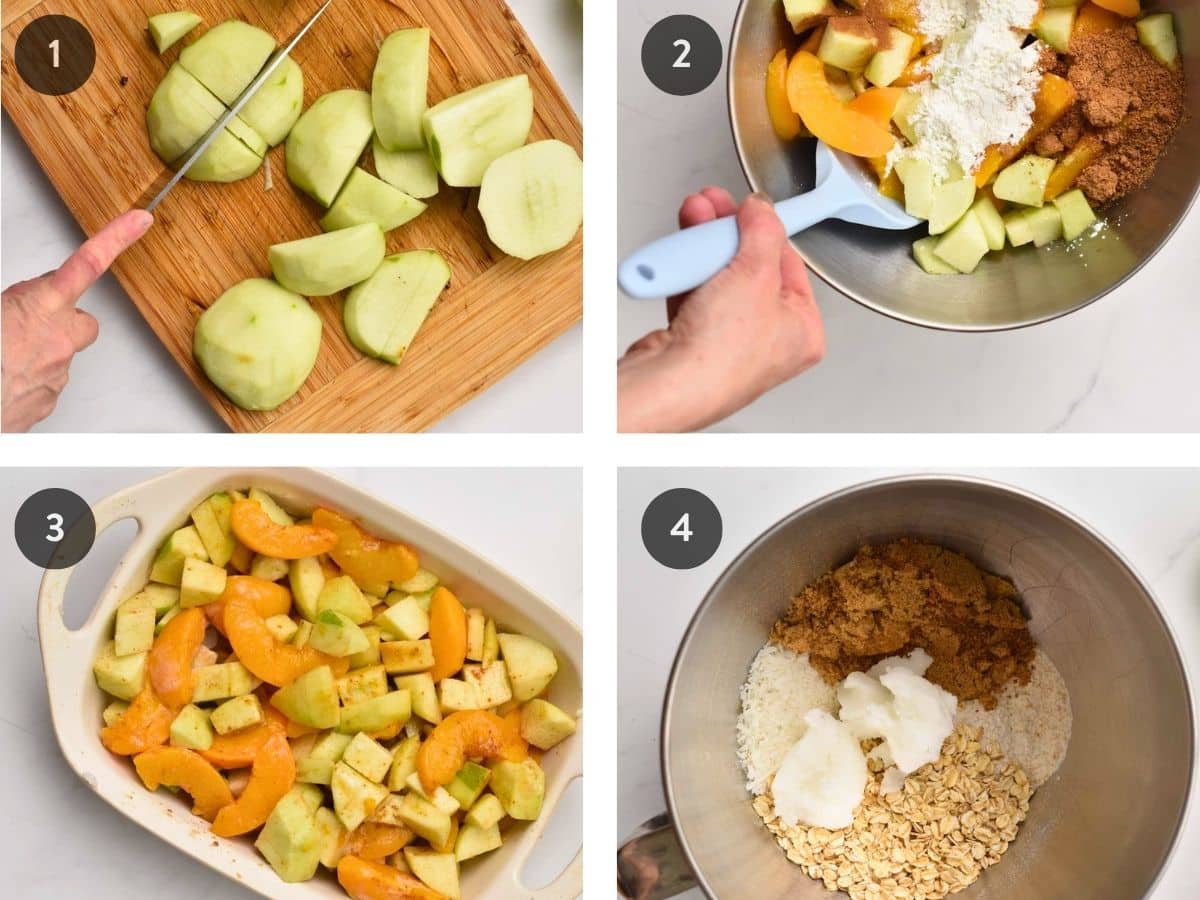 Peel and core the fruit: apple and peach. Then, cut the peaches into slices and cube the apple.
Place the chopped fruit in a large mixing bowl with cornstarch, cinnamon, and coconut sugar. Toss to coat the fruit evenly, both fruits into slices.
Pour the peach mixture into the prepared baking dish. Set aside.
In another large bowl, add the crumble topping ingredients: oat flour, oats, coconut sugar, cinnamon, shredded coconut or walnuts, and vanilla extract.
Making The Crumble

Stir to combine all ingredients together. Then, add softened coconut oil and use your fingertips to rub the soft oil onto the dry ingredients until it forms a sand-like texture with large and small pieces.
If you like, you can combine all ingredients into a pastry blender or stand mixer using the paddle attachment.
Sprinkle the crumble all over the fruits until no more left.
Baking The Crumble
Bake the crumble in the center rack of the oven until the top is crispy and golden brown. The crumble is ready when the peach and apple layer forms bubbles and is soft.
It takes from 30 minutes to 40 minutes to bake this apple peach crumble recipe.
Serving Crumble
Remove the peach crumble from the oven and cool down for 10 minutes before serving so you don't burn yourself.
This also prevents from serving the crumble too warm, especially if you intend to serve this with ice cream and yogurt, you don't want the toppings to melt in too fast.
Serve warm, or eventually cold if served the next day with some of the below dairy-free toppings:
Whipped cream
Vanilla ice cream
Yogurt
Drizzle of maple syrup
Extra nuts or coconut
A pinch of cinnamon
Storage Instructions
This peach apple crumble store very well in its own baking dish. Cool down completely at room temperature then foil the pan and place in the fridge.
You can store it for up to 4 days in the fridge.
You can also place the crumble recipe in the freezer in a small airtight container and thaw it in the fridge the day before.
Feel free to serve crumble cold, or pop in a microwave safe bowl and microwave it for 30 seconds to serve lukewarm.
Allergy Swaps
Below are some ingredients swaps options if you need.
Nut-Free – Swap walnuts for coconut.
Gluten-Free – Use gluten-free oats and gluten-free flour like almond flour, buckwheat flour, or all-purpose gluten-free flour.
Sugar-Free – Any sugar-free crystal sweetener works.
Coconut-Free – Swap the coconut oil for olive oil, avocado oil, or plant-based butter.
Oil-Free – Swap the oil for nut butter, like cashew butter, almond butter, or peanut butter.
Frequently Asked Questions
Here are my answers to your frequent questions about this easy dessert.
What is the difference between a peach crumble and a peach crisp?
The terms crumble and crisp describe the same dessert. Americans use the word crisp, while English people or European call this dessert a crumble.
Can I use canned fruit in crumble recipe?
You can use canned fruit, but they are softer and sometimes sweeter if stored in juice.
It means they lose their texture faster in the oven, and you may want to reduce sugar in the recipe to avoid a too-sweet dessert.
More Easy Family Dessert Recipes
If you like simple family desserts, you'll love these recipes: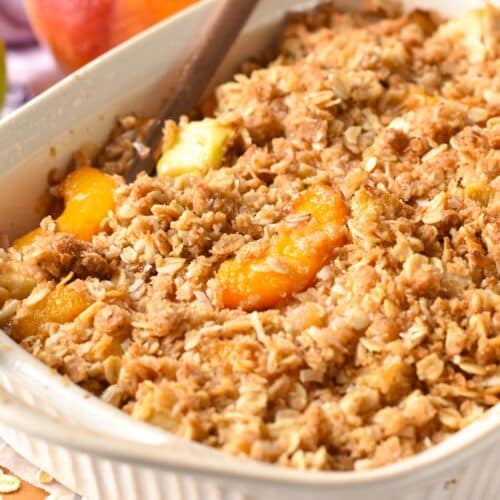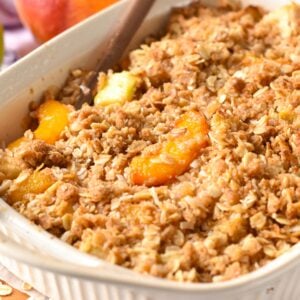 Apple and Peach Crumble
This apple and peach crumble is one of the easiest summer desserts, perfect for using fresh peaches. Plus, it's a healthy crumble made with whole grains, refined sugar-free, and dairy-free.,
Pin
Print
Review
Servings:
8
servings (1/2 cup)
Shop My Tools
Instructions
Preheat the oven to 375°F (190°C). Slightly oil a 9-inch x 9-inch square pan or a 9-inch x 11-inch baking dish. Set aside.

Wash, core, and cut the apples into cubes, keeping the skin on. Set aside in a large bowl.

Peel, core peach and cut into slices, place in the previous bowl.

Top up fruit with cornstarch, cinnamon, and sugar. Stir to coat the fruits and lay the fruits into the prepared baking dish.

In another mixing bowl, mix rolled oats, flour, coconut or nuts, vanilla, brown sugar, and cinnamon.

Rub in soft coconut oil or softened dairy-free butter with fingertips until it forms a crumb like texture. If too dry, add a bit more coconut oil.

Evenly sprinkle the crumble over the apple and peaches.

Bake for 25-35 minutes or until its bubbly on the side of the pan and the top is golden brown.

Serve with a dollop of vanilla plant-based ice cream or whipped cream.
Storage
Store leftovers for up to 4 days in the fridge in their own baking dish covered with a piece of foil.
Share on Facebook
Pin Recipe
Nutrition
Serving:
1
serving
|
Calories:
248.1
kcal
|
Carbohydrates:
35.4
g
|
Protein:
2.1
g
|
Fat:
12.3
g
|
Saturated Fat:
9.9
g
|
Polyunsaturated Fat:
0.4
g
|
Monounsaturated Fat:
0.9
g
|
Sodium:
36.4
mg
|
Potassium:
142.3
mg
|
Fiber:
2.7
g
|
Sugar:
19.3
g
|
Vitamin A:
151.6
IU
|
Vitamin C:
3.8
mg
|
Calcium:
13.9
mg
|
Iron:
0.9
mg
|
Magnesium:
16.6
mg
|
Phosphorus:
47.4
mg
|
Zinc:
0.4
mg