The best Vegan Peach Cobbler recipe with sweet baked peaches topped with a crispy biscuit.
Bonus, this vegan dessert is ready in 30 minutes for a quick family summer dessert.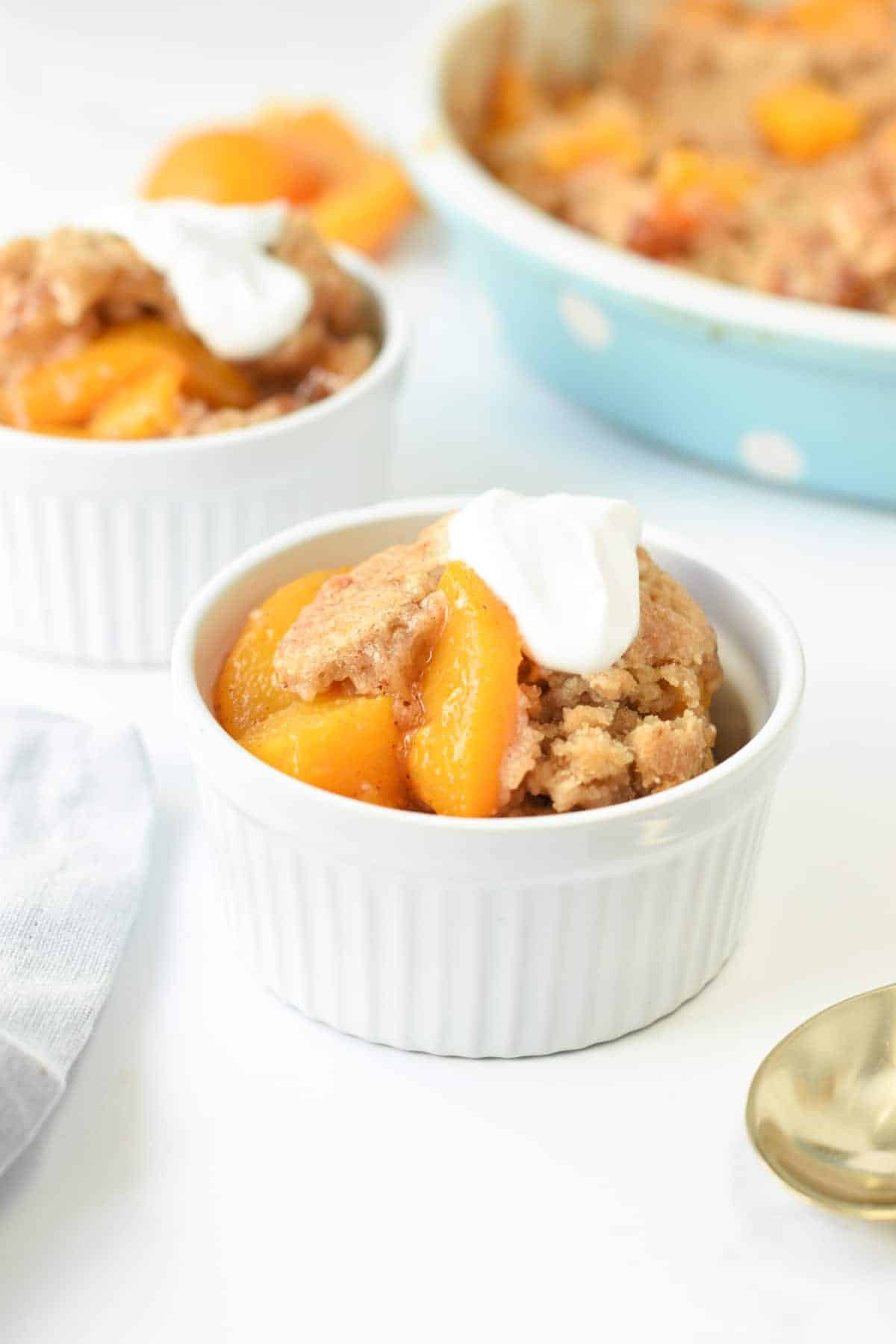 What's A Peach Cobbler?
A vegan peach cobbler is a vegan dessert made of two layers.
The bottom layer is baked peaches cooked in sugar and cornstarch to form a sticky jam-like texture.
The top layer is made of a crispy, fluffy vanilla cinnamon biscuit.
Are Cobblers Vegan?
No, an authentic cobbler recipe is not vegan. The toppings contain butter and milk. Both are animal-sourced ingredients.
But, you can make a vegan cobbler at home very easily by following my recipe below.
How To Make Vegan Peach Cobbler
There's nothing easier than a vegan cobbler recipe for a quick, delicious family dessert.
So if you have an abundance of peaches in your garden this summer, try this vegan peach cobbler. Success guaranteed!
Ingredients
All you need to make a vegan peach cobbler recipe are a few basic ingredients.
I provide substitutions and options for food allergies below, but if you have a gluten intolerance, jump to my vegan, gluten-free peach cobbler recipe.
Cobbler fruit base
As mentioned before, a cobbler is a two-layer dessert made of a juicy baked fruit base and then topped with a dollop of biscuit batter.
To make the base, you need:
Peaches – feel free to use fresh peach slices or canned peach slices. Below I provide tips for both options.
Corn starch – or arrowroot flour or tapioca flour. Any starchy flour works very well here.
Cinnamon
Nutmeg – skip if you don't like the flavor of nutmeg. I personally love it with peaches!
Lemon Juice
Sugar – I am using unrefined cane sugar or erythritol in my cobbler recipe. Both options are healthier than white sugar, but any crystal sugar works in the recipe, so feel free to pick your favorite.
Cobbler Biscuit
For the crispy vegan cobbler biscuit, you need:
Flour – all-purpose flour or gluten-free flour works well here. Other options are spelt flour or white whole wheat flour. If you prefer to use almond flour, follow my almond flour cobbler recipe.
Sugar – as mentioned above, for a sugar-free option, use erythritol, or for a healthier vegan cobbler, use unrefined cane sugar or coconut sugar. Don't use liquid sweeteners like maple syrup, or the biscuit won't be crispy.
Baking powder
Cinnamon
Melted vegan butter – or coconut oil.
Vanilla extract
Unsweetened almond milk or non-dairy milk of choice like soy milk, oat milk, or coconut milk.
Option 1: fresh peaches
First, prepare the peaches. For fresh peaches, peel the peaches, core, and slice in 1/4-inch slices.
Then, place the fresh peach slices in a saucepan along with cornstarch, sugar, cinnamon, nutmeg, and lemon juice.
Cook the peaches until it forms a sticky jam – it takes about 3 minutes.
Finally, transfer the cooked peaches into an 8×8-inch square pan. Set aside.
Option 2: Canned peaches
For canned peaches, you can reduce the sugar by half or even skip it!
In fact, most canned peaches are stored in sweet juice, and they are already very sweet and sugary.
So if you don't have a sweet tooth, or you like to control sugar in dessert, skip sugar for canned peaches in juice.
Stir the canned peach slices in a large bowl with cornstarch, lemon juice, and spices and spread them in the baking dish.
Option 3: frozen peaches
If peaches are not in season, then frozen peach slices are a great option for this dessert. You don't need to thaw the peaches at all.
Place the frozen peaches in a saucepan along with the remaining ingredients for the base.
Then, cook the frozen peaches for 3 minutes, often stirring until they defrost, and create a sticky juice as you would do for fresh peaches.
Making The Biscuit
In a mixing bowl, stir flour, brown sugar baking powder, salt, and melted vegan butter.
Stir until the ingredients come together, and it forms a thick cookie-like dough that you can easily shape into balls within your hands.
If your batter is too wet, add more flour until it comes together.
Assembling The Cobbler
Now, lay dollops of cobbler batter on top of the peaches, leaving some empty spaces between each dollop.
These spaces are great because the baked peaches will release some sweet juice that goes over the biscuit and caramelizes the top!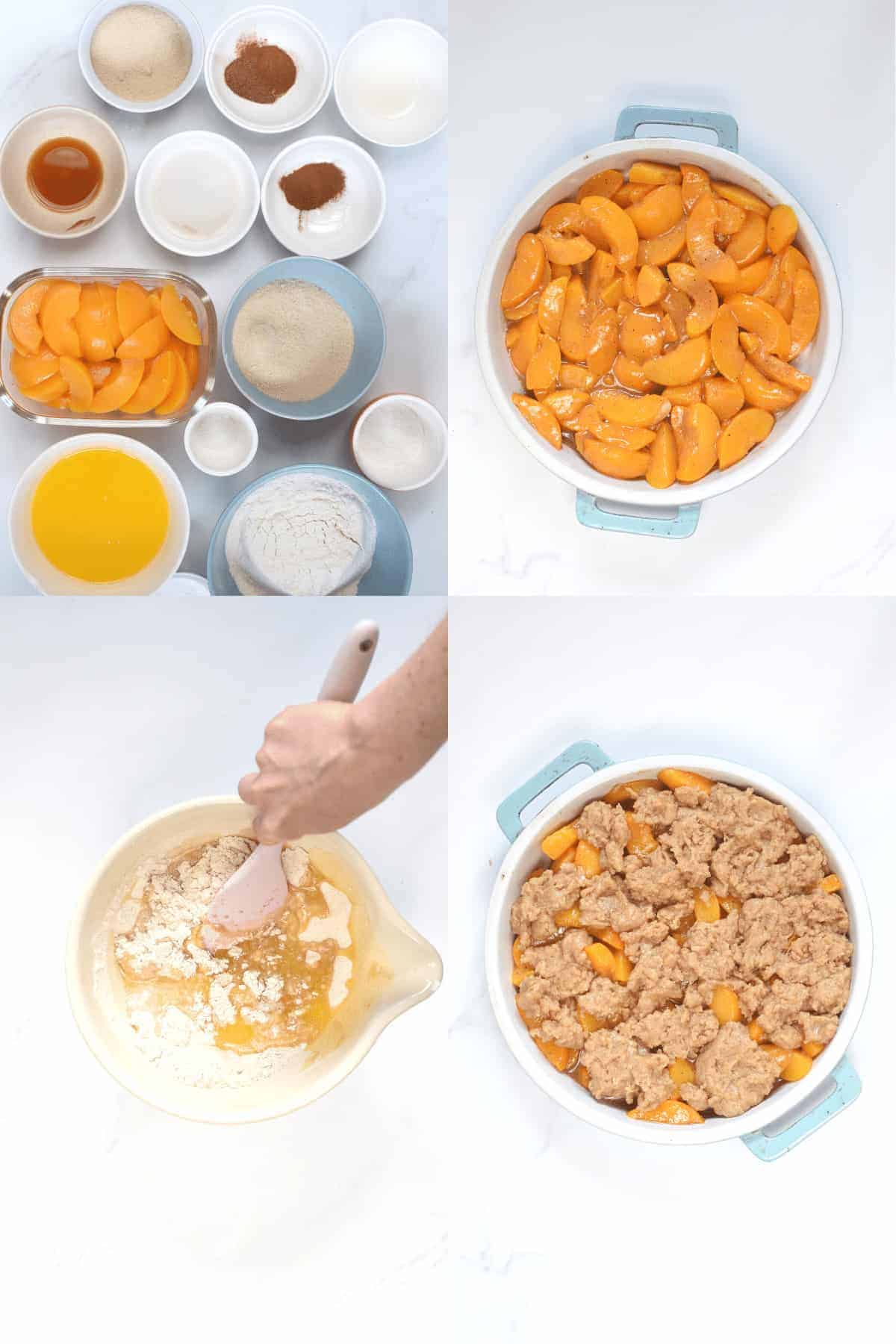 Baking
Bake the cobbler in a preheated oven to 350°F (180°C).
Place the baking dish in the center rack of the oven and bake until golden brown on top.
A cobbler is cooked when the biscuit is crispy, and fruits are coming into a juicy, sticky jam that bubbles on the sides of the pan.
Cool down on the pan for 5 minutes, then serve in a serving bowl.
Serving
To serve this vegan peach cobbler, you have a few toppings options.
Serve about 1/4 cup for kids to 1/2 cup of cobbler for an adult portion in a shallow serving bowl. Then, top the peach cobbler with some of the vegan toppings below:
Whipped coconut cream
Coconut yogurt
Dairy-free vanilla ice cream
Then, why not sprinkle some crispy nuts or seeds or some of the below:
Toasted coconut chips
Sliced almonds
Chopped peanuts
Storage
This vegan peach cobbler stores very well in the fridge. Keep the cobbler in its own baking dish and cover with a piece of foil or silicone lid.
Store for up to 4 days in the fridge and serve cold or lukewarm.
To rewarm your cobbler, pop it in the oven at 200°F (120°C) for a few minutes or microwave for 30 seconds.
You can also freeze the peach cobbler in single servings or entirely and thaw it the day before serving it in the fridge.
More Vegan Dessert Recipes
I love to create vegan dessert recipes that are easy to make within 30 minutes as a quick and easy family dessert.
Below I listed my favorite vegan dessert recipes for you to try.
Have you made this vegan peach cobbler recipe? Share a review or comment below to tell me how it goes!
Your friend, Carine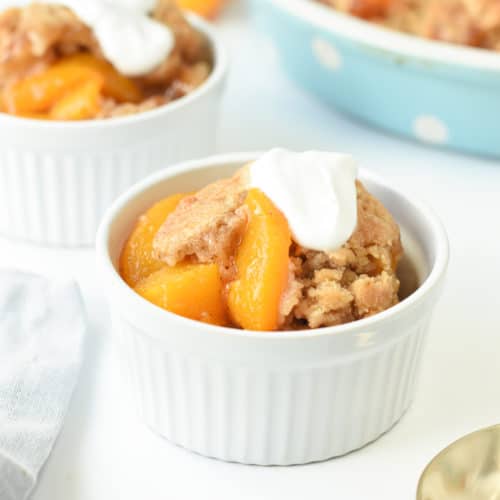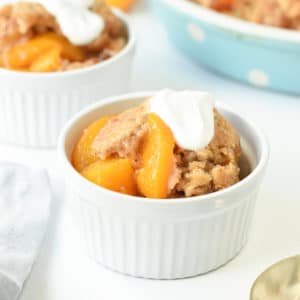 Vegan Peach Cobbler
The best Vegan Peach Cobbler with a cakey, crispy biscuit, and delicious juicy peaches.
Pin
Print
Review
Instructions
Preheat oven to 350°F (180°C).
Canned peaches
Slightly oil an 8×8-inch pan with vegan butter or coconut oil. Add canned peach slices, half the sugar (or skip totally if the canned peaches are stored in sugar syrup!), cornstarch, lemon juice, cinnamon, nutmeg, and mix directly in the baking pan. Set aside.
For fresh or frozen peaches – skip this step if you are using canned peaches
In a medium saucepan, add fresh or frozen peeled peach slices with brown sugar, cornstarch, cinnamon, nutmeg, lemon juice and stir to combine. Cook on medium heat until the sugar melt and create a syrup with the peaches juice. Remove from heat and transfer to the baking dish in an even layer.

In a large mixing bowl, add flour, sugar, cinnamon, baking powder, and salt.

In a separate bowl, combine melted vegan butter, vanilla, almond milk. Pour onto the dry ingredients and mix until a cookie-dough-like batter forms.

Place scoops of the dough mixture on top of the peaches. Spread with your fingers or spoon – it doesn't have to be perfect at all!

Bake for 30-35 minutes in the center rack of the oven, until the biscuit is crispy, golden in color and peaches are juicy and it is bubbly on the sides of the pan.

To thicken the fruit base, let cool for 20 minutes in the baking dish before serving.

Serve with vegan vanilla ice cream or a dollop of coconut whipped cream
Storage
Store in the fridge, cover the baking dish with wrap and refrigerate for up to 4-5 days.

Rewarm before serving or serve cold.
Share on Facebook
Pin Recipe
Nutrition
Serving:
1
serving
|
Calories:
250.5
kcal
|
Carbohydrates:
39.9
g
|
Protein:
2.4
g
|
Fat:
9.5
g
|
Saturated Fat:
2.4
g
|
Polyunsaturated Fat:
2.7
g
|
Monounsaturated Fat:
3.8
g
|
Trans Fat:
0.1
g
|
Sodium:
221.9
mg
|
Potassium:
178.9
mg
|
Fiber:
1.7
g
|
Sugar:
25.8
g
|
Vitamin A:
791.1
IU
|
Vitamin C:
5.3
mg
|
Calcium:
46.6
mg
|
Iron:
1.1
mg
|
Magnesium:
11.5
mg
|
Phosphorus:
44.5
mg
|
Zinc:
0.3
mg