An easy Feijoa Crumble perfect to use all your Feijoa fruits this Autumn and serve as a delicious dessert to all the family.
The thing with the feijoa season is that you get lots of ripe feijoa fruits all at once. So even if my feijoa loaf was an excellent start to use a few of them, I still had many feijoas left.
Feijoa crumble is now our new favorite. It's so easy and delicious to bring together in under 15 minutes and so good with ice cream.
Let me share with you how to make the best feijoa crumble recipe ever this Feijoa season.
How To Make Feijoa Crumble
It's so easy and delicious to make this feijoa recipe for dessert.
Ingredients
All you need to make a feijoa crumble are:
Ripe Feijoa s-soft to the touch with a lovely green color.
Cornstarch, tapioca flour, or arrowroot flour. Don't be tempted to leave out the cornstarch! As the feijoas cook, they release juice that makes the crumble soupy if the cornstarch is not used. The cornstarch forms a nice custard layer as the starch absorbs the fruit juice.
Cinnamon
Nutmeg or ground ginger
Brown Sugar or coconut sugar
Lemon Juice or lime juice
Rolled Oats
Whole Wheat Flour or plain flour or almond flour if gluten-free.
Chopped Walnuts, pecans, or almonds.
Vanilla Extract
Coconut Oil or non-dairy butter
Preheat the oven to 180°C (350°F). Lightly oil a square tin. I like ceramic baking dishes but a brownie tin works as well. Set aside.
Preparing The Crumble Toppings
First, in a mixing bowl, add rolled oats whole meal flour, chopped walnuts, vanilla extract, brown sugar, and cinnamon. Stir to combine evenly.
Add the soft coconut oil and use your fingertips to rub the softened oil onto the dry ingredients to form a nice crumble. Place the bowl in the fridge while you prepare the feijoa layer.
You can also prepare the top layer by placing all the ingredients into a food processor and pulse a few times until crumbly.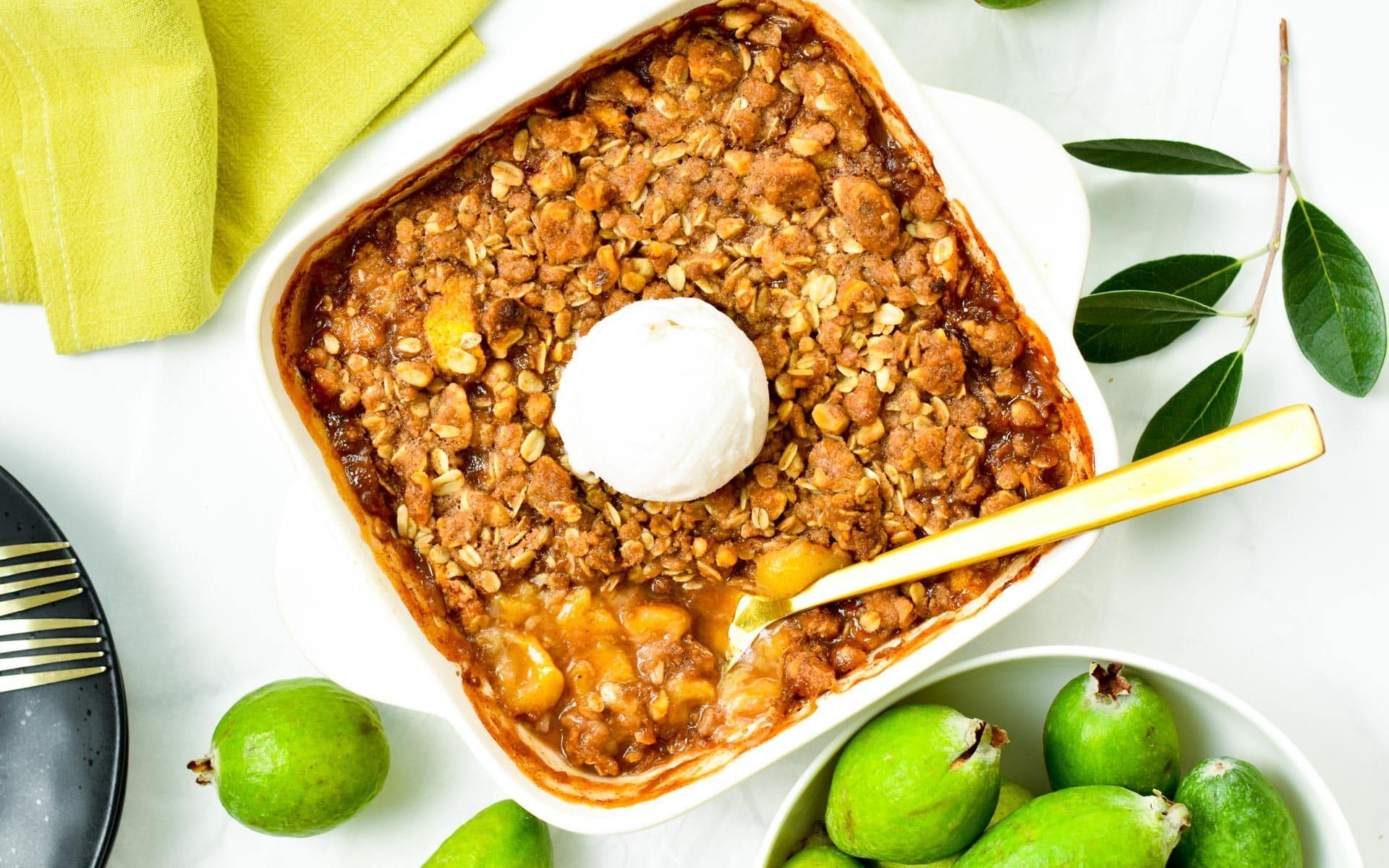 Feijoa Layer
Cut the feijoas in half crosswise and use a teaspoon to scoop out the feijoa pulp.
Place the feijoa flesh on a chopping board and roughly chop. You don't want too small pieces of fruits to keep texture in your crumble.
Place the pieces of feijoa in a large bowl with brown sugar, cinnamon, nutmeg, cornstarch, lemon juice, and brown sugar.
Stir to coat the feijoa nicely with the cornstarch and other ingredients.
Pour the feijoa evenly into the prepared baking dish. Use your fingertips to crumble the oat topping all over the layer of feijoa.
Bake on the center rack of the oven until the feijoa is bubbly and the top of the crumble is nicely golden brown.
Remove from the oven and cool in the pan for 10 minutes before serving.
Serving Feijoa Crumble
Serve the feijoa crumble lukewarm in a small shallow bowl with some of the below toppings:
A scoop of dairy-free vanilla ice cream
Shredded coconut
Plain yogurt like coconut yogurt
Maple syrup
Variations
If you don't have enough feijoa to make this recipe, you can combine the feijoa with other fruits to reach the 3 cups needed.
Try some of the below fruits:
Apple and Feijoa Crumble – Use sour apples like green Apples – peeled, cored, and chopped into small cubes.
Banana Feijoa Crumble – Peel and roughly slice bananas.
Feijoa Kiwis – Peeled and cut into quarters.
Feijoa Pineapple – Peeled, cored, and cut into cubes.
Allergy Swaps
Below are some allergy swaps for this recipe if you need:
Gluten-Free – Use an all-purpose gluten-free flour blend or almond meal instead of flour. There are no oats marked as gluten-free certified in New Zealand. If you can't tolerate oats, try sliced almonds or puffed rice as a gluten-free swap to add a similar texture.
Sugar Options – You can use any crystal sweetener like coconut sugar, unrefined cane sugar, or sugar-free monk fruit blend.
Coconut Oil can be replaced by dairy-free butter like Nuttelex or Naturli.
Corn-Free – Swap the cornstarch for arrowroot flour or tapioca starch.
Storage Instructions
You can store Feijoa Crumble leftovers for up to 3 days in the fridge in an airtight container.
Frequently Asked Questions
Below are my answers to your most common questions about this crumble recipe.
What can I do with feijoas?
You can make many delicious recipes with feijoas, like this Feijoa Crumble or my Feijoa Loaf.
Is the skin of feijoa edible?
Yes, the skin of feijoa is edible. However, since most feijoa fall to the ground when ripe, washing them is essential.
Furthermore, the skin is bitter, and for baking recipes, it's preferable to only keep the flesh.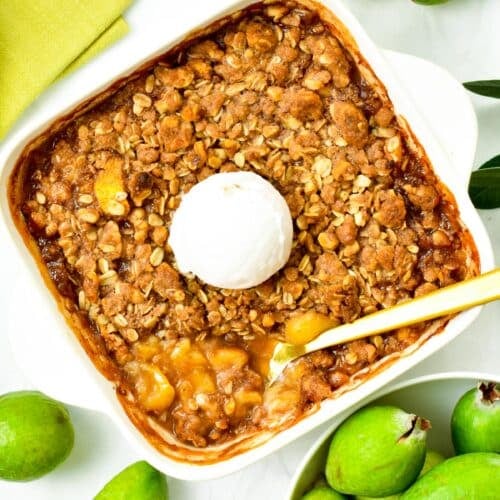 Feijoa Crumble
An easy Feijoa Crumble perfect to use all your Feijoa fruits this Autumn and serve as a delicious dessert to all the family.
Pin
Print
Review
Servings: 6 servings (1/2 cup)
Calories: 332.6 kcal
Instructions
Preheat the oven to 180°C (350°F). Slightly oil an 8-inch x 8-inch baking dish or square tin. Set aside.

In a large bowl, mix rolled oats, flour of choice, chopped walnuts, brown sugar, vanilla, and cinnamon.

Add softened coconut oil and rub with your fingertips until it forms a breadcrumb-like texture.

Set the bowl aside in the fridge while making the feijoa layer.

Cut the ripe feijoa halfway, and use a teaspoon to scoop out the flesh. Use a knife to roughly chop in big chunks. Pack chunks in a measuring cup and repeat this step until you get 3 cups of feijoa.

Place feijoa in another large mixing bowl with cornstarch, brown sugar, cinnamon, nutmeg or ginger, and lemon juice. Stir well.

Spread the feijoa layer in an even layer onto the prepared dish.

Sprinkle the crumble mixture all over the feijoa.

Bake in the center rack of your oven for 25-30 minutes or until the fruits are cooked, bubbles form on the side of the pan, and the crumble topping is golden and crispy.

Serve with a dollop of dairy-free vanilla ice cream or coconut yogurt.
Storage
Store leftovers for up to 3 days in the fridge in an airtight container.
Share on Facebook
Pin Recipe
Nutrition
Serving: 1serving | Calories: 332.6kcal | Carbohydrates: 46.2g | Protein: 4.5g | Fat: 16.7g | Saturated Fat: 8.4g | Polyunsaturated Fat: 5.2g | Monounsaturated Fat: 1.7g | Sodium: 9.7mg | Potassium: 329.2mg | Fiber: 10.1g | Sugar: 28.1g | Vitamin A: 11.5IU | Vitamin C: 40.4mg | Calcium: 56.5mg | Iron: 1.2mg | Magnesium: 47.1mg | Phosphorus: 109.8mg | Zinc: 0.8mg